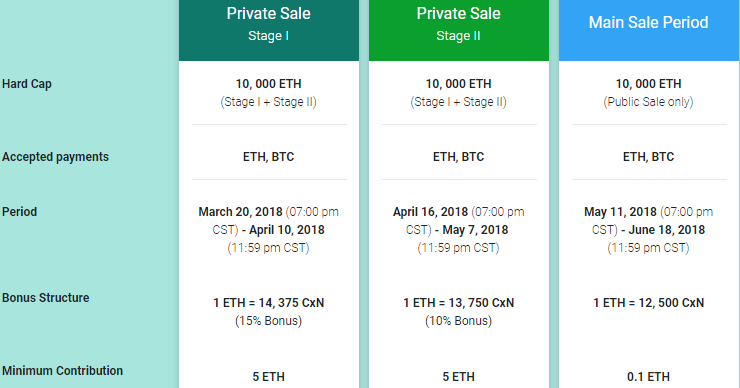 Initial Coin Offering (ICO)
Get in before everyone else.
About Token Sale
Symbol CxN
Pre-ICO Date Mar 20, 2018 — May 07, 2018
ICO Date May 11, 2018 – June 18, 2018
Tokens for sale 60%
Minimum investment 0.10 ETH
Soft Cap 6,000 ETH
Hard Cap 20,000 ETH
Get to know THE 4TH PILLAR Platform More
WHAT IS SOCIALCxN
SOCIALCxN is a next generation platform designed to be the best influencer management productivity tool. Brands can now search for and engage with the best online media influencers across multiple social media channels- reducing the time to execute digital media campaigns with greater transparency into influencer effectiveness and relates costs.
For the influencers, the platform provides a great way to be discovered by major brands and to monetize the size of their following on different social media channels. Brands are actively searching for the best online influencers and place great value on influencers that can help them expand the reach of their products/services.
SOCIALCxN takes the risk out of digital interactions for both the brands and influencers by providing a secure and easy to use platform.
SOCIALCxN takes the risk out of digital interactions for both the brands and influencers by providing a secure and easy to use platform.
SOCIALCxN is a seamless and safe approach for Brands to connect with influencers. We own the network of digital influencers across multiple social media forums.
Through SOCIALCxN, Brands and agencies can search for, select and manage influencers through an easy to use and intuitive interface. Eliminating the need for intermediaries, SOCIALCxN permits brands and agencies to run end-to-end influencer marketing campaigns in a transparent and cost-effective manner.
SOCIALCxN is a comprehensive media platform for digital influencers that want to work with major brands from all the over world and display their talents in engaging and monetizing their overall reach on the social media channels
Important tips
For those of you who do not understand or are new to blockchain and cryptocurrency, you should know some important things before you decide to invest in a company in a crowdfunding. Here are some tips that you can make a consideration of investment cryptocurrency.
Invest in a real company
The current trend is the number of companies or business concepts using ICO and cryptocurrency to collect funds. If you want to invest, make sure that the company is an existing company, not a business concept. Do not be tempted by the number of profits they will give you because as we mentioned before, the value of a cryptocurrency is very stable. If you make the wrong decision, then you will experience a big loss.
Currency distribution
Smart contracts that manage the distribution of coins have special rules, such as how many will be available, to whom, when, and whether unsold coins will be "burned" (destroyed) or not.
Exchange plan
The most fundamental thing for anyone who invests in cryptocurrency is the expectation that the cryptocurrency is listed on the exchange. If crypto exchanges like Coinbase, Bittrex or Kraken announce plans to make a list of coins that are still in its ICO stage, this is a very good sign.
Which blockchain is built?
New ICOs must be launched from existing blockchain unless they plan to build their own blockchain. The chain of coins was constructed to determine which crypto is there to be used to participate in ICO. A project using Ethereum blockchain will require Ether to buy the new coin. So, initially, it can only be exchanged for Ethereum and not the other crypto.
Roadmap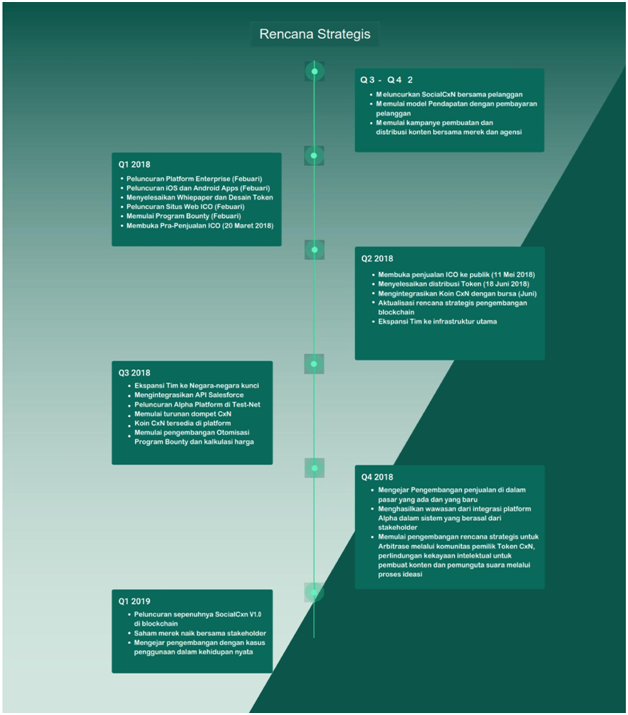 FOR MORE INFORMATION VISIT;
Website : https://www.socialcxn.io/
Telegram: https://t.me/SocialCxN
Twitter: https://twitter.com/SocialCXN
Facebook: https://www.facebook.com/socialcxn/
Reddit : https://www.reddit.com/r/SocialCXN/
Bountyhive link : https://bountyhive.io/join/SocialCXN
Author profile link