StealthCrypto- The Quantum Mesh Network Based On The Blockchain Technology
PRESENTATION
StealthCrypto's Blockchain™ is being developed to be quantum computer resistant and to provide transactions speeds untouchable by other blockchains. The technology created a decentralized, autonomous and incentivized connected world and a fantastic platform for Smart Cities and Smart Countries.
Stealth Grid disrupts the existing infrastructure eliminating centralized monopolies that change the global landscape. StealthCrypto™ is opening up innovations and opportunities around the world.
StealthCrypto is Quantum Cyber Security for a new age of communications. We are developing the largest decentralized, incentivized, self-sustainable, quantum mesh network based on blockchain technology.
Using proprietary, end-to-end Dynamic Split Encryption™, Dynamic Split GeoDistribution™", and quantum number generation, quantum key distribution and authentication.
Again, Stealth Crypto™ is a decentralized worldwide meshed network created by Stealth Grid™ that promotes the sharing economy model for network access and the establishment of communications.
Thanks to the communications, users will be able to share their available data storage, bandwidth and mine them for profit.
StealthCrypto™ also advocates the advancement of the free exchange of data storage and bandwidth.
Quantum Mesh Network
This refers to a network topology, and each node can relay data and supports the dynamic end-to-end quantum security encryption algorithm and authentication. When it comes to the unique StealthCrypto™ mesh network nodes, it is significant to note that each node backs the blockchain structure and establish the communication with other nodes. Therefore, StealthCrypto™ Network maintains the mining, secure contracts, wallet-oriented micropayment systems and management of the transactions.
Getting Started Development
Stealth Grid ™ was created on the basis of the minds of some cybersecurity experts, who care about the cybersecurity industry and intend to turn it in a better direction. Stealth Grid ™ sees great opportunities in Blockchain technology and pre-owned experience, so Stealth Grid ™ creates a better service than today's services. Stealth Grid ™ uses a decentralized system that will secure user data using Blockchain technology as the basis for its development. Stealth Grid ™ uses a system that directly encrypts data that works with high-performance and stable. Stealth Grid ™ provides users, a data and network protection that can be used in services such as Cloud Storage, IoT. The development of STEALTHCRYPTO is done by Stealth Grid ™, which will integrate services such as StealthCrypto Cloud ™ and StealthCrypt, as well as several other services into a single data protection ecosystem. STEALTH Cloud is a service that will secure data exchange or storage based Cloud Storage.
Why Blockchain
The blockchain is an immutable public ledger that records digital transactions. This technology was first introduced by an anonymous individual under the pseudonym Satoshi Nakamoto in 2008 and has since revolutionized the way we conduct currency transactions worldwide. Blockchain enables trust to be distributed throughout a network, without the need for a central authority to track, verify and approve the digital exchange of value. It operates as a decentralized distributed database, maintaining a continuously growing list of records divided up into blocks. Legacy will take advantage of this technology to be decentralized and place its trust in its users. The blockchain is a fairly new technology and it is still in active development, improvements are happening continuously, and it has become more efficient and secure than the traditional antiquated systems, which is why banks, government, and other institutions are adopting the technology. Blockchain technology allows for time-tested, data, and attention. The current protocol aligns the interests of all stakeholders in the media consumption cycle to create a network effect that encourages adoption. By creating new exchange media, Consumers get more choices about how they pay for media; Creators and Receivers get new forms of compensation, and Advertisers get more transparent accounting and audience information. The protocol interacts with the current platinum in addition to other host media networks. It introduces new revenue streams and inefficient mechanisms for host networks that provide the ability to scale effectively. Over time, donors will utilize the identity profile created for future blockchain-based systems.
StealthCrypto ICO
Pre Tokens Sale to start on January 28, 2018. And Public ICO will launch March 18, 2018 to April 18, 2018.
The start of ICO is scheduled on January 28, 2018 and will last for 12 weeks. The maximum target number to withdraw funds during ICO is an amount equivalent to US $ 200 million.
Tokens can be purchased with Bitcoin (BTC), BitcoinCash (BCC), Litecoin (LTC), Ethereal (ETH) Automatic Clearing House (ACH) and wire. If S200 million is interested (considering all tokens will be sold out for the first two days), 200,000,000 tokens will be issued.
With this opportunity, We invite you to enlarge this Platform, to reach the Broader Society. We will release the Token under the name "QMN Token (StealthCrypto ™ token)", here is the data.

ROADMAP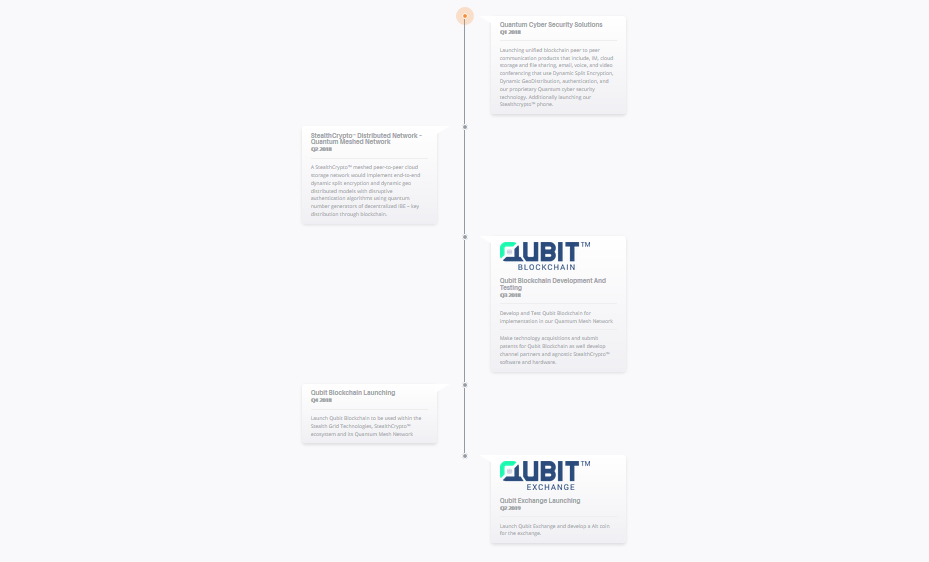 OUR TEAM
Be a part of this incredible project. Download the whitepaper for the full scoop.
Till next time…
For more information, please visit:
WEBSITE: https://www.stealthcrypto.io/
WEBSITE2: https://stealthgrid.com/
WHITEPAPER: https://www.stealthcrypto.io/assets/images/pdf/whitepaper.pdf?pdf=Download-Whitepaper
TELEGRAM: https://t.me/stealthcrypto2018
TWITTER: https://twitter.com/stealthcrypto_
FACEBOOK: https://www.facebook.com/StealthCrypto-143787762986167/
Bounty: https://bountyhive.io/join/StealthCrypto
BOUNTY: https://bountyhive.io/join/StealthCrypto
Author: johnthedon
BitcoinTalk Profile Link: https://bitcointalk.org/index.php?action=profile;u=1860087
Bountyhive username: johnthedon
Disclaimer: This article was published in terms of the bounty campaign. I am not a project team member or its representative but a supporter of this incredible project.
Referral Link: bountyhive.io/r/johnthedon