FOREVER HAS FALLEN- GLOBAL TRANSMEDIA GAME ON BLOCKCHAIN
ABOUT FOREVER HAS FALLEN
Forever Has Fallen is a global transmedia game, giving rise to an engaged global online/offline economy to utilize Forever Coin utility tokens; underpinned by a business model for generating multiple sources of revenues, including FIAT currencies. The strategic use of the token supply enables funding to complete the game and to provide support for the utility token when the game is launched.
Forever Has Fallen (FHF) is directly supported by the reliable resources and renewable technologies of Blockchain, which will create a better gaming experience for users. FHF creates a smarter game environment using Blockchain technology and makes it better with community features. FHF is supported by a reliable and experienced team in its field, which will ensure the security and stability of the services used by the users. FHF will innovate in providing a powerful and intelligent game system and will take advantage of the ever-increasing gaming industry.
Game Economy & The Forever Coin
Smart blockchain contracts are used to enhance the Forever Has Fallen gameplay — to provide verifiable completion of challenges that leads to the rewarding of the player, thanks to the immutable decentralized game ledger. The game has an economy soft cap of 2,800 coins and a hard cap of 35,000 ETH.
This revolutionary application of the Blockchain technology to tell a story, and in the process involved the game universe in generating and sustaining an economy, is an impressive fete. Whether you are a gaming only enthusiast or have interest in the blockchain technology, the Forever Has Fallen game is a great chance to combine different passions and get rewarded with valuable coins in the process.
Advantages
• The model is easy to understand. A thrilling story, told across multiple platforms (streaming content, web, social, email, SMS) for total player immersion creates a community who buy, earn and use tokens underpinned by blockchain.
• Being entertainment/game based, the risks are very low and can be judged quickly by prospective buyers, simply by reviewing the existing materials and marketing strategy.
• Minimal technology risks. There are no complex technologies or large development teams required. The innovation lies in the model.
• Protection against aggressive speculation because token buyers will also typically be community members, playing the game, watching the content and growing the community.
• Long-term confidence in token stability and growth is driven by the community, who utilise the token in the game to pay for services, experiences and status. Highlights of strategy and business model
• Smart strategic use of token supply to complete the game and fund the game economy/community
• Creating an uncontested market space, with affordable global scale
• Low development costs, low technology risks
• High customer value, ease of use and virtually zero barrier to entry
• Meeting large established global market demand for engaging stories, global community participation, digital goods ownership and unique experiences
• No dependence on complex B2B relationships
• No threat to large established players
• Ongoing and multiple revenue streams for building the business.
TOKEN
Type: ICO
Category: Gaming
Symbol: FC
Goal of funding (Soft cap):1.500.000 USD
Goal of funding (Hard cap):9.600.000 USD
Tokens for sale: 350.000.000 FC
Token price:1 FC = 10000 ETH
Currencies: ETH
Platform: Ethereum
Location: Australia
Token Sale and ICO
Think two staged rocket for our token allocation which leads to creating a valuable utility token.
Stage 1 is only 35% of token supply for the traditional token buyer, which delivers the boost for Stage 2.
Stage 2 is post initial token sales, with 45% of the tokens earmarked for the community who will play the game, so that we grow the game.
The founding team have a two year lock to ensure that the game is delivered within 12 months, and then they have another 12 months to provide one of the most addictive gaming experiences possible before they can receive their tokens. Naturally at the end of this period, the team want to have a token which is in high demand.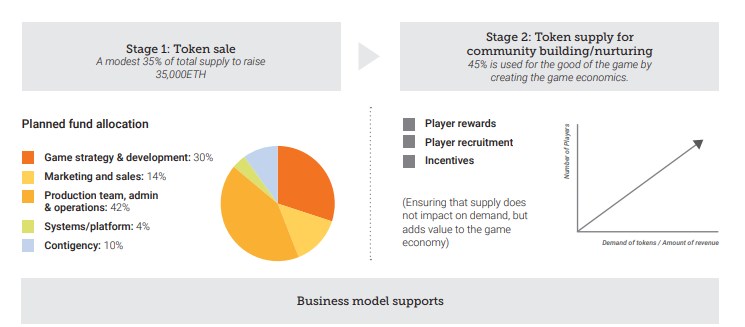 Lock-in periods
Mihell & Lycos team: 2 years
Token purchases
Token sale commences May 8 2018, 11:00 GMT. Payments to be made in Ether (ETH).
The token will be issued via the ERC20 Standard at the exchange rate of 1 ETH = 10,000 Forever Coin tokens.
Rewards
The allocation of tokens for incentivising participation in the community will be sent to players for completing tasks and rewarding high participation in the game.
Token sales terms
Total of 1 billion tokens to be created. No additional tokens will ever be created.
ICO cap: 35%
M&L retained: 17% (locked for 2 years)
Allocated for distribution to incentivise participation in the community and add value to the community: 45%
Facebook profile: 30%
Twitter: 20%
LinkedIn: 15%
Articles: 15%
Bounties
17.6 million Forever Coin tokens (capped) available through the bounty program.
Advisors: 0.48%
Bounties: 1.76%
Token sale costs: 0.76%
Medium: 5%
Telegram: 5%
Other: 10%
Token sale proceeds
The funds raised are planned to be used in accordance with the Roadmap (next page).
Game strategy & development: 30%
Marketing & sales: 14%
Production team, admin & operations: 42%
Planned fund allocation Systems/platform: 4%
Contigency: 10%
ROADMAP
TEAM
Meet the innovative team behind this tremendous project
Download the whitepaper:  http://foreverhasfallen.com/assets/fhf_whitepaper.pdf and visit the links below for more information;
Website: https://foreverhasfallen.com/
Telegram: https://t.me/foreverhasfallen
Twitter: https://t.me/foreverhasfallen
Facebook: https://www.facebook.com/foreverhasfallen
Bounty: https://bountyhive.io/join/Forever%20Has%20Fallen
Bountyhive Username: temillion
Author
temillion
Bitcointalk profile: https://bitcointalk.org/index.php?action=profile;u=1839623