GAMELOOT NETWORK (GLN) : PROVIDING THE MOST SATISFYING BLOCKCHAIN GAMING EXPERIENCE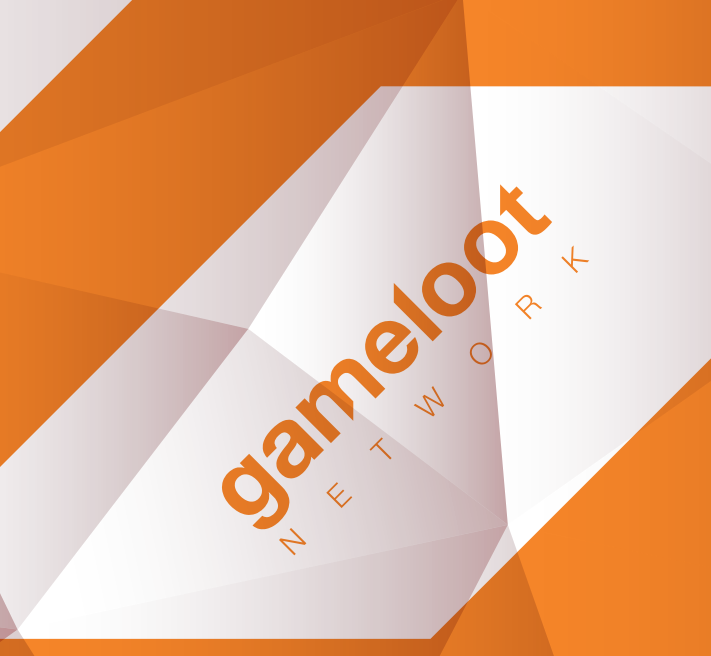 The game industry has definitely evolved. It has become a multi- billion dollar industry with all kinds of games too numerous to mention. Today, with the advancement of technology, so much progress has been made by developers and the market base keeps increasing. However, the issue of monopoly has been a major problem in the industry where major "big shots'' like Google play store basically ''colonize'' the market and have a major influence on the market trends; with their products in the market, other game developers struggle usually because they lack the funds and expertise to handle such competitions. As a result, even developers with great ideas eventually do not continue because they lack the funds basically. Game lovers on the other hand, are usually not rewarded for their patronage even though companies rely on their input for game curation, and beta-testing. Sometimes, companies produce games without doing proper research and getting feedback from consumers or game players on the kind of games required; consequently, unwanted games are produced.
GAMELOOT PLATFORM
Game loot is a platform that deals with the above mentioned problems facing the game industry. Gameloot provides game creators with the resources they require to bring their game creativity into reality, game players also get the chance to be rewarded for their patronage. The platform provides game developers an opportunity for their products to be recognized and made known to game players first hand regardless of any setbacks they may face. The platform features three gateways:
Build:


This provides users and developers access to a crowdfunding catalog to raise funds.
Play:



This makes it possible for users to play games within the platform. Ideas produced in the build portal can generate income for gamers and designers in the Play gateway.
Earn:

This portal gives users access to a wide range of revenue generating tools.
MISSION
The mission of Game Loot Network is to champion developers and gamers by creating a virtual plartform that rewards players with real- value and facilitates 'any-budget' game design.
MEMBERSHIP TYPES
• Sightseers- users who play games o the platform for free.
• Game Developers- game makers who make games with resources provided by the Build Portal.
• Groundbreakers- these members have gone beyond playing games for free, they play tournaments and make money on the platform.
• Curators- these are groundbreakers that submit loot to game designers in development games.
GAME LOOT UTILITY TOKEN (LOOT)
Loot is a utility- token created by Game loot used to reward users for their engagements on the platform. Users who win tournaments or invite friends to the platform are rewarded with LOOT.
The Game Loot platform aside from LOOT, has four other units though they can't be exchanged anywhere other than the Game Loot Network. They are not crypto currencies.
• Credits: they are used to purchase in-game boosts and to gain access to tournaments. Credits are received by Groundbreakers as a monthly endowment.
• Bids : these are gotten with LOOTS and with credits.
• Premium Bids : they are used to enter auctions for bundles of discounted LOOT.
• Tickets: tickets can be exchanged for real life prizes. They are received when tournaments are won.
TOKEN SALE DETAILS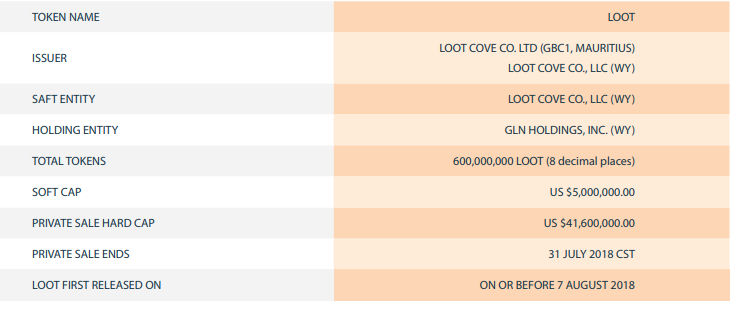 DAILY BLIND AUCTION


Token name : LOOT
Total tokens: 6 million LOOT (8 decimal places)
Soft Cap: $5 million (USD)
Private sale hard cap: $41.6 million (USD)
Private sale ends: 31st July, 2018 CST
LOOT first released on or before 7th August, 2018
Auction starts: 00:00 UTC, 1st September, 2018
Duration: daily periods of 20hrs for 300 days
Daily Token Allocation: 300,000 LOOT
PRIVATE SALE DETAILS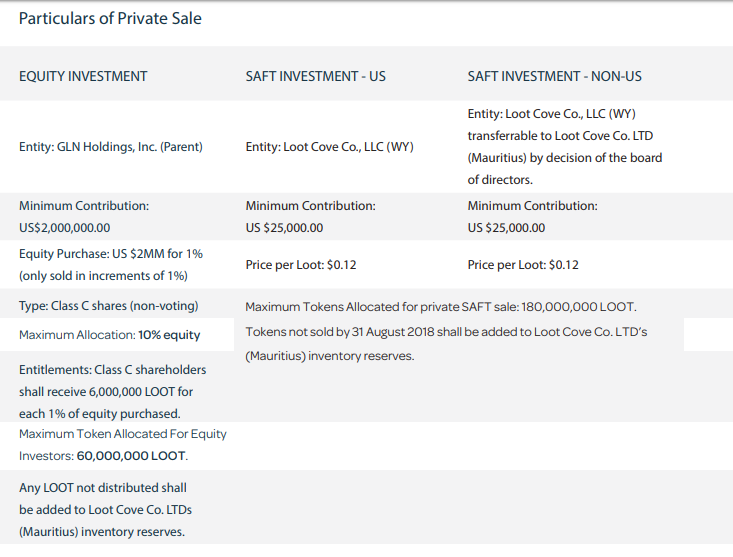 DISTRIBUTION OF PROCEEDS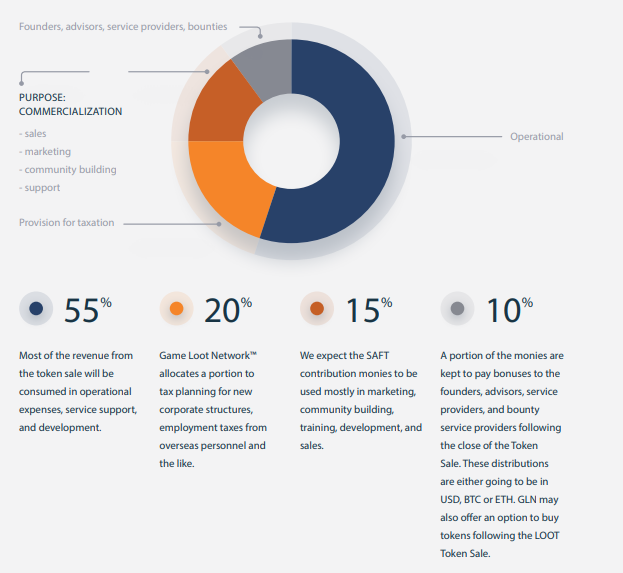 55% : operational expenses, service support and development
20% : tax planning for new corporate structures, employment taxes from overseas personnel and the like
15%: marketing, community building, training, development and sales.
10%: bonuses to founders, advisors, service providers and bounty providers.
ROADMAP
February 2018- the utility token, "LOOT'', becomes the gaming cryptocurrency of LOOT land.
March 1st, 2018 – Game Loot Network launches the private sale for their global ICO to accredited investors.
May 29th, 2018- Game Loot Network launches the public sale for their global ICO.
August 1st, 2018- GLN's 1.0, a virtual world built on the blockchain, is released. Players can travel to locations within the fantasy environment and interact with revolutionary game features. Games are available within the platform for download. Cryptocurrency combined with smart contracts allow for real life awards.
September 1st, 2018 – The platform's arcade region, Arcade Town, hosts embedded games and competitive tournaments; Tourney victors receive real-world prizes,
October 1st, 2018 – GLN's battle bidding arena opens, hosts embedded games and competitive tournaments. Tourney victors receive real- world prizes.
November 1st, 2018- The Game Forge opens and will feature a list of game projects submitted by developers. Users can select from any of these projects and submit their LOOT tokens to provide developers with a design and marketing budget. When monetized, those games will generate recurring revenue for the developers and any user who submitted tokens.
2019
Throughout 2019, a huge emphasis will be placed on growing the developer community and the user community. This emphasis will include global outreach to the independent game developer community and large scale promotions for the user community to grow their special social networks inside the LOOT land ecosystem.
February 1st, 2019
GLN's battle bidding arena undergoes beta testing with crowd machine to transition to a decentralized platform. Expected launch in the second quarter of 2019.
2020
GLN's virtual blockchain world expands to incorporate new towns with fresh features. Developers circumvent publishing gatekeepers and release fully- funded games to Arcade Town's incentivized audience. VR and AR additions are implemented so users can truly live, win, earn and play.
2020 Q1
Arcade Town's decentralized Game Store undergoes beta testing with crowd machine.
2020 Q3
GLN's virtual blockchain world becomes a decentralized mecca for game developers and players. Blockbuster titles are built in The Game Forge and released through Arcade Town. Users purchase and download games with LOOT tokens and the revenue splits between the original sponsors and game developers.
2021
An array of smash hit games is produce in the Game Forge and purchased through Arcade Town. Titles offer competitive play with LOOT token prize pools, achievements reward LOOT and the LOOT land cryptocurrency underpins a vast network of third-party economies.
TEAM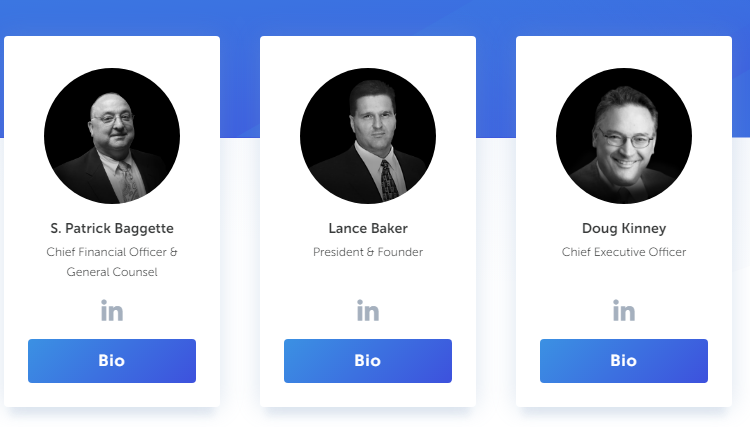 LANCE BAKER – President and founder
DOUGLAS A. KINNEY – Chief Executive Officer
PATRICK BAGGETTE II- CFO/ General Counsel
SCOTT SIMPSON- Chief Strategy Officer
RICK MCMULLIN – Chief Technical Officer
PAUL WINTERHALDER – Chief Development Officer
HAYD SNAPE- Chief Marketing Officer
JAMES DUCHENNE – Blockchain & Tokenized Business Advisor
ADAM RICHARD – Director of Global Blockchain Development
GLN gives voice to creative game developers, putting them in the limelight and rewards generously, game lovers. GLN sure provides its participants with an unforgettable gaming experience. Invest in GLN today. For more information on the project, please check out the links below:
Website : https://gamelootnetwork.com/
Whitepaper: https://gamelootnetwork.com/assets/documents/gameloot-whitepaper.pdf
Twitter: https://twitter.com/gamelootnetwork
Facebook: https://twitter.com/gamelootnetwork
Telegram : https://t.me/gamelootnetwork_ico
Authored by: thankyoulord
Bitcointalk url: https://bitcointalk.org/index.php?action=profile;u=2076086
Wallet: 0x2859DD117e5E186B2dec97b50012C66D0E7597Ad