Hello everyone, If you're interested in joining the Bitdrive project, it's a good idea to read reviews that can help you get information that might help you in viewing their mission vision:
Bitdrive is a revolutionary blockchain powered ridesharing platform that seeks to disrupt this industry, rid it of all inefficiency and make it the fair, equitable and highly transparent domain of modern business it is supposed to be. Bitdrive will reimagine the whole idea of Ridesharing, by giving the stakeholders (the driver, and rider) total control of the experience in this innovative industry, and make ridesharing both rewarding to the driver, and highly affordable to the rider.Bitdrive will be built on the all-powerful Ethereum virtual machine. It will use its native Bitdrive token as the driver of its all-new token economy which will completely disrupt the way ridesharing is done, by eliminating the dependence on expensive and highly inefficient vehicles of transfer of value. Bitdrive will be an instant platform, that is completely secure, and extremely pocket-friendly to the user. Bitdrive is platform that absolutely guarantees the safety of the personal data of both drivers, and riders, as no one will have access to any such data without the express consent of the owner.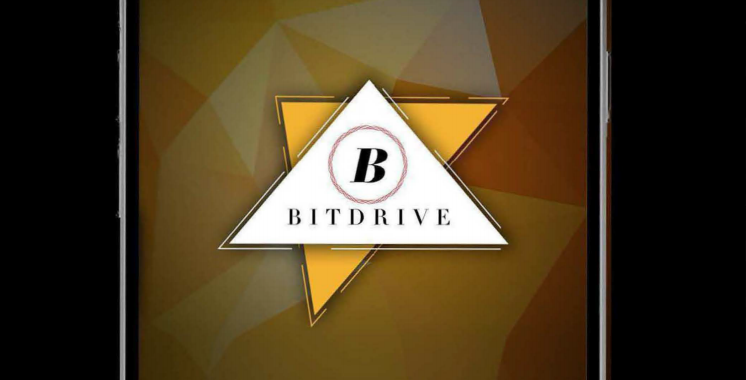 A TRULY GLOBAL RIDESHARING PLATFORM
FLEXIBLE PAYMENT OPTIONS USING BTD,BTC,ETH,USD
ABSOLUTE PERSONAL DATA PROTECTION
INBUILT DECENTRALIZED INSURANCE SYSTEM
Problem Statement
Driver based applications are becoming popular all across the World. But the rising popularity has also hampered the need for drivers, as automation concepts are being explored. On the other hand, most of these organizations hire unprofessional drivers who often drive unlicensed and faulty vehicles. Most of the organizations are operating by taking advantage of the legal loopholes which allows them to avoid expensive procedures necessary for providing high-quality ridesharing services. Not to mention that passengers face hurdles in the centralized booking system and are charged sky-high rates for even short distances. In most of these situations, the passengers are losing a lot of money and are not at all satisfied with the service. This includes drivers cheating on users by taking longer routes because of the pricing policy. Also, there is absolutely no transparency in the organization's policies which have forced passengers to try alternate modes of transportation which is a growing concern for the organizations trying to maximize their profits.
Insufficient remuneration
The number one issue faced by most of the companies in today's market.
Ridesharing companies are least bothered about the welfare of the drivers, they mostly
concentrate their efforts on making profits leaving their drivers out for dry with nothing
much to sustain for long term.
Highly Centralized systems
Most of these companies have a centralized way of operating as they have
instilled centralized systems. Centralized transactions are a lengthy
and cumbersome process for both the driver as well as the passenger as they
have to process their transactions through a third-party or an intermediary and
this will result in accumulation of extra fees.
Inflated fee structure
In a centralized system there is always some hidden and unknown user
fees attached to the main fee. This becomes worse when the user is paying through
credit/debit card. In that case even the bank rates will apply.
Lack of concern for the drivers or the passengers
There have been numerous incidents where the ridesharing companies
withdrew their service from certain locations leaving many drivers in those particular
locations without any jobs. This certainly impacts the commuting of passengers who
depend on these ridesharing services.
Zero incentives for the drivers to stay
The annual turn-over rate for the drivers in most of the ridesharing companies
comes in between 40 to 50% and this could be before the drivers actually signed up.
The ridesharing companies attract the drivers initially by advertising an hourly rate
varying from $25 to $35 per hour, this is including the commission. However, in reality
each driver gets an average rate of $10 to $20 per hour. The only thing that motivates
the drivers are the bonuses received on completing their targets, most of the
time these targets are completely unrealistic. Apart from that most of the drivers
don't see any incentive for them to make them stay.
Regular fare cuts
Frequent wage revision and fare cuts do not affect anyone else in
the organization except the drivers, their incomes are gravely reduced and they
have to put in more effort to earn what they will earned prior to the fare cuts.
Faulty policies and zero transparency
The organizational structure of a ridesharing company is designed specifically
to maximize the driver's work whereas the promoters and the company enjoy the
lion's share of benefits. This is because their platform is completely centralized, which
means the company is in total control of the business operations and will come
up with policies without consulting their drivers. Another concerning factor is the
lack of transparency in the company's user policies. The passenger in many
scenarios are unable to get the trip fare details or how they were subjected to an
expensive fare.
BITDRIVE IS DISRUPTING $36 BILLION RIDEHAILING INDUSTRY
BENEFITS FOR TOKEN HOLDERS
PROVEN DISRUPTION BY THE BLOCKCHAIN
By investing and holding on to your Bitdrive token. not only are you taking a safe bet that will pay off in a big way, you are investing in a technology with a proven track record of disrupting big industries. With Bitdrive, Ridesharing will be turned on its head, and that's a big plus for you.
TEAM TOKENS TO BE LOCKED FOR 2 YEARS
Our goals are long term – to build a global decentralized RIDE SHARING PLATFORM. To prove this, Team tokens will be locked for 2 years.
TOKEN WITH REAL-WORLD VALUE
The mission behind Bitdrive is to make the BTD token, as well as other crypto assets accepted on the platform, have real-world impact. Crypto currencies will continue to be ridiculed by legacy industries unless it can be seen to be having a relentless adoption rate. Bitdrive will crystallize this by making BTD THE ridesharing token opening huge potentials for value appreciation.
A DEDICATED TEAM
Bitdrive is the creation of a dedicated team from all relevant industries, with a unified passion for stellar service delivery for those willing to pay for it. Ridesharing will be a better industry with Bitdrive, because it has a team that takes it, and your investment seriously.
THE INSURANCE OPTION
Bitdrive will be the first Ridesharing platform in the world to have an effective inbuilt insurance mechanism, which will be decentralized.
A UNIQUE BUSINESS MODEL
Bitdrive is a lean outfit that does not bear the baggage of the present ridesharing platform. We have no middlemen, payment gateways, or other wasteful practices and this means better returns for our investor
A STEEP GROWTH PROJECTION

The global Ridesharing Market is only going one way which is up, and by 2030 this will be a $238 billion market. Bitdrive is not aiming for just a share of this cake but wants to disrupt and take away what other ridesharing companies has by providing a better service for the rider, fairer rewards for drivers, and a worthwhile investment option for you the token holder.
FIXED TOKEN SUPPLY
With a fully functional token economy and a fixed number of Tokens in supply, investors stand to see their Tokens appreciate in value over time as the platform welcomes millions of users from all over the world. Bitdrive is set to redefine our very definition of long-term assets as there's only one way it's token value will go as it penetrates newer regions, and that way is up.
ZERO TRANSACTION FEES
With Bitdrive, you no longer need to worry over unfair transaction fees charged by banks and the present ridesharing platforms. Bitdrive is unencumbered by banks and other middlemen, transactions are free, and happen in an instant across all borders of the world. Bitdrive is truly Unlimited!
BITDRIVE AUTOSURANCE
Bitdrive Autosurance is an effort of the Bitdrive platform to be there for you whenever the need arises, ridding you of worrying over those dreaded rainy days. Bitdrive Autosurance is our sincere effort to be by your side, our esteemed partner in success, not just in times when all seem to be going well but to have your back when things go awry.
TOKEN METRICS;
TOKEN VALUE
SOFT CAP
3,000,000 BTD
HARD CAP
500,000,000 BTD
UNSOLD TOKENS
TO BE BURNT
TEAM TOKENS TO BE
LOCKED FOR 2 YEARS
Token Sale
accepted currencies
Soft Cap
Hard Cap
Number of tokens to
be offered for ICO
ETH, BTC, LTC
3,000,000 USD
20,000,000 USO
50 % (Roughly 500 million)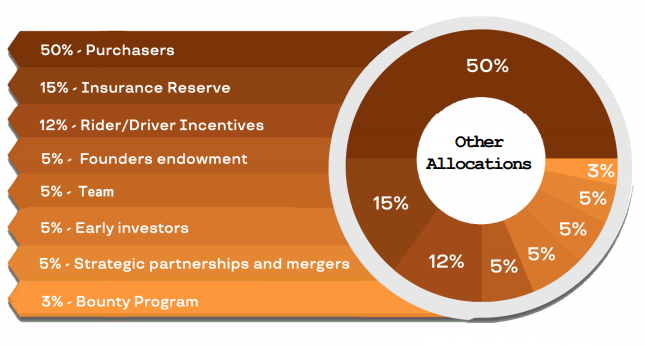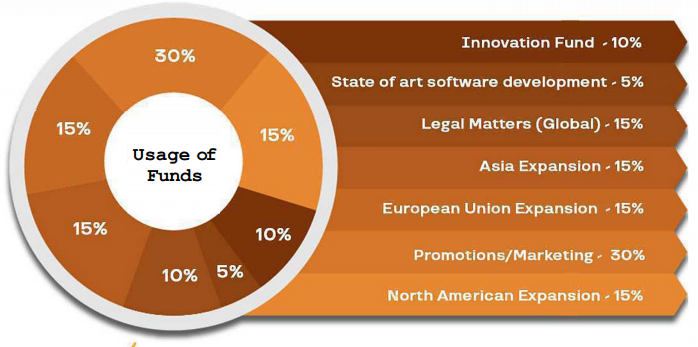 ROADMAP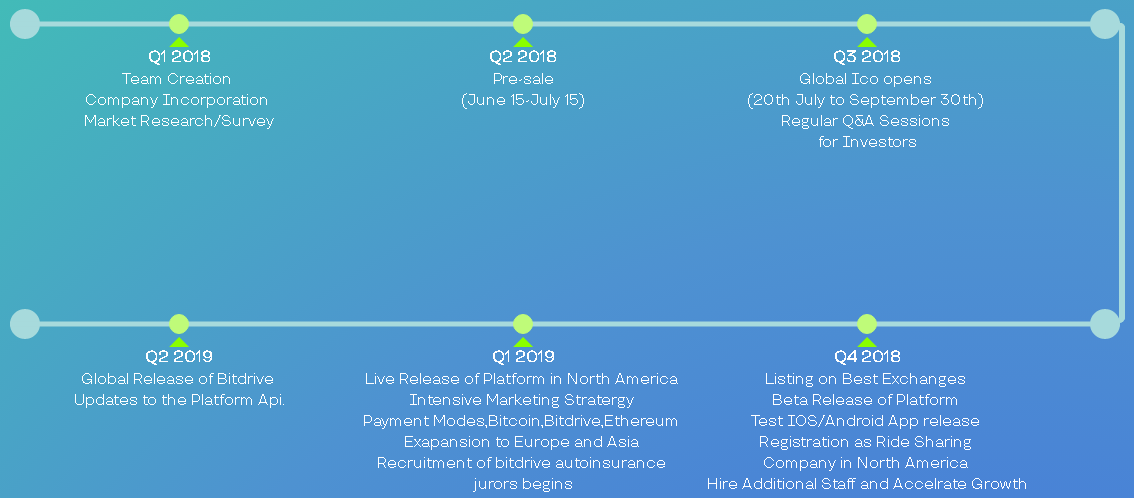 For more details:
Website: https://bitdrive.tech
Twitter: https://twitter.com/bitdriveinc
Telegram: https://t.me/joinchat/Hl1YAAt7nRA1hxbbkLYnaA
Facebook: https://www.facebook.com/BitdriveInc
My Bitcointalk profile link – https://bitcointalk.org/index.php?action=profile;u=1182404