BQT : Social P2P Crypto Exchange and Hedge Trading Platform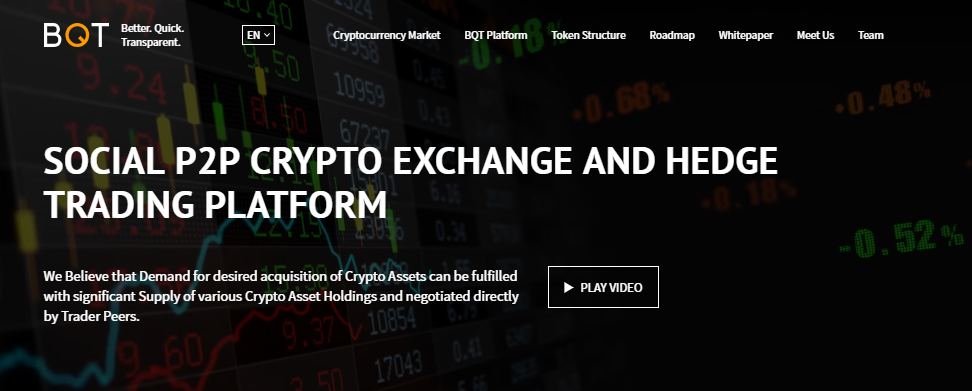 What is BQT PLATFORM:
While many Blockchain experts are trying to find more ways to marry CRYPTO with FIAT, BQT Team believes in reducing dependency on FIAT altogether. Every Crypto Asset has its value and can be used as negotiating tool to acquire another Crypto Asset. We believe that Demand for desired acquisition of Crypto Assets can be fulfilled with significant Supply of various Crypto asset holdings and negotiated directly by trader peers.The aim of BQT is to build a community and culture of Crypto Traders utilizing the Plat-form, helping the community and benefiting from the community.BQT Exchange Platform provides secure, interactive and flexible P2P Trading Environment and user-friendly interface for its community to manage various types of transactions con-sisting of many crypto assets.BQT platform allows traders globally to negotiate their Crypto Asset trades directly inter-acting with each other and sharing their experience with the community.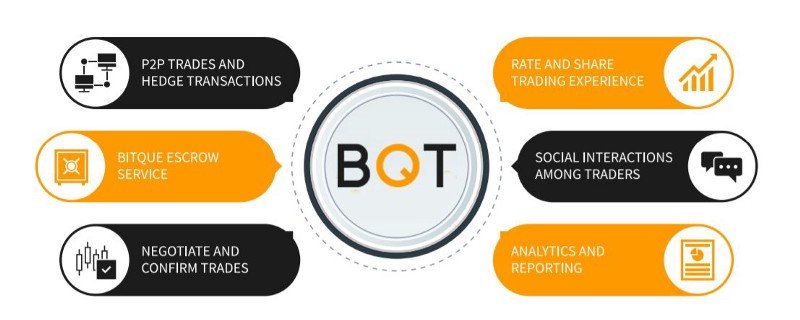 To leverage holdings of various Crypto Assets, BQT introducing the revolutionary Hedge Trades system. Unlike Margins and Futures Trading, BQT Hedge Trade system is a flexible method for Traders of acquiring Crypto Assets for a short-term period by means of escrow of their existing Crypto holdings.
This revolutionary approach allows Crypto Traders leverage their Crypto Holdings to acquire significant number of additional Crypto Assets they believe in without a need of a traditional margin trade
BQT SYSTEM WORK-FLOW:
BQT P2P Platform utilizes secure and decentralized benefits of the Blockchain delivering flexible functionality for Traders world-wide.
Every module and database is programmed using various methods of encryption and en-sures confidentiality and protection for Traders. 2FA configuration is a required setting for every Trader Profile.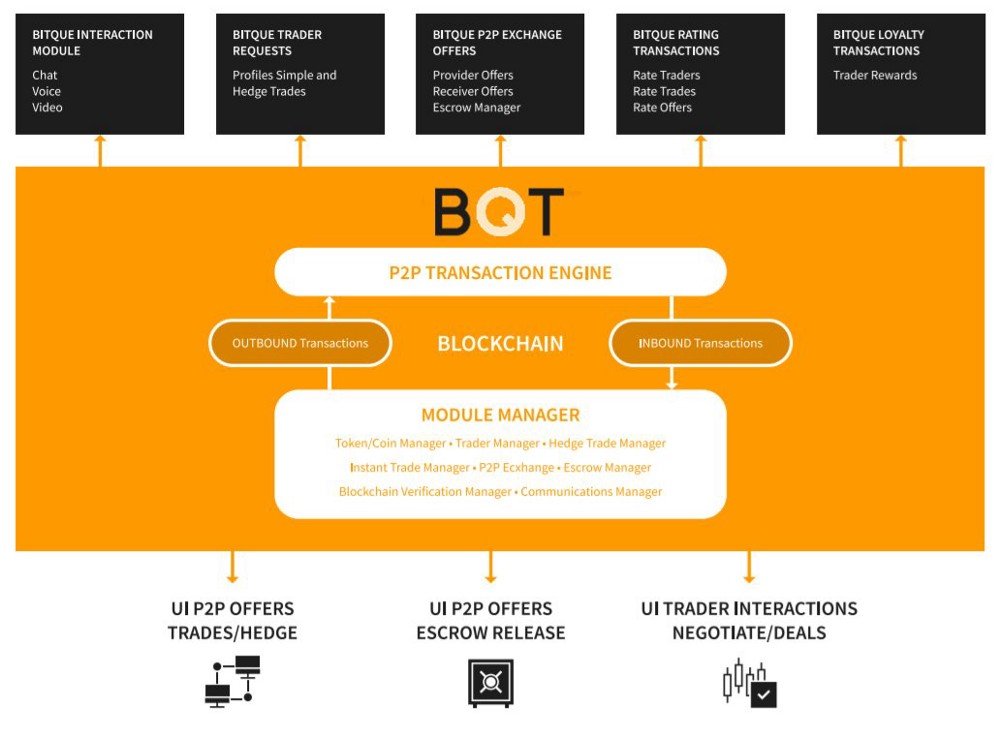 BQT INITIAL COIN OFFERING (ICO):
BQT is launching its Initial Coin Offering (ICO) campaign in July, 2018 issuing 200,000,000 ERC20 tokens (BQTX), minted at the end of an ICO.
BQT would charge 1% transaction fee for the instant trades and 3% escrow fee for Hedge Trades. All fees are payable ONLY with BQTX tokens to ensure the liquidity and utilization for the tokens. In addition, the BQTX tokens can be used as escrow collateral for some trades or added as additional collateral.
50% of the Fees would be shared quarterly during the first 3 years of Exchange operations as follows:
• 20% to ICO Initial Token Holders
• 15% to Top Traders
• 15% to Referral Affiliate Partners
BQTX-TOKEN STRUCTURE
· 200,000,000 BQTX TOKENS WILL BE ISSUED DURING ICO *
· 800 BQTX TOKENS = 1 ETH
· Total 800,000,000 Tokens Authorized, 200,000,000 Tokens Issued during ICO, 600,000,000 tokens will be frozen and would only be released as needed for company expansion, mar-keting and loyalty programs to maintain token liquidity (up to 10% per year).

TOKEN DISTRIBUTION: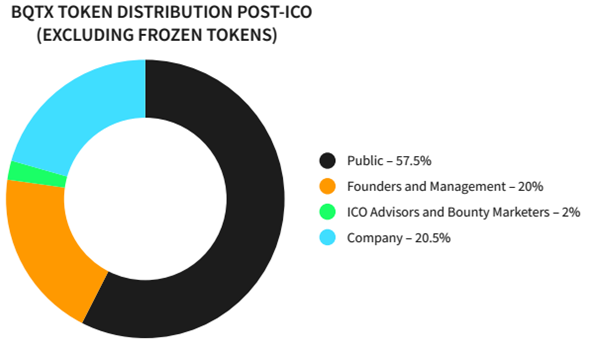 FUNDS ALLOCATION:
RoadMap: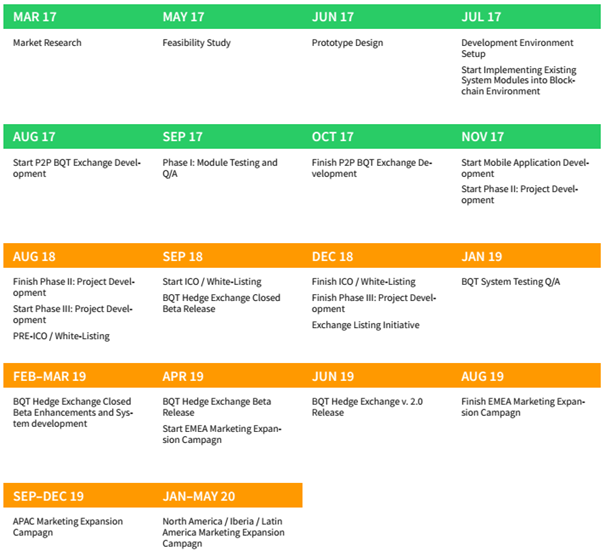 Team: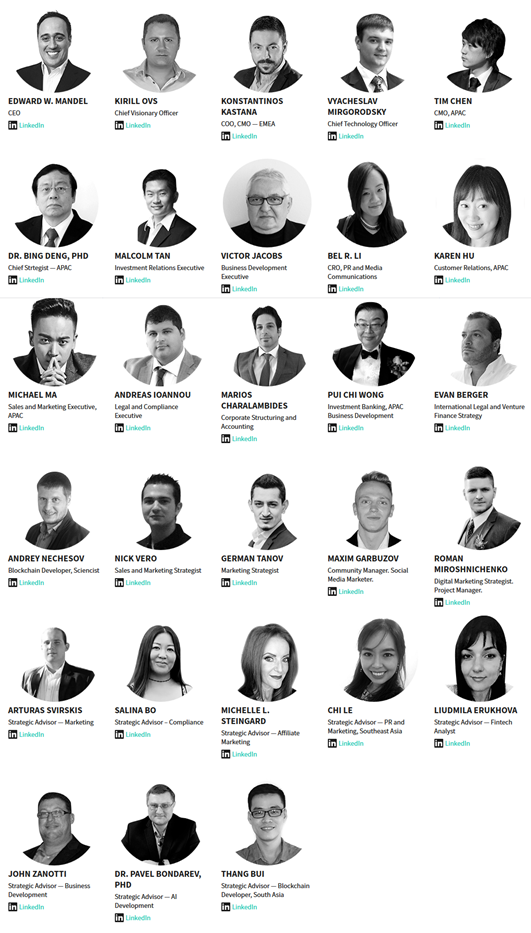 Website: https://bqt.io/
Whitepaper: https://bqt.io/assets/pdf/whitepaper.pdf
Twitter: https://twitter.com/bqt_ico
Telegram: https://t.me/BQTCommunity
Facebook : https://www.facebook.com/BQTPROJECT/
Medium : https://medium.com/@BQT
ANN thread: https://bitcointalk.org/index.php?topic=4855053.msg44205944#msg44205944
Bitcointalk Username :ibro
Bitcointalk Profile URL:https://bitcointalk.org/index.php?action=profile;u=2387376