The development of the blockchain technology has created a vast number of new investment opportunities characterized with various problems and issues. It has the potential to revolutionize the world thereby becoming the corner stone of modern innovation. Though crypto market has made people wealthy, and it's a huge market with more than $400 billion market capitalization, it also has their flaws which make investors and miners discouraged. One of such problem is the poorly designed UI's and archaic platforms.this can overwhelm even the most seasoned investors due to its bogged down excessive numbers and charts with little or no explanations. With this, learning the ropes to becoming a professional investor is quite difficult. Another problem is the poor customer services been rendered by some of these platforms, there never existed an exchange with a world class support team to help assist the miners and investors, challenges which ranges from unresponsive support team to rude staff members. One important problem that cannot be left unchecked is the problem of security because that is one of the most heightened concerns an investor has, the security of an exchange is of an important priority. This is because even though every investor would like to store their funds remotely, it is inevitable that a portion of one's investments will be located at the exchange due to active trading. Also, the problem of registration, licensing, and regulations cannot be left unchecked as that is one of the second greatest challenges facing current cryptocurrency, to maintain co ordinal relationships with traditional financial institutions, payment gateway and banks. Other problems includes platform speed of current exchanges resulting in huge loses and the cumbrous and monotonous it is to sign up and deposit funds into current exchange sometimes taking very long to be verified which is so stressful. It was with the zeal to curtail such problems BITHEMOTH was created. The future of mining in cryptocurrencyis been announced and ushered in with energy efficient.
Recognizing the potential of revolutionizing the world, Bithemoth was developed, to create an encompassing blockchain trading platform. Bithemoth creates a fair exchange making crypto-trading easily accessible to everyone and anyone. The three fundamental pillars Bithemoth was created upon is Accessibility, Usability and Profitability. Bithemoth creates an all encompassing cryptocurrency exchange which refines how cryptocurrencies are traded. The services of Bithemoth will be accessible through a streamlined platform that is embedded onto the blockchain technology. The crypto market should be free of laborious process which should always be beneficial to investors thereby giving them more advantages into joining. Bithemoth believes that transparency is the key to the success of any business, and this is why security is of importance, to ensure the security of this platform, a high level of state-of-the-art security architectures to protect investors funds are been deployed, guarantying its safety. It will not only refine the way cryptocurreinecies are been traded, it will also incorporate multiple novel features distinguishing itself from existing platforms thereby solidifying itself into the cryptosphere, a platform designed to suit the needs of traditional investors and simplifying the trading process allowing any person in any part of the world to be part of this technological renaissance
UNIQUE VISIONS OF BITHEMOTH
• to mentor new investors for them to become skilled in the crypto space through bithemoth supportive, simple and user friendly platform
• To allow experienced traders to enjoy a highly flexible, fast and secure environment that is inherently laden with familiar features.
• To provide an integrated market place and ICO incubator that will provide ourselves with more opportunity to utilize their crypto or take advantages of new developments.
PARTNERS OF BITHEMOTH


UNIQUE BENEFITS OF BITHEMOTH
• With the hardware wallet integration, it is highly secured which is so impenetrable.
• It is easily accessible for the general public with Brick and mortar locations and a direct fiat-to-crypto.
• Different fiat options are been provided to users which makes entry so easy and accessible.
• Its easily understandable with the explained videos for each feature
• its usability is so friendly as it is designed both for new investors and seasoned investors which enhances the experience of users
• a friendly support system whereby users curiosity or questions are been taking care of, making it easy and fun to trade
• it is profitable with low trading fees and also short term gains, a decentralized market place
• it has an integrated hardware wallets with an exchangeable debit card which makes life easier and fun with no or little stress
• Easy to use with the development of a safe and efficient mobile app that would be linked directly to Bithemoth exchange which will result to a boost to an overall functionality of our exchange which will be an excellent user experience.
• Specialized trading features are been added so as to allow users to set up specialized smart buy/sell orders and other unique trading features.
TOKEN DETAILS OF BITHEMOTH
Bithemoth Coin (BHM) will be the token coin that we will issue. There will be a maximum amount of 200 000 000 (two hundred million) coins that will be created. We do not intend to increase it further. BHM is modeled and will run using the Ethereum blockchain with ERC 20. This will ensure the safety and security of the token in the long-term.
TOKEN DISTRIBUTION OF BITHEMOTH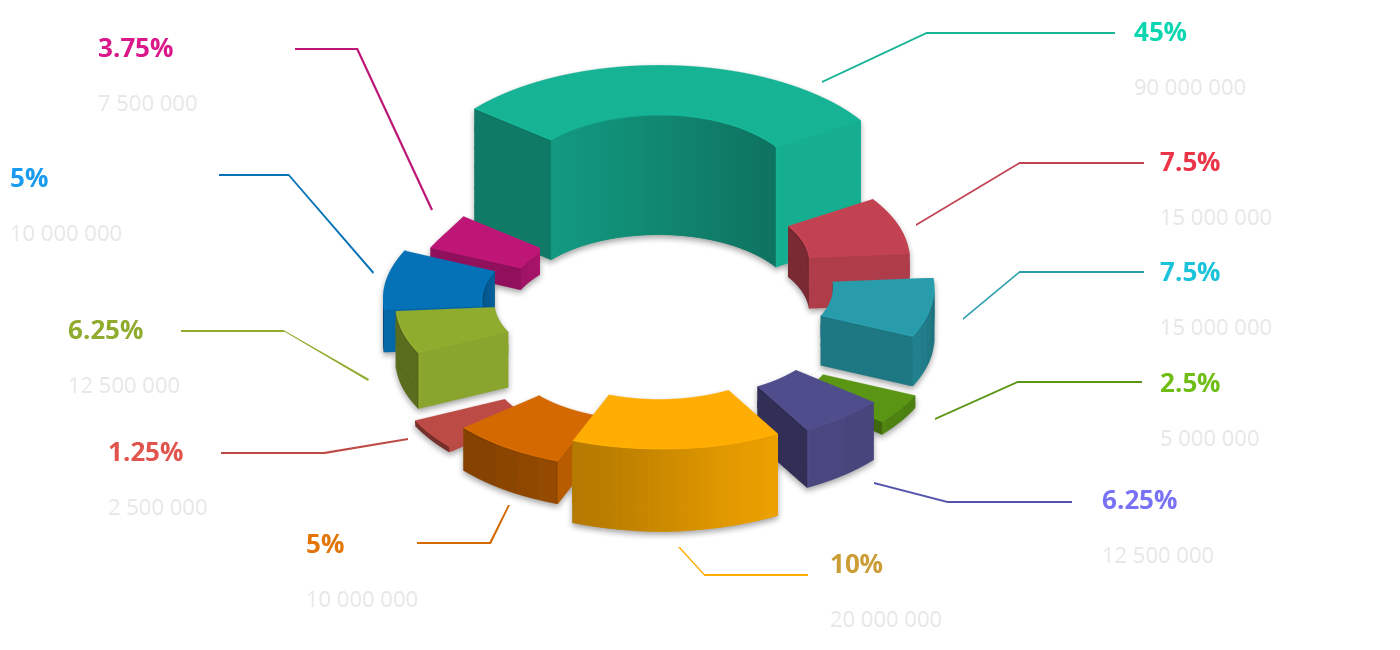 3.75% Human resources: 7 500 000
5% Platform Liquidity: 10 000 000
6.25% Founders; 12 500 000
1.25% Advisors 2 500 000
5% Marketing: 10 000 000
45% ICO: 90 000 000
7.5% Pre sale: 15 000 000
7.5% Fire sale; 15 000 000
2.5% Community rewards: 5 000 000
6.25% Angel Investors: 12 500 000
10% Development team: 20 000 000
BITHEMOTH TOKEN ALLOCATION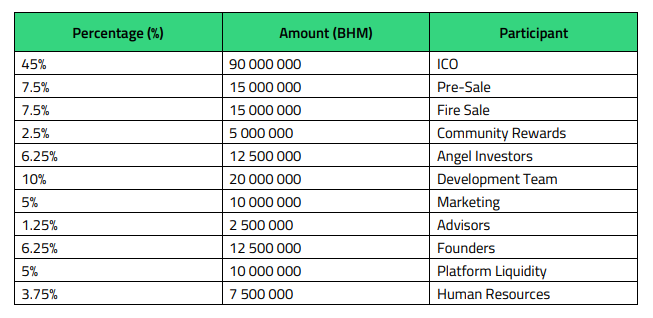 45% ICO: 90 000 000
7.5% Presale: 15 000 000
7.5% Fire Sale: 15 000 000
2.5% Community Rewards: 5 000 000
6.25% Angel Investors: 12 500 000
10% Development Team: 20 000 000
5% Marketing: 10 000 000
1.25% Advisors: 2 500 000
6.25% Founders: 12 500 000
5% Platform Liquidity: 10 000 000
3.75 Human Resources: 7 500 000
BITHEMOTH ROADMAP



2017
September: Project vision
October: Team creation
December: Development commences
2018
Q3: presale, ICO, Beta launch, Global Marketing Campaign
Q4: Full exchange release, Mobile App Launch, Patent and Product Licensing
2019
Estimated Q1: Marketplace Implementation
Estimated Q4: Hardware Wallet Integration, Brick and Mortar Stores
BITHEMOTH TEAM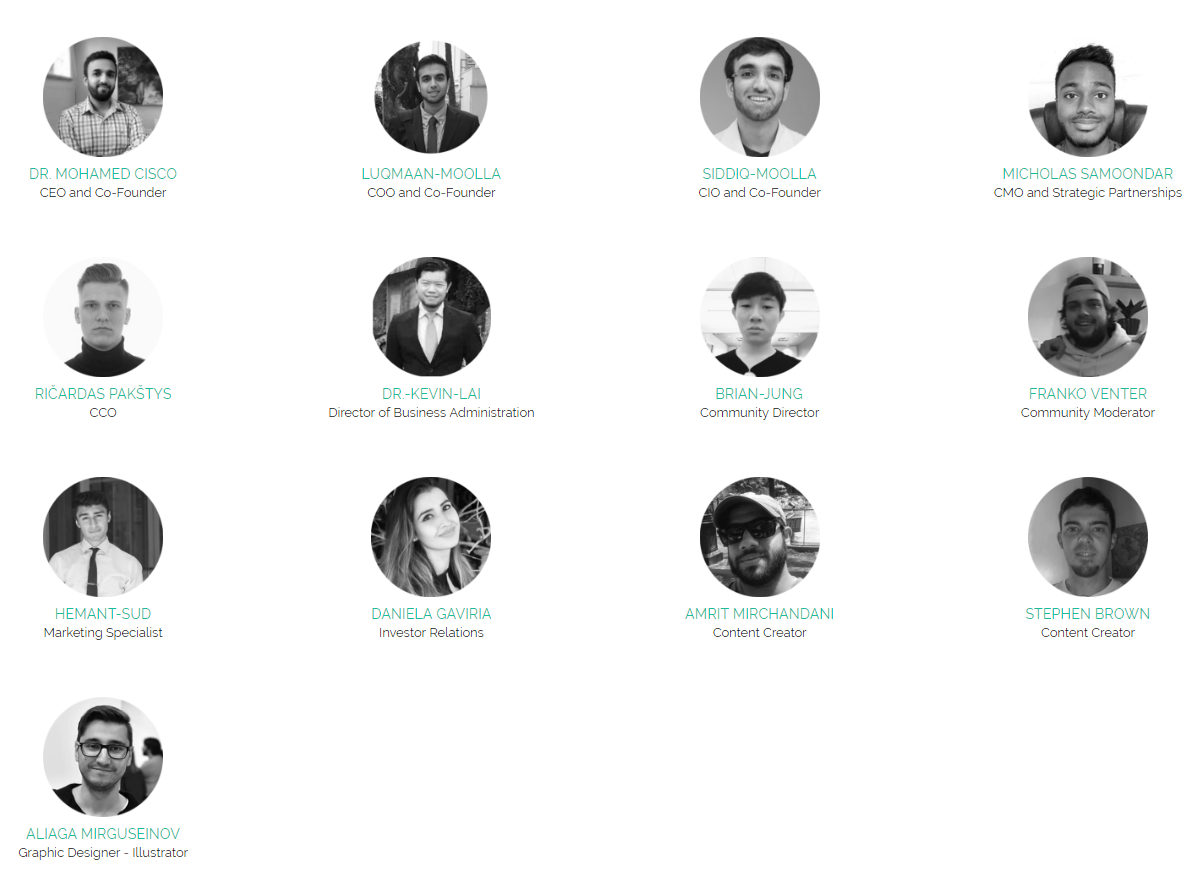 DR. MOHAMED CISCO: CEO and Co-Founder
LUQMAAN-MOOLLA: COO and Co-Founder
SIDDIQ-MOOLLA: CIO and Co-Founder
MICHOLAS SAMOONDAR: CMO and Strategic Partnerships
RIČARDAS PAKŠTYS: CCO
DR.-KEVIN-LAI: Director of Business Administration
BRIAN-JUNG: Community Director
FRANKO VENTER: Community Moderator
HEMANT-SUD: Marketing Specialist
DANIELA GAVIRIA: Investor Relations
AMRIT MIRCHANDANI: Content Creator
STEPHEN BROWN: Content Creator
ALIAGA MIRGUSEINOV: Graphic Designer – Illustrator
DEVELOPMENT TEAM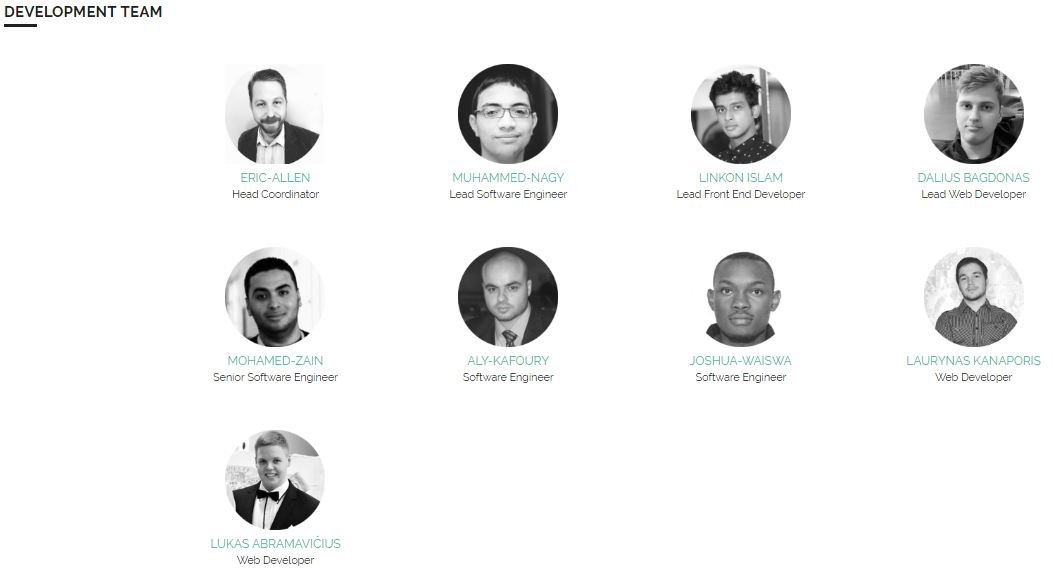 ERIC-ALLEN: Head Coordinator
MUHAMMED-NAGY: Lead Software Engineer
LINKON ISLAM: Lead Front End Developer
DALIUS BAGDONAS: Lead Web Developer
MOHAMED-ZAIN: Senior Software Engineer
ALY-KAFOURY: Software Engineer
JOSHUA-WAISWA: Software Engineer
LAURYNAS KANAPORIS: Web Developer
LUKAS ABRAMAVIČIUS: Web Developer
As we all know, time is of the essence when it comes to investing. Bithemoth offers to guarantee investors smooth trading platforms where it is secured with a transparent way of dealing, fast and reliable. Bithemoth has made mining not just easy but fun by helping  eliminating the problems already posed in the cryptocurrency world today. One won't be able to know its importance and unique benefits until one has in one way or the other used the bithemoth platform. Like they say, an action speaks louder than words. To join us, to know more about our services, inquiries please visit us in any of the links below.
Website: https://bithemoth.com/
Whitepaper: https://bithemoth.com/whitepaper.php
Facebook: https://www.facebook.com/bithemoth/
Twitter: https://twitter.com/bithemoth?lang=en
Bitcointalk: https://bitcointalk.org/index.php?topic=3311741.0
LinkedIn: https://www.linkedin.com/company/bithemoth/
Medium: https://medium.com/bithemoth-exchange
Youtube: https://www.youtube.com/channel/UCndzKrOwSjnWVQQCnthWoNA
Written by: Ogtejiri
Bitcointalk url: https://bitcointalk.org/index.php?action=profile;u=1790132
Wallet address: 0x33E8810b5432ccD823b6c45975A55Fb9F6c931D6