How many a time have you come across a pop up on your frequently used mobile application, website or product, asking you to give a review for the experience, positive or negative, and you ignore the message entirely? Well this is a continued practice by more than 80% of service, product users. The providers, and other future users of such service need your review, recommendation to either patronize or identify a poor service. To reward service consumers who share accurate information or detailed reviews, so thus the idea of Servadvisor was born.
In a simpler form, Servadvisor is a platform where service consumers are rewarded to write genuine, high quality reviews of their consumed services. ServAdvisor also builds a net of service consumers through their habits and preferences using artificial intelligence which provides individualized unique recommendations for users. This platform is basically a go-to place for genuine information and customer reviews of consumed services. The rewards generally motivate users to leave personalized comments in the form of reviews on the platform. In turn, future consumers have firsthand review of the services or service providers they wish to patronize.
Because blockchain technology has taken part in growing economy and remodeling the shape of industries it's integrated in. Introducing the blockchain technology in a system, with its smart contract technologies, fraudulent activities on the system tends to be curbed and security of genuineness is granted. And this is the reason why ServAdvisor has also introduced their very own Token, the ServCoin token, which will be used to reward users for their high-valued reviews and media contents in general. These received tokens can be used in the platform to access other services, or being converted to fiat money.
Often time, in market places like fiverr.com, service consumers tend to be lost in the crowd, seeking for genuine review of a professional service provider or his services, this is conflicting with the real reason those platforms were created. ServAdvisor has identified a living market here, which will settle the riot of not having adequate genuine reviews to match services consumed. The number of smartphone users and the growth of online market places shows that if this field of service is explored, it will beneficial to the team of this platform.
TOKEN DETAILS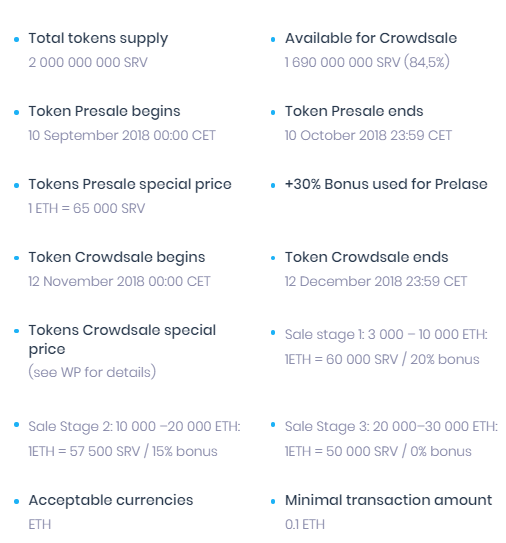 Symbol: SRV
Total SRV tokens supply: 2 000 000 000
Available for crowd sale: 84,50%
Hard cap: 30,000 ETH
Exchange rate: 1 ETH = 50,000 SRV
Token presale begins: 10 September 2018 00:00 CET
Token presale ends: 10 October 2018 23:59 CET
Token crowdsale begins: 12 November 2018 00:00 CET
Token crowdsale ends: 12 December 2018 23:59 CET
Payment method: ETH
TOKEN DISTRIBUTION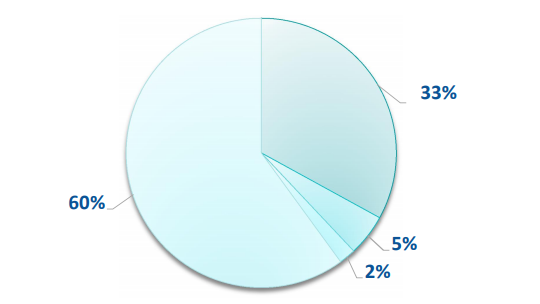 60% – to the product development team: Additional back-end developers, AI developers, designers
33% – expenses for PR and marketing: International marketing campaigns, Promos in 5 regions (North America, Asia, Europe, Russia, Latin America), Conferences and media partners, SMM, opinion leaders
5% – bounty 2% – on advisers and project managers
Early participants will benefit from guaranteed profits associated with significant bonuses during both Token Presale and first stage of Crowdsale.
During Token Presale 1 ETH = 65 000 SRV
During last stage of Crowdsale 1 ETH = 50 000 SRV
TOKEN ALLOCATION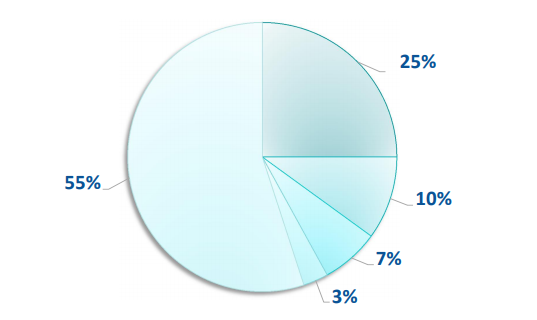 55% – product development team.
25% – marketing and sales expenses, media content, PR, SMM and attraction of all types of users, presentations and advertising campaigns, purchase of targeted traffic
10% – business development team
7% – project management, advisors, legal expenses
3% – bonus to developers and creators
ROADMAP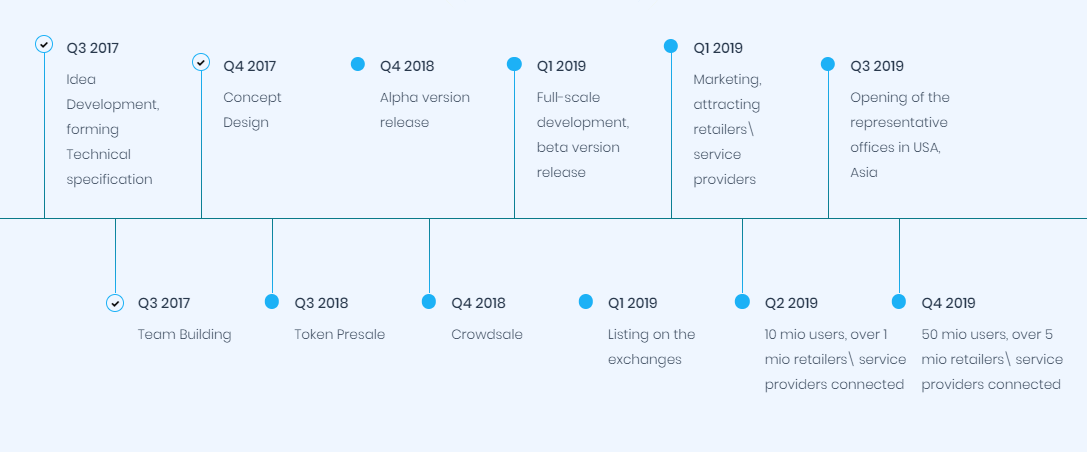 Q3 2017: Idea Development, Team Building
Q4 2017: Concept Design
Q3 2018: Initial Crowdsale
Q4 2018: Alpha version release
Q4 2018: Crowdsale
Q1 2019: Full-scale development, beta version release
Q1 2019: Listing on the exchanges
Q1 2019: Marketing retailers\service providers
Q2 2019: 10 mio users, over 1 mio retailers\service providers connected
Q3 2019: Representative offices in USA
Q3 2019: Representative offices in Asia
Q4 2019: 50 mio users, over 5 mio retailers\service providers connected
TEAM
Dr. Dimitri Sidorovich – CEO & Lead Blockcahin Founder
Maxim Kavzunovich – CTO & Senior Architect, Founder
Elena Verbier – Chief Marketing Officer.
Serge Grechko – Chief Business Development Officer,
George Mcgregor – Chief Business Development Officer
Max Frederik Woznjak – Senior Community & Partnerships Manager
Oliver Neuner – Android Developer.
Rajeev Nair – IOS Developer.
Deepak Gupta – Head of Back-End Development.
Ashish Rokade – Head of Front-End Development
ADVISORS
Alex Shkor – CEO & Blockchain Architect at Deip
Dr. Johann F. Bohme – Professor for Statistics Ruhr-University
Eli Fathi – CEO at Mindbridge Ai Canada
Yunzhu Lin – Co-Founder at Xstar.Io
Kirill Krasnogir – CEO & Co-Founder at Gkeylab Ltd.
Deepanshu Bhatt – ICO Advisor | Business Lead
You will agree with me perfectly well that the aim of this project will help eliminate issues that are commonly experienced at online market places. And rewarding the service consumers by issuing out systems' token for their genuine reviews is the first step to cultivate the habit of attending to user's review tasks. To adequately acquaint yourself with firsthand information on this project, please do well to visit these links below:
Website: www.ServAdvisor.co
youtube: