4ARTechnologies: Value For The Entire Arts ecosystem
What Is 4ARTechnologies?
4ARTechnologies is a decentralized platform offering cataloging and transactional services with the aim of improving transparency, security, and processing efficiency in the art world. The platform will combine blockchain technology with augmented authentication technology in efforts to solve some of the most pressing challenges in the art world such as the lack of a comprehensive method of authenticating and verifying artwork.
Some of the essential services that 4ART will provide to its users include:
Fingerprinting service, Data storage service for the artworks transaction history, Certification issuance for validating and documenting transactions around an image, Transaction verification service, and Art Cataloging for museums and galleries.
4 Key Technology Features
Eliminating art fraud problems After the "fingerprint" artwork is captured, all that is needed to authenticate the artwork is another quick scan using the mobile application. Because this fingerprint – along with all other important information about history and origins – is stored on the blockchain, it is tamper-proof.
Creating transparency without costs for privacy Industry has long refused to create a centralized database because of privacy issues for investors and owners of artwork, and the lack of practical technical solutions.
Bringing new efficiency to the conditions and recovery of reporting conditions is part of almost every transaction in the art market, from insurance to logistics to sales – at least in theory. With the 4ART mobile app, both condition and recovery reports are bound to be minutes to a fraction of the set cost.
Making portfolio management easier than ever before the 4ART platform as a service helps users maintain all ownership certifications, loans, recovery, transportation, and insurance protection related to artwork – for owners of individual pieces and galleries and museums with large portfolios.
Empower artists to produce from reselling their work. Like other intellectual property holders (such as writers or musicians), they also have the right to get royalties from their work.
Market Potential While art has long been a valuable asset for investors who want to diversify their portfolios, the latest figures in the art market published by Art Basel and UBS in their report on "The Art Market 2018" reveal the true potential of life and market growth. After growing by 12% since 2016, the annual market turnover in 2017 amounted to $ 63.7 billion, broken down into 39 million individual transactions – the highest number of transactions since 2008. The fact that the number of transactions grew by only 8% indicates that the average value of traded art.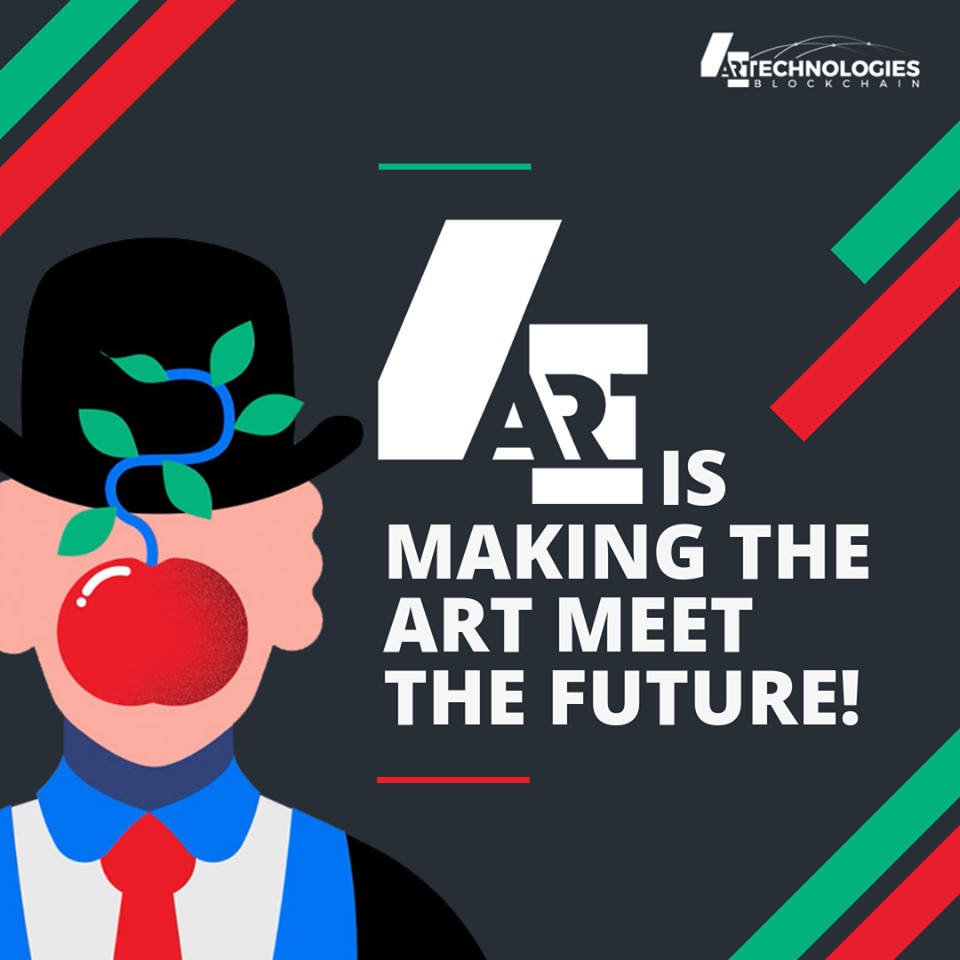 Art is culture and this part of our identity, but art is also passion, a good commercial and object of desire, investment and currency. Art is so much and yet something different for everyone – only one thing we all have in common is the desire to protect this asset and its values. Therefore, 4ART is building the new art world on the blockchain, with smart contracts and DNA fingerprints, but the heart of this new world is still based on transactions. The 4ART App uses groundbreaking vector technology and layer photography to record the molecular structure of an artwork with any smartphone.
DNA birth certificate is created for every piece and is immutably recorded on the blockchain.
With the 4ART App, vital artwork data will be permanently recorded, including:
As transactions occur, a secure digital passport will be created through smart contracts stored on the blockchain. For every transaction, there will be a transparent, traceable, inexpensive, and secure record.
Tokens on sale for € 0.08
The Closed Group is only available to first investors who are in close contact with 4ARTechnologies. They're deeply integrated in the project as a whole and give important feedback that helps improve the final product. As a reward for this valuable feedback, they receive tokens at the lowest possible price.
4ART App – Actively running app development
Tokens on sale for € 0.10
The best time for investors who were not members of the Closed Group and who want to achieve the lowest possible price and highest return for their investment. This is also the best time to purchase larger amounts of tokens.
4ART App – Development is aimed to launch the Alpha version of the App
Tokens on sale for € 0.20
The 4ART ICO Early Bird provides a good middle ground for investors who wanted to make sure that the ICO was proceeding successfully, but still, want to benefit from higher bonuses than offered during the public crowdsale.
4ART App – Alpha testing is active and further integration of APIs is prepared
Tokens on sale for € 0.30
4Art ICO End 31 December 2018
The most published sale for the general public. With development running at full speed and support growing, everything is prepared for a massive tide of investors. The first artworks are recorded on the Blockchain using the 4ART App.After the ICO ends, the tokens will be listed on Cryptocurrency Exchanges.
4ART App – Rollout in European Markets in Q1 2019, followed by US markets. Development for more features and optimization
APR 2017: License for additional authentication technology to 4ART

MAY 2017: Legal preparation

December 2017: Whitepaper and project concept

MAR 2018: Application Demo on iOS Development.

JUN 25,2018: Tokens are sold to early stage investors (Close Group)

JUL 9,2018: 4ART Pre-ICO Phase 1

JUL 23,2018: 4ART Pre-ICO Phase 2

August 6, 2018: 4ART Pre-ICO Stage 3

September 28, 2018: 4ART ICO End

SEP 2018: Launch of Alpha version of 4ART (MVP) application

OCT 2018: Launch of the Beta version of the 4ART application

NOV 2018: Further API integration.

JAN 2019: Launch of 4ART Tokens on the stock

MAR 2019: European launch

From SEP 2019: Continued development in all directions
15. CHRISTIAN KENDLBACHER
You can find out more about the platform or participate in their crowd sales through the following links: