It is no current story that cryptocurrency is a digital currency which was brought into existence through the use of advanced encryption techniques known as cryptography and powered by Blockchain technology.
But recently, the cybersecurity is an issue that has been talked about widely in the media, where hackers relentlessly hacks into users accounts to perform all kinds of financial frauds such as;
a major theft that took place on the Japanese cryptocurrency exchange, Zaif, which saw losses of approximately $534 million,
Bancor raised US $153 million in June 2017 to develop a decentralized liquidity
network, i.e. a decentralized exchange of the highest order. In July it was hacked
for US $23.5 million ,…. to mention but a few …
This is where CYBR-ecosystem comes in..

The CYBR Ecosystem is a holistic, cyber security solution for the blockchain which ensures secure smart transactions occur via a portal designed to provide real-time safeguards, countermeasures and threat intelligence to the CYBR community as well as other crypto entities and exchanges who rely on our cyber security solutions. CYBR, like good CTI itself, is a two-fisted attack that provides real-time safeguards, countermeasures, threat intelligence and secures transactions via two distinct methods:
• BlindSpot: A proprietary software that powers a potentially borderless landscape of threat identification.
• Portal: CYBR utilizes a real-time, pedigreed data feed heretofore not available to the general public.
CYBR ecosystem is powered by BlindSpot, a proprietary, powerful CYBR security engine which identifies and disrupts bad actor and associated illicit file activity that seeks to affect the confidentiality, integrity and availability of crypto smart contract transactions.
CYBR commercializes and monetizes emerging threat intelligence by turning the data into actionable intelligence. CYBR users are rewarded with CYBR tokens for their direct threat intelligence contributions to the CYBR ecosystem. CYBR (cybrtoken.io) was awarded the prestigious National Security Agency (NSA) Acquisitions Resource Center (ARC) Award Number: 15908. Why you should care: CYBR is eligible to support cyber security and blockchain projects at the highest cleared levels within the United States Government. CYBR was also granted the General Services Administration Multiple Award Schedule 070 contract number: 47QTCA18D00KW. CYBR is one of a handful of HUBZone certified companies in the U.S. to be granted ALL Highly Adaptive Cybersecurity Services and Special Item Numbers (SIN).
Translation: CYBR may support ANY federal cyber security effort from a Total Available Market of $14,800,000,000USD with dedicated cyber security contracts totaling around $520M for fiscal year 2019. CYBR has targeted the following requirement areas within the Federal Government:
• 132–45A Penetration Testing — security testing in which assessors mimic real-world attacks to identify methods for circumventing the security features of an application, system, or network.
• 132–45B Incident Response services help organizations impacted by a Cybersecurity compromise determine the extent of the incident, remove the adversary from their systems, and restore their networks to a more secure state.
• 132–45C Cyber Hunt activities are responses to crisis or urgent situations within the pertinent domain to mitigate immediate and potential threats. Cyber Hunt activities start with the premise that threat actors known to target some organizations in a specific industry, or specific systems, are likely to also target other organizations in the same industry or with the same systems.
• 132–45D Risk and Vulnerability Assessment conduct assessments of threats and vulnerabilities, determines deviations from acceptable configurations, enterprise or local policy, assesses the level of risk, and develops and/or recommends appropriate mitigation countermeasures in operational and non-operational situations. This SIN offers the following services:

RoadMap
2016–2017
Opened East Coast Office (Virginia).
BlindSpot Enterprise Solution is developed and tested strictly.
Larger pilots are deployed.
Sales of companies generate income.
Q2 2018
Detailed design descriptions for the CYBR Ecosystem are completed
More than 30 Million unique, digital identifiers are added to the BlindSpot database.
Model of Software as Service (SAAS) is changed to blockchain and CYBR.
Testnet Ecosystem began to be developed.
CYBR utility token is generated.
Q3 2018
Testnet CYBR will be completed and BlindSpot will be accessible to Windows, Mac and LINUX users.
CYBR will be listed on the top exchange for global trade.
Open the West Coast Office.
Q4 2018
CYBR Presale.
CYBR TGE (Token Generating Event.).
Development of IoS and Android clients will be completed.
Web application, API and IoC funnel creation will be completed.
Web migration to Dreamweaver.
Q1 2019
The CYBR Main Net will be launched.
Open an overseas office.
Q2 2019
Integration of many data intelligence data providers; (some partnerships already exist).
Integration of AI and Machine Learning platforms and frameworks into the CYBR Ecosystem (several partnerships already exist).
Q3-Q4 2019
CYBR will market globally to disrupt and dominate the global market for anti-virus and malicious code.
2020
Assess technology posture / market conditions. push CYBR to as many global market verticals as possible.
Masterminds behind the CYBR Project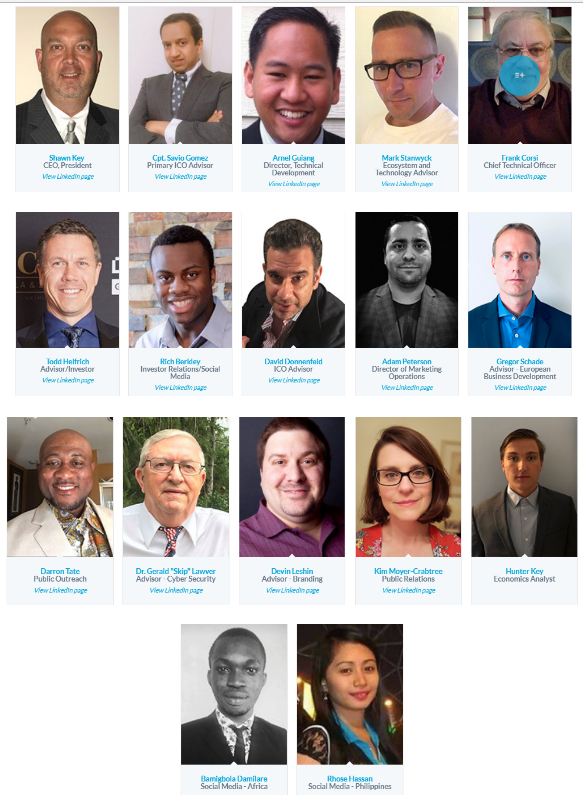 For more information, please visit:
Website: https://cybrtoken.io/
Whitepaper: https://cybrtoken.io/wp-content/uploads/2018/09/cybr-whitepaper.pdf
ANN Thread: https://bitcointalk.org/index.php?topic=5023957
Facebook: https://www.facebook.com/CYBRToken/
Twitter: https://twitter.com/CYBR_Official
Telegram: https://t.me/joinchat/IpnOJQ6irqRQU3RpE414lA
Reddit: https://www.reddit.com/user/CYBRToken
YouTube: https://www.youtube.com/CYBRToken
Author: pype1242
Bitcointalk profile link: https://bitcointalk.org/index.php?action=profile;u=2129196