Kami sangat senang memperkenalkan peluang untuk menjadi bagian dari misi Saiterm: untuk mewakili jawaban yang paling efektif dalam hal efisiensi energi yang terkait dengan pemanasan domestik dan perlakuan panas industri, oleh karena itu menjamin kenyamanan yang unggul dan lingkungan kerja dan rumah tangga yang sehat untuk yang terdahulu, dan untuk yang terakhir, peningkatan tingkat produksi, mengurangi biaya pemrosesan dan emisi.
Situs
Semua info yang terkait dengan kampanye hadiah dapat ditemukan di  halaman web Bitcointalk :
https://bitcointalk.org/index.php?topic=5102121.0.
Detail Kampanye
Tanggal: 26.01–31.03 2019 atau akhir ICO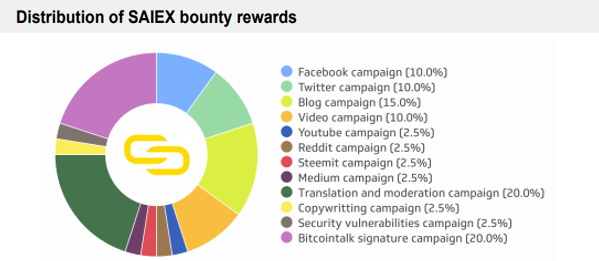 Sebanyak  250.000 token SAIEX  akan dialokasikan ke kumpulan kampanye hadiah.
Kami mengundang semua orang yang tertarik untuk bergabung dan membantu kami menumbuhkan komunitas yang besar dan kuat.
Untuk semua pertanyaan tentang kampanye Bounty, silakan bergabung dengan obrolan Bounty khusus ( https://t.me/SAIEXbounty ).
Semua info terperinci tentang kampanye hadiah dapat ditemukan di halaman web Bitcointalk:  https://bitcointalk.org/index.php?topic=5102121.0 .
Ketentuan umum untuk semua kampanye
Setiap peserta harus menjadi anggota grup telegram resmi kami (

https://t.me/SAIEXbySaiterm

) hingga akhir ICO.

Menyebutkan hadiah tidak diizinkan di saluran mana pun.

Menggunakan banyak akun, mengungkapkan informasi palsu, menipu, menjiplak, mengirim spam, pengiriman bot otomatis, dan / atau segala bentuk perilaku tidak etis saat berpartisipasi dalam kampanye akan mendiskualifikasi Anda dari seluruh program karunia.

Anda diharuskan untuk menjaga akses ke dompet yang ditentukan pada saat pendaftaran, Anda tidak akan dapat mengubah dompet di distribusi token.

Kami berhak untuk menyesuaikan kondisi kampanye karunia selama periode penahanannya.

Jika ada lebih banyak interaksi dari yang diharapkan, kami akan mempertimbangkan untuk meningkatkan anggaran, memperluas kampanye atau meluncurkan program karunia lainnya.

Ketika sejumlah peserta tercapai, kami akan menghentikan pendaftaran di beberapa kampanye.

KYC akan diminta pada akhir kampanye.
Bagaimana Anda akan Menerima Token Anda
Your SAIEX tokens will be automatically delivered to your ETH wallet at the conclusion of the campaign, once all results have been tallied (approximately one month after the end of the token sale).
More info on the official bounty thread: https://bitcointalk.org/index.php?topic=5102121.0.
Website: https://ico.saiterm.com/
Whitepaper: https://ico.saiterm.com/pdf/whitepaper.pdf
Facebook: https://www.facebook.com/Saiterm-Smarter-innovations-329384677840380/
Twitter: https://twitter.com/Saiterm1/
Instagram: https://www.instagram.com/saiterm_saiex/
Youtube: https://www.youtube.com/channel/UClmbLOWfbTEjBOkwoVlqB5g
Reddit: https://www.reddit.com/user/SAIEXtokens
Medium: https://medium.com/@saiterm
Steemit: https://steemit.com/@saiterm
Telegram: https://t.me/SAIEXbySaiterm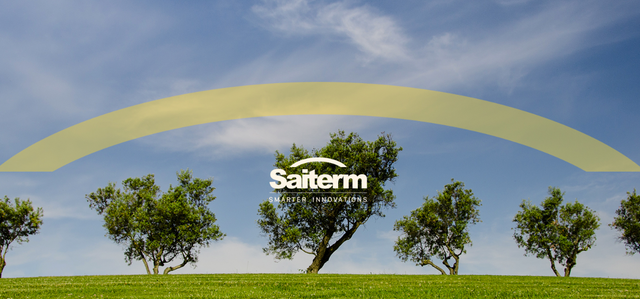 #saiterm  #saiex  #blockchain  #cryptocurrency  #crypto  #ico  #bitcoin #ethereum  #industry  #environment  #blockchaintechnology #blockchainnews  #blockchains