Hello. Today I've started my own blog about blockchain based projects.
I'd like to start from posting a review for really cool project VINCHAIN.IO

VINCHAIN.IO
Website – VINCHAIN.IO
Bitcointalk.org – [ANN] Thread | [BOUNTY] Thread
ICOBENCH – profile
Token info:
| Token | Price in ICO | Stage bonus | Token for sale |
| --- | --- | --- | --- |
| VIN | 1 ETH = 20k VIN | 25% | 600m |
ICO info:
| Start | Soft cap | Hard cap | Contry |
| --- | --- | --- | --- |
| 15 Apr 2018 | 3,300 ETH | 23,250 ETH | USA |
Technical info:
| Platform | Type |
| --- | --- |
| Graphene | ERC20 |

Blockchain necessity [9.0]:
For me first and bold plus in ICO ANALYSIS is necessity of blockchain technology. Sometimes it's hard to solve this task because whitepaper is written in technical language. And necessity of blockchain hides from us behind technical detailes.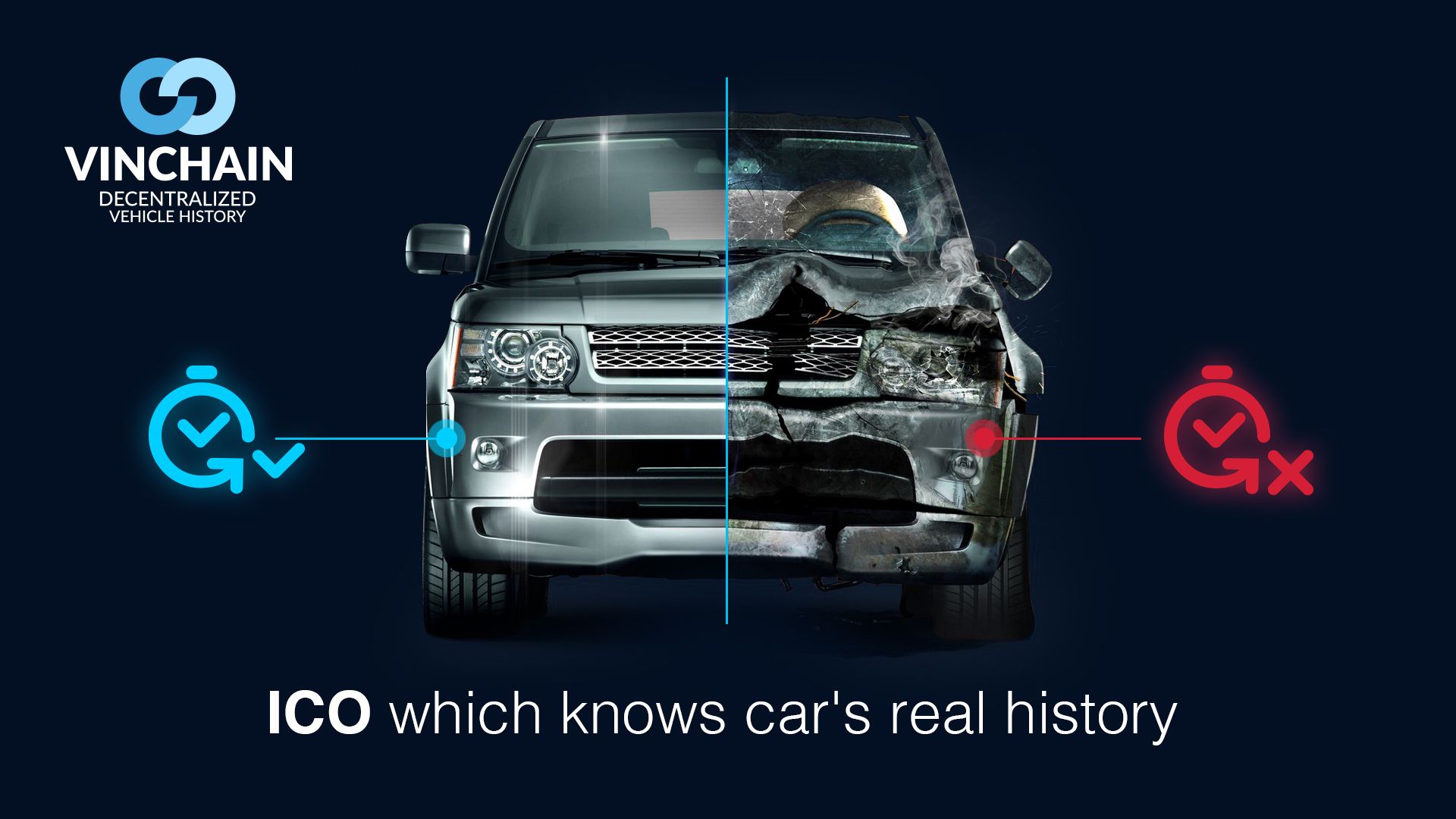 Problems:
Information about a vehicle can be faked:
accident history
odometre mileage
owners history
technical status
Imagine how many usefull parameters technical data may provide to you and your car dealer. And there is no duty to provide your data, it is optional. For sharing your personal data (technical car information) you'll be rewarded by VIN tokens. That's how this company going to earn money. Now it's always advertising. Digital century…
With this service you'll get trustworthy blockchain based database for vehicles. And it's really useful. You can be sure that you are buying a car and it won't break after first trip. Imagine all oportunities in car industry which worldwide database provides: insurance, rental sector, car dealers, service, security, etc.
International and transparent
Existing databases don't update frequently and they are separated. Looks like they are worldwide useless because they contain information about local cars and dealers.
Team [8.5]:
I checked their profile on icobench.com:
KYC passed. It means that team is intrested in investment attraction.
Qualified team. Almost everybody has experience in blockchain technology or in vehicle industry.
Also I found this info:
We are happy to inform you that Emercoin Development Group has joined our project. Emercoin Development group consists of more than 120 experienced developers who have been doing an excellent work in the Blockchain Service Platform since December 2013. They made one of the most reliable blockchain systems, because it provides multiple services.
Own opinion about the team:
Everything looks great. KYC is passed. Project already has their blockchain supporters. Qualified and specialized team. My mark is [8.5].
Roadmap [8.0]:
We have 4 main stages:
Technical. Application, dezentralized data storage… It was planned for Jan – Feb 2018. And now we may check ALPHA version of VINCHAIN app.
Partners acquisition. Planned for the same dates as Technical stage. We also may check main partners.
Local developing. Next step is to enter local market. As I understand it'll be USA on 3 quartal 2018. If there will be any problem with USA laws they'll try to switch on Europe.
International developing Enter to the international market – 2019.
Own opinion about roadmap:
Clear and transparent roadmap. Each step logical oriented. My mark is [8.0].
Future of the project:
To understand all perspectives of this project we have to look at 3 sectors:
Consumers. Consumers can be sure that they are buying. Consumers may earn by providing vehicle data.
Advertisers. Advertiser may track our requirements and provide better service. And increase their profit.
Government and Law. Insured events may become transparent. And situation on road with worldwide data analysis may become safer. Also it's useful for bad guys tracking.
News [9.0]:
Status: SOFT CAP IS DONE
This ICO has already reached SOFT CAP. It means that this project has money to start developing their project. Also it means that the future of this start-up depends on qualification of team members. And team members are qualified and experienced.
Available for US investors
After the ban of ICO by US government, some projects are still available for US citizens. And VINCHAIN.IO one of them.
Website : https://vinchain.io/
Whitepaper: https://vinchain.io/files/VinChainWhitePaper.pdf
Telegram : https://t.me/vinchainio
Github : https://github.com/VINChain
Twitter : https://twitter.com/VINChain_io
Facebook : https://www.facebook.com/vinchainio/
https://bitcointalk.org/index.php?action=profile;u=990832