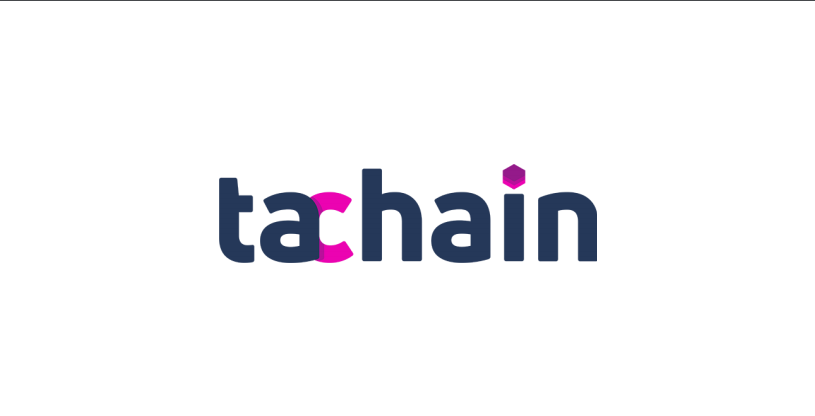 What Is TAChain?
Tachain is a new blockchain-based platform that can be used to provide comprehensive and targeting services for commercial advertisers while at the same time guaranteeing full-security and complete use of its transportation application.
With its wide-ranging functionalities in use, the ecosystem is in a unique position to steer its mission towards providing a blockchain platform that is not only secure but also valid. Its mission is to ensure that its users get to have fun, as well as derive joy from it using its broad array of functions.
Our three main features are:
Technologies have advanced further: in both the transport and advertising industries the substantial technological jumps that have been made over the years are evident; however, there is no synergy among them.
Innovating the travel service and advertising industries: combining our elements with the latest technologies, our platform substantially widens the opportunities for advertisers and Tachain application users.
Our platforms: the Tachain ecosystem is made up of a number of components working together with Transportal, advertising platform AdNet and token market TMARQ.
The Vision, The Mission And The Targets of Tachain
Imagine driving a car or in transit and having an advertisement in place. The target of Tachain is to provide both publishers and advertisers with a flexible and well-equipped platform to deliver ads and generate revenue.
While on transits, drivers will have a friendly environment for advertisement and other business to flourish
Due to the technological advancement, it is possible to generate earnings while driving and watching/displaying anything of interest. This is thanks to smart systems of the 21st century not just to generate income, but to add value, bring about customers loyalty, delivering the right advertisement to the right customers in transits, with the privacy you desire.
Providing security and a very efficient system where you can make a purchase using your token on your mobile app.
Technological Advancements
Technology has continued to evolve at a fast pace in the last few years. Some of the industries that have been greatly affected by these technological advancements include the advertising and transport sectors. Both sectors have experienced a major shift in technological jumps, some of which are today very evident.
The taxi market is today estimated to be worth 98 billion dollars, with the advertising market being worth more than 500 billion dollars. But despite the technological jumps that have been noticed, there is still no synergy between them.
And this is where Tachain comes in. Its primary goal is to innovate the advertising and transport industries. It hopes to be able to do this by being able to combine all its elements with the latest and most advanced technologies available in the market.
When this is complete, its platform should be able to widen the opportunities that are available for its applications users, as well as those available for advertisers.
Tachain Platform
Tachain platform is made up of different components such as advertising platform, transportable and tachain TMARQ.
Tachain will create adnet to help advertisers, adnet will revolutionise the advertising platform. With adnet application users would be able to see the advertisements while they are riding in a taxi or any other mode of transportation, by simply watching those advertisements users will earn TCHN tokens.
If a advertiser want to publish his advertise in a taxi, firstly he need TCHN tokens then only he will be able to run his advertise in a taxi and to get access to the platform. Thus the tachain is created the best platform for advertising agents.
Tachain has developed an app which is taxi booking for and companies. It will do orgnize many works such as customer service, trainings, marketing and advertising screens in the taxi. But the tachain requires only trusted drivers and taxi operators to make it happen. Tachain developed application will show best ratings of taxi drivers and all information about users and taxi operators will be stored on blockchain technology.
It consists of many players such as Driver, tachain itself, application users, advertisers and transportation agents. The tachain TMARQ is facilitate its users to buy and sell TCHN tokens on different exchanges within a second, TCHN token will get demand by advertisers.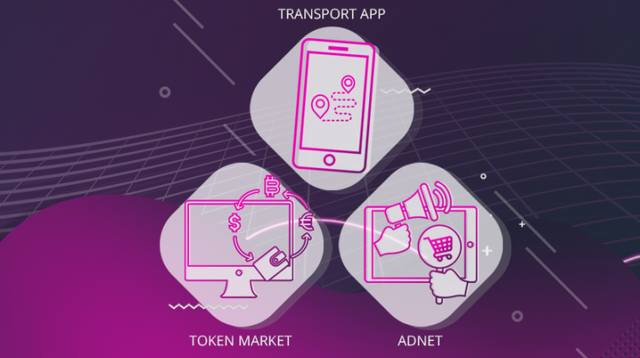 Targets with respect to AdNet:
Deliver flexible API for publishers of our platform
Provide advertisers with flexible and resourceful advertising platform
Targets with respect to Transportal:
Deliver user friendly safe and transparent solution for drivers and passengers
Provide additional revenue stream for all transportation chain participants
Targets with respect to TMARQ:
To create user-friendly token market platform, where all the market players can exchange or purchase TCHN tokens
How The Blockchain Works
Blockchain technology will be used to store information that is required for a perfect system in Tachain. These include storing information such as transactions executed, referencing the time and date. This is the fastest means of executing transactions at a very low price.
The system is not a complex one that it's going to require a lot of technicalities, a person with simple technical skills can understand what it means and how it works.
It is designed to accommodate newbies in the blockchain platform to fully utilize the unity of advert entertainment and transport together in a single place.
Tachain Offers:
Enables ubiquitous, convenient, on-demand access to a shared resources
Wherever a manual trust is required, this technology can play a major role
Algorithms can learn from data without relying on programming
Large data sets that may be analysed to reveal patterns and trends
Digitally facilitate, verify or enforce the performance of a contract
Used as a form of identification and access control
Analyze current data to make predictions about future
Intelligent decision making when targeting users with ads
Ecosystem Tachain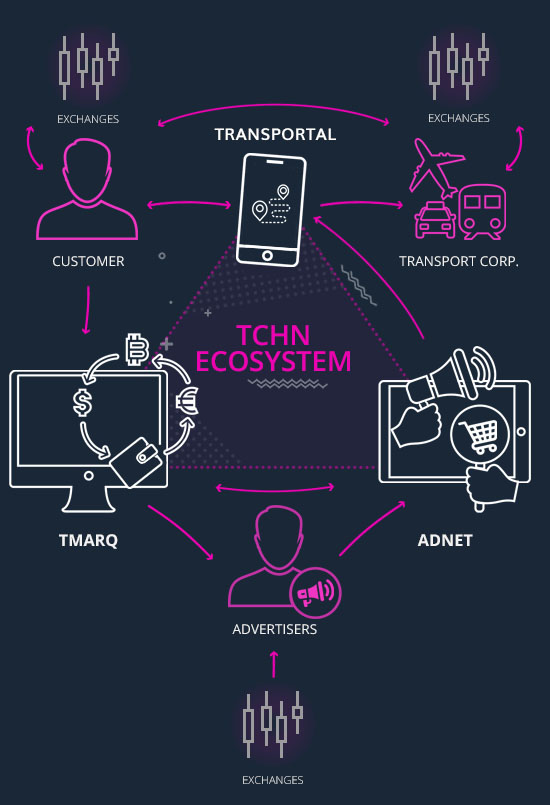 Tokenomics
Our ecosystem is tokenized in order to empower users to use it more often, as well as attract companies to advertise their products and services on our platform
Transportation providers and users earn TCHN tokens for traveling
Advertisers will need TCHN tokens in order to access advertising platform and penetrate users with targeted ads
Users can use TCHN tokens in order to pay for rides, as well as can sell them on TMARQ marketplace or on external >exchanges
Users additionally earn tokens for watching targeted ads
Transportation providers can sell tokens at TMARQ marketplace and external exchanges
The growth of the Tachain ecosystem will provide a long-term increase in the TCHN token value. This, however, will be fueled by substantial demand for TCHN tokens from advertisers
TAChain TCHN Token ICO Details
Token Symbol: TCHN
Token Sale Date: July 2018 – October 2018
Token Price: 1 TCHN = $0.01
Accepted Payment Method: ETH, BTC
Total Supply: 2,275,000,000 TCHN
Soft Cap: $2,000,000
Hard Cap: $ 10,000,000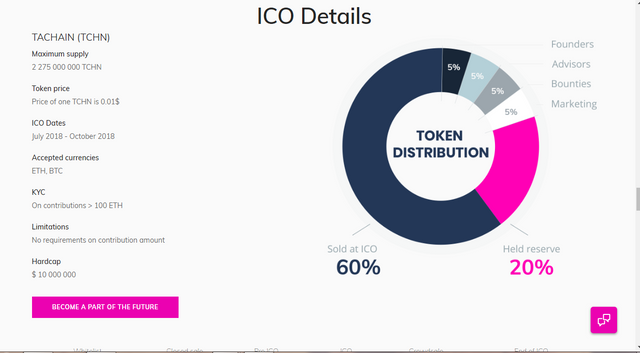 Token Distribution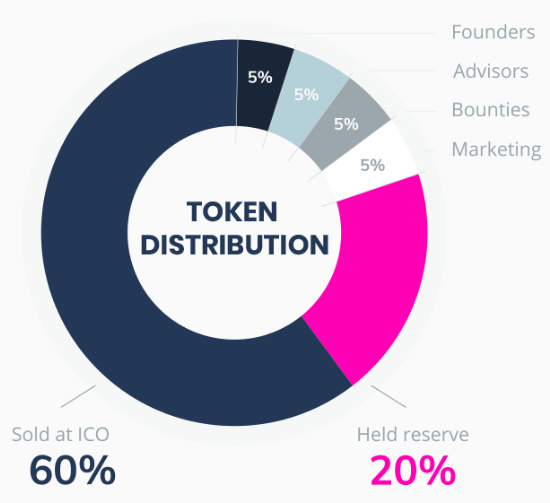 For More information visit
Username:badgio
Profile:https://bitcointalk.org/index.php?action=profile;u=1252760
Eth:0x9439529B2A09172e299721F19089bb647bd5E1Cc