Security threats and attacks are increasing at exponential rates year over year
Current cybersecurity products and solutions remain outdated and ineffective
Threat data continues to be controlled by large entities and governments
Cybersecurity will be facing a job shortage of 3+ million positions by the year 2020
HEROIC.com is taking a new approach to AI-powered threat protection by Utilizing big data, artificial intelligence and the blockchain, combined with a decentralized peer-to-peer threat protection platform, HEROIC.com will put an end to cyber threat by empowering developers and companies to create the next generation of cybersecurity through the HEROIC. com Ecosystem, which includes HEROIC Arc Reactor™, a unified security management platform called HEROIC Guardian™, and a Research and Development environment for developers
Arc Reactor HEROIC Arc Reactor™ is an open, decentralized cybersecurity threat intelligence exchange powered by the blockchain.
HEROIC Guardian™ is a unified, cloud-based cybersecurity platform. It provides a simple, online interface for individual users, families and businesses to manage all the pieces of the cybersecurity puzzle
Research and Development Environment The R & D Environment will provide developers, organizations and companies alike with a central location to visually and programmatically interact with real-time and historical threat data provided by Arc Reactor.
HOW IT WORKS
The HEROIC.com Ecosystem consists of three core projects that combine to make an effective security solution of benefit to all types of users, including individual users, developers and organizationss. It has been designed to provide multiple levels of access, value and support in order to stimulate accelerated research, development and integration of advanced cybersecurity technologies,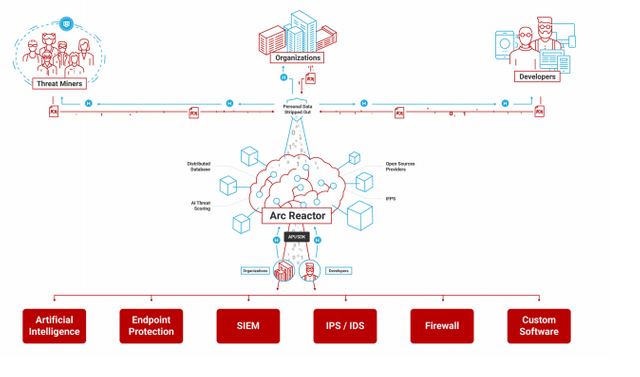 Benefits In Participating
Open, AI-Powered Threat Protection : Get premium access to our unified cybersecurity platform that manages all pieces of the cybersecurity puzzle and utilizes artificial intelligence to block advanced attacks and cyber threats.
Threat Compensation : Effortlessly receive HRO tokens as your devices anonymously share threat data that are gathered as you surf the web, download files and programs and through normal everyday device usage
Help Protect the World : helping to develop the next generation of cybersecurity solutions to intelligently protect the world's information.
HRO Token
HEROIC.com Ecosystem introducing the HRO token (pronounced hero), which will be used as a form of authorization, incentivization and settlement between participants on the Ecosystem, and for other related service
Token Market
HEROIC.com is building a robust market for threat data, powered by the HRO token. HROs may be purchased using Bitcoin (BTC), Ethereum (ETH), other popular cryptocurrencies, or fiat currency.
Total Tokens Created – 1,000,000,000
Token Sale Hard Cap – $41,000,000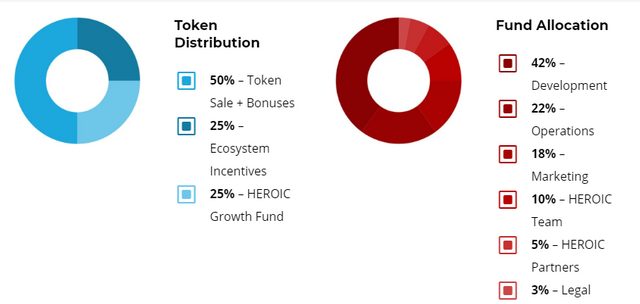 ROAD MAP
Milestone 1 – Token Sale & Exchange Listing
Referral Program
Smart Contract Implementation
Token Sale
Token Exchange Listing
HEROIC Guardian Early Adopter Release
Milestone 2 – Guardian Release
Public Release of HEROIC GuardianUnified cybersecurity platform
Credential Protection
Identity Protection
Cybersecurity Education
Basic R & D Platform
Basic DocumentationInitial API's
Developer
Partner Program
Milestone 3 – Alpha Trials
HEROIC Arc Reactor
Standalone Node Software
Desktop & Mobile Agents
Command line tools
Guardian Mobile App Release
Addition R & D Platform API's
Milestone 4 – Beta Releases
Platform Specific Beta Releases
Proof-of-Threat (PoT) Protocol Alpha
System Trials
Security Testing (continuous)
Language Support
Documentation & Tutorials
Milestone 5 – Production Releases
Arc Reactor
Desktop & Mobile Agents
Guardian Appstore
R & D Marketplace (DApps)
AI-Powered Threat Scoring Engine
Future Milestones
AI-powered Antivirus
No Knowledge Database Architecture
Additional Tools and Software
TEAM