TACHAIN

From the beginning of history, human sensitivity has revealed an urge for transport leading to a measure of Society's progress. The history of this transport is the history of civilization. For any country to develop with right momentum modern and efficient Transport as a basic infrastructure is a must. 'Transporters' perform one of the most important activities, at every stage of advanced civilization. Transport is the essential convenience with which people not just connect but progress. Throughout history, people's progress has been sustained on the convenience, speed and safety of the modes of transport. and this is where the TACHAIN project steps in.
WHAT TACHAIN IS ALL ABOUT
Tachain – has found interesting synergy in these elements of daily life of every person who lives in urban area and is offering revolutionary solution. All the interactions between the customer and transportation service provider will be stored in blockchain. Customers will be able to rate transportation agents and all the rating details, including comments will be available to all other users. Drivers will be also able to rate customers and their attitude. By doing all that, customers, as well as service providers, will earn TCHN tokens. Additionally, users will be able to watch targeted mobile advertisements while driving and earn even more TCHN tokens.
HOW TACHAIN MAKE IT DIFFERENT
Tachain AdNet
Tachain is planning to create AdNet so that application users would be able to watch advertisements while driving in a taxi, public or any other transport and earn TCHN tokens for this. Advertisers will need TCHN tokens in order to get access to the platform and run their ads. Advertisers will pay app users TCHN tokens for watching targeted ads. We are creating the platform for advertisers and advertising agencies. Every element of the platform will get benefits based on market conditions of supply and demand.
Users of Tachain application – taxi or public transport passengers – will also get benefits. AdNet is revolutionary platform, which will allow passengers to watch advertisements, participate in branding marketing events, lotteries,
games right during their ride and earn TCHN tokens for doing that.
Tachain Transportal
At the moment Tachain application is a taxi booking app for the consumer and companies. It is a full service taxi booking application for the taxi branch. We organize the backend, trainings, customer service, marketing, screens in
the taxis and updates in the application. The only thing that the taxi operator needs to do is to deliver a clean and convenient car with a friendly driver.
The application will have smart rating system for taxi drivers and users. All the rating information and statistics will be stored in blockchain and will be available to everybody using the network.
Tachain TMARQ
Tachain will create token market TMARQ for TCHN tokens.
There is number of players in Tachain ecosystem:
● Travelers (mobile application users);
● Drivers;
● Transportation agents;
● Advertisers;
● Tachain itself.
In order to give the players an opportunity to easily turnover TCHN tokens between them, TMARQ will be created that will allow using mobile application to buy/sell tokens in a matter of seconds, as there will always be substantial demand for TCHN tokens by advertisers. Together with the growth of Tachain transportation provider network, AdNet is going to grow substantially and it will provide long-term growth in TCHN token value.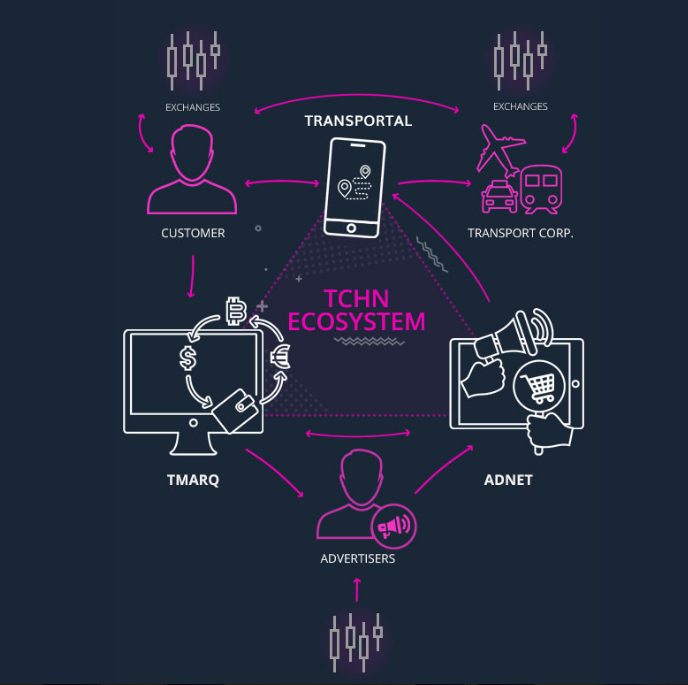 WHAT ARE THE AIMS OF TACHAIN
Targets with respect to AdNet:
● Deliver flexible API for publishers of our platform
● Provide advertisers with flexible and resourceful advertising platform
Targets with respect to Transportal:
● Deliver user friendly safe and transparent solution for drivers and passengers
● Provide additional revenue stream for all transportation chain participants
Targets with respect to TMARQ:
● To create user-friendly token market platform, where all the market
players can exchange or purchase TCHN tokens
The mission of Tachain
Is to become user friendly and safe connecting link between transportation agents and users at the same time giving the users an opportunity to earn while driving and watching what might be of interest
to them.
We believe that already in the nearest future transportation service users will plan their routes via mobile applications, as it is the most convenient way of doing that. Moreover, thanks to smart system of order processing, orders can
be executed in the most efficient and quick manner. We are sure that combination of transportation and advertising markets has huge market potential that has been already proven in America and Europe. Giving people opportunity to additionally earn on advertising in transport makes it even more attractive.
Our vision
Goes even further and in future we are planning to adjust our platform also for Augmented Reality (AR) advertising. Moreover, we are planning to create Tachain Flame device which will allow to earn TCHN tokens by watching targeted ads anywhere anytime. We are planning to move advertising market to the next level and TCHN token will be the
cornerstone of this revolutionary ecosystem.
Our values are:
● Customer loyalty;
● Security;
● Privacy;
● Efficiency;
● Qualitative and targeted advertising content;
● Quickness of order execution;
● Availability
The architecture
Tachain project is heavily based on blockchain and smart contracts. It allows to ensure transparency of system and strict execution of financial obligations and contract terms. Also we are going to build comprehensive IT infrastructure around blockchain to provide best possible service to our customers.
WHY INVESTING IN TACHAIN
In our opinion currently ICO is the best way to attract financing for interesting projects, especially for those that are community driven. We believe that cryptocurrency crowdfunding procedures can boost innovation, as attracting financing via ICO companies do not have to pass traditional bureaucratic procedures. Moreover, as ICO is conducted via smart contracts and blockchain, everything is transparent and project founders get full responsibility for successful realization of the idea.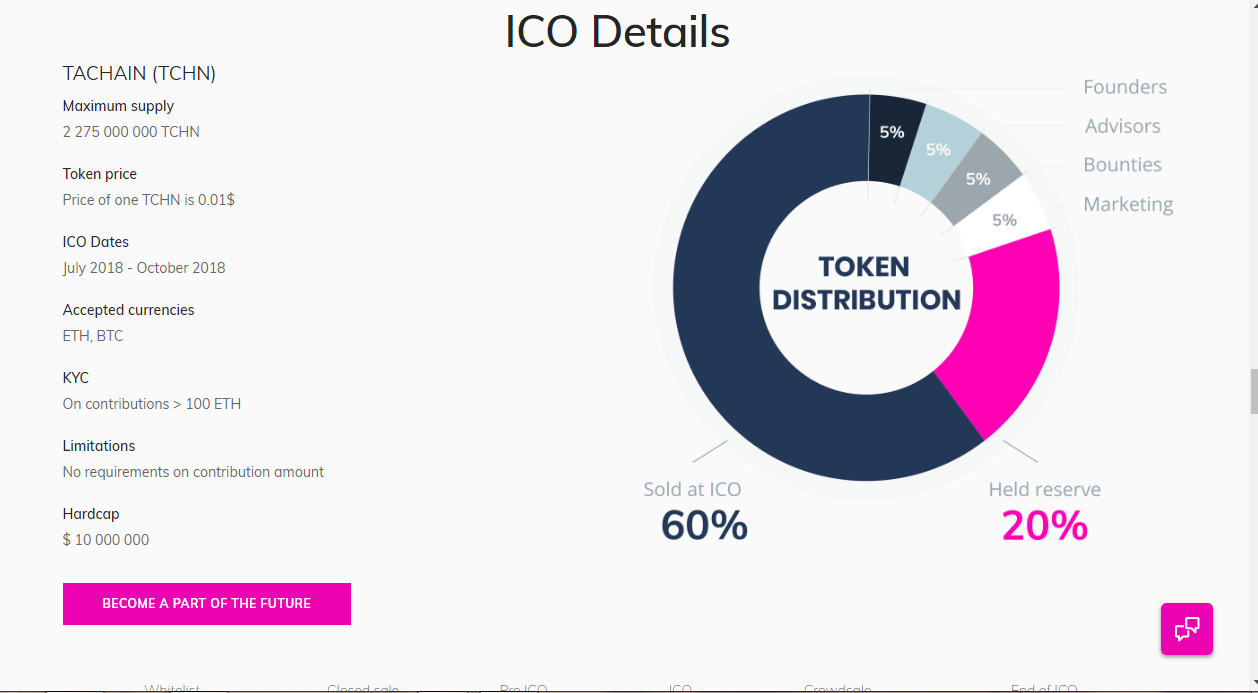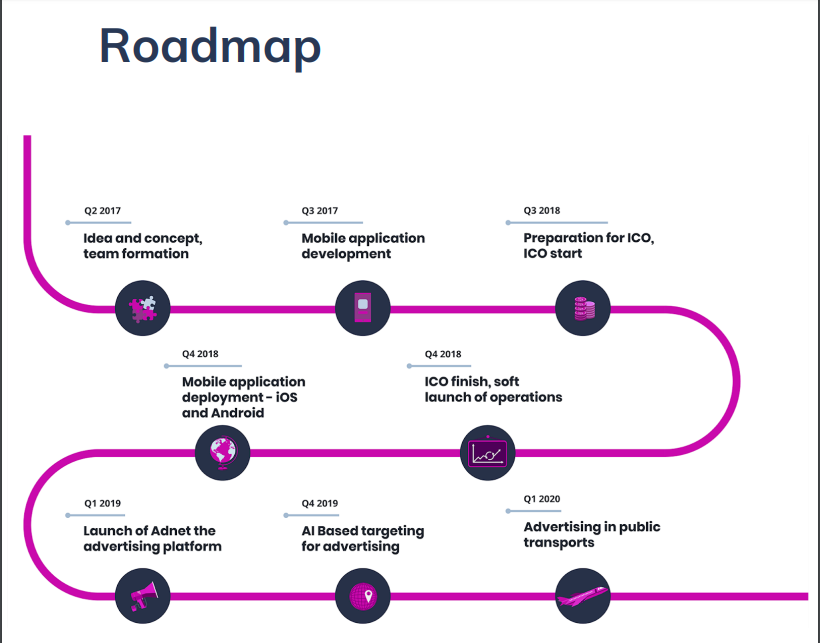 TEAM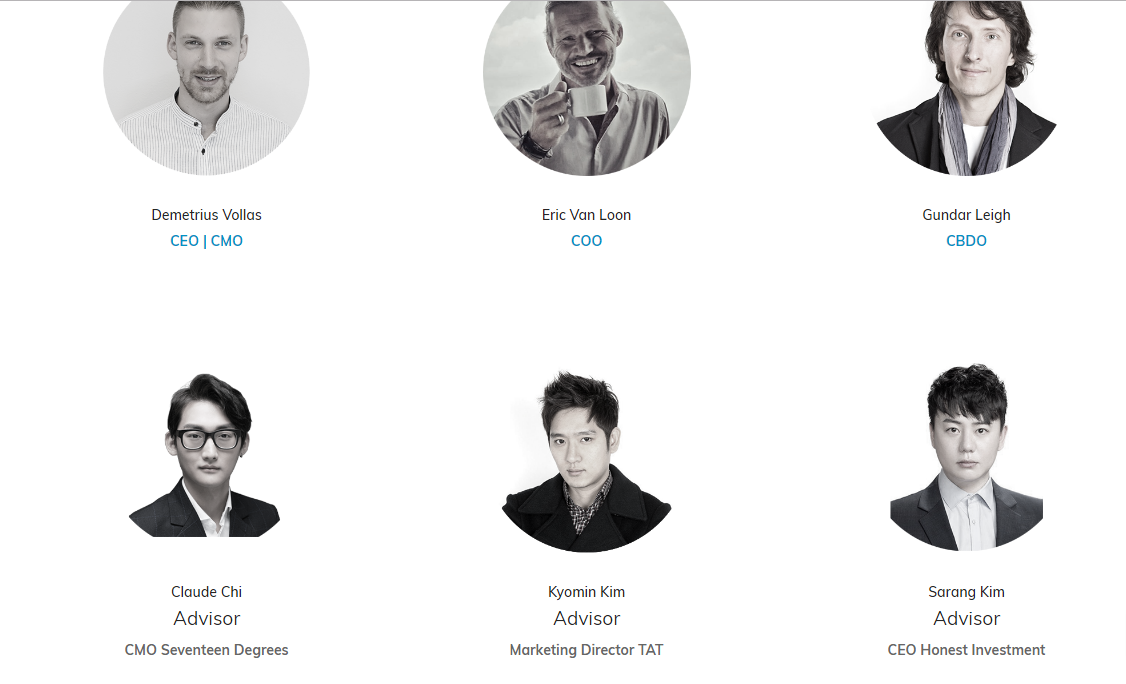 For more information please check the link bellow:
WEBSITE: https://tachain.io/
WHITEPAPER: https://tachain.io/Whitepaper.pdf
TELEGRAM: https://t.me/TAChain_EN
TWITTER: https://twitter.com/tachain6
FACEBOOK: https://www.facebook.com/tachain.io
Username:Maxxys
Profile:https://bitcointalk.org/index.php?action=profile;u=2576488
Eth:0x04331B39Cc89dc39f07443F6785599B6dbb13f76