APA (ALL PUBLIC ART)
A New Way to Trade in Global Art Market
For art lovers and collectors, many artworks sold on the market have not proven their authenticity. It is very difficult to get a piece of art that really proves its authenticity and clear its historical track. In this increasingly sophisticated era of many people take advantage of one's ignorance about the falsity of a work of art by plagiarizing on the famous artwork. Art collectors and connoisseurs can only get authentic artwork at auction. They sometimes look for artwork on the black market with high risk that the artwork they get can be fake or even stolen.
All Public Art's vision is to contribute to the growth and sustainability of the global art community by supporting the art market and triggering transactions between artists and art collectors using blockchain technology and smart contracts. By creating such an ecosystem, All Public Art strives to serve the community globally between artists and art lovers. This will undoubtedly continue and help the art market evolve in the future.
All Public Art serves as a bridge between three areas with tremendous potential: art, technology blockchain and people who make, sell, or buy
art. The growth and development of the art market continues to grow through a unique incorporation in the area. All Public Art ensures that there is a useful and fair art market for artists and collectors. Supporting All Public Art means supporting a healthy future for the art that brings together artists, from all walks of life, who share the same interests: to get them art, fun, efficient and fair for all. So in general, there are 6 goals which All Public art dedicated to:
Since its launch in 2015, mobile applications and websites at All Public Art have achieved the success and positive response of the art community worldwide. Good reviews of artists and art enthusiasts are continuing to arrive so All Public Art continues to develop this app for years. These positive responses provide momentum for All Public Art to implement a transparent blockchain technology, and a peer-to-peer marketplace.
Follow those who have an artistic tastes, browse for artwork, follow the art news and find art events you can attend on this app. Artists and art enthusiasts from all over the world can be a part of the All Public Art community by registering on an application or website, AllPublicArt.com.
All Public Art will begin by implementing All Public Art token trading services on our existing platform services, as this will optimize successful art trading. Here is a simplified example of how to trade artwork using APA tokens that work on the All Public Art platform:
WHAT A Roadmap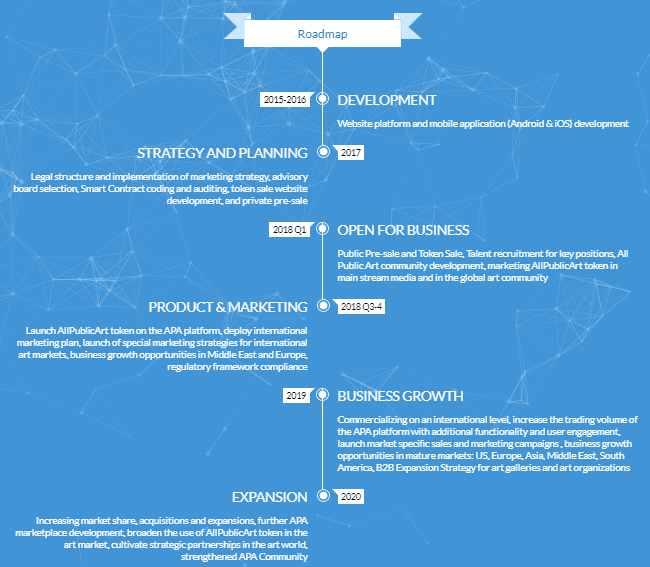 APA Token Sale
All Public Arts comprises a team of professionals with diverse backgrounds and has extensive knowledge and relevant experience in areas such as IT, finance, blockchain, marketing, law and the art world. We thrive by developing creative ideas, pride ourselves in implementing an innovative and vibrant vision of ensuring that All Public Art is a platform that serves the global art community with excellence in a viable way.
To invest inAllPublicArt token sale you can go to the link below for further information.
MEW: 0xE2D461B41fADB9491BA19420D08E63d4A01e6B90