KRYLL
ICO: KRYLL A User-generated Trading Tools Marketplace
Since Bitcoin (2009) and other cryptocurrencies are formed then undergo phenomenal growth in terms of public interest and valuation. Then, cryptocurrency trades arise where people can exchange their currencies with different currencies. There are currently millions of active merchant communities that trade cryptocurrency every day. Investor holders, professional traders and enthusiasts all benefited in their own way from the awesome opportunities afforded in this new world. However, trading cryptocurrency takes time, technical knowledge, analytical skill, discipline and the ability to use professional tools. All these abilities are indispensable for a trader to achieve a true profit or they will lose some of their assets in the future.
What is Kryll.io?
Kryll.io is the ultimate platform for cryptocurrency traders who are looking to use the most advanced trading tools and strategies, as well as the combined intelligence of the community in order to achieve the best returns in cryptocurrency markets. The platform provides intuitive ways to create your own trading strategies and set them to execute automatically. Through a What You See Is What You Trade (WYSIWYT) interface you can design trading strategies making use of the industry's most powerful tools and safely test them with backtesting and sandboxing. On Kryll.io you can also rent out your own winning strategies that'll help fellow traders reach the success you did. You will be rewarded with passive income for doing so.
Mission of Kryll
Bring professional trading tools to everyone by providing a simple yet powerful drag n' drop strategy builder.
There are 5 main of blocks that can be used to build a strategy:
Market trends
Analysis of range and analysis of technical data (channel identification, pattern detection, resistance direction, demand zone detection) and modeling (machine learning based market prediction) units.
Trading Actions
Like buy, sell, split amount into subsets, hold amount.
Signals
The signals are coming from professional traders, qualified Telegram channels or social network analysis.
Operators
This function to organize data feeds and signal interactions.
Notifications
Will notify you the information of strategy's status.
Token Sale
An early sale of tokens or Initial Coin Offering (ICO) is an event for a new project cryptocurrency such as kryll.io to sell their cryptocurrency (KRL) tokens to early adopters and enthusiasts in return for funding. This is an opportunity for Kryll.io platform to fund platform development in the future.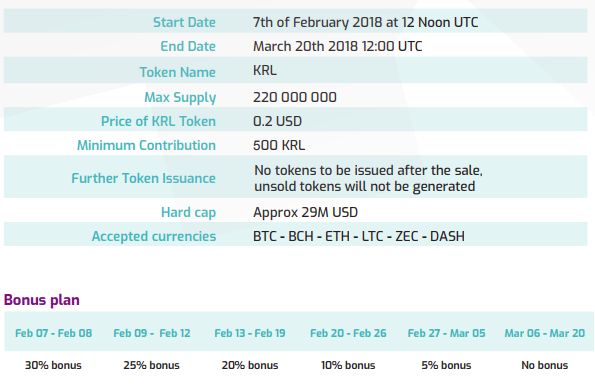 Allocation
A total supply of 220 million KRL tokens will be generated including 144 million KRL tokens for sale. Another 76 million KRL tokens will be shared between bounties, future competitions, PR, user acquisition, legal expenses, advisors and founders of the Kryll.io platform. Unsold KRL tokens will not be generated. Kryll tokens cannot be mined by any users or companies.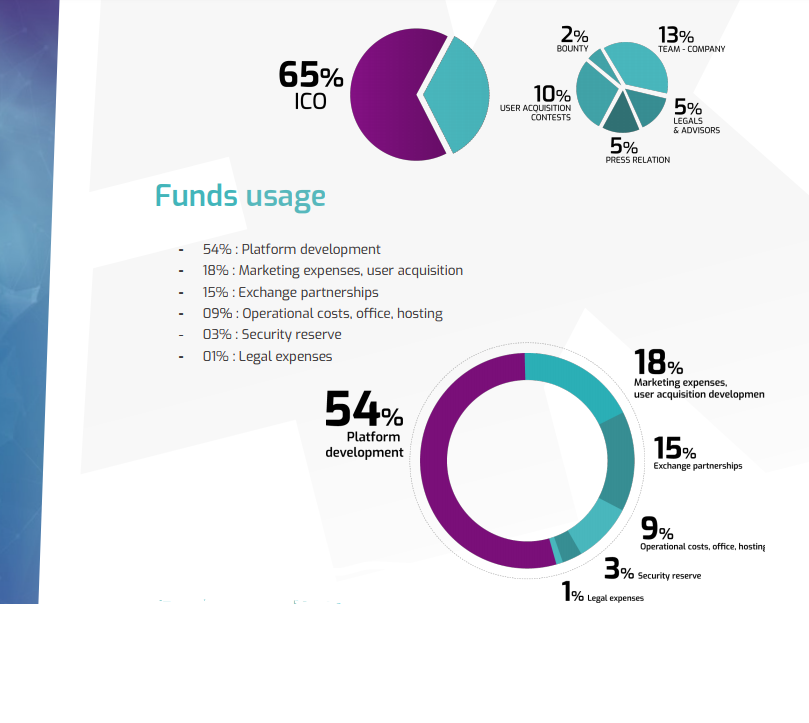 Exchange Listing
After the end of the token sale, the team will work with the following exchanges in order to have the token listed, so that every trader that hasn't bought tokens through the initial token sale will still buy some KRL tokens.

Cryptopia
KuCoin
HitBTC
Bittrex
Team and Advisor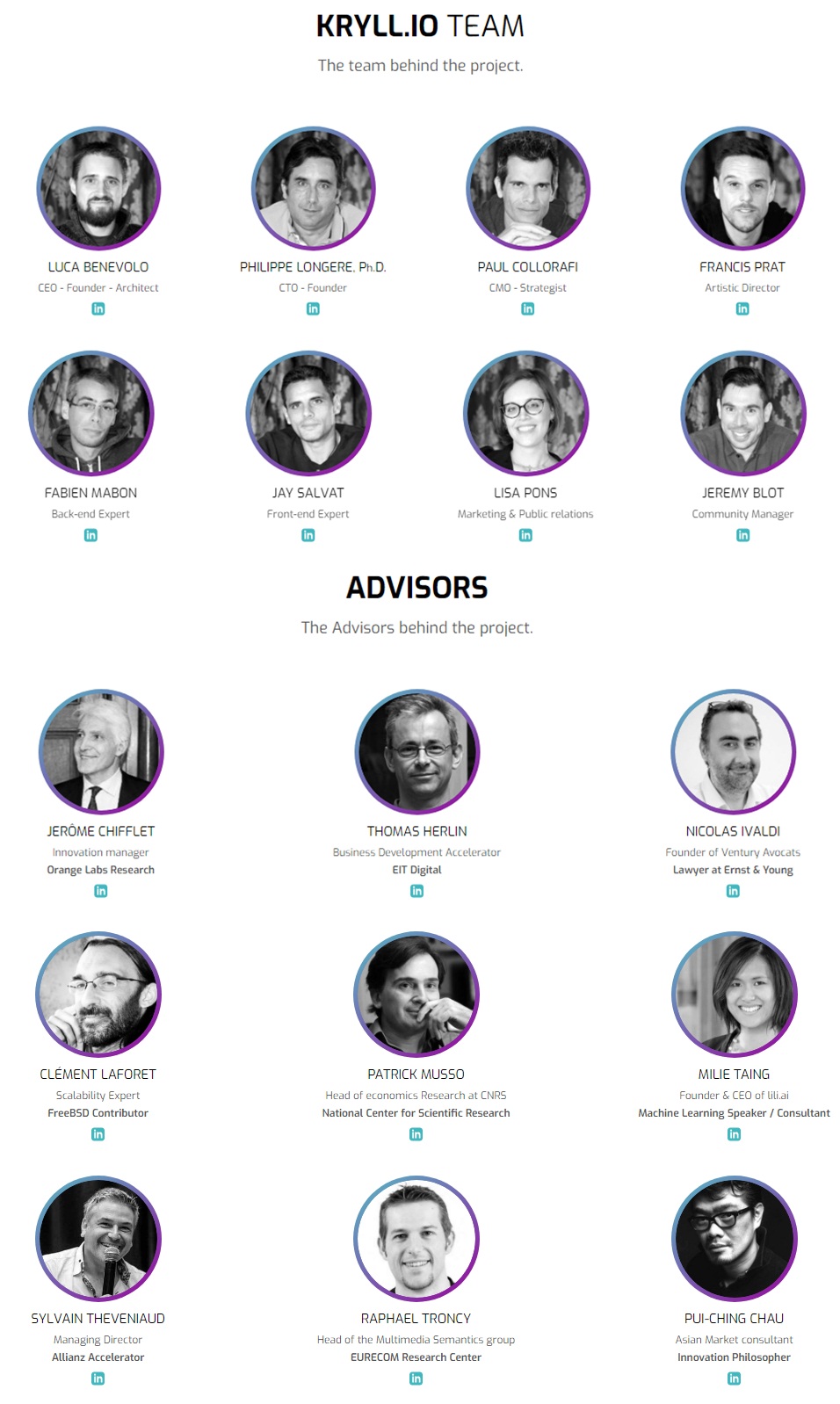 Roadmap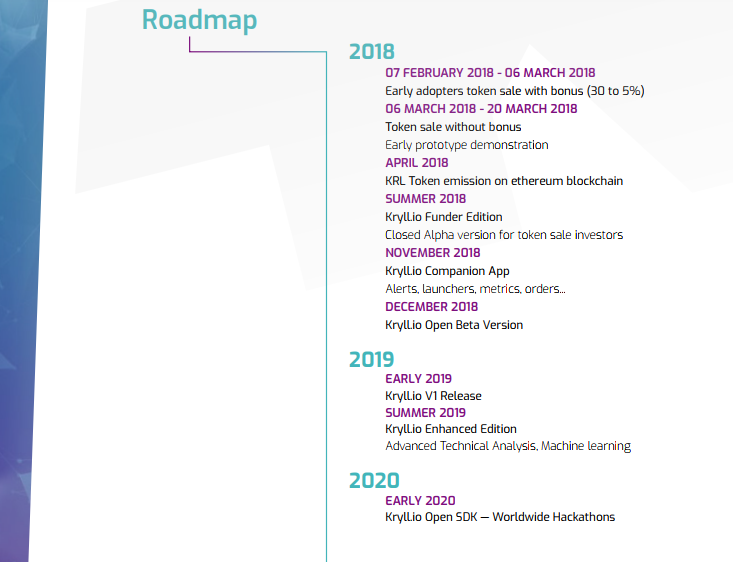 Note: The current bonus is 10% until Feb 26th, 2018 23:59 UTC
more than 10 million KRL token has been sold so far
Website https://kryll.io/
Whitepaper https://kryll.io/pdf/WhitePaper.pdf
Facebook https://web.facebook.com/kryll.io?_rdc=1&_rdr
Twitter https://twitter.com/kryll_io
Telegram https://t.me/kryll_io