TRUEGAME
TRUEGAME – BLOCKCHAIN ​​BASED ONLINE GAME ROOM FOR LOTTERIES AND IGAMING
0. Intro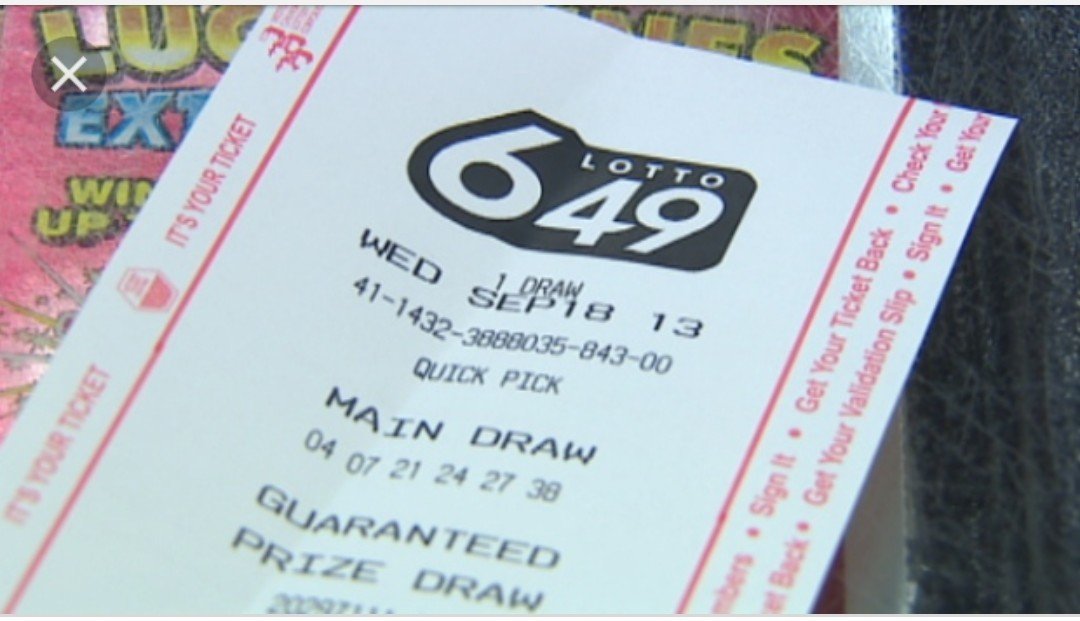 Have you ever dreamed of winning lottery?
I bet you did at least once in your life.
There are frequent news about lotteries on media: who won it, how much was the winning, tax for winning is so intensive, lawsuit going on about ownership of the winning lotto, etc…
Personally, I have had a problem for traditional lottery system because I lost my lottery ticket before I check the winning numbers. I understand chance of 'my ticket' was extremely low but sometimes it gets me annoyed by repeated 'what if it was the winning'. Despite these thoughts, I already tried to search for it and had to admit it is gone.
Like I mentioned before, news title similar to 'Why billions of dollars go unclaimed in lottery prizes' is frequently found on media(link)
This may seem like basic advice, but in order to win the lottery you have to turn in the ticket.
You'd be surprised how often players don't do that.
It's likely whoever bought the winning Powerball ticket to Wednesday's $758.7 million jackpot in Chicopee, Massachusetts will be coming forward soon to claim their prize money.
But over the last 15 years, five winning ticket holders failed to claim their Powerball or Mega Millions jackpot prizes.
Those unclaimed prizes range from $31 million for a ticket purchased in Queens, New York in August of 2006, to $77 million for a winning ticket purchased in Georgia in June 2011. These prizes have since expired, so even if someone found the winning tickets today, they'd be out of luck. The five unclaimed prizes do not include the winner of the $393 million Mega Millions drawing in Aug. 11, 2017, who still has plenty of time to collect.
This question has basic answers to it, people lose or forgets their lottery ticket. Most of these lotto systems in various countries also has expire date(do not understand why, because it is not going to decompose)
Here is another article about tax payment of winning in US 'How Much Will You Pay in Taxes If You Win the Powerball Jackpot?' (link)
The Powerball jackpot is at $1.5 billion and rising, easily ballooning to the biggest lottery prize of all time—which actually raises the value of a single ticket. But unless the winner is Puerto Rican (no federal income taxes or territorial tax on gambling winnings), he is also likely to have to pay taxes of equally historical significance.
There are many misconceptions that float around the taxation of lottery prizes. And the truth is the issue is complicated, not just because many consider the lottery to be a regressive tax, but because the amount one pays in taxes depends on a few different factors, most notably including where you live.
Most stories about lottery prize taxes highlight a federal income tax withholding of 25% for winners. But that's not actually the highest bracket of federal income tax. Big jackpots are instead taxed at 39.6%.
The article states that the tax is up to 40% according to the amount of winnings.
Wow 40%!, Maybe the winner might be happy for 60%, but most of people would say this is to much.
How about lawsuit of ownership of the winning? It is so common that law firms provides information about different cases and how to deal with it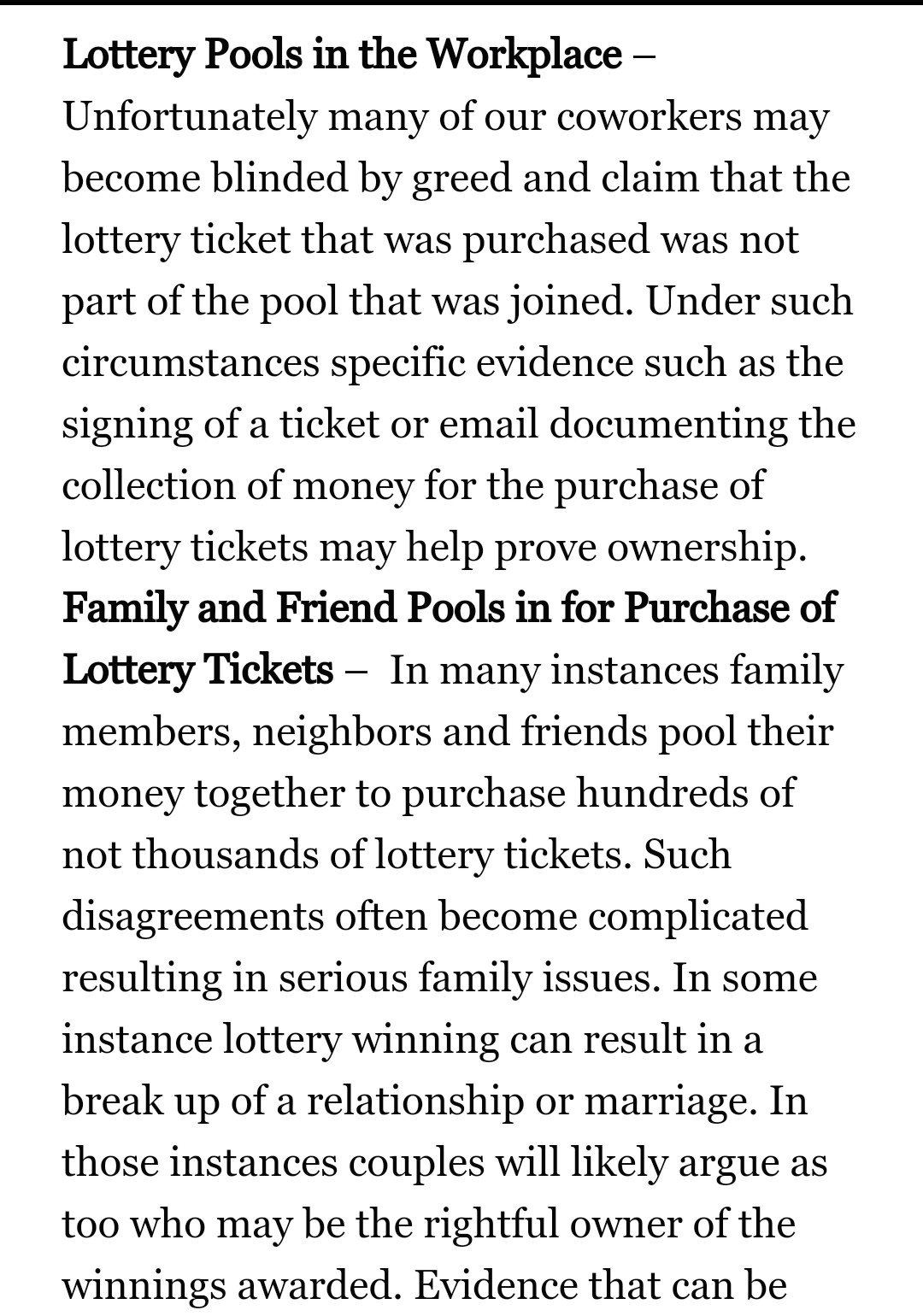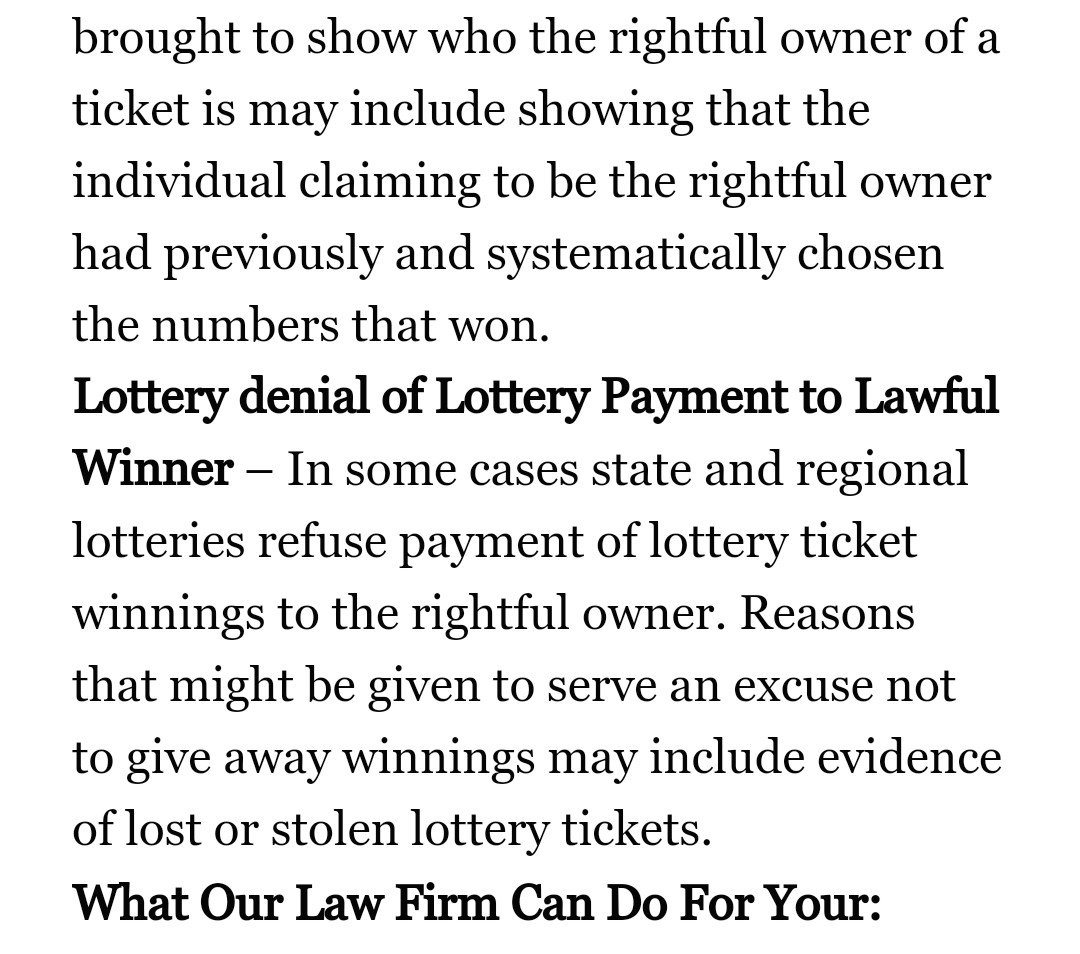 This is where blockchain steps in.
These problems could be resolved by blockchain based lottery system
You do not have to worry about losing tickets or someone tries to steal your winning because it is all secure in the platform.
Players do not have to go through a lawsuit for the ownership of the winning because the winning is from your account.
The prize pool would be higher because you do not have to pay high taxes(as far as I know) from winning on blockchain lottery. Most of the money from ticket sale will be placed in prize pool unlike the traditional lottery system.
I believe lot of people consider this as promising field, therefore more than dozens of projects were launched to compete each other.
Today, I want to introduce another strong competitor on casino&gamblings. This team worked hard to prepare working platform while most of the others were asking for investment without it
1. Rating
ICO bench rating is 4.8
I think this is highest rating in casino&gambling and there are about eighty
Casino&gambling ICOs posted on ICO bench
Note that this is not rated by just one expert/adviser, there are 38 people those who participated in rating. Therefore it is possible to say the rating would be more reliable.
Most of the advisors gave high rating mentioning strong team. They mentioned decent working platform is another pros. One of the advisors mentioned reasonable hardcap is great.
The team is continously answering questions from advisors
Q is product working on blockchain?
A yes, the codes are avaliable to be found on Github, more than dozen of blockchain based games are implemented on smart contract. There was active players since last year so result of games could be found on Etherscan
Q doubt of getting a licence
A The team already involved in the process of getting gaming licences from two different jurisdictuons. Investors would get updated news for this in the future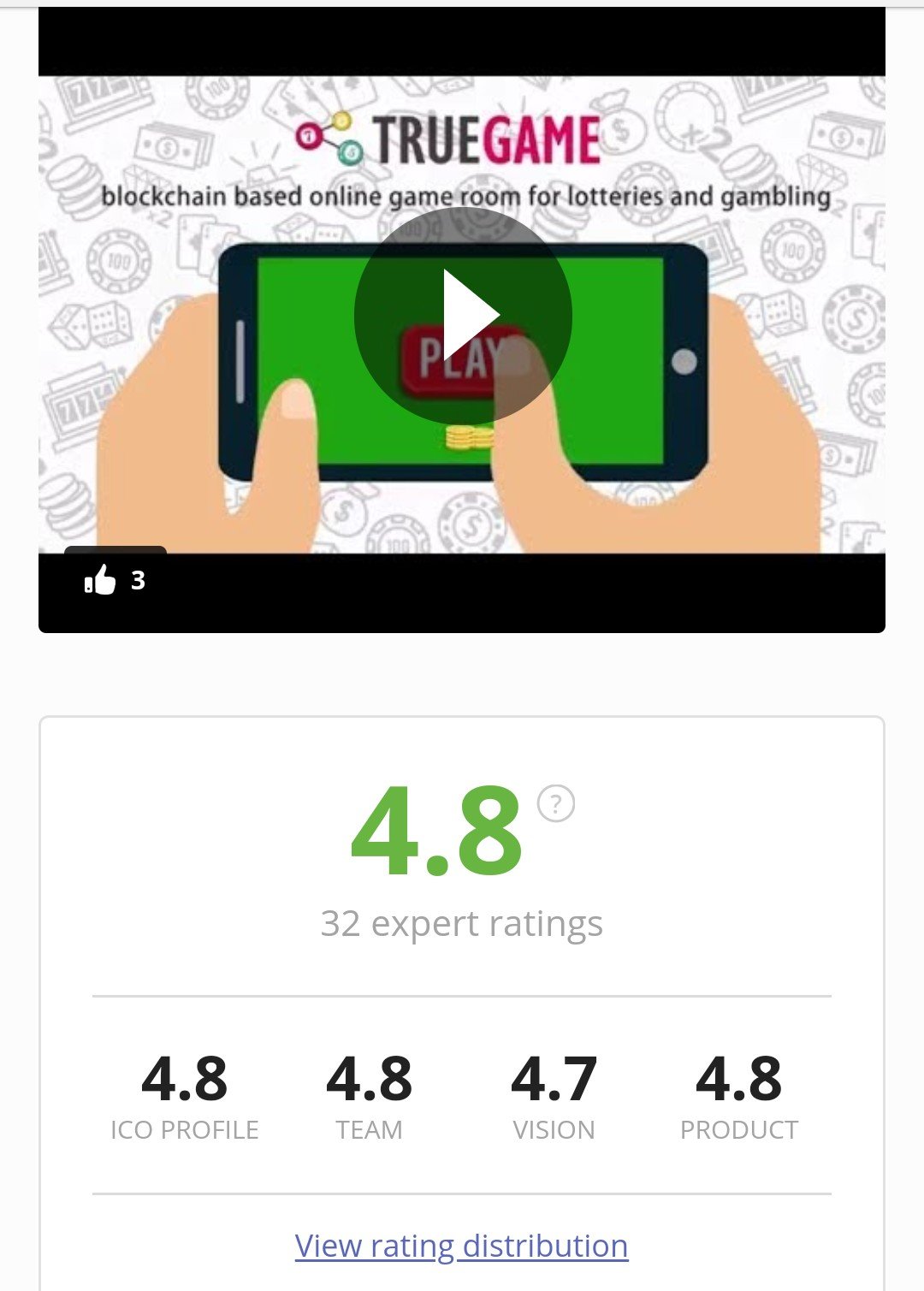 2. Concept
The team explains, with blockchain technology, they could bring full transparency in gaming industry because of the generation of the random number, no manipulation, etc. Openness of the winning result ensures players that the game is even and they have fair chance of winning. The automatic distributions of the winning could be another benefit for players.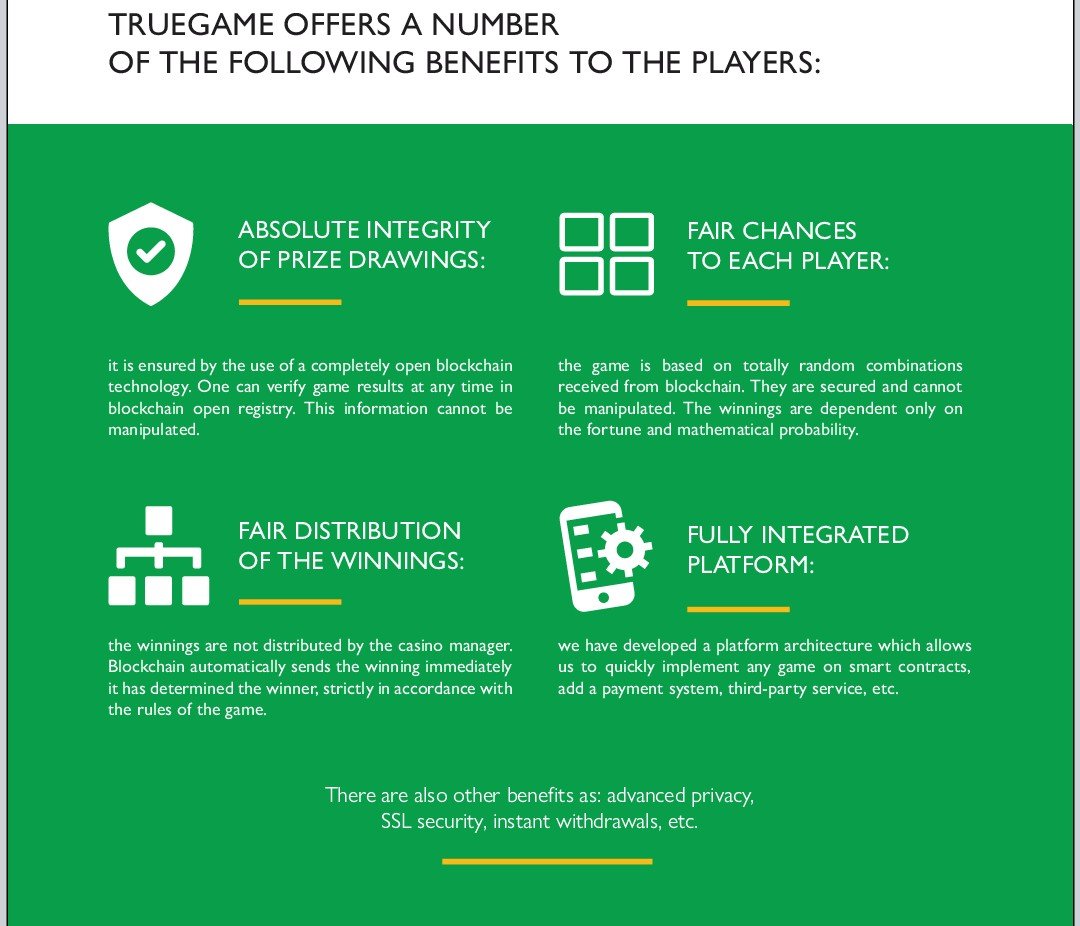 3. Market
Since there is heavy competition in blockchain gambling&casinos, only few teams with quality product would survive. However, heavy competition also indicates that the market looks promising.The online gambling market is continuosly growing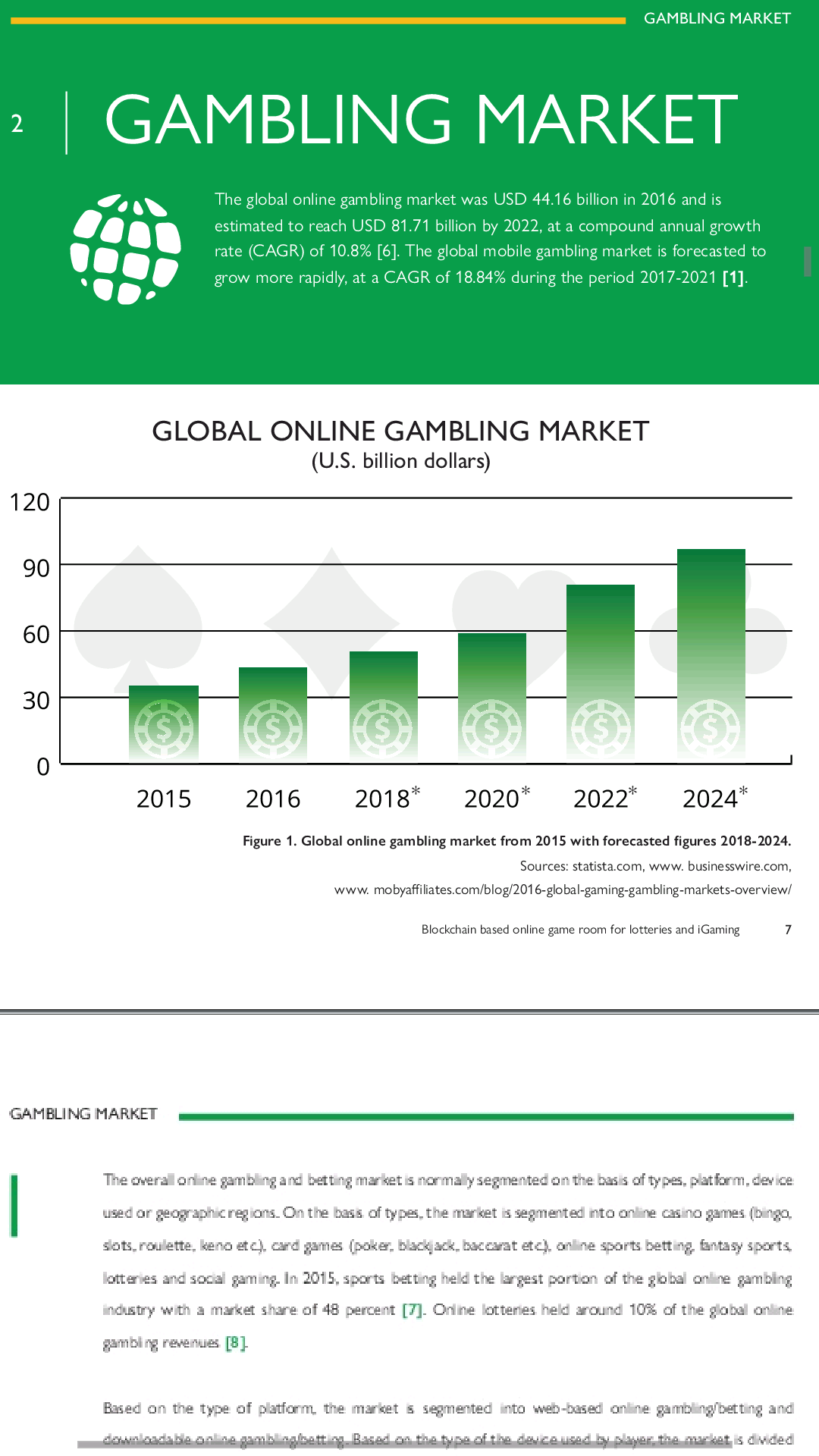 This is why marketing strategy is important. I have personally seen those ICOs without any results boosted their token prices with viral marketing. On the other hand, there are projects with great team and product which fails to promote their products ending in out of peoples mind.
Marketing is most important element for project to suceed. Truegame team seems to understand this because they are allocating 45% of the collected funds for players attraction and marketing.
The team plans to practice display advertising, affiliate marketing, email marketing, and social media marketing.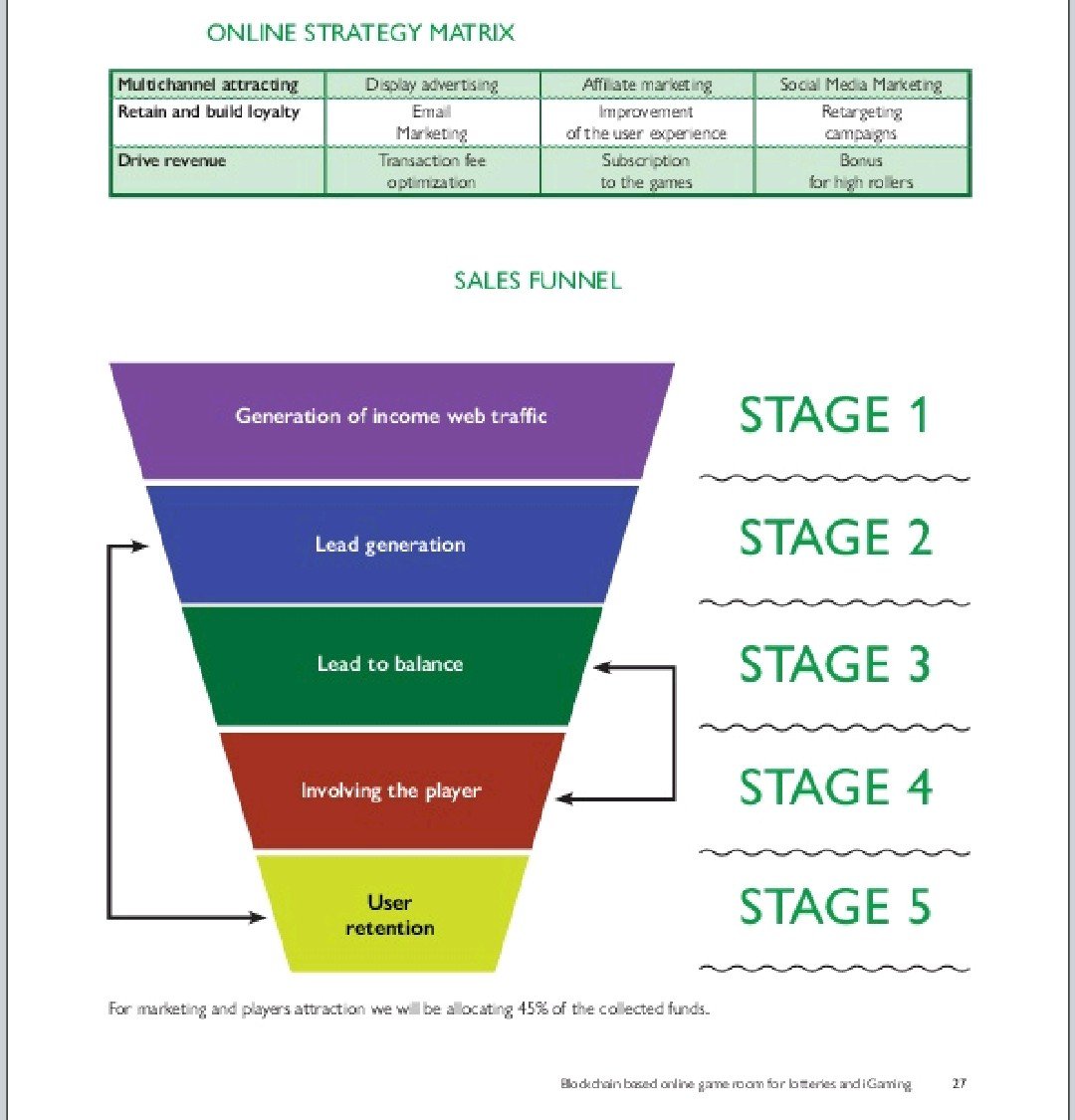 I have seen the power of affiliate marketing with different ICOs, people just do not stop enticing other investors for the provided reward. From telegram, I heard official affiliate program would be pronounced in near future and I hope the reward is good enough to hit on people.
Prediction of future online gambling
I have conducted some personal research about online gambling about restrictions and it's estimated growth
Overview of the global online gambling market
*Technavio's market research report identifies that the easing of government regulations will be one of the primary growth drivers for the global online gambling market till 2021. Few years back the US passed a law that allowed individual states to license online casinos and mobile casinos, sportsbooks, and poker sites within their borders. Delaware, Nevada, and New Jersey are the three states in the US that allowed online gambling as of March 2017. It has been predicted that more states in the US may legalize the online gambling by 2020 due to the easing of laws by the federal government. The Singapore government exempted two online gambling service providers called Turf Club and Singapore Pools from Remote Gambling Act in September 2016. The primary advantage in legalizing of online gambling is that it increases employment opportunity and benefit the government in the form of tax. These advantages are expected to motivate governments around the globe to legalize online gambling. Technavio's market research analysts predict that this market will grow at a CAGR of more than 9% by 2021. *(link)
As you can see from the article, the restrictions of online gambling will be eased, and there will issue more licences for online gambling. They predict that federal government of US will ease the law on this field. This would be followed by other countries or could already have happened.
4. Platform
You can check out working platform here
The platform uses pRNG algorithm to provide random numbers for transparency
Do not miss special event!
If you are Jr.member or higher rank in bitcointalk, you have a chance to play 10$ bonus for free gambling. Just sign up with the form and they will provide you an email with promo-code.
4-1 Lets look at what kind of plays that Truegame has
a. Prize Draws
Players could make a small bet on valuable prizes. They also provides you with cash of $1,000.
There are three gadgets for now, which is Samsung Galaxy S8, iphone 8 64GB, and iRobot Roomba 960. I hope they add some attractive prizes, maybe we are all in crypto-world Mining Rig or cool graphic cards would be great prizes. Anyways, I like the idea of sending the prizes to winner's addresses.
b. Scratchcards
The problem of Lotto is that you have to wait to see who wins the lottery, but for this one you can instantly check if you lost or won. The important fact is these scratches are super addictive, I saw lots of people those who start scratching, did not stop until they win. It's good thing they have various kinds of them and willing to update their collection
c. Lotteries
It is impossible to mention gaming industry without lotto. I know all kind of other plays could allure various people into this project, but this one must survive. It needs large number of people in the game so high prize-pool would bring more players into the game. I personally believe that if the prize of lotto is high, more people will use this platform even when they do not make intensive viral marketing. For now, the platform has three lotto, two of them(crypto millions and blockchain ball) will be launched after the end of token sale (due to the replenishment of jackpot fund)
d. there will be more games commingup
The team is planing to launch Card Lottery, Gift box, Dices, smart Roulette, Slot Games, Bingo, etc.
I know that lots of other competitors are planning to get online pokers, personally I think it would be great to set a game which players could compete each other. In this way, they will spend more time on Truegame.
(they have a plan to launch black jack and poker room starting July of 2018)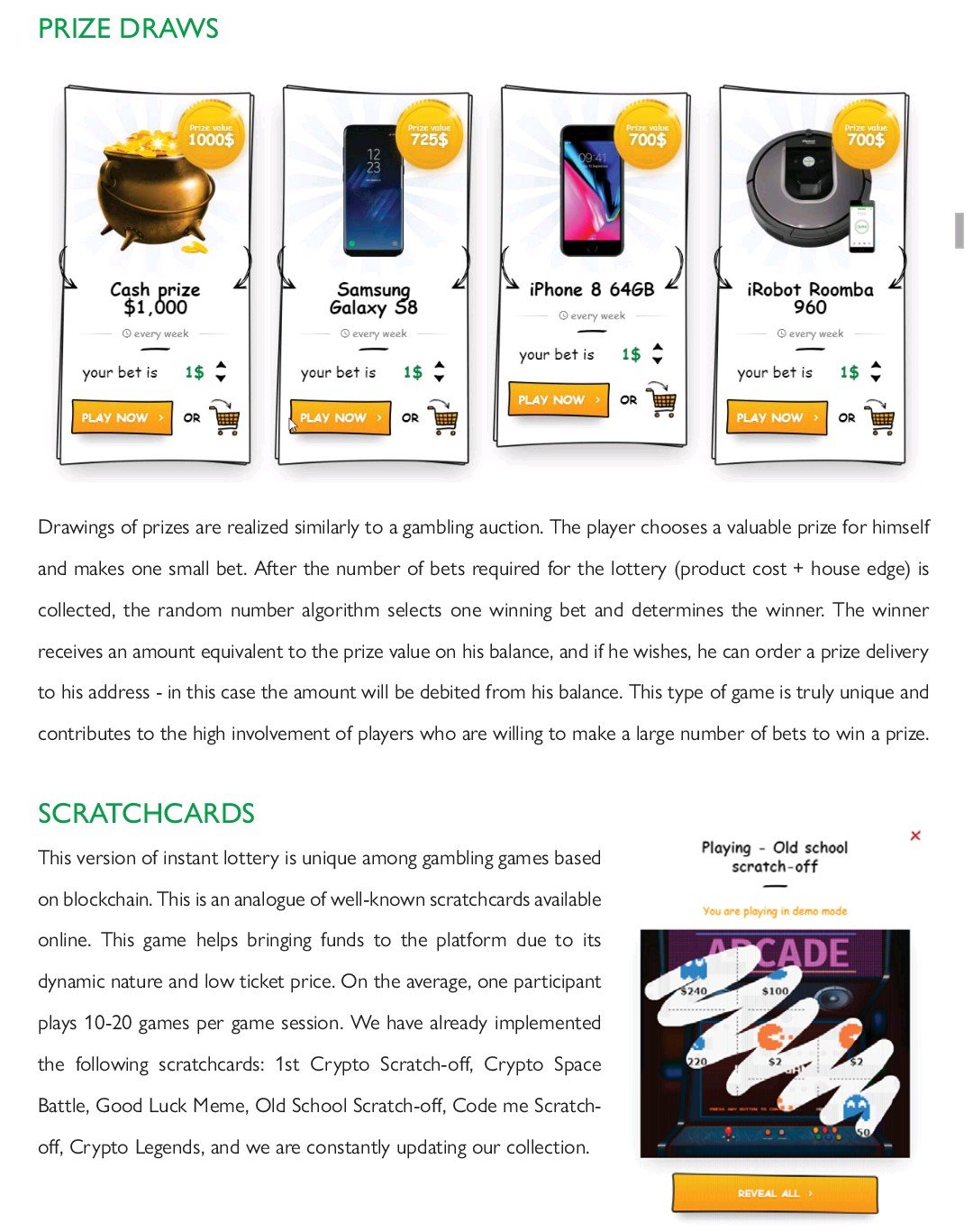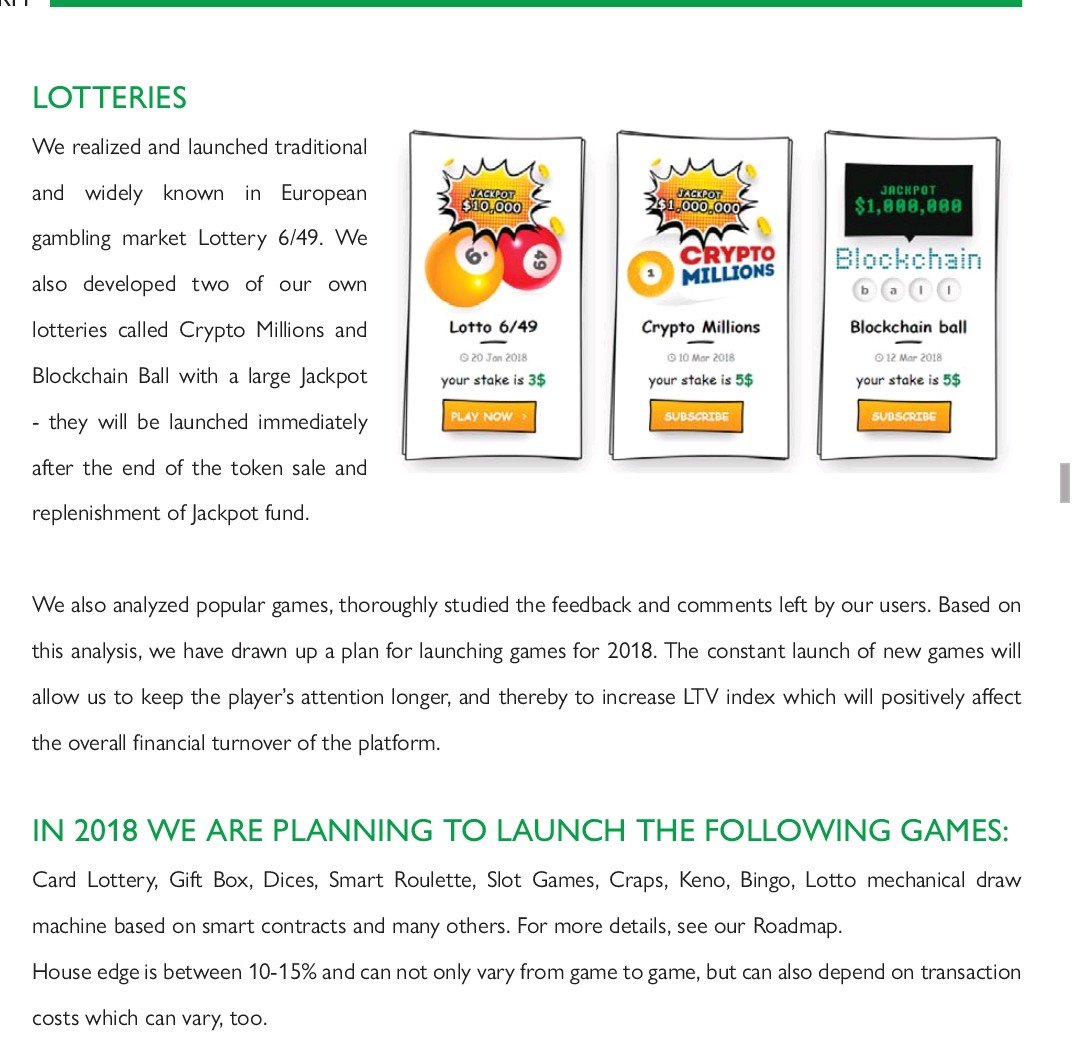 Overall, player friendly interface and attractiveness of games would be key to hold players and the team seems working hard to update charming new games.
Have to talk about how ticket prices are distributed
75% goes to the Jackpot & prize pool
10% goes to Token holders and affiliates
15% goes to Operating expenses and transaction costs
This is the reason why those who are interested in this project should invest in this project.
Explanation will be followed in token section.
5.Roadmap
Like I have mentioned before, the platform is already launched. Therefore more games will be released in the future(could be checked on white paper pg29 for exact informaition)
I will just briefly inform the investors about significant updates here.
On march 2018, first cash flow statement
April 2018, 11 different multilingual user interface with more cryptocurrency integration (LTE, DOGE, DASH…)
May 2018, Mobile App Apple store
June 2018, massive marketing will begin
One thing that concerned me was this roadmap does not have dates for lisitng on Exchanges. I know that most frequent question of most investors is "When Exchange? and When Moon?" so it would be great if the team adds what kind of plans does the team has about listing on big exchanges.
6.Tokens
The tokens will be used for betting, jackpot, and commission. The token holders will get 10% commission on monthly basis, and the team is still working on best method of distribution. Investors should realize this 10% is really important. There are lots of coins which gives interests to their token holders. I have invested my Ether into Bankera one of the coins which rewards token holders by weekly interest. It might sound great, but interest rate is no more than traditional bank interest rate. This made me disappointed, since interest rate would not grow dramatically. On the other hand, TGAME's regular interest could grow as more players participate in the platform. If this project survives in competitive market, there will be more players which also means more interest for TGAME holders.
The investors could take two positions about this project:
Long term investment – due to continuous commission which comes from tokens that investors purchased, long term investing would be profitable as I explained in previous paragraph
Short term investment – when the token is listed on exchanges, if the platform get more players, the value of the token would rise for short term investment.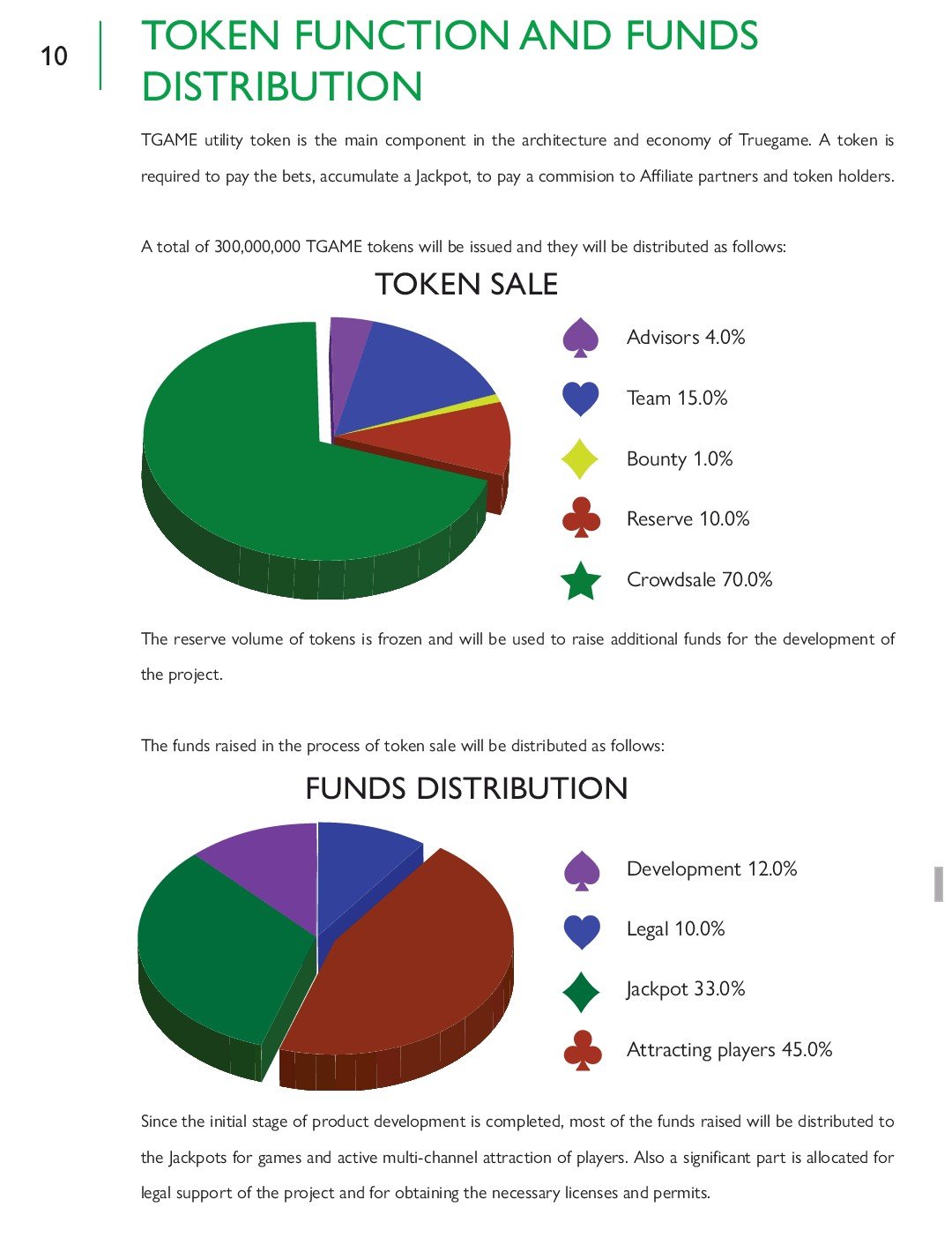 7.What is Truegame unique compare to the others
As I mentioned before, the Casino&Gambling market is crowded. There's lot of competitors and some of them would not survive eventually.
Truegame already has working decentralized product which mean that house could not control the winnings. This makes people think the games are more fair and transparent. It is important that the team already launched fully working platform, unlike others in MVP or developing stages. There are some projects which does not have any products ready before their ICO. This is great for investors of Truegame because we could test and evaluate the product before investing money.
Other than that the commission is also low and paid by the house, not client
There will be mobile Apps available so people could play games anywhere
The list below shows how Truegame has evolved from other competitors which were already on the market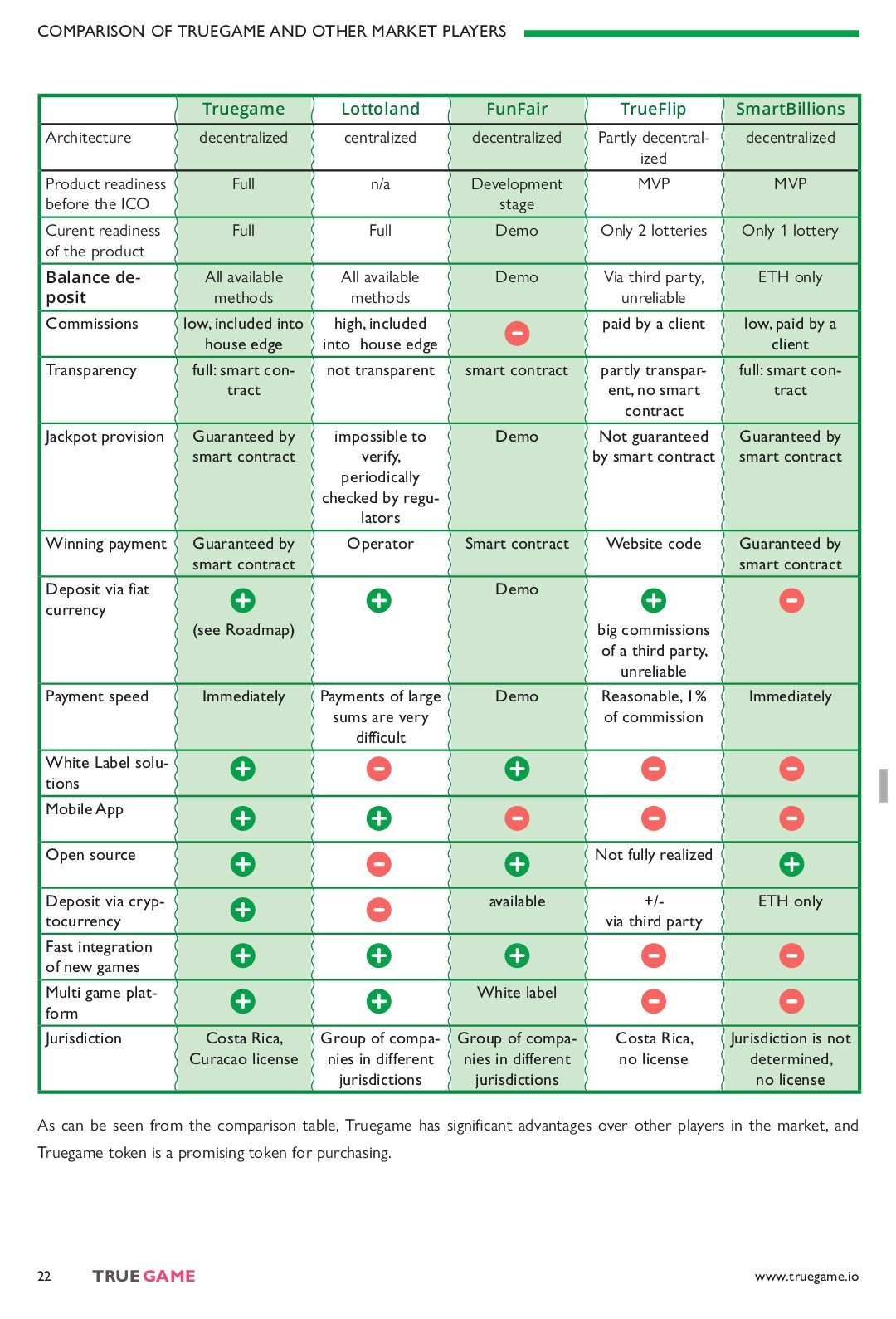 8.How to buy
It is not hard math that if you are going to invest, price is much cheaper in private sale. The only problem is that the bar is higher for private sale(5 ETH at least). However, you get up to 100% bonus and this means if the TGAME manages to maintain the price of main sale, you already doubled your investment.
Register
Truegame ICO 
Whitelist has to be submitted before investment.
The private sale is ongoing with minimum investment of 5 Ether.
For pre sale, minimum investment is 0.2
For main sale, minimum investment is 0.1
Ether with bonus of following.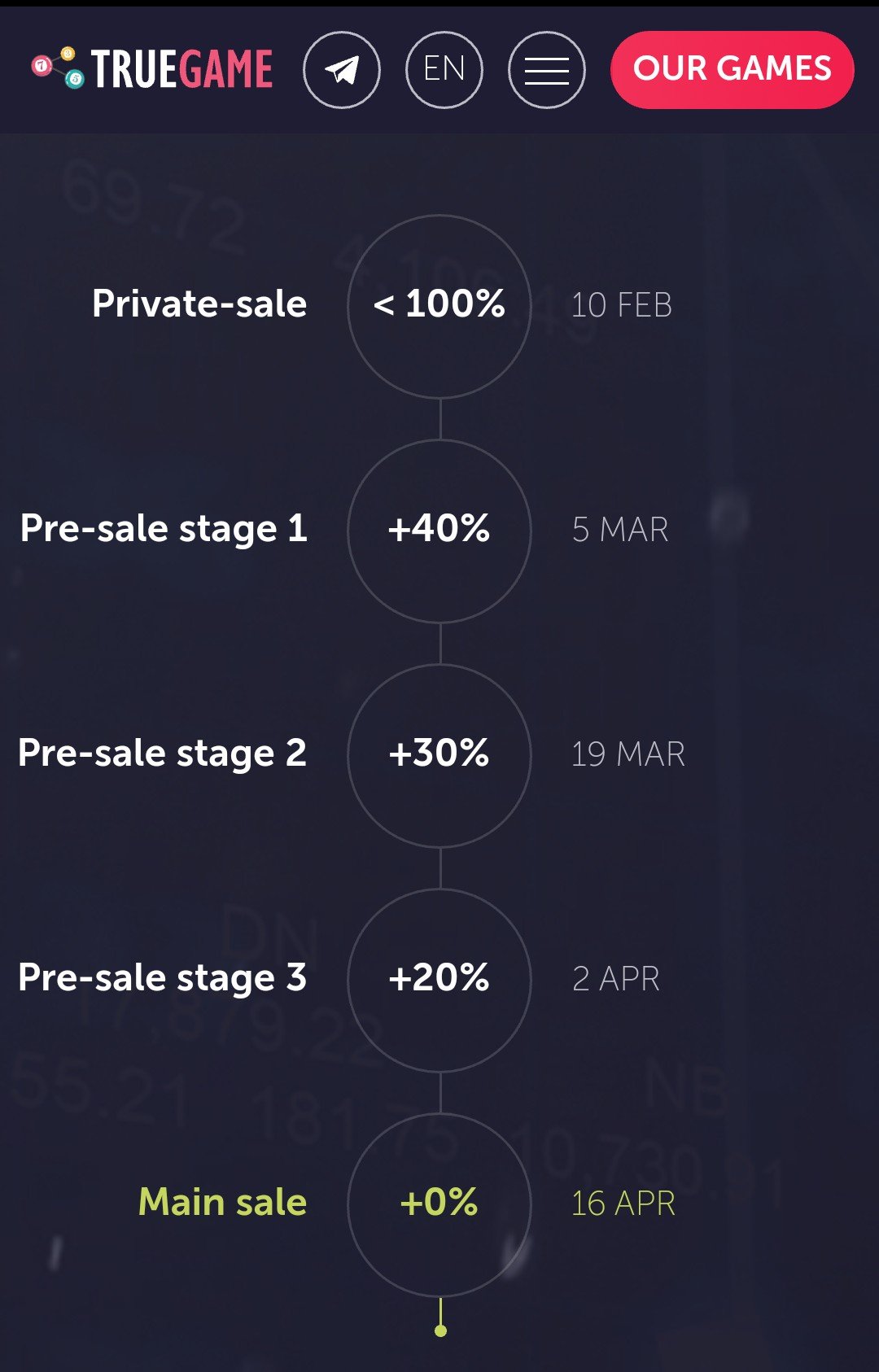 Private sale : 10.02.2018 – 04.03.2018
Hard cap in Private sale : 31,450,000 TGAME
Pre-sale : 05.03.2018 – 15.04.2018
Main sale : 16.04.2018 – 30.04.2018
Payment could be made in BTC, ETH, LTC.
Price 1 ETH = 9,250 TGAME
USA citizens cannot participate.
Homepage
https://ico.truegame.io/
Whitepaper https://ico.truegame.io/docs/whitepaper_en.pdf
Token TGAME
Price 1 ETH = 9,250 TGAME
Platform Ethereum
Accepting ETH, BTC, LTC
Minimum investment 0.1 ETH
Soft cap 2,000,000 USDT
Hard cap 9,000,000 USDT
Country Costa Rica
Whitelist/KYC Whitelist
Restricted areas USA