ZeroState
What is ZeroState
Okay, ZeroState is the world's first emotional intelligence platform. It helps advertisers around the world increase the loyalty of their customers by analyzing their emotional involvement. ZeroState is based on a mobile app that allows its users to review a product in one word.
ZSCoin (ZSC) tokens are digital assets. In this case, they can be used by an advertiser to improve the visibility of their product.
Advertisers buy ZSC to launch an advertising campaign via the app. Their aim is to get feedback from customers, attract their attention and increase sales.
Users receive ZSC from advertisers for writing reviews. ZSC can be exchanged for ETH or sold in the secondary market. Each month ZeroState will allocate 20% of its profits for redeeming the tokens, thus increasing their value.
Why we Need To Invest on ZeroState?
The part that I always love when I writing the article is when I talk about benefit of the project. ? lets see what the reason why we need to invest on ZeroState. Its Developer are realy realy clever to found and looking the market. They like knowing what the word needed in this millennium where the internet are driving the live a half of people in the world. As per we know Mobile advertising is the key driving force of the entire advertising market. Its fastest-growing segments are social networks, video platforms and search engines.
In 2016, 96% of sales ($25 billion out of $27 billion) came from digital advertising and the two dominant providers – Google and Facebook that together control 54% of the digital advertising market. Stable growth is expected to continue by 2021 with an overall increase of 11%. Digital advertising sales will make up at least 50% of the industry, including 56% in the USA, 59% in China, 65% in Australia and 25% in India.
By looking above data can deduced that the demand of Zerostate will increased on future, its mean the value of the token also will increase and grow up.
And guest what the special from ZeroState? There is have a lots benefit different than the others. The difference is ZeroState not only giving the benefit for us (Advertiser & Users). But there is also have benefit for the world.
Okay let me explain the benefits:
BENEFITS FOR THE WORLD
Search engine on a new level
People search for «what» a thing is on Google. We will shift the focus to «how» it feels to give the user what they are looking for. By establishing partnerships with iTunes and Litres, we developed an emotional search add-in capable of suggesting «fun» music or a «wise» book. The same can be applied to online shopping platforms Amazon, E-bay, Alibaba, etc. to upgrade them to E-Commerce 2.0.
Social network 2.0
On social networks you can only search for people by their interests, but they do not always reflect their personality. A ZeroState social network will make it possible to find like-minded people. If you live efficiently, you need only to type «efficient» to find people who do the same.
Marketplace or Uber-like advertising platform
Users get real money for their reviews out of the advertising campaign budget. It increases the number of reviews overall, as well as the share of sincere, unbiased reviews, and provides an opportunity to form an objective opinion about the product.
BENEFITS FOR THE USER
Free participation in promotions
Becoming a ZeroState user is simple: just install the application and sign up for free. Looking for information and participating in advertising campaigns is free, too
Bonus for reviews
An advertiser organizes an advertising campaign and determines its budget. A user becomes a participant automatically when they leave a review or confirm someone else's. For each review or confirmation their account is credited with ZSC.
Unbiased opinion
Users get bonuses for all reviews, including unfavorable ones. When customers are not forced to praise a product, we can obtain a fair and full evaluation.
ZeroState means personal growth for its members, as well as access to data on products and services.
BENEFITS FOR THE ADVERTISER
ZeroState offers advertisers:
Extremely loyal customers
Apart from simply reading company information, customers also write down their opinions and earn money.
User feedback
Reviews on the app provide the record owner with detailed feedback. It can be analyzed to improve the product.
Rating
There is a rating for each emotion. Every user review adds points and promotes a certain entry to the top. Your company can become the «coolest» or «sweetest», and that will attract users looking for exactly these emotions.
Emotional price list
Cards on the company page can be sorted by rating and emotion. The user can see the «tastiest», «safest», «most useful» etc. products. By adding a Buy button or a link to your store you get a new sales channel that is simple and efficient.
See, what the benefit provided by this project.
below are scenarios from this project also will make you guys more interesting on this.
FUNDS RAISED
They estimate that, depending on the funds raised, one of the following three scenarios can unroll. The key factor is the user growth rate.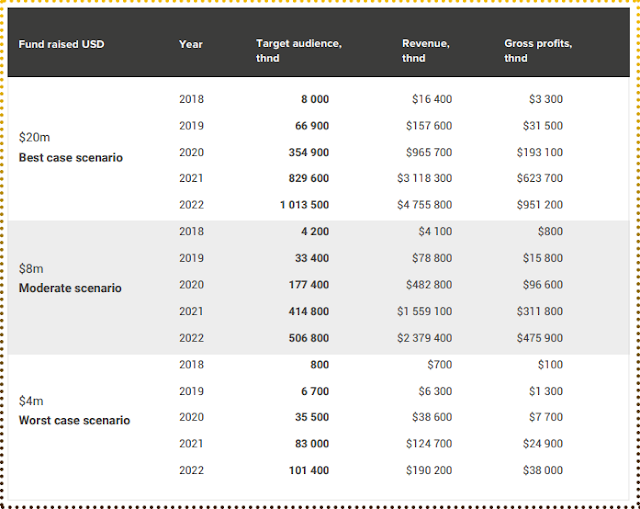 Okay guys, above I already explain what the ZeroState and The Benefit to us if we invest on this porject.
Now here is the ICO details.
ZEROSTATE ICO
Selling ZSC tokens is necessary to finance the development and scaling of the existing business model. ZSC is designed to provide transparent and favorable terms to each token holder.
To achieve this, we need highly skilled professionals, technologies and a growing customer base. This, in its turn, requires significant funds and marketing capabilities. To this end, ZeroState will issue a maximum of 100,000,000 ZSCoin tokens with an initial market value of 0,00047 ETH per token during the ICO.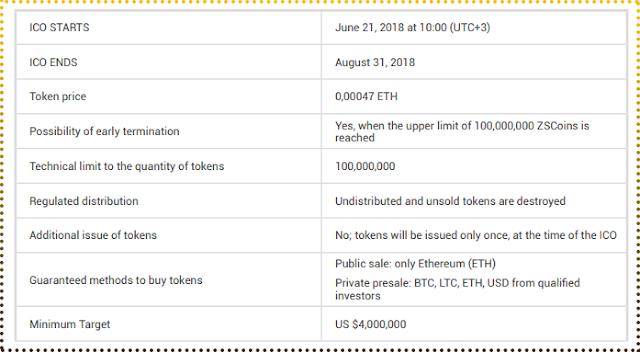 Okay that is the Zerostate and what the benefit which their shall provise to us.
ZeroState also offering any bonuses for their ICO you can found all the details informations about that on their website or you can ask for more details trough their social media via link below:
informasi lebih lanjut :
Twitter: https://twitter.com/ZeroStateDapp
Facebook: https://www.facebook.com/zerostate.info
LinkedIn: https://www.linkedin.com/company/zerostate-inc
Instagram: https://www.instagram.com/zerostate.app
Medium: https://medium.com/@zerostate
Telegram: https://t.me/zero_state_news
YouTube:https://www.youtube.com/channel/UCxTbb5czvsPtmYnsxHRZQnA
Whitepaper: https://zerostate.io/zerostate_whitepaper_en.pdf
Website: https://zerostate.io