Horizon Communications
 Wireless Internet For The Caribbean Region
For now, wireless communication has arrived to 4G LTE. The Interner Service Provider will be high-speed. There are so many internet service providers in the world. But only one provider uses blockchain technology, Horizon.
Horizon
Horizon is a world leader in the design, installation and management of telecommunications infrastructure. With blockchain technology and has a great goal for customers. Horizon is based in Bermuda and will target to enter the Bermuda market.
Now we discuss about fixed wireless. Fixed wireless is the operation of wireless devices or systems used to connect two fixed locations with radio or other wireless links, such as a laser bridge and this is part of the wireless LAN infrastructure. Fixed wireless will be owner and operated by Horizon.
The 4G LTE technology used by Horizon to provide Fixed High-speed Internet access, by implementing the Defined LTE-Advanced Software.
4G LTE technology has a strong history:
Standard 3GPP-based 4G LTE-Advanced
Technology is used worldwide for over 15 years
More than 7.2 billion wireless connections use the standard 3rd Generation Partnership (3GPP)
More than 1.5 billion LTE 4G connections worldwide
 3GPP Release 13 (Rel-13) enhances 4G LTE even further towards the 5G standard.
Horizon will utilize blockchain technology in a number of different areas:
Payment
Payroll
Data storage
VPN Services
Come back to CryptoCommunity
In the second paragraph already mentioned Bermuda and the Caribbean. Bermuda is an Overseas British Overseas area of ​​21 square miles. Bermuda has one of the highest standards of living in the world, with excellent education, service, and access to top-level care. Bermuda is the center for international business, Re / insurance funds, trusts, high net worth offices, shipping, airlines and new ventures, asset management, trust and personal client business, family office investment structures, shipping and airline companies and associated registries – new technologies such as startup and biomed companies – all contribute to the economy.
Internet Service Available in Bermuda
The internet in Bermuda is very unreliable and slow
The existing solutions are aging, limitations and lack of significant speed
 Lack of single provider, wide island to offer all three services as package packages
Businesses, homes and tourists have a very expensive option for Cable or Telco services, including
TV Sound, Data and Infrastructure Solutions are expensive and difficult to run into customer properties
An outdated distribution network of more than 400 miles of copper wires, cables and poles
Copper and fiber can be heavily damaged by strong winds / hurricanes and salt corrosion
The Caribbean Islands are usually considered to be subregional in North America and are set in 30 territories including sovereign states, overseas departments, and dependencies.
Technology Solutions
The horizon technology can, at launch, provide 150mbs + per subscriber, which is a speed not heard in these countries except for a select few. Horizon will use a Non-Permanent Wireless Network called Long Term Evolution (LTE). LTE can take "multiple paths" back to the tower, bind several "channels" of frequencies together and dedicate an open channel to a particular client.
The installation is small and almost invisible in the customer's home
The tower is very tough
Each with a diesel backup / battery
The Customer Unit is 7 x 6.5 x 1.6 inches & attached to the exterior wall
Outdoor Cat5e is run inside the customer's network
Horizon will reach about 95% of Bermuda homes and businesses with only 4 towers. The off shore range will extend to 15+ Miles
Customer Speed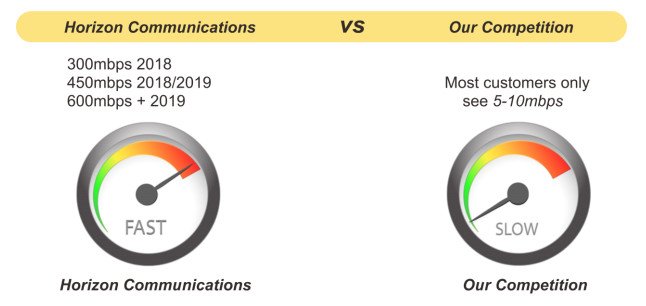 Network Design and Deployment
The central network and data center will consist of:
PfSense 2x1U Firewall / Router / Load Balancer in High Availability 10 GBE / 64GB RAM Storage 300 GB RAID 1 Server for Owncloud, Sandvine (packet shaping and traffic filter, among many other advanced tools for ISPs) and other internal software x2 2U Rackmount Server, 2x Intel E5-2600 v3, 1TB DDR4 ECC Reg 2x10GbE, 8x 3.5 "; HS Bays, 740W RPS, SYS-6028R-WTRT x2 10gbe Mikrotik switch on rollover
For billing, provisioning and scheduling Horizon will use the Sonar ISP Software. Horizon will use internal applications such as Owncloud for data storage and Slack for intra-office communications. For our Healthcare and Management Network, Horizon will rely on Sandvine, a powerful and popular ISP software to carry out a number of forming packages and customer traffic features.
Tower Distribution and Equipment
The towers are:
Sea Operations St. George (over 5 miles away from Barker's Hill)
Quarry Depot / Tuckers Town (over 5 miles away from Barker's Hill)
Somerset Camp Police Station Alton Hill Somerset (over 5 miles away from Barker's Hill)
At any Horizon tower will have the following Equipment:
The antenna of the LTE sector panel is likely in a 90 degree two layer configuration giving to separate the Channel blocks of 100 megahertz.
8 radio head unit to insert the antenna
10 Gbps 70 / 80ghz backhaul transmitter which will serve as the main method of distribution to our Edge Towers.
x2 2 Gbps 24ghz backhaul transmitter for use as redundancy. If for some reason the 10 Gbps service goes down, Horizon will instantly fall back to the 4 Gbps service, which in itself is redundant.
  The network is also attached to a local fiber ring that connects all cell phone towers together. This gives us a third layer of network resilience. Horizon does not plan on utilizing this network often but it's great to know that options exist if needed.
Network Infastrucutre And Layout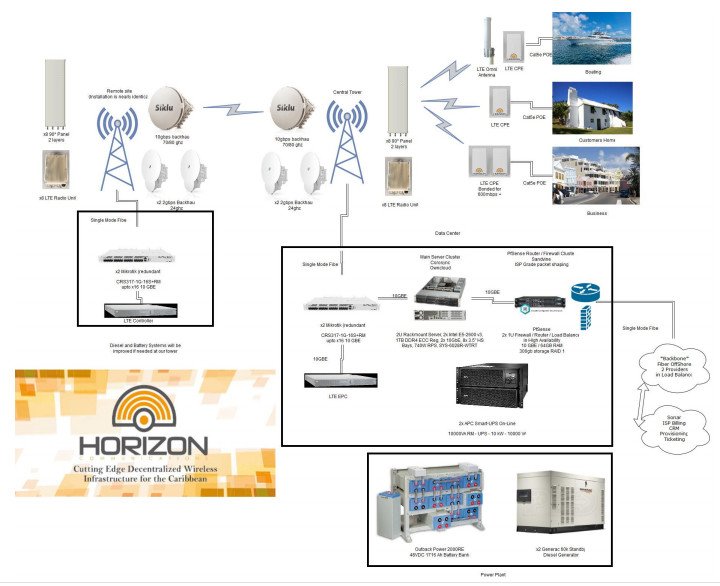 Backup Power
x2 APC Smart-UPS On-Line 10 kW
x1 cell battery 1700 amp clock
 60kw x2 diesel generator
2 weeks fuel storage on site
Installation of Customer Premise Equipment includes ODU (Outdoor Unit) and IDU (Indoor Unit), which includes Gigabit network switches and dual-band WIFI routers (2.4 Ghz and 5 Ghz) as well as Telephone (VoIP) ports, to provide network & connection high quality wireless as well as providing options for Voice over IP Phone service.
Marketing
The main marketing methods of the horizon are door-to-door, customer-focused, and community-based approaches to drive sales. Horizon will also focus on strong marketing, with an emphasis on social media (Facebook, Twitter, etc.) as well as traditional media marketing.
Stages Company
Launch Stage – ICO Funding
 Time: ± 1 month from capital infusion
Hire a team to collect ICO / Token
Create / Build whitepaper complete, Token Wallet, Token Website etc.
Marketing Token to Community
Close initial legal fees
Stage 1 – First Deployment Time:
 ± 2 months from capital infusion
Get the First Wireless Tower Operations
Bring the initial launch team (3-5)
 Start Local Telecommunication Marketing
 Install 50+ subscribers
Stage 2 – Full Deployment in Bermuda Time:
± 9 months after launch
Target Government, big business (International Business, Law Firm etc.), taxi, delivery service, emergency vehicle etc.
Stage 3 – Enterprise Expansion to Other Nations Time:
1-2 years since launch
Rent and allocate additional teams for International expansion
Expand to other Caribbean islands
Expand to Central American countries
Stage 4 – Time of mobile phone provider:
± 2 years after launch
Get and get the appropriate license
Take advantage of our existing LTE-Advanced infrastructure
Expand tower sites to provide better LTE mobility coverage, if required
Roadmap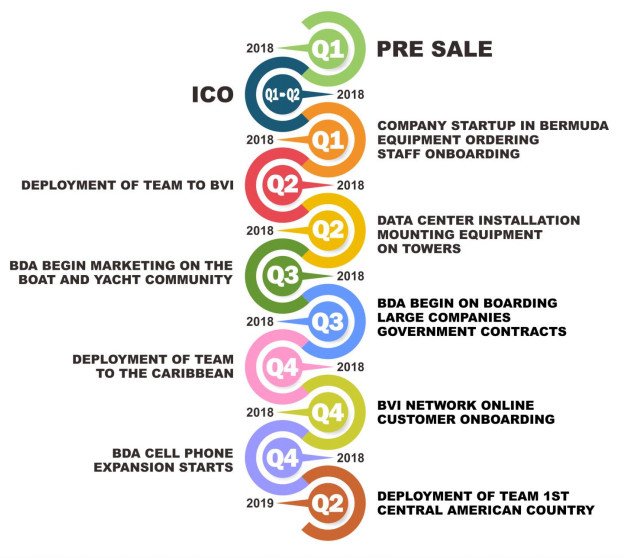 Startup & Year 1 Expenses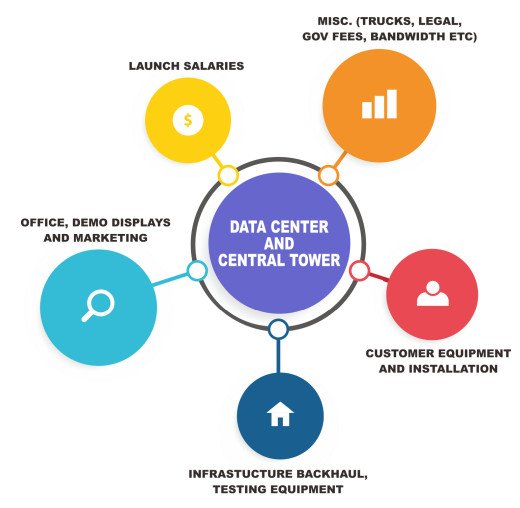 Profit Potential and Token Dividend Potential for Horizon as Horizon expands

Token Details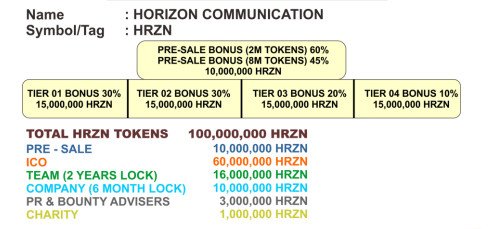 Distribution Tokens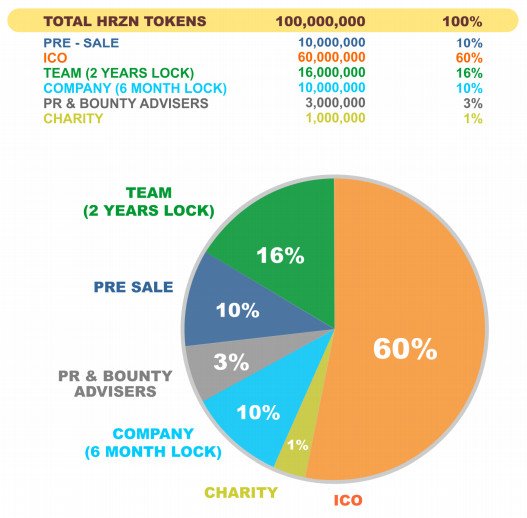 Due to ongoing talks with multi million dollar investors (and a number of people sending signed agreements for the 60% bonus) Horizon are extending the pre-sale. That's your change.
Team

It's your time to join !!!
For more information, you can visit:
by ;   Kopisusu 4000
link: https://bitcointalk.org/index.php?action=profile;u=1953415