A secure swap for exchanging cryptos
Over past few years, thousands of consumers have had terrible experiences with the use of various available wallet and exchanges, like the Bittrex locking accounts for months, Coinbase frequently crashing and loosing wires, Binance prohibiting new users from creating accounts, emergence of various phishing website imitating www.myetherwallet.com to Coincheck and Bithumb being hacked, virtually every user of these platforms have experienced their fair share of dilemmas at one time or another.
These terrible experiences can be attributed to many factors such as the centralization of these exchanges that keeps all the activities of the exchange on a central server in which if there's any system failure, the whole exchange will be susceptible to hack attacks.
With all these incidence, there's a need for a better opportunity and the atomic wallet is adopting the atomic swap technology to create a non-custodial exchange where user can easily swap their crypto assets.
A better alternative by atomic wallet
Atomic Wallet is a multi-purpose custody free cryptocurrency wallet. Atomic Wallet supports over 300 assest and that is why it is called a Multi-cryptocurrency Wallet. Atomic wallet adopts a Cold Storage mechanism and does not require any registration. It has, build in Atomic Swap and P2P Exchange.
with atomic wallet, you can carry out not only swap of crypto assets but you can also perform range of functionality such as a wallet for more than 300 different coins and tokens, an easy gateway to buy crypto with your bank card, the opportunity to use instant exchanges such as changelly and shapeshift. Simply, atomic wallet emerges to reduce the effort and time spent on managing crypto assets. The atomic makes a this functionalities possible in one platform which is available on virtually all operating systems.
HOW TO SWAP CRYPTOS WITH ATOMIC WALLET.
Atomic swap is a smart contract technology that enables exchange of one cryptocurrency for another without using centralized intermediaries, such as exchanges. Atomic swaps can take place directly between blockchains of different cryptocurrencies or they can be conducted off-chain, away from the main blockchain.
1. The first step is setting up your wallet if you are not using atomic wallet yet, download the compatible wallet for your operating system from the official download link: https://atomicwallet.io/downloads
Set up the wallet and save you seed key securely.
2. After successfully setting up your wallet, click on the atomic swap tab in the left corner of the wallet.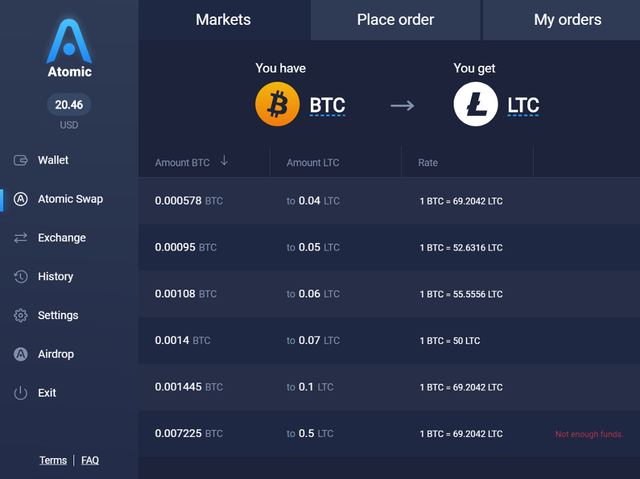 Here, There are three tabs "Markets", "Place order" and "My orders"
ATOMIC WALLET PROVIDES TWO WAY TO GO ABOUT THE SWAP:
1. Create your own Swap Order
2. Accept existing Swap Order
1. CREATING YOUR OWN SWAP ORDER:
1. click on the "Place order" tab, and choose the two coins you want to swap by clicking on the coins ticker.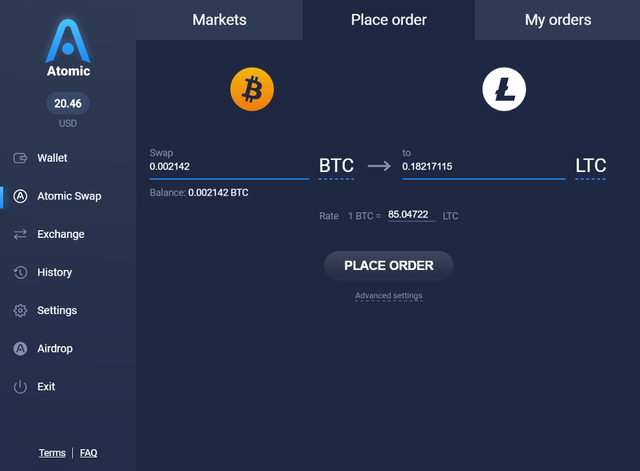 You can use the arrow icon to change the trading pair. Then set the price, set the trade rate and Place the order.
2. With clicking the "Advanced settings" you can specify variable values with,so that other people will be able to choose how much they want to exchange. After setting the min amount, click on place order.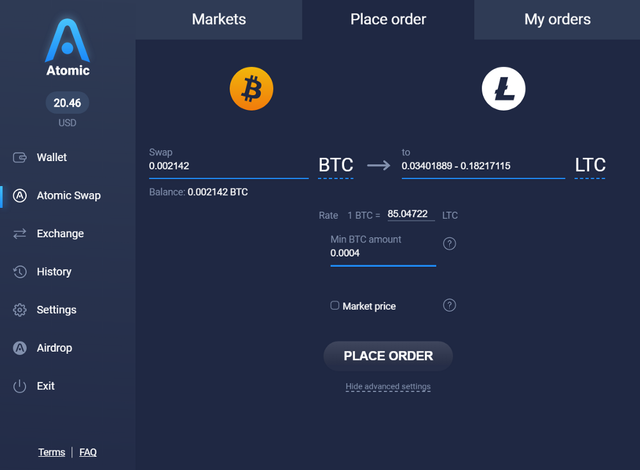 3. By clicking on "Market price" you can set the large/small price than the market price. You will be able to set the "Margin percent". Then click Place order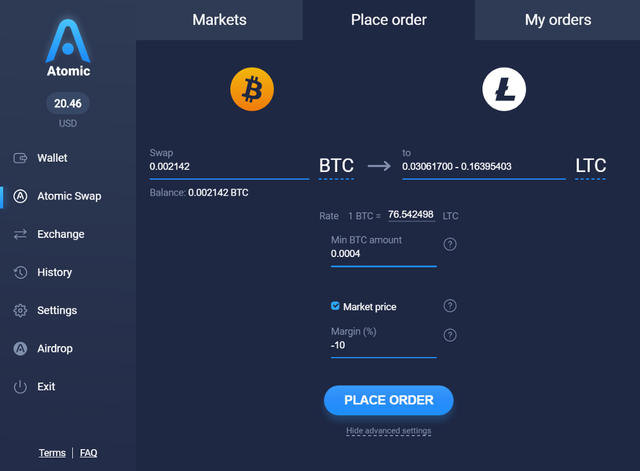 4. you can always check your order history by clicking on My orders" tab in the upper part of the wallet. Although you have to wait until someone start Atomic Swap with you.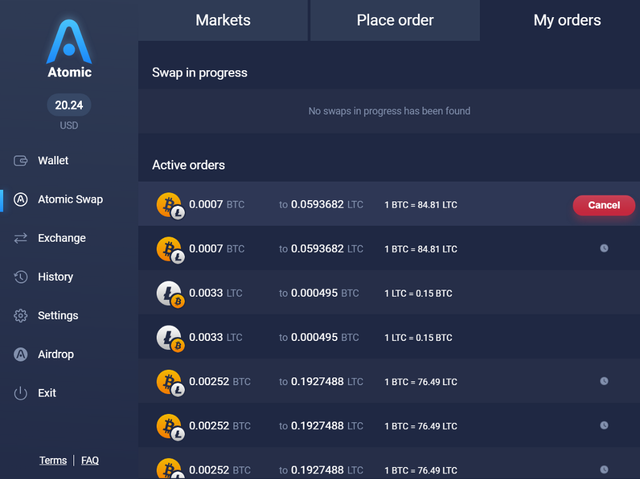 NOTE: you will be requested to approve the swap with your atomic wallet password When someone will start Atomic Swap with you.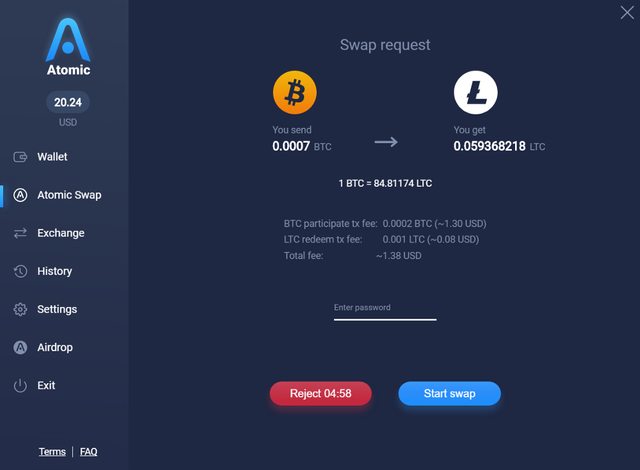 2. SECOND PROCESS: ACCEPTING EXISTING SWAP ORDERS.
To accept existing swap orders, you have to click on the market tab in the upper part of the wallet. Here, you will see all the available crypto assets markets and their current conversion rates
1. choose any of the available trading pair of your choice and click the SWAP button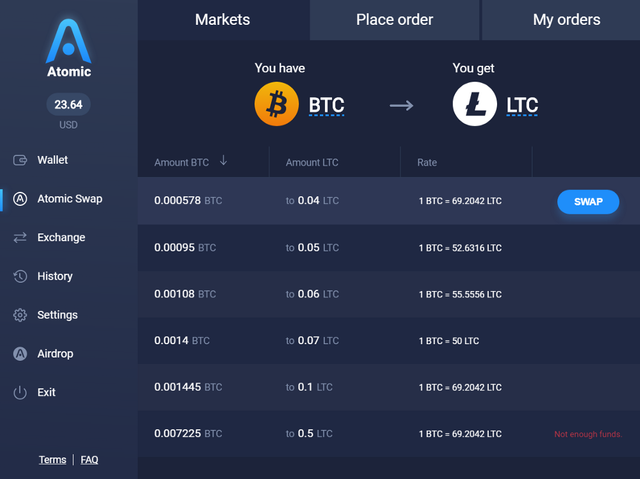 2. A window will open which will show you the order detail and you'll also be requested to provide your atomic wallet password, then send Swap request to the creator of the trade order and wait while the creator confirms it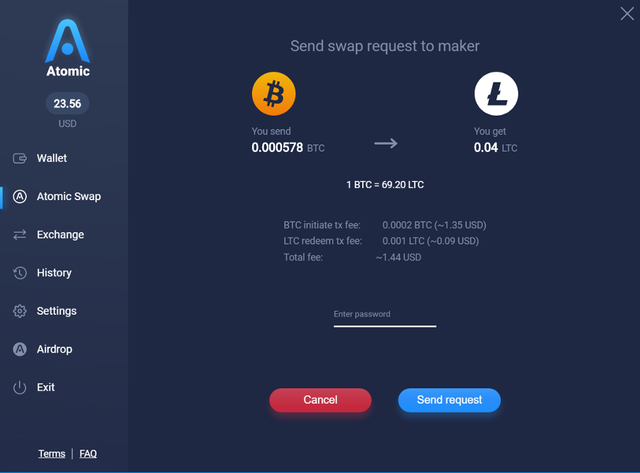 3. When the creator accepts the request and the swap is complicated, all the checkboxes will be green.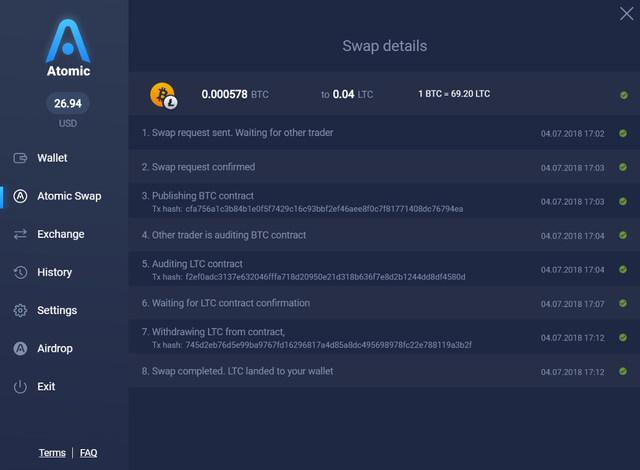 4. You can always check your transaction Histories by clicking on the History tab in the left corner of the app.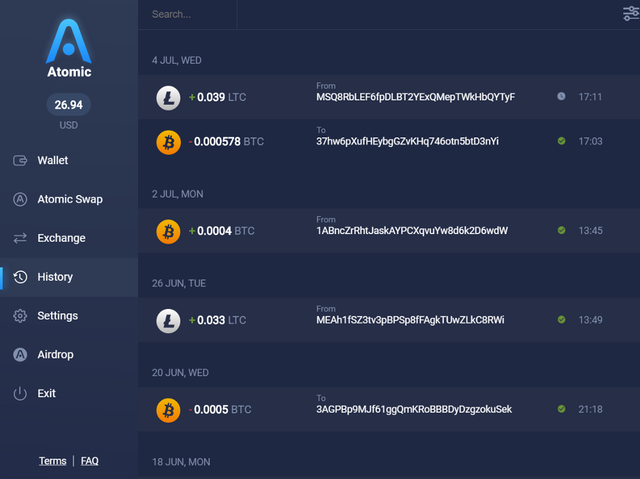 5. Your swapped asset will be credited into your wallet.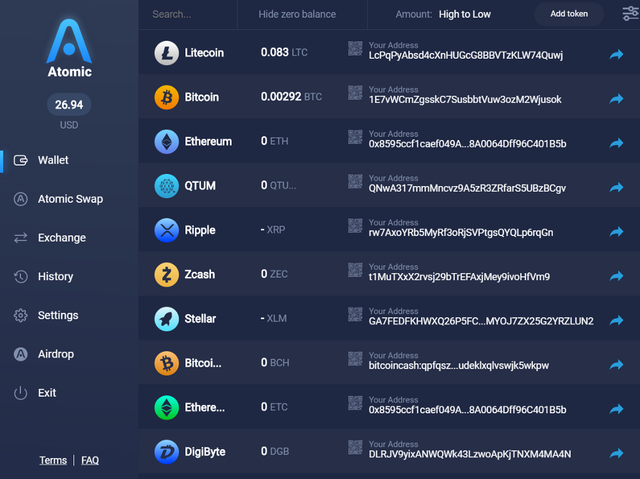 Making a swap is as easy as that with the Atomic wallet. Watch out for my next review which will covers how to BUY CRYPTOS with atomic wallet.
ATOMIC WALLET OFFICIAL LINKS
Website : https://atomicwallet.io
Telegram : https://t.me/atomicwalletchat
Twitter : https://twitter.com/atomicwallet
BY :
USERNAME : ETSU