AAT
NEXT GEN DIGITAL PORTFOLIO MANAGEMENT PLATFORM
---
AAT platform offers you a smart and easy way to manage all your ICOs and Cryptocurrencies investment/portfolio under single platform with all the tools and professional expertise you need.
With the bitcoin and cryptocurrencies price setting new records on a nearly weekly basis it has become more important than ever before to keep track of one's crypto currency portfolio.
Why AAT for crypto management? AAT goal is to offer everything an ICO/Crypto Manager needs, all under one platform and easily accessible.
WHY CHOOSE AAT
AAT Platform will be the only platform which will immune your Crypto Investment.
QUICKLY ANALYSE
To quickly analyse your crypto currency portfolio ang take a call on buying/selling
CRYPTO CURRENCY TRADER
If you are becoming a crypto currency trader, you also need something better than excel sheets.
PORTFOLIO VALUATION
If you have faced the issue of keeping track of the return from each coin or your existing portfolio valuation.
SCENARIOS
Don't worry about Crypto volatility, your risk ends at AAT platform.
JUST STARTED INVESTING IN BITCOINS
Someone who has just invested in Bitcoin and needs to see the latest price along with their holding.
STARTED WITH OTHER CRYPTO CURRENCIES
Someone who has also invested in other crypto currencies like Dash, ETH, Stratis, Zcash, and others.
ACTIVE BUYING AND SELLING ALTCOINS
Someone who has invested and is also actively buying/selling to take out the profit
NOT INTERESTED IN LONG-TERM
Someone who is day trading and needs an extensive chart and signals to make a better decision about when to sell and when to buy.
MAKING PROFIT THROUGH DAY TRADING
Someone who has actively trading and booking profit instead of long-term holding like many others.
WHAT AAT WILL OFFER YOU
AAT is the only risk mitigation tool in the world of Crypto

HIGHLY VOLATILE
High volatility rate (it even goes up to 30% in 24hrs.) creates perfect possibilities to earn and raise money, however there are high chances of "losing" all the investments.
GAIN PROFIT
There are tons of ways to raise money. Funds and exchange platforms offer their services, but when your goal is to gain profit it is not enough to be lucky, it is a must to have financial skills and critical thinking.
TRADING SKILLS
Even though some "traders" raise lots of money using their "sixth sense", it should be mentioned that cryptocurrency world is controlled by "feelings and thoughts" of the mob.
BENEFITS
AAT provides new and casual investors a secure and time-saving solution to easily enter the exciting world of crypto asset investing.
Setting up a diverse crypto portfolio is simpler than ever with our user-friendly platform.
LIQUIDITY
Build your crypto portfolio quickly with instant access to a custom basket of assets. AAT's proprietary liquidity engine offers assurance of order fulfilment and ability to withdraw.
HASSLE-FREE
You don't need in-depth technical knowledge of the marketplace or how to handle multiple complex wallets and exchanges. With AAT, it's all managed in one place, quickly and easily.
DIVERSIFIED
Manage a diverse portfolio of crypto assets to mitigate your risk. AAT is your home for complete portfolio administration.
USER FRIENDLY
From our easy to use platform to our straightforward educational series, our aim is to simplify every step of crypto investing.
SECURE
AAT's on Blockchain technology and decentralized architecture allows you to invest in crypto assets easily and securely.
FEATURES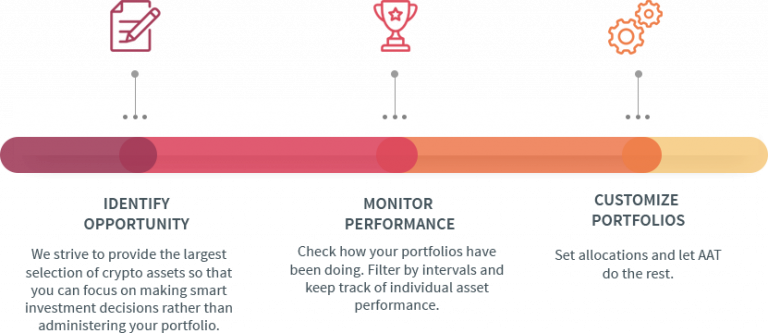 AAT TOKEN DISTRIBUTION
Promoters quota: 18
Public offering: 27
Close Group: 4
Pre TGE : 6
TGE: 7
ROADMAP
Q1 2018
Company Incorporation
WHITEPAPER PREPARATION
March 2018
Q2 2018
MVP PLATFORM DEVELOPMENT
(during close group sale)
9 APRIL-30 JUNE 2018
Close group sale
1 JULY-30 JULY 2018
Pre TGE sale start
TOKEN LISTING ON EXCHANGE
(during Pre TGE)
5 AUGUST 2018 (75 DAYS)
TGE sale start
Q3 2018
Development of reporting tool
Q4 2018
Development and Integration of API's
Q1 2019
Integration of rating mechanisms with web portals
MORE INFORMATION PLEASE VISIT AT:
My bitcoin profile link:  https://bitcointalk.org/index.php?action=profile;u=2103401