ABOUT CRYPTO MARKET ADS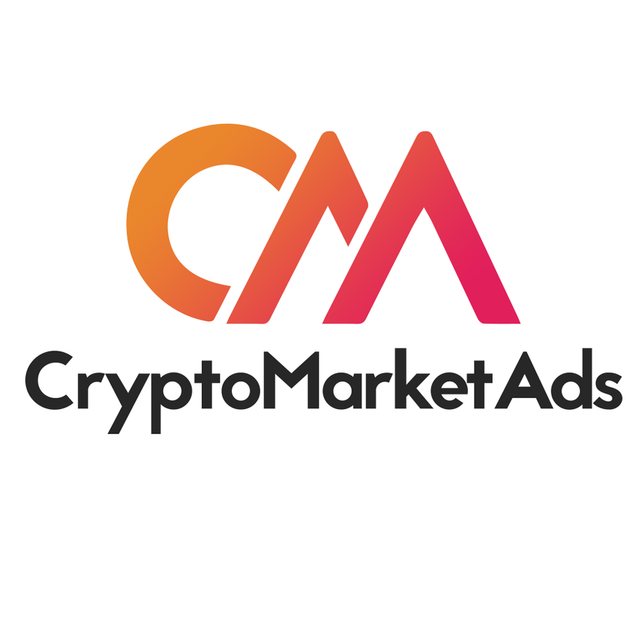 The crypto industry has been gaining wide popularity and spreading across the nuke and cranny of the world with solution to modern days challenges. As result of the innovation of the blockchain technology, many startup companies, organization has spring up from 2009 to till dated .
Despite the opportunity the blockchain offers many startup business and individual who are into the crypto industries and those who intend to start up a career have tough challenges which l want to discussion with you dear reader .
Study have shown that many project in the crypto space where not able to gain massive recognition due to the lack of advertising platform for their project. Looking at the banned rate stated by big giant tech companies such as Facebook which place a ban from advertising in her platform prevent many audience from gaining access to what is happening in the crypto space such as Initial coin offer which would have added profit to them and also the founder of project remain in the dark due to the barriers. The offline is not left alone too, countries like china restrict their citizens from participating in ICO, this means that blockchain enthusiast form such countries who have skills in various areas of the blockchain such software developer, community manager, stack developers are not allow to showcase their skills due to this restriction .
The cost of hiring blockchain workers are very expensive because there are no platform where you can find them even the most influential crypto bull are hard to locate and this make it difficult for ICO investors to find a good project they can invest their resources into .Challenges of negotiating price according to what project founders can offered have kept some project to be delay due to funding. This inability to negotiate price make some project that have a promising vision not to be able to fulfil such vision.
These challenges need to be solve and so that blockchain industries will developer at a faster and gain massive adoption but the good news is that we have a platform which have taken a deep study about all these challenges and came up with a revolutionize ideology , the platform is called CRYPTO MARKET ADS
ABOUT CRYPTO MARKET ADS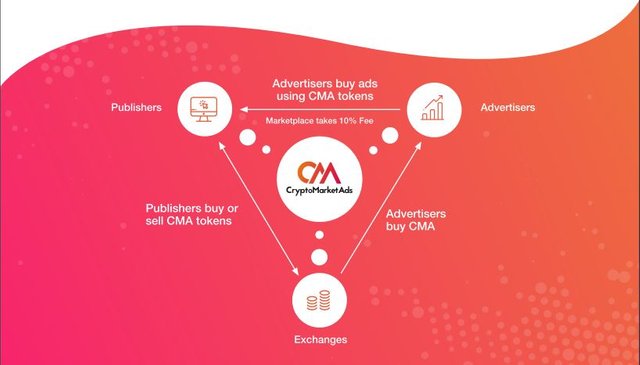 Crypto Market Ads is democratic and decentralized market for crypto and blockchain advertising which is built by experience team that have proven years of experience in the blockchain industry . Since "crypto is the future" according to warren buffet, the platform is develop on a world class facility to meet global standard demand both now and in the future.
Crypto Market Ads integrate a new marketplace into the blockchain ecosystem that solves all advertising and marketing and marketing needs; which is focus on Crypto & related business in Blockchain market niche.
The traditional complications and issues are eradicated in within a second, connecting publishers and advertisers in the enterprise on a platform designed to healthy the needs of the emerging industry . By collaborating free of charge, of which the market surroundings allows publishers to have interaction in fairly and efficiently competing, permitting them to maintain competitive prices. It leads to the discovery of charges that are as low as low-priced and appealing to advertisers.
CRYPTO MARKET ADS IMPACT ON THE BLOCKCHAIN INDUSTRIES
Promote or provide advertising and marketing services.
Provide consulting services.
Buy/Sell offerings associated to present or new crypto/blockchain projects.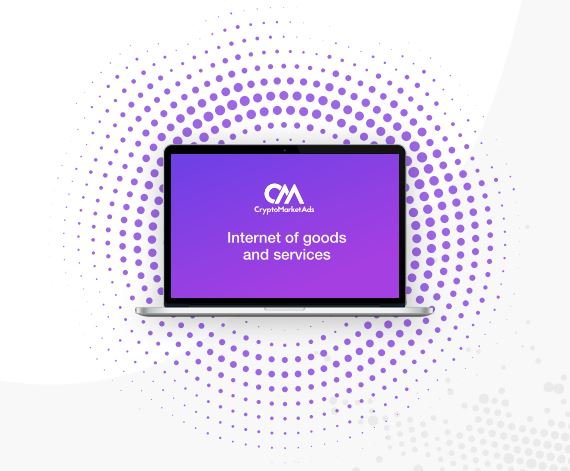 ADVANTAGE OF THE CRYPTO MARKET ADS
Crypto market ads brings together advertisers, publishers, market money hunters, cryptographers, influencers and
enthusiasts under a single platform. Owners of Crypto startup mission houses can receive marketing components
and promotional offers.
It helps project vision and mission to be deliver quickly
It helps in exchange of cryptographic task transaction smoothly
Create a convenient entry point into the crypto market for any existing or new startup project market as a new crypto project.
IS THE MARKET PLACE LIVE
The crypto market ads is alive now. Lot of project are getting attection by levearing the platform to succeed in this digital emerging market. Founders and skills workers are now getting connected and there are rooms for negotiation and selection of who to work with and who to work for. The market place features lot of reputable blockchain influencers and promising project .
TOKEN DETAILS
The total range of Crypto Market Ads (CMA) tokens will be 10 Billion. The pre-ICO section will last for 1 month, and the ICO itself for 2 months. The tough cap has been set at 5 Billion tokens. All unsold tokens will be burned. The distribution structure is as given below.
50% Crowd sales
10% Marketing, bounty, sales, referrals, advisors
20% Exchanges & Reserve
10% Founders (Lock up 1 year)
10% Team contributors (Lock up 1 year)
PRIVATE SALE IS LIVE UNTIL 4 JUNE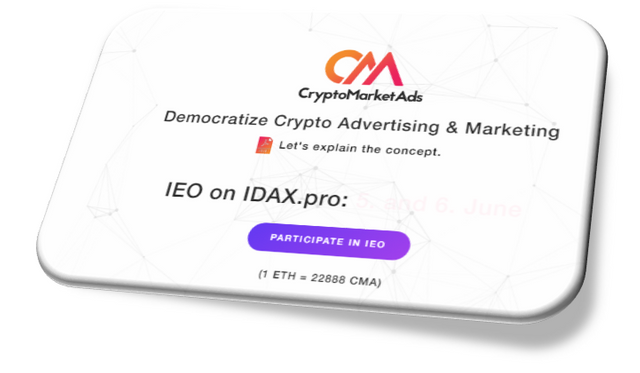 The lowest fee 1 CMA = 0.005 USD
IEO on IDAX.pro 5–6. June (IDAX is a Top exchange)!
Price will be 1 ETH = 22888 CMA!
The official announcement from IDAX: https://idax.zendesk.com/hc/en-us/articles/360028215151-CMA-is-about-to-go-online-foundation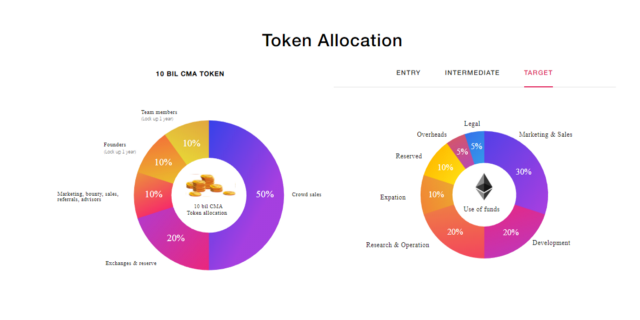 ROADMAP

TEAM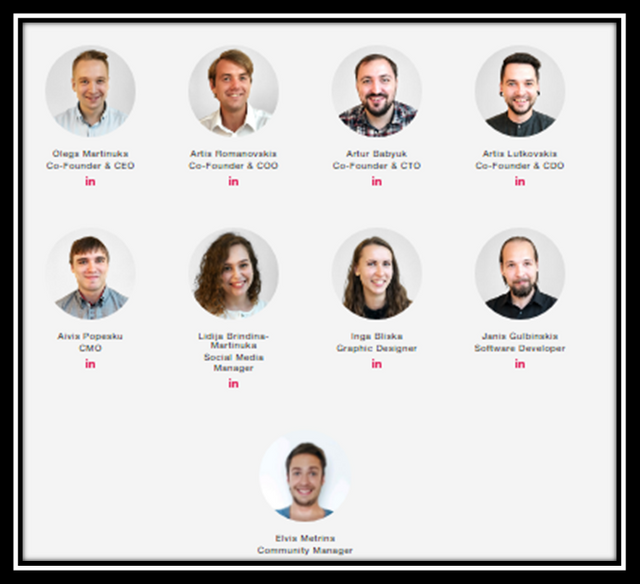 ADVISORS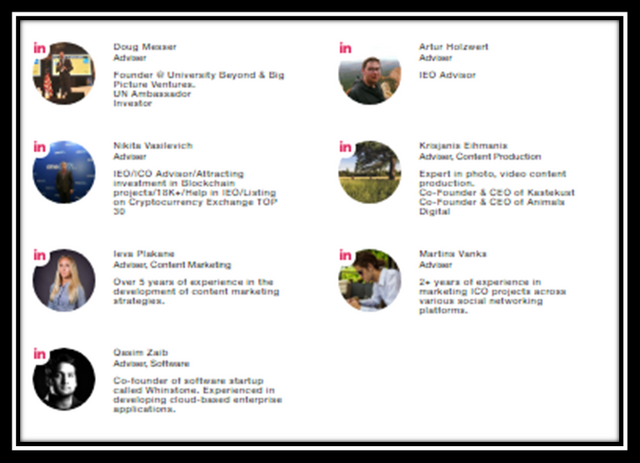 For more information kindly visit any of the link below
Whitepaper – https://www.cryptomarketads.com/CMA_whitepaper.pdf
Website – https://www.cryptomarketads.com/
Facebook – https://www.facebook.com/cryptomarketads
Twitter – https://twitter.com/cryptomarketads
Medium – https://medium.com/@info_85454
Reddit – https://www.reddit.com/user/CryptoMarketAds
Discord – https://discord.gg/vQ7hmTd
YouTube – https://www.youtube.com/channel/UCuxX-rPnrI4j2KqybFk_-jQ
Telegram – https://t.me/CryptoMarketAdsOfficial
BTT profile: https://bitcointalk.org/index.php?action=profile;u=2468964