About IceChain ICO
High-Throughput Transactional System
Unlimited linear scalability using sharding and double-layer blockchain.
WHAT IS ICECHAIN?
The design principles which form the basis of the lceChain network are that the platform is able to scale as needed while not compromising on any level of security and without costing users more in transaction fee. Security, scalability and decentralization are at the core of the lceChain model. Cross shard transactions will be able to be created in a seamless manner which will give a high level of quality within the experience to users. All this, on an ecosystem that will be driven by incentives and able to support a wide variety of alternative platforms to provide users the ability to use one account for all their transactions. Security will be maintained at the same high level regardless of how large the platform scales.
Introducing IceChain
Thousands of digital assets had been curated after Bitcoin and more are still coming. IceChain is one of such but this time, the tide is meant to turn against current limitations of the blockchain technology.
The project on ground wants to make transactions faster and make use of less power for that. To this end, there is set to be ease of transactions on decentralized platforms.
SUPPORT FOR MULTIPLE TRANSACTIONS
If you have been trading on cryptocurrencies and have had contact with the blockchain technology, you must have realized that the platform is not entirely free of hitches. Currently, there have been continued delay in transactions and this had necessitated platforms that want to make the system faster.
IceChain is perhaps better than other viable solutions and few citations will suffice to lay credence to the assertion. Most times, there has been comparison between crypto coins and fiat currencies as well as payment solution such as VISA. The reason for this was because blockchain transactions were quite slow.
The solution pioneered by IceChain features the popular shard technology. This allows multiple transactions to be conducted at the same time. When compared with Bitcoin's, it is crystal clear that IceChain will be able to support concurrent transactions and still have ability to scale all in real-time.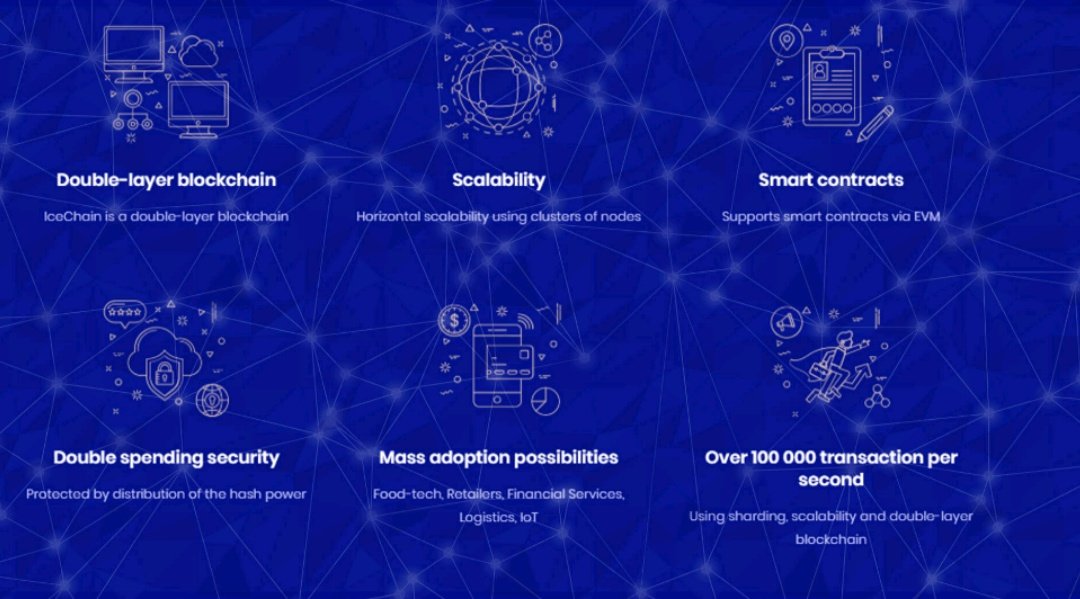 SHARD TECHNOLOGY
The reason behind IceChain's shard technology was to become viable option to Bitcoin's proof of work (PoW) algorithm. The idea here is that transactions that were hitherto delayed on other blockchains because of longer time taken to save information in blocks will now be facilitated by the shard technology that does not necessarily require a ledger to store data.
REDUCED POWER AND COSTS
Another downside being solved is hash power rates and transaction costs. On other chain networks, much hash power is often required to process transactions and there is also the cost to be considered.
On IceChain, fees might even be waved off (depending on the transaction) and the incidence of using much power might be non-existent as transactions are ongoing without lags. Therefore, there won't be need to have extra power to complete lagged transactions. It also has capability to conduct 100,000 transactions every second.
TECHNOLOGY
As part of its mission to the blockchain decentralized and faster, IceChain has double layers that allows for high throughput. There is also security against double spending just as its smart contract will be powered by the Ethereum Virtual Machine.
CHAIN NETWORKS
IceChain operates dual chains. The first is the head chain that will be model for decentralizing the system. It has the capability to attain 100% hash power rate and when this becomes the case, the platform will then be patterned as a blockchain of its own. There are about 10 smaller blockchains that will help the head chain in its operations.
SOLUTION FOR DOUBLE SPENDING
It is pertinent to note that double spend attacks are possible on other platforms because there was obvious centralization of hash power. This allowed miners form pools and obtain hash powers that are in turn used in double spend attacks on the system.
On IceChain, there is outright decentralization that redistributes 50% hash power across the network. This makes sure that no one has monopoly to take over the system by virtue of having more hash power in his possession.
TECHNOLOGY
Blockchain Redefined
Double-layer blockchain
IceChain is a double-layer blockchain
Scalability
Horizontal scalability using clusters of nodes
Smart contracts
Supports smart contracts via EVM
Double spending security
Protected by distribution of the hash power
Mass adoption possibilities
Food-tech, Retailers, Financial Services, Logistics, IoT
Over 100 000 transaction per second
Using sharding, scalability and double-layer blockchain
PERFECT BLOCKCHAIN
From the foregoing of its solutions, there leaves no doubt that IceChain might just be the perfect model of what a blockchain should be. For instance, there is complete decentralization and securities that will prevent double spend attacks.
Additionally, transactions fees will be reduced just as the system can be able to conduct transactions in real-time and fast too. Interestingly, IceChain has future prospects as multiple platforms such as IoT, Retailers and financial platforms will find it useful; thereby leading to its faster adoption.
TOKEN SPECIFICATION
Ticker: ICH
Platform: Ethereum
Token Standard: ERC-20
Token Type: Utility Token
ICO
Start: Nov 01, 2018 (20:00 UTC)
ICO RATE: 1 ETH = 16 700 ICH
End: Nov 15, 2018 (20:00 UTC)
MAXIMUM WHITELISTED PARTICIPANTS
(LOTTERY WINNERS) : 999
DISTRIBUTION OF TOKENS
40% Private sale
25% Mining, Research, and Development
20% Public sale
10% Team
5% Bounty, rewards
IceChain Roadmap
December 2017: Current blockchains analysis
January 2018: Scalability problem research
March 2018: IceChain development
May 2018: Draft programming tasks
August 2018: Whitepaper release
September 2018: Private sale
October 2018: Token distribution
January 2019: Testnet v0.1
April 2019: Testnet v1.0 (with smart contract support)
June 2019: IceChain Alliance
July 2019: Making the source code public
August 2019: Mainnet v1.0
October 2019: Wallet release
December 2019: Android/iOS app release
TEAM
Daniel Ling: Founder
Chao Liu: Project Lead Developer
Huy Dang: Blockchain Developer
David Lun: Software Developer
Monica Tang: Software Engineer
Ling Deng: Software Engineer
TO LEARN MORE ABOUT ICECHAIN AND THEIR UPCOMING TOKENSALE EVENT, CHECK OUT THE LINKS BELOW:
Website: https://icechain.io
Whitepaper: https://icechain.io/icechhain_whitepaper_v0.1.pdf
Bitcointalk ANN: https://bitcointalk.org/index.php?topic=5057035
Twitter: https://twitter.com/theicechain
Telegram: https://t.me/theicechain
Reddit: https://www.reddit.com/user/theicechain
Steemit: https://steemit.com/@icechain
Linkedin: https://www.linkedin.com/company/iceblockchain/
===========================================
Yours sincerely
Good luck on the target
Thank you
My Bitcointalk Profile: https://bitcointalk.org/index.php?action=profile;u=1229230
ETH Address: 0x29AF24D027E5A0A74427A2A4D5dDFe09803D5F93