AENCO – The World's First Blockchain-Based Healthcare Financial Solutions Platform
The Blockchain is a rapidly growing technology that is engulfing every possible business domain. Therefore, many reports published have predicted a huge rise in the Blockchain market. According to reports, the Blockchain market is expected to extend to over 20 billion dollars by 2024. It is counted in one of the most promising new technologies that are hoped to change the future of businesses and the internet.
Fundamentally the rise in cryptocurrency and subsequent attention brought to blockchain technology has prompted nearly every industry to evaluate the benefits of integrating the technology into their operations. One such firm at the forefront of blockchain innovation is AENCO
ABOUT AENCO
Aenco is a blockchain based global financial solutions platform, combining decades of experience in traditional financial services and prime brokerage, with network of Healthcare technology ("HealthTech") innovation partners and new-age applications, collectively developed under the umbrella "Aenco Global HealthTech Financial Solutions platform".
VISION
Aenco is to combine three things: financial blockchain technologies, smart capital solutions and healthcare technology under one umbrella. We believe that Aenco can be the One-Stop-Shop for creating an ever growing ecosystem with all our medical communities and contributors to our Aenco system. By combining fintech solutions and research collaboration hubs, we can create an extremely powerful platform collectively to bring forward some of these very challenging healthcare technology sector industries that can really change human lives and our day to day values
Why AENCO?
Aenco is the world's FIRST Blockchain based Healthcare Technology Financial Solutions Platform that leverages healthcare technologies with institutional financing, prime brokerage and smart capital solutions under one umbrella.
Aenco is a "one stop shop" for the delivery of cutting edge institutional financing, prime brokerage and core smart capital solutions for the HealthTech industry, as well as a research and collaboration hub for healthcare companies and projects involved in the field of blockchain development.
Aenco will be combining its solutions platform and core financial ecosystem with the wider healthcare technology community, through the AEN token, as the key ecosystem building block and extensions across ALL its service and community deliveries.
The Aenco platform empowers emerging and innovative healthcare companies with digital financing capabilities, so that they can focus on generating high potential and impactful technologies that can transform our world and day to day lives.
Aenco is supported by the group's planned regulated infrastructure (including the establishment of a commercial bank within the group) and presence in major jurisdictions including Europe, Hong Kong, and the United States, through which Aenco will effectively deliver its solutions, generating an increasing and rapidly evolving ecosystem.
HealthTech Challenges & Opportunities
Aenco has identified a huge market demand for blockchain based solutions in the Healthcare technology sector. Furthermore, Aenco is able to position itself as the one-stop-shop in bringing these blockchain based solution companies to the community, with the support of innovative financial solutions and rapid ecosystem growth to help accelerate these ideas that can truly transform our world.
How AENCO Works?
SOLUTIONS PROVIDED
AENCO IB Solutions
ICO Integrity Program for HealthTech Projects and Community
Trading Exchange for HealthTech Participants
Ongoing Research and Data Analysis for Subscribers and Issuers
AENCO Prime Solutions
Aenco Decentralized Prime Brokerage Platform
AENCO Smartcap Solutions
Technology-driven Finance Platform for HealthTech Industry Alternative Financing
Aenco is well equipped through the combination of its ecosystem's regulatory framework and Aenco's developing technology applications, to empower such medical innovation and entrepreneurialism through catalyzing related medical research, HealthTech development, and product commercialization. AD is an example of a severe unmet medical need Aenco has identified and already has pipeline projects in the neurodegenerative space. In addition to neurodegenerative diseases, Aenco also has related pipeline HealthTech partners focusing on projects within the areas of infectious diseases (influenza and "superbugs"), gastroenterology, genetics, oncology, and robotic devices for minimally invasive surgery. With the targeted roll out of services and technologies under the Global HealthTech Blockchain Financial Solutions platform, the Aenco ecosystem has a portfolio of clients to service from the get go; We can use such networks as a springboard to further connect with and empower even more HealthTech emerging growth companies.
Token And ICO Details
The AEN Token is an Ethereum based token under the ERC223 standard. The premise of the digital token AEN is to be the "exclusive membership" and utility based token designed to fuel the activities of the Aenco ecosystem, applications, and its HealthTech network. It will be the currency in which community participants use to carry out ongoing transactions taking place on the platform and on new projects which are promoted and listed there. AENwill act as incentives from the network itself, driving ongoing rewards to our community and also allowing broader holders and users to access our Aencosolutions platform, sharing of medical utility with its HealthTech partners, and generally being part of the Aenco ecosystem and all its future transactions supported.
The total token supply for AEN will be 4,000,000,000. A total of 600,000,000 tokens shall be offered in the upcoming sale. AEN shall be listed on at least two (2) exchanges shortly following its initial token sale, and will become available to the public for exchange and trading. Any unsold tokens shall be retained by Aenco and allocated to Reserves to fuel the development and growth of the Aenco ecosystem, its community and partners.
Token Sale
The offering of AEN Tokens is being conducted over one private session and two public sessions with varying bonus schemes as follows. All tokens (Private, Pre-ICO or ICO) will be allocated to the token holder wallet upon the later of (i) the official token allocation date at completion of ICO, and (ii) expiry date of the lock up period in respect of the relevant portion. Details of the allocation dates will be released through Aenco website at www.aencoin.com and all our community channels:
(i) Private Sale: June 2018 Aenco is conducting a Private Sale of AEN Tokens through the month of June. Please stay tuned for updates and announcements on our website. If you are interested to learn more details on how to participate in this phase, please visit our website, register your details and contact us directly.
(ii) Pre-ICO Sale: July 2018 Each AEN Token is valued at USD $0.10. To kick start a robust Pre-ICO sale token buyers in this phase shall be rewarded with an attractive bonus calculated on the number of AEN Tokens they subscribe to and based on their SIZE of participation. Participants contributing more than 15 ETH will be granted +50% bonus tokens on top of their contribution; those contributing less than 15 ETH but more than 5 ETH will be granted +40% and those contributing between 1 ETH and 5 ETH shall be granted a +30% bonus. The ETH equivalent shall be calculated for BTC contributions for the purpose of bonus token allocations as based on the exchange rate at time of subscription. A minimum of 1 ETH is accepted for this Pre-ICO Sale while smaller contributions will only be accepted in the Crowd Sale.
Additionally, as a special "FOMO Offering", we will offer efficient participants who contribute within the first 24 HOURS of the commencement of the Pre-ICO Sale an additional +5% bonus on top of the aforementioned bonus scheme. Therefore, contribute more than 15 ETH within the first 24 hours, and receive up to a +55% bonus in total! Stay tuned for announcement of specific dates!
FOMO Offering: First 24 Hours of Pre-ICO Sale launch +5% Participation of: > 15 ETH: +50% bonus
> 5 ETH and ≤ 15 ETH +40% bonus
≥ 1 ETH and ≤ 5 ETH +30% bonus (Min 1 ETH)
50% of tokens purchased (and granted as bonus) in this Pre-ICO phase are subjected to a 3-month lock-up period subsequent to the closing of the ICO, while no lock-up period applies to the remaining 50%.
(iii) ICO Crowd Sale: 3rd Quarter 2018 announcement Each AEN Token is also valued at USD $0.10 but with declining levels of bonus as time passes from the initial date of launching the crowd sale. There is no lock-up period for tokens purchased in this phase.
Week 1: +15% bonus
Week 2: +10% bonus
Week 3: + 5% bonus
Week 4 onwards: No bonus
Bonus scheme across Pre-ICO and ICO Crowd Sales
Soft Cap on Token Sale (USD): $15,000,000
Target Cap on Token Sale (USD): $60,000,000
Accepted Crypto Assets: BTC, ETH
Token Distribution
The total supply of tokens is intended to be distributed over a number of areas where 15% shall be allocated to this initial token sale, along with an additional 4% in bonus scheme allocations. Other uses include tokens to be deployed to support the liquidity of Aenco's growing ecosystem, tokens to be allocated to ecosystem partners and backers, tokens reserved for incentive programs such as bounty programs, as well as tokens to cover the costs of the initial token sale and those retained by the Company and team.
Among the tokens that are retained by Aenco's team, total tokens allocated to the management team are subjected to an overall lock-up period of between 6 to 24 months from the initial token offering, where 25% of tokens are released and tradable only every 6-months. Therefore 25% of allocated tokens to management are tradable after 6-months, 50% tokens after 12-months, 75% after 18-months, and 100% only after 24-months. The primary goal is to demonstrate that the management team is committed throughout the duration of the underlying development and technology roll-out. Tokens allocated to non-management staff are locked up for a period between 6 to 12 months.
Roadmap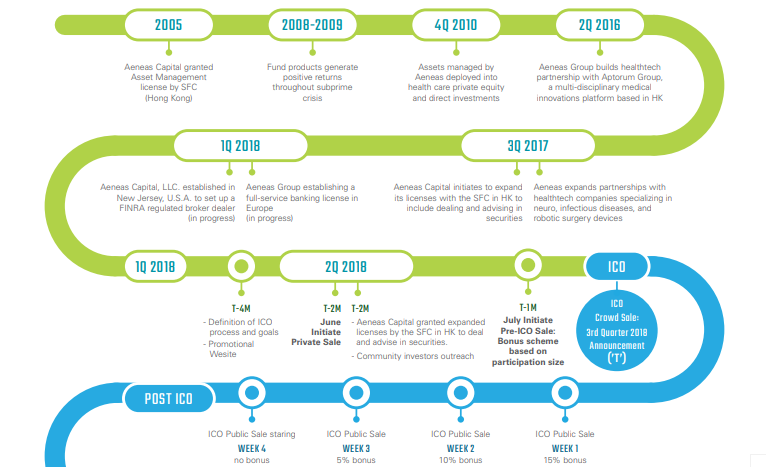 2005 — Aeneas Capital granted Asset Management license by SFC (Hong Kong).
2008–2009 — Fund products generate positive returns throughout subprime crisis.
4Q 2010 — Assets managed by Aeneas deployed into health care private equity and direct investments.
2Q 2016 — Aeneas Group builds healthtech partnership with Aptorum Group, a multi-disciplinary medical innovations platform based in HK.
3Q 2017 — Aeneas Capital initiates to expand its licenses with the SFC in HK to include dealing and advising in securities. Aeneas expands partnerships with healthtech companies specializing in neuro, infectious diseases, and robotic surgery devices.
1Q 2018 — Aeneas Capital, LLC. established in New Jersey, U.S.A. to set up a FINRA regulated broker dealer (in progress). Aeneas Group establishing a full-service banking license in Europe (in progress).
1Q 2018 — T-4M — Definition of ICO process and goals — Promotional Wesite.
2Q 2018 — T-2M June Initiate Private Sale. T-2M — Aeneas Capital granted expanded licenses by the SFC in HK to deal and advise in securities. Community investors outreach.
3Q 2018 — ICO Crowdsale
ICO Public Sale WEEK 1 — 15% bonus.
CO Public Sale WEEK 2 — 10% bonus.
CO Public Sale WEEK 3 — 5% bonus.
ICO Public Sale staring WEEK 4 — no bonus.
4Q 2018
T+2M Expand team: Developers.
T+3M 1st pipeline healthtech ICO launch.
T+3M Launch first generation smart wallet & infrastucture (AEN Connect).
T+6M Second generation custodial wallet & escow services.
T+6M 2nd pipeline healthtech ICO launch.
T+9M 3rd pipeline healthtech ICO launch.
4Q 2019 — T+15M Second generation: AENX trading exchange.
2Q 2020 — T+21M Third generation: AENCO prime brokerage platform. Ongoing service & expansion of pipeline HealthTech partners.
FOR MORE INFORMATION PLEASE VISIT THE LINKS BELOW;
Official Website: https://www.aencoin.com/