AFRICUNIA – Innovative Banking Model Under Globalization of Investment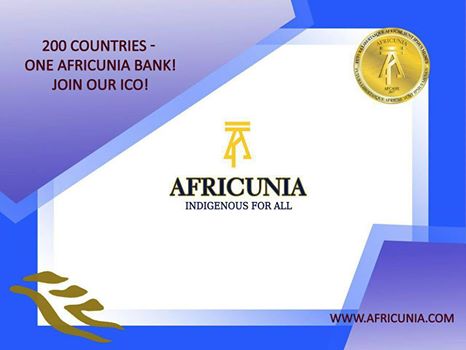 Startups in the Cryptocurrency Technology space have begun to disrupt the highly clustered and over-regulated financial sector. In all these developments, the incumbents have not been left behind. Recently, the IMF and World Bank held a conference where an estimated 90 central banks committed themselves to researching into Distributed Ledger Technology (DLT), the Blockchain and the digital currencies to create a responsible digital currency. The regulators themselves are also transitioning to embrace the Blockchain and cryptocurrencies. For instance, Bitcoin has now been officially recognized in Japan as a form of payment. Also, the Swiss tax authorities confirmed the Bitcoin VAT-free status. But still, much needs
be done to make the tokenization of these investment platforms as a transparent, seamless, and regulatory-compliant process.
AFRICUNIA is registered in the United Kingdom as AFRICUNIA LIMITED, providing Global Banking and Financial Services. The "CUNIA" in "AFRICUNIA' comes from the Latin word "PERCUNIA" meaning "money" or "cash." whereas "AFRI" is the abbreviated version of AFRICA. Therefore translated – AFRICUNIA means African Money or African Cash. AFRICUNIA intends to bring investment globalization, transparency, and decentralization to the next level by leveraging the ubiquitous Blockchain Technology. AFRICUNIA offers a vision for the new standard of tokenized investment platforms that will help to bridge the gap between the fiat and the crypto universes. At its core, AFRICUNIA will focus on all aspects of tokenized investment vehicles ranging from technology and infrastructure to legal compliance and the corporate structuring.
Our primary goal is to become the industry standard and a one-stop shop for setting up tokenized funds, regardless of whether these funds invest in the fiat or crypto universe. We intend to bridge the gap between these two worlds while taking the advantages of both worlds.
Our primary value propositions:
* Offering best of both Fiat and Cryptocurrency world
* Promoting sustainable investment of funds
* Developing a standardized platform
* Enhanced transparency
* Scalable fund development
* Market leading compliance
* Development of a standard platform
Technologies

To remain within the limits of conventional banking, we will use the API (Authorized Payment Institutions) therefore employing the appropriate standards of services and innovation.
The basis of AFRICUNIA BANK is capital invested increasing in accordance to the customer development in turn maximizing profit return. Also, as far as our technology security is concerned our network architecture is decentralized.
Therefore, data storage, cryptograph encryption and security mechanism for identification, authentication and authorization of individuals or companies are connected by instruments. Nevertheless, processing of data is automated by means of applied AI algorithms.
MEET AFCASH
AFCASH is the digital coin that will be created by AFRICUNIA BANK. It is essential to point out that AFCASH would not just be a CryptoCurrency, rather it will create an Ecosystem that will help bridge the gap between the fiat and the crypto universes and enable users globally, but especially in Africa, to help themselves. By developing the
AFCASH platform on top of a highly secure core Blockchain (using APCA), integrating it with the major decentralized technologies and creating use cases to demonstrate its ability in the financial services sector, AFCASH will help bring the mainstream currencies into the crypto universe. The AFCASH platform will unify all transactional aspects that are usually handled using the fiat currencies and provide multiple cryptorelated services in one place. The list of potential features of the platform will be infinitely extended and will continue expanding as the platform
evolves.
Token Sale
Token details token/coin symbol: afcash
Token/coin total supply: 500,000,000 (five hundred million afcashs)
Circulating supply: 500,000,000 (five hundred million afcashs)
Token/coin price: 1 afcash = $0.10 usd
Unsold tokens: any unsold token will be burnt
Sharing revenue: at the end each financial year, 20% of africunia bank's profit will be distributed among all holders of our token (afcash) based on each holder's share of total amount of tokens issued, and this will be automatically paid out to our coin users in their respective wallets. In other words, you are entitled to africunia bank's revenue. Consider this as a passive income.

OUR TEAM

ROADMAP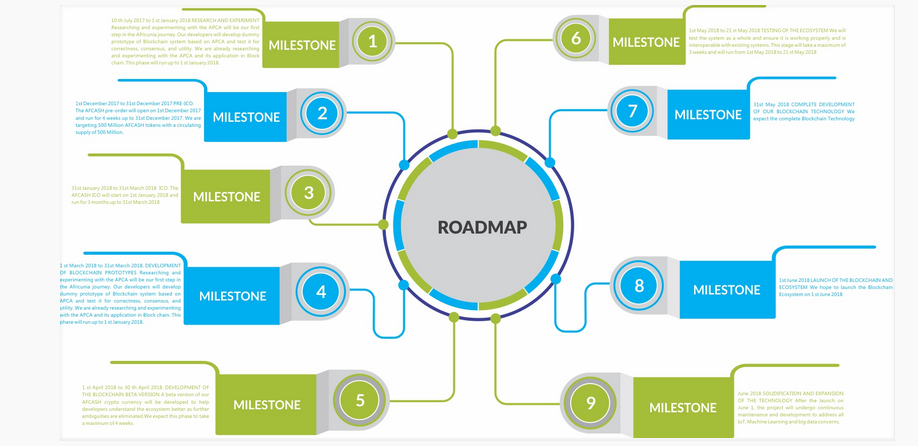 AFRICUNIA platform will benefit both the crypto investors and fiat investors.
Here are some of the benefits for the crypto investors:
*New opportunities to access the assets from the fiat universe
without leaving the comfort of the crypto universe.
*Unprecedented diversification opportunities because of the low
correlation between the fiat and crypto assets.
* Access to a broad range of investment opportunities that have a
lower risk profile to complement and balance the existing
speculative exposures.
Here are some advantages for the fiat-investors:
*Provision of higher net returns, thanks to cost-efficient
structure of the tokenized funds
*Access to new classes of assets because of lower barriers for a
fund set up and administration on the AFRICUNIA platform.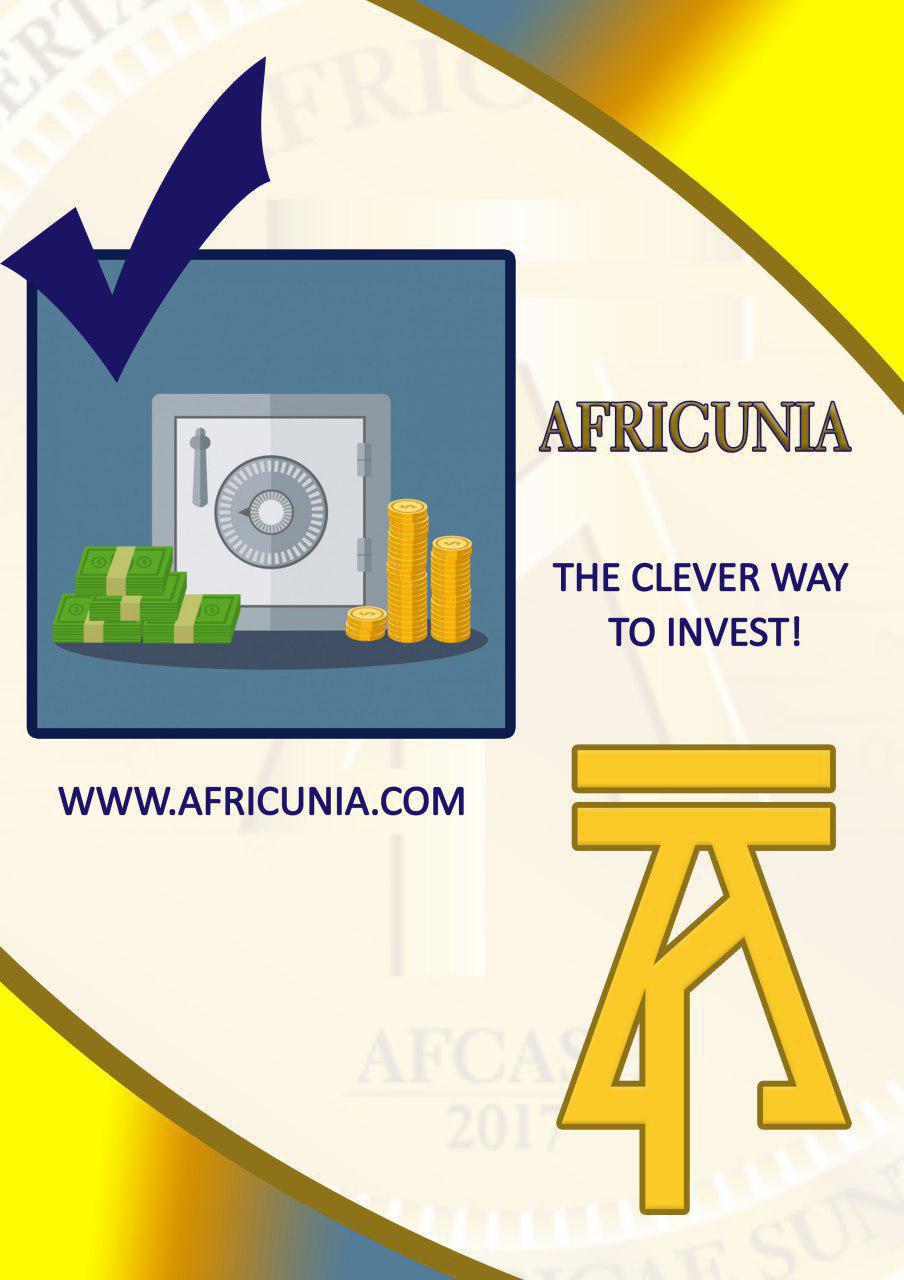 For Information :
Website : https://africunia.com/
Facebook : https://www.facebook.com/africunia
Twitter : https://www.twitter.com/africunia
Linked : https://www.linkedin.com/company/africunia-bank
Telegram : https://t.me/africunia
Slack : https://africuniabank.slack.com
Medium : https://medium.com/@africunia
Instagram : https://www.instagram.com/africunia
Youtube : https://youtu.be/SOfxwaB5b2U
Bitcointalk profile : https://bitcointalk.org/index.php?action=profile;u=1204319