AiBB ICO Review
What is AiBB?
AiBB is an AI-assisted trading robot. Basically, an artificial intelligence that will give you the best tips and hints to make the right investments at all times. It will use blockchain information not to predict the market, but to give you information that you can use yourself to discover the best investments.
The objective of AiBB will be to cancel a number of repetitive, time-intensive tasks using its IP while overlaying technical intelligence and maintaining an elevated degree of security and also help users optimize their ROI when trading. AiBB comes with an exclusive license arrangement by SKAEL, Inc. They are applying for their patent-pending IP from the B2B world, in which they are quickly automating and supplying insights. SKAEL is tasked with the function of creating and incorporating the AI technology when using and improving the availability of blockchain.
Intelligence on the Blockchain
Ai has always been associated with universities and labs where robots freak us all out and we talk about disruption as a utopian/dystopian future where human meets machine. It hasn't had much to do with the simple transactions blockchain promises to fix on ledgers, at banks, or storing something like healthcare data. However, thinking about all that data on the cloud — wouldn't it be great to have robots capable of thousands of data analytics per second observing those clouds for security breaches and then learning what to look for even better next time?
With everything we do, say, store, and value increasingly online, Ai is a brilliant integration to increase security but also track transactions, know where our assets came from and where they're going, divvy out royalties, and transact safely in a trustless system where unknown actors can be sure they won't get taken advantage of because a smart contract backs them.
We are in control of our own assets.
AIBB PLATFORM FEATURES
For a trader, growing assets is rewarding, but uncertain, due to a fundamental lack of information needed for successful trades. Related problems can be improved with the AiBB platform. This is because information accountability and having the necessary tools brings confidence to new traders and grows the market organically.
AN Ai ASSISTANT  –   AiBB's Ai assistant is designed to understand the full context of a user query. By using an end-to-end system of search, filtering, analysis, and answer generation, AiBB is able to provide an actionable response to the user. aibb Ai Assistant operates differently than a bot. It proactively gathers data and provides users with information prior to human users executing or performing a task. This process is done by combining centralized and decentralized technologies, which ensures that data stays secure with minimal latency
ANALYTICS –  aibb platform  have information. In fact, we have a lot of it. When a user is required to go through numerous pages of raw content and research blogs and then try to piece it all together, they waste time and miss facts. aibb system of gathering information uses aibb proprietary algorithms, performs deep analysis and presents the information in an actionable format. This give us a unique advantage: AiBB is about saving time by providing accurate, up-to-date information from thousands of data sources.
ALERTS  –  This automated alert system is designed to gather information 24-7. At present, trader's open positions on an exchange in a "set it and forget it" fashion. Most often, users forget they set it in the first place. When a big spike in price occurs, the user is unknowingly closed out of their position, missing out on potential profits.
PORTFOLIO MANAGEMENT AUTOMATION  –  Asset management, or portfolio management, is a module that automatically gathers information from all connected exchanges. This includes information regarding trades, the execution price, the dates, and associated fees. This gives users a clear snapshot of what their assets are worth. This helps reduce the need to have multiple apps for specific purposes. It simplifies trading while making it smarter.
FEES  –  By facilitating a peer to peer trading platform, platform reduce the fees charged by 3rd party exchanges on trades executed. By helping users save on the trades of their underlying assets, aibb encourage new users to adopt AiBB's platform as their primary crypto application.
when it comes to security of aibb platform  Security is always highest priority. Retaining some of the best cybersecurity team members on staff as well as partnering with industry leading enterprise-grade IT security and audit firms will ensure that AiBB keeps your data secure. aibb own correlation and prioritization layer filters and gathers data. aibb platform store all local data at rest encrypted with AES-256. Detailed and frequently updated logs and whitelists, restricts unnecessary communications to potentially compromised third party systems.
This method also allows us to maintain a database of attacks that can be shared among AiBB applications. Maintaining aibb own whitelists also allows us to maintain a database of attacks that can be shared among AiBB applications, while utilizing aibb Ai Technology, aibb platfom are able to monitor, identify and quarantine suspicious behaviors. they contain and modularize every single aspect of aibb product with persistent encryption to mitigate security threats and prevent loss of assets. All data between exchanges and users are cryptographically signed leveraging unique digital signatures for trustless transactions.
Conclusion – AiBB, an incredible initiative, will be the first Ai assisted, decentralized application that facilitates a trading desk alongside a personal assistant for investors. Investors can choose from many exchanges to trade their cryptocurrencies. The platform provides high-end AI tools and easily understandable trading resources in a single, user-friendly application. This is the future of the cryptocurrency trading.
DistributionToken Information

Token Use
Team AiBB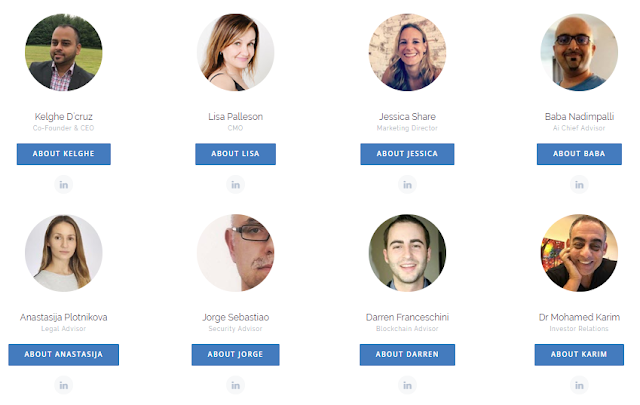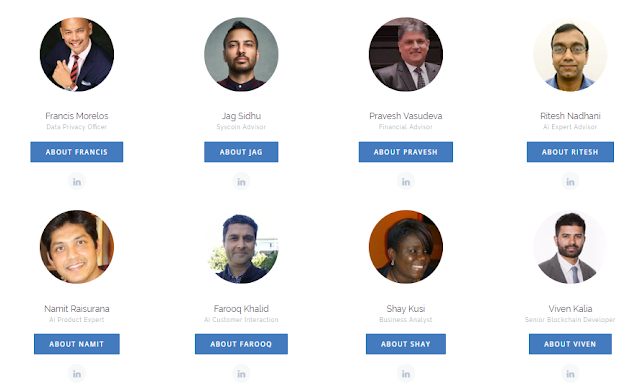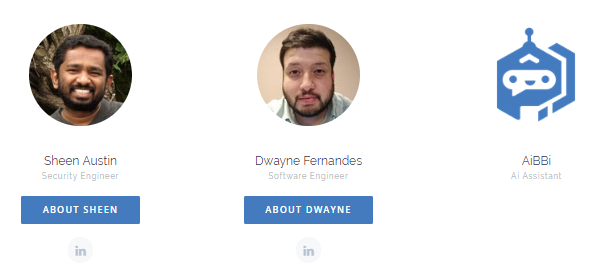 For More Information below :
Website : https://aibb.io/
Whitepaper : https://aibb.io/Assets/AiBB-Whitepaper.pdf
Facebook : https://www.facebook.com/aibb.io/
Twitter : https://twitter.com/aibbio
Telegram : https://t.me/aibbsale
Ann Thread : https://bitcointalk.org/index.php?topic=4849610
Linkedin : https://www.linkedin.com/company/aibb/
Medium : https://medium.com/@AiBB
Reddit : https://www.reddit.com/user/AiBBio
Instagram : https://www.instagram.com/aibb.io/
#MY information#
Username : Sonia3424
Bitcointalk profile link : https://bitcointalk.org/index.php?action=profile
ETH address : 0x3FB5ef56EF81cf205e65C1E6570E8c7e9bD572fe