AIMEDIS-Reliable sources of information about medical services
Effective communication can reduce patient doubts, and increase compliance with patients. Doctors and patients both benefit from sharing in close relationships. Every party feels understood. The patient feels safe and protected if the doctor who handles it does the best for his patient. When connected to each other, the doctor can understand and react better to changes in behavior and attention to the patient at any time. Effective communication between doctors and patients is needed to obtain optimal results, in the form of health problems that can be resolved and patient recovery. Here is the important role of AIMEDIS as a medical-related platform that has very innovative technology in helping patients with doctors.
Aimedis is an initiative of a Netherlands-based company. This eHealth platform brings together doctors and patients to improve healthcare access and delivery by leveraging on AI (artificial intelligence) and blockchain.
Aimedis was created to become a source of reliable information on essential services and resources for treatment and overall health. In addition to storing, transferring and validating medical data, the platform integrates the needs of medical professionals as well as patients. It can also connect to specific medical devices and provide remote patient monitoring and supervision.
AIMChain is the blockchain structure that Aimedis uses to secure data and make it accessible on the platform. Artificial Intelligence is used to support research, diagnosis, and therapy in various ways on the Aimedis ecosystem.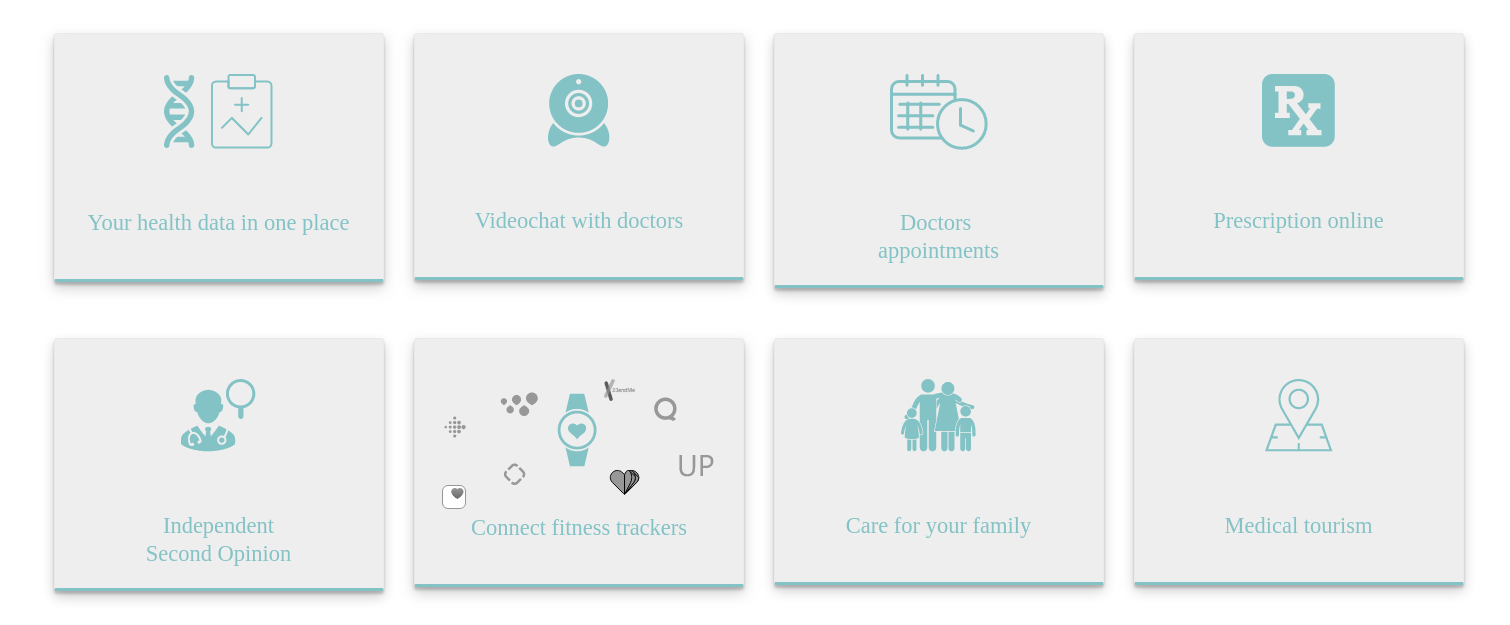 Features of Aimedis
Aimedis is a fully functional multifaced bridge between doctor and patients. The platform includes the following modules.
Aimeditourism
Today medical tourism is common as patients travel to such destinations as India, Thailand, and Turkey in search of quality, affordable specialized care.
Aimedis strategically helps patients who might be in search of specialized medical care abroad in various ways.
The platform will allow you to compare prices, find the best deal and get the best care.
AIMGraph transparency also allows the patient to track data and stay up-to-date about their medical records.
Aimedisocial
Aimedis will also feature a medical social media space.
AIMSocial will be a community where patients can interact and support each other.
Healthcare professionals will also be brought together in an effort to help the Aimedis community reach new heights of support and medical quality.
Aimedisafe
Aimedis combines AI and blockchain to solve most problems surrounding drug prescription and treatment.
The platform covers everything including dosage, sales, and
Aimedibots can for instant crosscheck the prescribed medicine with the patient's age, sex, eight and several other relevant parameters.
AIMChain blockchain tracks medication from the point of origin to the end user.
By partnering with a major chip producer, Aimedis will establish AIMedisafe labels attached to medication to enhance transparency and pharmaceutical tracking
Aimedis Records
A unique library containing medical content will be provided to doctors and patients to enhance medical training, patient follow-up and patient education. The content library will include video and other shared content for therapeutic and educational purposes.
AIM Professional Connection
Aimedis will connect doctors and patients in various ways.
Through video chat, patients will be able to make appointments and get drug prescriptions
Healthcare professionals will also get to interact with other stakeholders in the medical arena.
Aimedis will connect seamlessly to other hospital information systems.
AI-Supported Research, Diagnosis and Therapy
Aimedis seeks to revolutionize healthcare by using Artificial intelligence to improve research, diagnosis, and therapy.
AIMedibots will, for instance, crawl the Aimedis database to gather new intelligence and insight to such features as drug interaction and adverse effects
Aimedis project Excalibur will be an AI supported module for diagnoses and therapies.
Remote Patient Monitoring
Aimedis will offer tools for doctors to monitor and supervise their patients remotely. These tools will include AI and video-based vitals monitoring. This is expected to improve homecare for patients with high-risk pregnancies, dementia, cardiovascular diseases, diabetes and many other chronic conditions.
Investing in Aimedis
Aimedis has brought out the AIM token which it plans to sell and use the proceeds to finance its expansion and penetration in new international markets. About 300 million AIM tokens will be rolled out going for around $0.12 each. By being an eHealth player backed by an experienced and capable management team, Aimedis and its AIM token are expected to do quite well in the Crypto Market.
Aimedis ICO summary
Token Sale Date: TBA
Token:                 AIM
Type:                    ERC20
Buy With:           ETH
Price:                    1 AIM=$0.12 USD
Bonus:                 21% presale, 25% after holding for 12 months
Country:              Netherlands
Restricted in:    Singapore, USA, China
Whitepaper:     https://aim.aimedis.com/pdf/WhitepaperEN10.pdf
Website:             https://aim.aimedis.com/
RoadMap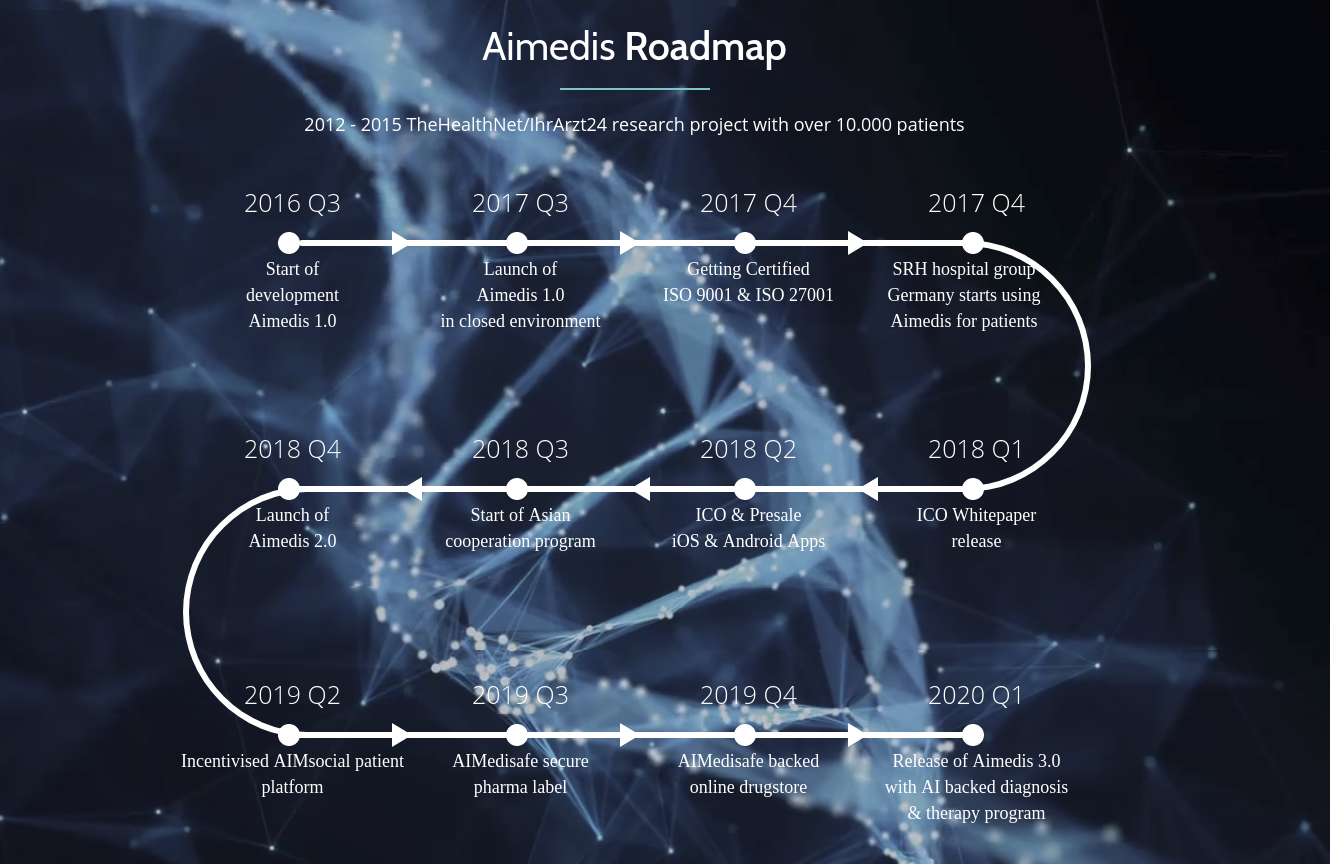 Untuk mengetahui lebih lanjut tentang AIMEDIS, Anda dapat mengunjungi tautan di bawah ini:
Penulis: Adiba14 Bitcointalk 
saya: https://bitcointalk.org/index.php?action=profile;u=1523483
ETH Saya: 0xE2E18D25451F94c8886a3E1Efdec747b9E3804CC