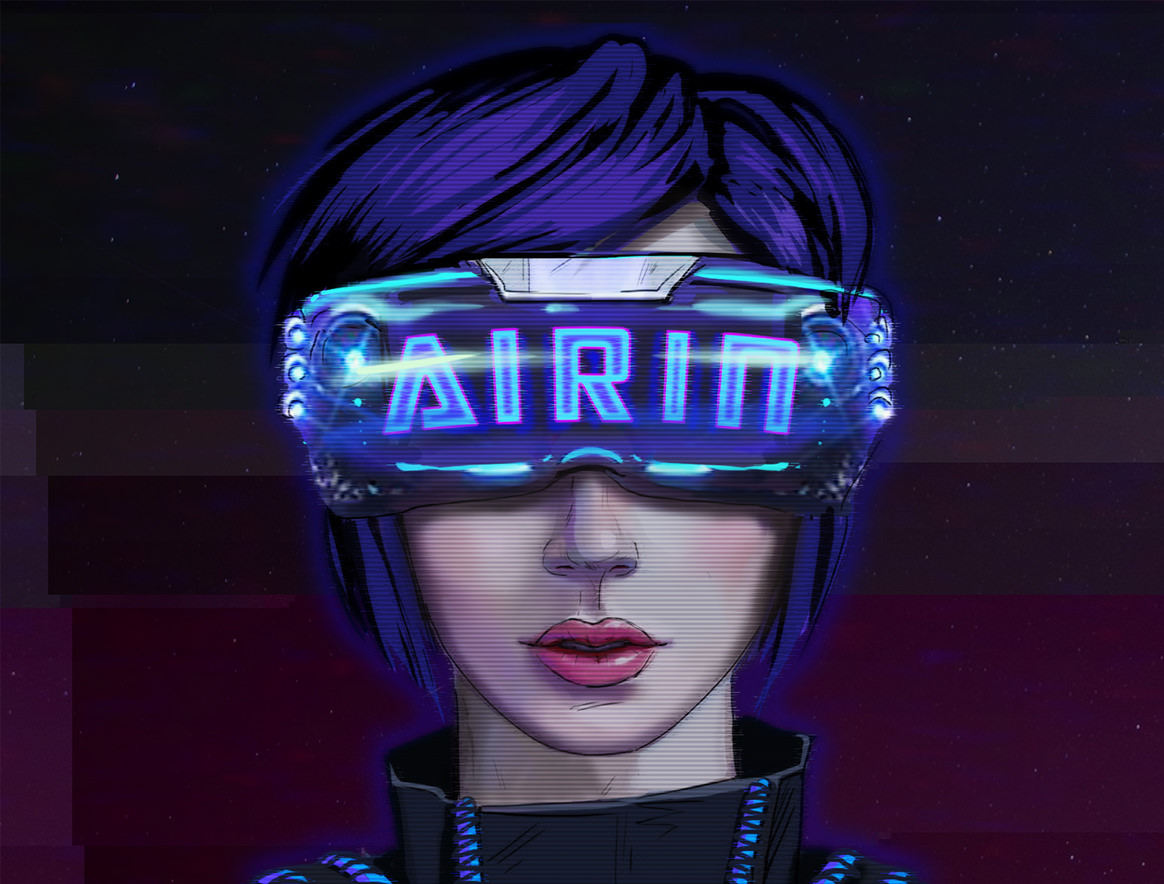 PRESENTATION
The buzz about cryptocurrency is increasing, people have heard about it, and more and more people want to find more about it, and find a way to be a part of it. When blockchain technology came, so many things changed, for better, we say. So many businesses have improved, so many companies have started using crypto currencies in their work. The new ideas are coming every day. People want to invest in the new projects. We have the biggest tool in the world, and it is called the Internet. The internet is a enormous base of information where we can do anything. Internet has connected the entire world. One of these projects is Airin, an easy to use crypto currency, which Platform provides unprecedented conditions for investment. Acting as a connecting bridge between PoS-oriented projects, AIRIN will allow you to conveniently manage your digital assets 24/7 and monitor your stable profit.
Today's cryptocurrency community is maturing and seeking to understand its horizons. The sheer number and variety of available blockchain solutions and platforms leaves some potential investors in a state of total confusion. Developers trying to set themselves apart from the crowd are constantly finding new ways to complicate the original, simple and incontrovertible concept of the cryptocurrency, yet it is this concept in its original form that has the most potential to attract investors.
As the cryptocurrency market developed over the past 10 years, vast amounts of funds were invested into well-known, reputable projects. This turns the spotlight on issue of integration platforms that, in addition to attracting new capital, will satisfy the demands of experienced investors, draw them into the community and provide them with unprecedented opportunities. We are firm in our belief that by satisfying all of our clients regardless of experience, we can make our project thrive.
AIRIN
The Airin project aims to become an aggregator and an embodiment of the direction adopted bycryptocurrencies using proof-of-stake (PoS) mining. Airin has all of the advantages of the PoS model that you are doubtless very familiar with.
Proof-of-work (PoW) cryptocurrencies have a number of well-known pitfalls, such as intermittent evolution, vulnerabilities and the fleetingness of their existence. In light of these pitfalls, PoS cryptocurrencies look attractive indeed, and are bound to attract investors. The price of PoS crypto assets is guaranteed to rise.
Airin is first and foremost an easy-to-use, user-friendly cryptocurrency with a truly tiny transaction fee. But it far from a rehash of existing ideas, bringing plenty of new features to the table.
Airin Platform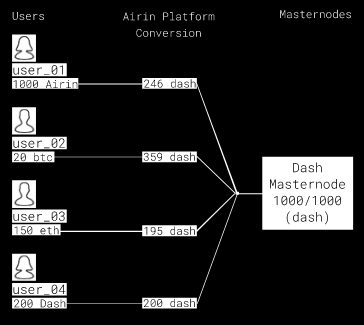 The Airin platform will feature the user-friendly Shared Masternode service that will make masternodes accessible to a wider user base. The price of masternode projects with a high market capitalization is in most cases far from affordable for rank-and-file investors. This means that many investors are forced into joint ventures with other members of the community: they pool their funds to buy a masternode, and sign a contract to split the profits. Such ventures are fraught with risks and inherent inconveniences. In Airin, we will offer masternodes from PoS projects. We plan to add the following masternodes first: DASH, Diamond, PIVX, Crown, GoByte.
THE AIRIN TOKEN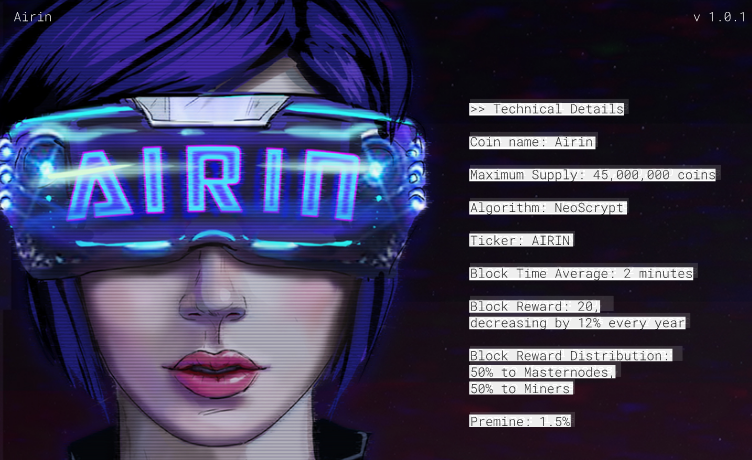 Technical Details
Coin name: Airin
Maximum Supply: 45,000,000 coins
Algorithm: NeoScrypt
Ticker: AIRIN
Block Time Average: 2 minutes
Block Reward: 20,
Block Reward: 20, decreasing by 12% every year
Block Reward Distribution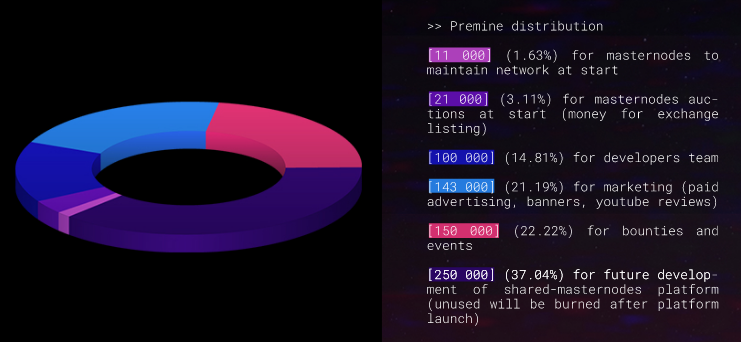 50% to Masternodes,
50% to Miners
Premine: 1.5%
RoadMap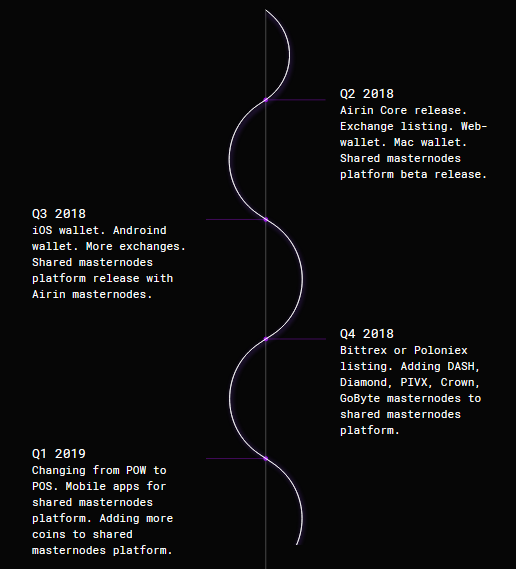 Be a part of this incredible project. Download the whitepaper for the full scoop.
Till next time…
For more information, please visit:
Website: https://airin.cc/
Whitepaper: https://airin.cc/Airin_white_paper_v_1_0_1.pdf
Facebook: https://www.facebook.com/AirinOfficialPage/
Twitter: https://twitter.com/airincoin/
Instagram: https://www.instagram.com/airincoin/
Discord: https://discord.gg/f6RqYmY
Telegram: https://t.me/airinofficial
Author: johnthedon
BitcoinTalk Profile Link: https://bitcointalk.org/index.php?action=profile;u=1860087