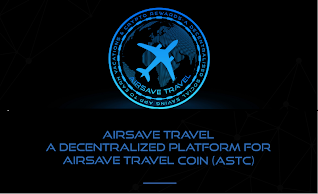 Traveling is one of the most inspiring activities that are available to us. On the surface, it is about seeing new places and and opening your horizons to experience completely different cultures, cuisines and landscapes. However, reaching remote destinations can be extremely pricey. Simply put, not everyone can afford a trip to Africa, New Zealand or Iceland.
Airsave Travel utilizes the blockchain technology to build a revolutionary platform. Airsave Travel partnered with STA Travel, a global travel company, to create an App where users will be able to collaborate to save cryptocurrency and exchange it for travel packages in the future!
Airsave Travel DApp
Airsave Travel is a decentralized application (DApp), being built in 2018. It is the one-click technology, Airsave Travel will require no sign in, login or install. It will utilize blockchain technology to seamlessly attract, authenticate and reward all users who want to save and earn money for their travels with their friends.
Currently, the process of saving up for a trip is a centralized, individual effort dependent on a single source of income and some variable factors. Airsave Travel is a game-changing part of the ongoing blockchain revolution because it takes on the process of saving money for travel and converts it from a slow, laborious, isolated and individual process, into a social process that generates steady returns and is entirely transparent. Decentralization also enables the AirsaveTravel Coin (ASTC token), to increase in value as opposed to saving and earning in fiat.
Airsave Travel is an innovative social saving DApp, which rewards users for saving for their travels – with their online friends and social contacts. Before saving a small fixed fee in ASTC or fiat, users can test the DApp first, by saving and earning in crypto-points. Here they can track their savings balance, refer their friends and withdraw their savings and earnings as STA Travel vouchers, real cash or ASTC (and other cryptocurrencies), all from their smartphone or device.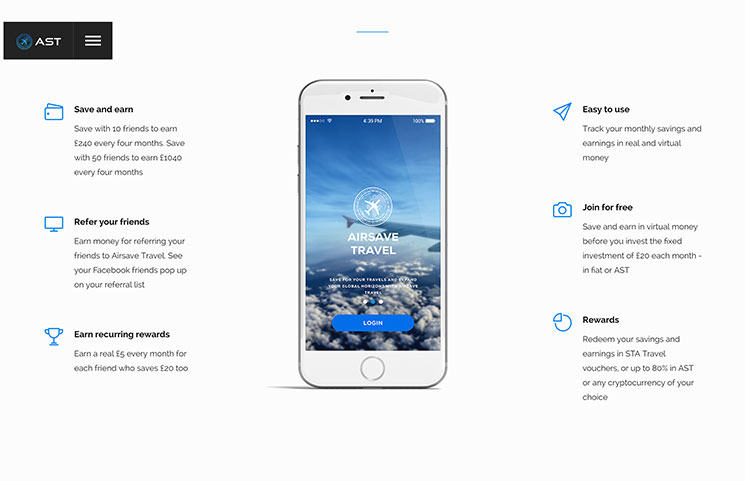 How Airsave Travel Saving Works
The platform provides savings in Airsave Travel Coins (ASTC). Savings can also be done in fiat currency. You will see how easily crypto-points can triple your real earnings while tracking both virtual and real balances in real time. Using the existing Airsave concept, along with open-sourced blockchain technology, you can use your friend network to earn money for all your travels.
When you save £20 each month with Airsave (or the equivalent in ASTC), you earn £5 every month for each friend you save with, and as you invite your friends and grow your referral list, you can watch your uncapped earnings grow. Every 4 months, you can then withdraw your savings and earnings in fiat or any cryptocurrency of your choice, with a minimum of 20% of the sum paid out as travel vouchers from their exclusive partner STA Travel.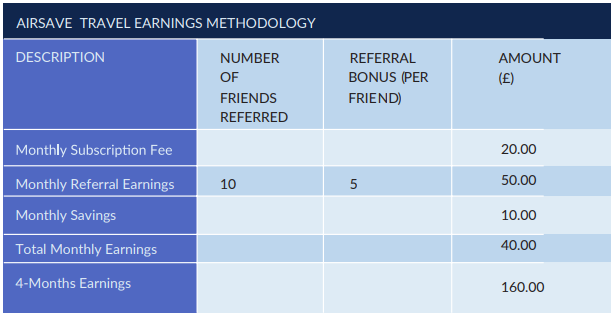 Airsave Travel Features
Save and Earn: Both the users and their friends have an option of earning in tokens or fiat currency.
Refer Friends: Money can be earned when users refer friends from their Facebook friend list.
Rewards: Redeem your savings and earnings to cash in on tickets from STA Travel.
Free: The opportunity to save and earn virtual money comes with no attached costs. So, there are no risks involved in trying out the product.
Easy to Use: Tracking the monthly savings and earnings are available in convenient user-friendly dashboards.
Airsave Travel Coin (ASTC)
ASTC is the fusion of a new cryptocurrency with a revolutionary save and earns platform built on blockchain technology. ASTC tokens, also called Airsave Travel Coin is an ERC20 token that allows the access to AST DApp and the ability to save and earn money, crypto rewards, and STA Travel vouchers. ASTC tokens can be sold on various exchanges once the ICO has been completed.
Token info
Token Name: Airsave Travel Coin
Token Ticker: ASTC
Platform: Ethereum
Standard: ERC20
Total Supply: 125,000,000 ASTC
Token for Sale: 117,500,000 ASTC
Token Price:
in Pre ICO Stage 1: 800 ASTC = $100
in Pre ICO Stage 2: 500 ASTC = $100
in Main ICO : 400 ASTC = $100
Accepting: ETH, BTC
Token Sale Schedule

Token Distribution and Fund Allocation

Useful Links:
Website: http://www.airsavetravel.com/
Whitepaper: http://www.airsavetravel.com/doc/whitepaper.pdf
Facebook: https://www.facebook.com/AirsaveTravel/
Twitter: https://twitter.com/airsave_travel
Telegram: https://t.me/joinchat/FZXBqw6RJG2DBYrs6Mq0oQ
Author:
Bitcointalk username: Duda miskin
Bitcointalk profile URL: https://bitcointalk.org/index.php?action=profile;u=2328277