Akses Medis Instan
Instant Medical Access
Introducing  

iAM
iAM solves one of the biggest failure points in health care with our distributed system. Patients with long-term conditions without failing to receive warnings, reminders and follow-up. This is processed automatically, does not require effort or resources from doctors, practice staff, or patients.
The iAM integrated platform solves the biggest health problems including insurance fraud, medication compliance, prescription abuse, and also the problem of portability of medical data. With Guardtime, Healthcare Gateway, and DXS company partners our solutions will be accessible to more than 70% of the UK population.
We secure records using the industrial scale Keyless Signature Infrastructure. It provides patients with personal care records that are compatible with GDPR and HIPAA that cannot be changed. Smart users share their health record data through Guardtime (HSX) Health Information Exchange. The iAM platform uses smart contracts to regulate digital transactions and payments in our health care economy.
Problem
Patients want their best health outcomes, the lowest out-of-pocket costs, and the ability to manage their health records directly from their cellphones. Patients are very concerned about cyber criminals who target their medical data. This data is now worth 100x more than the number of credit cards! They want to guarantee their personal and safe health records.
Doctors and providers want to increase their productivity and income while giving patients high-quality care and the lowest possible costs.
Insurers want to predict risk, increase efficiency, and reduce costs. This is possible with high-quality risk assessment and claim handling. All insurance needs to be appropriate, current health information, and the desire to significantly reduce health care fraud. Such fraud is currently a $ 260 billion problem worldwide.
Researchers want to gain access to anonymous longitudinal personal health care data for health analysts.
Partners want to strengthen influence, attract and retain more customers, and access the broader health care market.
AI analysts are very hungry for health data.
Solution
iAM makes patient health data actively active by automatically creating unique and personalized care pathways specifically for each patient. This application combines multilingual warnings, reminders, and follow-up to guide patients to their best health outcomes. These can all be accessed on the patient's cellphone. Decentralized technology also guarantees the safety of health data for each patient.
Medical Security Instant Access:  To secure data, they will use a keyless signature infrastructure. This will ensure patients have records that are in line with HIPAA and GDPR. Users will be able to share this data using the Guardtime Health Information Exchange. This platform uses smart contracts to manage payments.
Instant Access to Medical Blockchain Mobile Project Health Application (Healthcare GPS)  It will be possible to manage your health by importing all your medical data from GP or anywhere. You can then purchase various services from iAM and other partners to effectively manage your health.
Allergies, Immunizations, and Medicines:  Records of immunizations, allergies and medicines are located in one area. They are imported from existing systems that store your data. You can set up automatic alerts that ensure you never miss important shots needed for your health.
Health Check Data: Now  you can easily see health records. For example, you can see the results of your blood pressure and blood test. They are presented graphically to ensure that you can understand them. You can also get access to other metrics such as weight, height and more. This can be imported from wearable technology and other medical records.
Smart Appointments, Actions and Warnings:  With this feature, you can regain control of your health. This application creates routes for personal care with actions based on updated data. You also will never miss an appointment thanks to the warning.
Instant Access to Medical ICO Assessment: 

BB
Instant Access Details of medical rankings by ICO analysts – Learn more about ratings and ratings  here
Ranking category

How to evaluate

Rating

Team legitimacy

How experienced are teams in blockchain and industry project track records?

3.25

First impression

What is the first impression given by the ICO website and the whitepaper?

3

Potential tokenization model

How attractive are tokens from the perspective of project business and ICO investors?

2.9

Hard Hat

Is the ICO limit attractive from an investor's perspective?

2.75

Token Allocation + Fund allocation

How are tokens allocated after making tokens?

How will funds collected from ICO be distributed in moving forward with the project?

3

Material professionalism available

How good is ICO marketing material?

3.3

Roadmap realism compared to team size and budget

The road map is divided into 4 levels according to the amount of money collected

3.25

Partnership network

Has the ICO announced partnerships, if so how big and credible are their companies?

4

Management organization background

Has the management organization had a successful track record in business?

NA

Size of the social media community

How big is the social media community, especially Telegram and Twitter?

2.75

Reviews on other ICO sites and media

Are there other reviews about ICO available?

3.5

Is it easy to find relevant information from the material provided?

Is it easy to find relevant information from the material provided?

4
Token Details
SYMBOL: IAM

PRICE: $ 0.40

Token supply: 500,000,000

Token Type: ERC20 Utility Token

Value: 1 IAM = $ 0.40 USD

PRE-ICO Start Date: 24 / September / 2018

PRE-ICO END Date: 25 / October / 2018

ICO ICO Start Date: 25 / October / 2018

ICO ICO End Date: 31 / December / 2018
During pre-ICO: 0 – 40 000 000 IAM -> 80% discount, price: 1 IAM = $ 0.08 USD

During ICO Stage 1: iAM 25,000,000 -> 60% discount 1 IAM = $ 0.16 USD

During ICO Stage 2: iAM 25,000,000 -> discount 40% 1 IAM = $ 0.24 USD

During ICO Stage 3: 25,000,000 iAM -> discount of 20% 1 IAM = $ 0.32 USD

During ICO Stage 4: 25,000,000 iAM -> 0% discount 1 IAM = $ 0.4 USD
Token distribution
50% sales for buyers in sales tokens

38% Proposed iAM

8% Team & Founder

2% Community Engagement

2% Bounty Campaign

75% of health service delivery ($ 26 million)

25% Platform Development & Launch Fee ($ 9M)
INSTANT ACCESS MEDICAL TEAM TEAM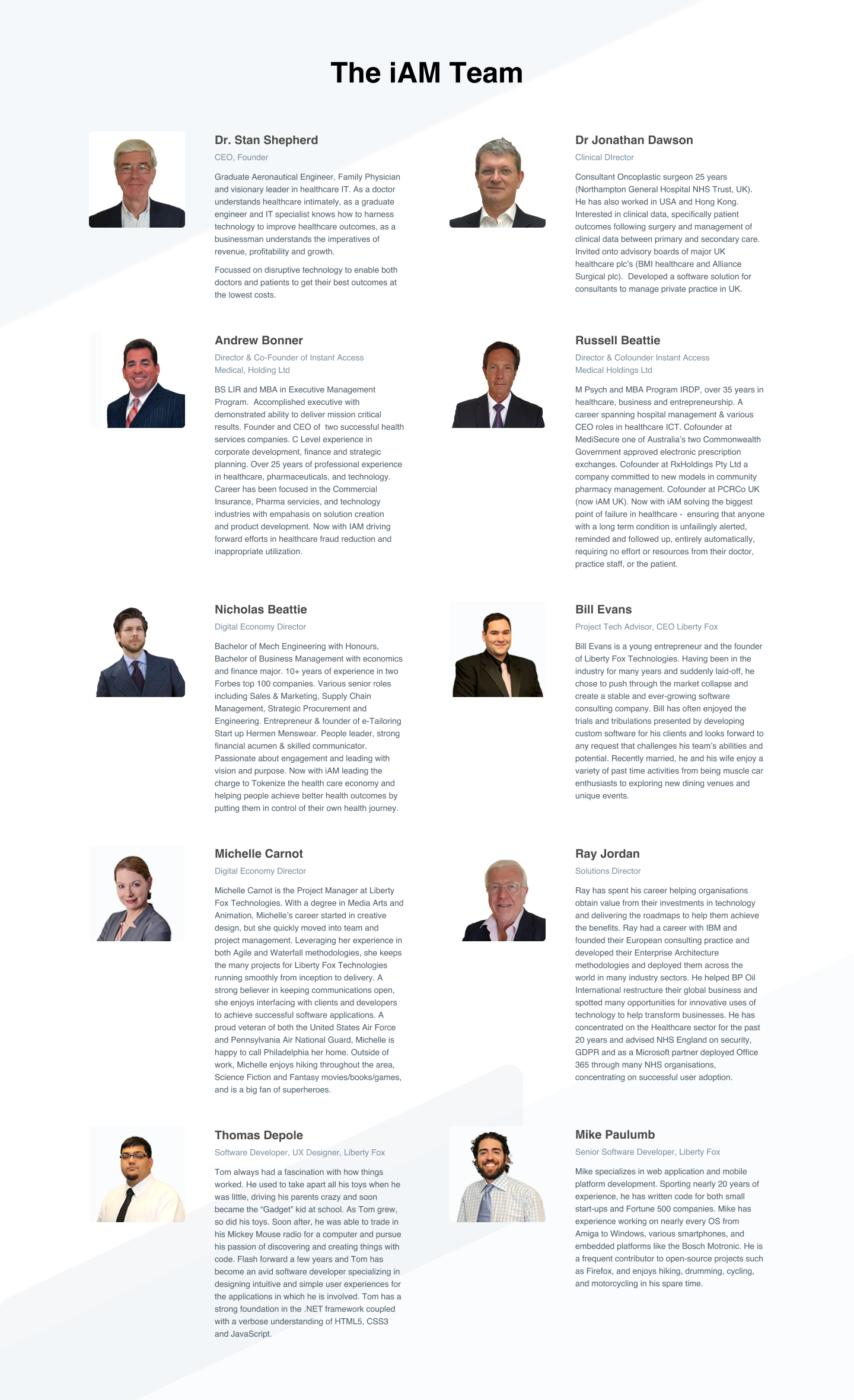 For more information please follow this resource:
Website:  https://www.instantaccessmedical.io/
ANN Thread:   https://bitcointalk.org/index.php?topic=5039302.0
Telegram:  https://t.me/iAMcommunity
Reddit:  https://www.reddit.com/r/InstantAccessMedical/
Twitter:  https://twitter.com/IAMHealth4Life/
Youtube:  https://www.youtube.com/channel/UCJjoVE28KculQy8PlbvzbyA
User Name: YosietoQingge
Link: https://bitcointalk.org/index.php?action=profile;u=2303937
Address Ethereum: 0xD2245DBD90eaD2cB5A1c3D4D23ba15Bb6804cb18