ALFA-ENZO: DELIVERING A TRUSTED, SECURE, AND EMPOWERED DIGITAL FUTURE FOR ALL.

The blockchain industry and the cryptocurrency ecosystem have been really on the rise since the inception of the first cryptocurrency in 2009. It has proven its worth overtime that it is now too hard to doubt its potentials. The global market has begun to witness a boom of the economy in relation to this single invention. In 2017, the worth of the cryptocurrency was registered closely at 840 Billion USD and as of the time of this writing, there are about 1200 existing cryptocurrencies with Bitcoin leading the mainstream.
It's evident that cryptocurrency is the new oil and this is seen by dencity of its headlines. The number of its fetched investors and traders/exchangers, the unending num ber of new coins that make their way through the front door of blockchain industry, begging for recognition. It is true that as new ones emerge they identify a problem and bring solution to it. Some go the extra mile to capitalize on an existing solution and better it. So whatever it is the case and reason there are new entrance into the market on a daily basis, the end result is its drive and potentials.
There are still problems associated to cryptocurrency and what they need to really bother about. Such issues are:
Globalization
High degree of price/value change
100% security
Easy understanding of the concept by an average man. And so on.
These problems still exist out there and the team members of the alfa-enzo project have identified an issue and proposed to bring a solution to some of the above mentioned loopholes.
WHAT IS THE ENZO'S PROPOSAL?
The Enzo team members believe that a currency should a medium of successful and hitch-free exchange and a store for value. This is where the crypto failed to get it right. It isn't enough that it lacks a layer of topnotch security but its high degree of volatility has made it impossible to be labelled as a true store for value.
It is seen on the exchange charts that the rate at which the price of a crypto changes within a short while is alarming and depressing. So many investors lose a lot of money, potential investors refuse to make it into the pool and exchangers are left devastated. Any country's currency with such a high volatility rate is headed for a doom.
The enzo (NZO) native utility token on EON has an inflatable nature. Its value exchange is derived from its scarcity and immutability exchange ecosystem.
It has also been identified by the team members of the Enzo Network that it is quite conflicting to want cryptocurrency to stand up against real currencies when they don't meet the speed and scalability required for mainstream utilization. Cryptocurrency is still hard to understand. Most of the individuals on its network are investors working with brokers not end consumers. And some established blockchain networks are too slow for micro-payments.
• So it has been designed that the Enzo Network will provide Quick exchange of value just like it happens on currency exchange platforms.
• Real definition of cryptocurrency from the ground level to the top. Most persons don't understand its value, utility and its potentials. This will be tackled using the Enzo Network.
Alfa Enzo is uniquely positioned to establish the first mass-market cryptocurrency by providing a unique distributed commerce ecosystem5 that delivers on these properties at the outset.
TOKEN DETAILS
Pre-ICO: Aug 3rd – Nov 15th
ICO: Nov 16th – Dec 30th
Pre-ICO is live with 29 Days Remaining
1 NZO = $0.005
1 ETH = 41,832.00 NZO
Current ETH Price = $209.16
4,000,000,000 NZO Available
Min Contribution: 1 ETH
Max Contribution: 2000 ETH
Currency Accepted: ETH, BTC, BCH, USD
$3M Sold In Private
Softcap: $25Mln
Hardcap: $100Mln
Total Raised: $3Mln
TOKEN DISTRIBUTION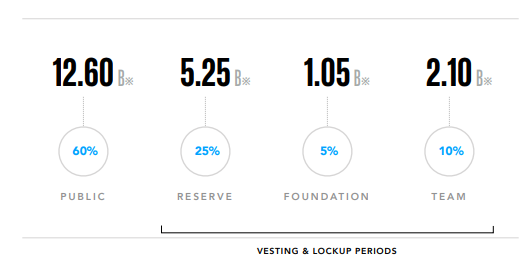 A fixed supply of 21 Billion NZOs (※21B) will be released at MainNet Deployment with the allocations per below.
Public – 60% (12.60B)
Reserve – 25% (5.25B)
Foundation – 5% (1.05B)
Team – 10% (2.10B)
TOKEN ALLOCATION

Development – 60%
R&D – 25%
Business – 5%
Legal – 10%
ROADMAP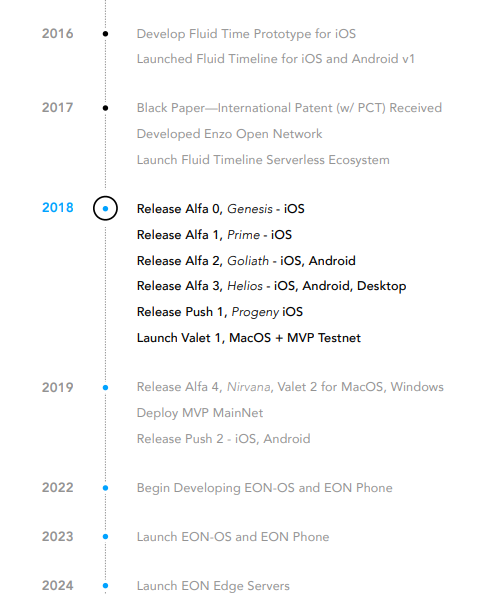 2016
Develop Fluid Time Prototype for iOS
Launched Fluid Timeline for iOS and Android v1
2017
Black Paper—International Patent (w/ PCT) Received
Developed Enzo Open Network
Launch Fluid Timeline Server-less Ecosystem
2018
Release Alfa 0, Genesis – iOS
Release Alfa 1, Prime – iOS
Release Alfa 2, Goliath – iOS, Android
Release Alfa 3, Helios – iOS, Android, Desktop
Release Push 1, Progeny iOS
Launch Valet 1, MacOS + MVP Testnet
2019
Release Alfa 4, Nirvana, Valet 2 for MacOS, Windows
Deploy MVP MainNet
Release Push 2 – iOS, Android
2022
Begin Developing EON-OS and EON Phone
2023
Launch EON-OS and EON Phone
2024
Launch EON Edge Servers
PARTNERS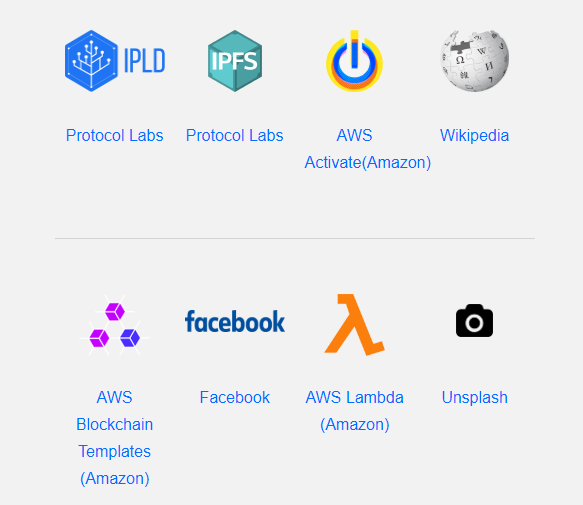 TEAM
Tony K. Tran – Founder and CEO
Quyen T. Phan – COO and Chief Evangelist
James Dron – Vice President, Ads Product
Mai Ann- Vice President, Media
Andy Truong- Vice President, Global Markets
Linh P. Vu – CFO
Thomas S. Nsikakabasi – Chief Evangelist, Africa
Angie N. Trinh – VP, Human Resources (Interim)
ADVISORS & INVESTORS
Ridgley L. Kuang
Manh Duong
Horizon Ventures
Eddie Hong
For this project, if you wish to extend your readings and search, please check the following links below:
Website: https://www.alfaenzo.io/
Whitepaper: https://www.alfaenzo.io/libs/pdf/whitepaper.pdf#zoom=25
Telegram: https://t.me/alfaenzoio
Twitter: http://twitter.com/enzonetwork
Facebook: https://www.facebook.com/AlfaEnzoOfficial
Medium: https://medium.com/alfaenzo
Reddit: https://www.reddit.com/user/alfaenzofoundation/
Youtube: https://www.youtube.com/channel/UCsfKqraAZ5rQDVqX9i1XaUQ?disable_polymer=true
BITCOINTALK USERNAME: thankyoulord
BITCOINTALK URL: https://bitcointalk.org/index.php?action=profile;u=2076086
WALLET ADDRESS: 0x2859DD117e5E186B2dec97b50012C66D0E7597Ad