ALLSTOCKS NETWORK: stock exchange platform.
The ALLSTOCKS Network is a distributed global stock exchange platform which aims to interface with all major stock exchanges and stock brokers around the world. It also allows the trading of crypto tokens backed by real financial assets. The network will create a decentralized system, which will allow all stakeholders trade with its ERC20 standard compatible token.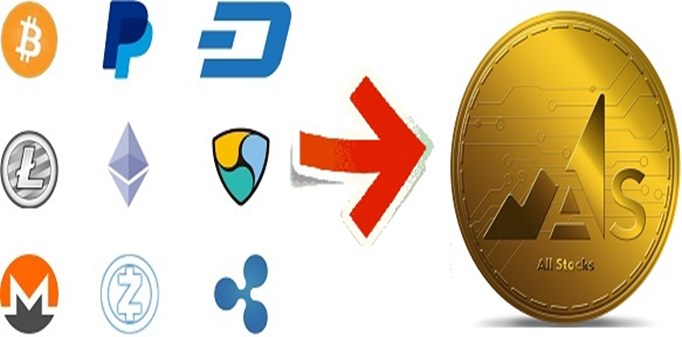 ALLSTOCKS exchange network, with strong geographic reach and influence can be progressively developed to strike a partnership agreement with existing exchanges and brokerages. As a result of the partnership, ALLSTOCKS can house some of its fiat reserves with such exchanges to reduce significantly the transfer times and fees while providing these exchanges the much needed liquidity. The cryptocurrency exchanges will play a critical role as they provide users with digital wallets and fiat currency accounts in their local currencies. Well, these services aid users to buy, transmit and sell such cryptocurrencies as well as provide the needed framework for users to convert cryptocurrencies to fiat currencies and vice versa. AllStocks will hold this asset in a trusted, transparent, open and regulated manner. The token value will always be matched to real asset value as it can be liquefied at any time.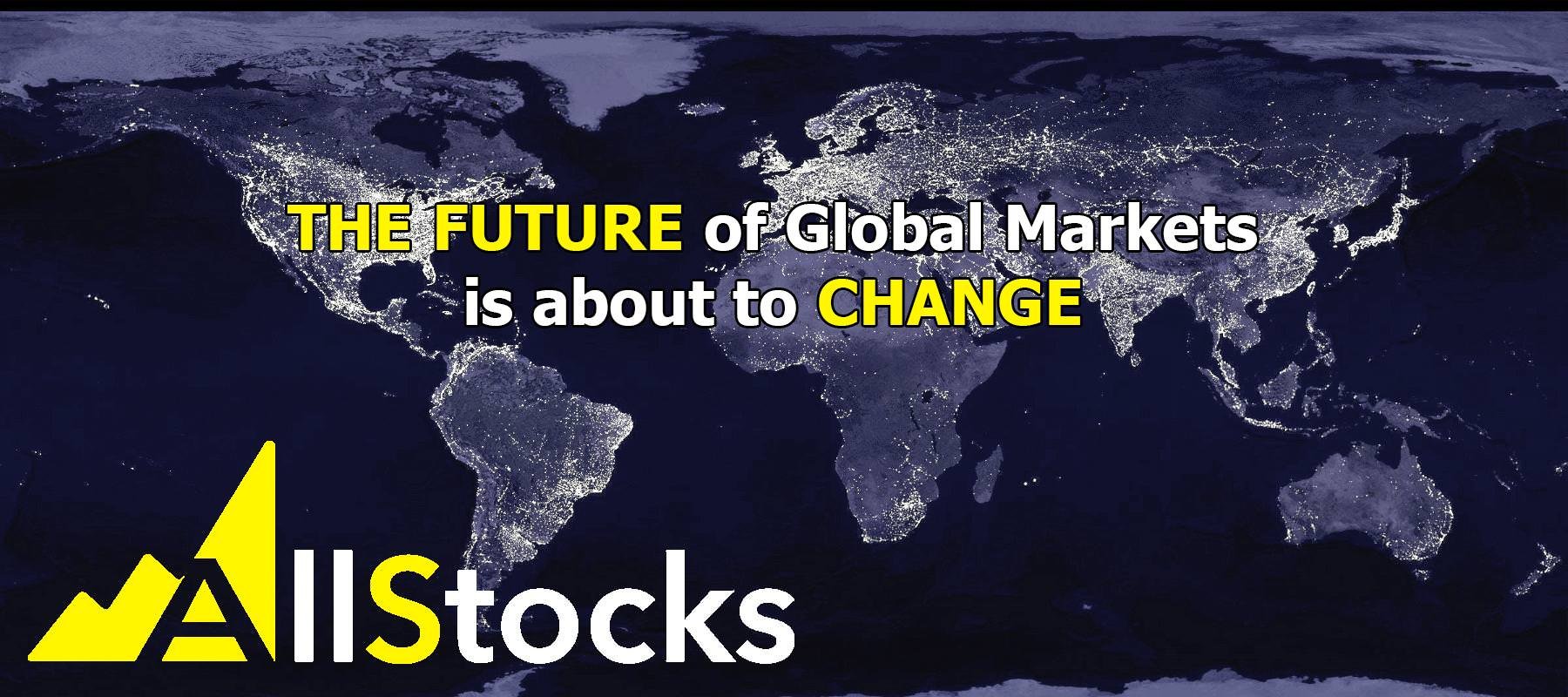 UNIQUE BENEFITS
– Convenient
– Safety, security
– Easy to convert, easy to trade
– The globalization market.
PROCEDURES INVOLVED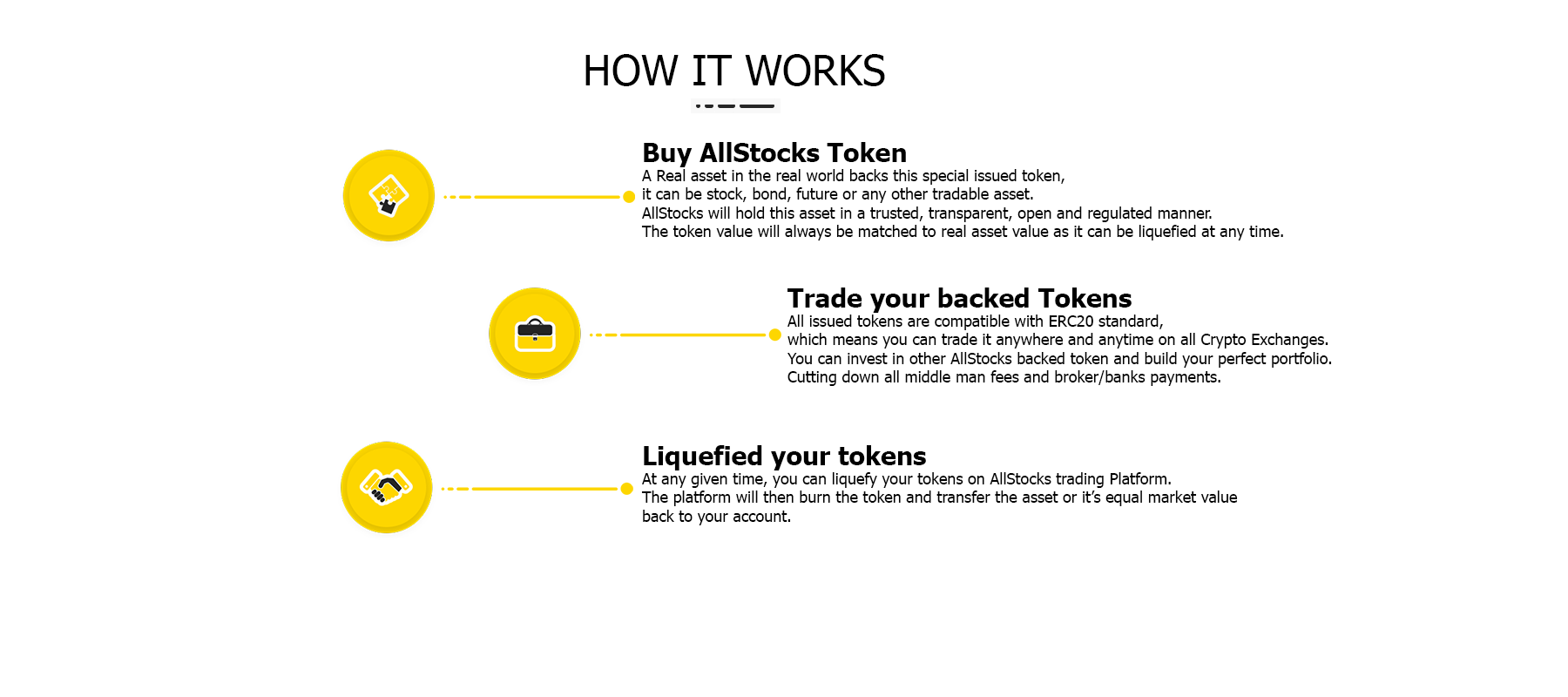 Buy AllStocks Token
Real estate assets in support of these exclusively issued tokens may be stocks, bonds, futures, or other tradable assets. AllStocks will hold this asset in a trusted, transparent, open, and orderly manner. The token value will always be matched to the real asset value because it can be cashed at any time.
Redeem your supported Token
All published tokens are compatible with the ERC20 standard, which means you can redeem it anywhere and anytime on any Crypto Exchange. You can invest in other AllStocks token and build a perfect portfolio. Cut all middle man fees and broker / bank payments.
Liquid your token
At any given time, you can redeem your token on AllStock Trading Platform. The platform will then burn tokens and transfer the same assets or market value back to your account.
TOKEN SALE DETAILS
Allstocks has a token which is a utility token called AST token and it is based on Ethereum ERC20 token standard. Allstocks will make available a total supply of 50, 000, 000 AST tokens for sale with a hardcap of $20 million. There will be 25, 000, 000 AST tokens allocated in the current sale and it is split into three stages, each reduced exchange rate represents early investment bonus.
Stage one: 15th April to 30th April, 625 AST = 1.00 ETH (25% bonus)
Stage two: 1st May to 15th June, 550 AST = 1.00 ETH (10% bonus)
Stage three: 16th June to 30th June, 500 AST = 1.00 ETH (No bonus)
SUPPLAY TOKEN : 50.000.000
TOKEN SELL : 25.000.000
TOKEN SYMBOL : AST
ACCEPTED CURRENCIES : ETH
1 ETH = 500 AST
SOFTCAP = 2,500,000 AST
HARDCAP = 25,000,000 AST
TIMELINE FOR TOKEN SALE
1st March: announcement
15th April: public presale start (stage 1)
30th April: public presale end
1st May: public crowdsale start (stages 2 and 3)
30th June: public crowdsale end
15th July: finish token distribution
31st July: start trading
TOKEN DISTRIBUTION
• Token sale: 50%
• Platform & ecosystem: 25%
• Company reserve: 10%
• Team & advisors: 10%
• Bounty program: 5%
FUNDS USAGE
• Global operations & brokerage: 30%
• Marketing: 30%
• Research & development: 30%
• Advisory, management & others: 10%
MEET THE KNOWLEDGEABLE TEAM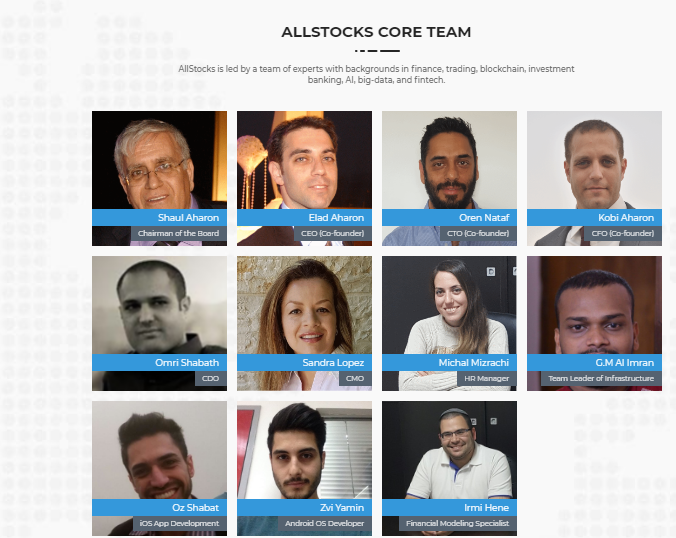 ADVISORY BOARD
Tomer Aharon: Legal Advisor
Yogesh Padsala: Blockchain Advisor
Eberendu ikechukwu: Community Advisor
Sushil Pandey: Marketing Advisor
Amit Lavy: Public Relations Advisor
ROADMAP TO SUCCESS
Q4 2016: Conception of AllStocks' idea and vision. Exhaustive planning of the project
Q1-Q2 2017: The initial foundation of AllStocks Network Prototype
Q3-Q4 2017: Development of AllStocks network prototype and core platform infrastructure
Q1-Q2 2018: Crowdfunding via token generation- initial coin offering (ICO)
Q3 2018: Development of core platform infrastructure including API
Q4 2018: Integration of major stock exchanges and brokerage. Launch of production-level exchange platform.
Q1 2019: Beginning of worldwide marketing campaign
Q2 2019: Continuation of further global integrations, upgrades and enhancements.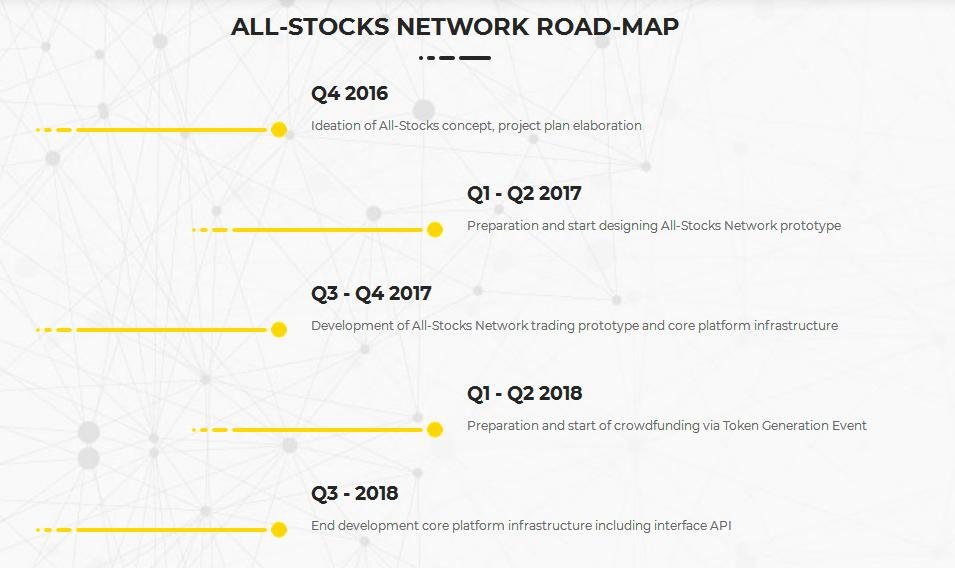 Kind Regards, ensure to join this incredible project.
FOR MORE DETAILS, CLICK/FOLLOW THE LINKS BELOW:
WEBSITE: https://all-stocks.net/
WHITEPAPER:https://all-stocks.net/wp-content/uploads/2018/03/Allstocks_whitepaper_rectified.pdf
FACEBOOK:https://www.facebook.com/gobalstocks/
TELEGRAM;https://t.me/all_stocks_ico
INSTAGRAM:https://www.instagram.com/allstocks1137/
ANN THREAD:https://bitcointalk.org/index.php?topic=3210865.0
Author: Martilda
Profile link: https://bitcointalk.org/index.php?action=profile;u=1887582
Eth address: 0xd0D5d98857192B3931c831b7B809D47CD830da32