ALLUXE is a Luxury Platform – Marketing Strategy System
Global blockchain-based platform for buying and renting luxe property around the world
ALLUXE is a blockchain-based luxury platform intended for convenient and transparent interaction of companies and customers in the luxe segment through crypto currencies and modern technologies. This is an innovative solution for the crypto-elite, wealthy people demanding to the level of comfort, quality of service and confidentiality.
ALLUXE helps you plan a trip or a business trip, rent a premium car, yacht or luxury real estate and make expensive purchases anywhere in the world.
<<< MARKETING STRATEGY SISTEM >>>
A. Plans to Scale Up the Platform
Work on the company is to be performed in several areas:
Search for potential customers of luxury goods and services
B2B marketing aimed to bring information about our platform to prospective partners and tell them what opportunities they will have thanks to the partnership with ALLUXE
Technological development of the platform. The ALLUXE platform offers the most convenient interface, which allows a partner to create a company card in several clicks and add trade offers
Carrying out an aggressive marketing campaign
Regular notification of the crypto currency community about the stages of product implementation
Dissemination of information about the company on the Internet, in social networks, instant messengers using chat-bots, on dedicated websites and forums related to blockchain and crypto currencies
Establishment of long-term cooperation with key strategic partners. Enterin into agreements with large and well-known brands, such as: Rolex, Mercedes, etc. will increase the status of the company, while partners of such high level will be able to expand their customer base, increase sales, and also enter the crypto currency market among the first.
The platform is also planned to be developed with the help of existing active users. So, according to the conditions of the referral program, users who invited new people to the system will receive additional bonuses that will later allow them to increase their status and gain access to previously unavailable benefits. At the same time, platform users who use LXC tokens for mutual settlements, actively interact with the platform and participate in trade offers, are assigned a special status, which gives additional bonuses and advantages in the system. Thus, on the one hand, the interest of users in LXC tokens will be supported, on the other hand, this will make it possible to popularize tokens in the crypto currency market.
B. Monetization Model
Since the company is mostly related to a trading platform, the company proceeds are generated as follows:


1. Referral fee. For new customers and transactions made, partners are ready to pay an agency fee. In each category of goods, fees will differ


2. Advertising. Integrated advertising to be paid by partners. Various VIP placements in order to increase the number of company card views


3. Transactions & Conversions. Fees for international transactions and currency conversion within the platform when making settlement between users of the system


4. Private Club. payment for membership in the VIP club. Such membership will provide an opportunity to attend private events, go on collective world tours with club members and platform partners, 24/7 concierge services, as well as unique special offers. In addition, membership in the VIP club includes special benefits in the form of additional discounts, opportunities to participate in special platform promotions, get free bonuses from service partners, etc.
TOKEN SALE INFO :
SUPPLAY TOKEN : 220.000.000 LXC
TOKEN SELL : 110.000.000 LXC
TOKEN SYMBOL : LXC
1 ETH = 2,500 LXC
1 LXC = 0.0004 ETH
Softcap: 3,000 ETH or $1,800,000
Hardcap: 27,500 ETH or $16,500,000
The currencies accepted: Ethereum (ETH), Bitcoin (BTC), Litecoin (LTC), Dash, Fiat ($,€) 0.0004 ETH
TOKEN SALE DATE :
PRIVATE SALE (40% Bonus) …. End Juni 7, 2018 (2,200,000 LXC )
PRE SALE ( 25% Bonus) June 12 – July 26, 2018 (19,800,000 LXC )
TOKEN SALE (15% Bonus) August 1-September 1, 2018(8,800,000 LXC)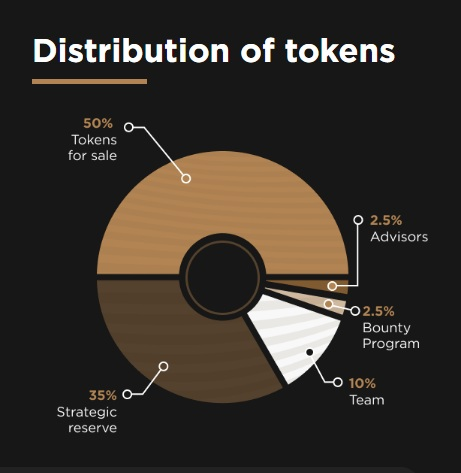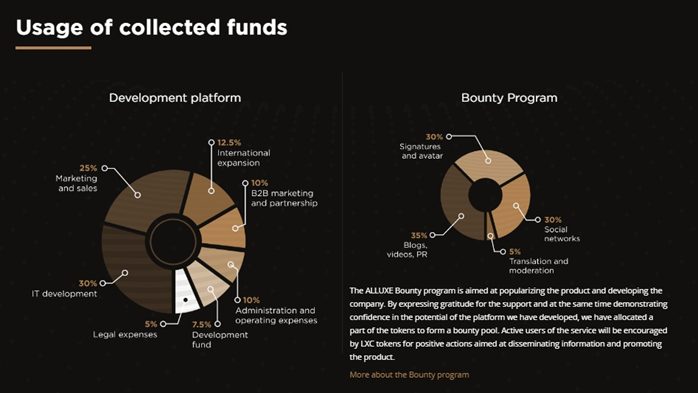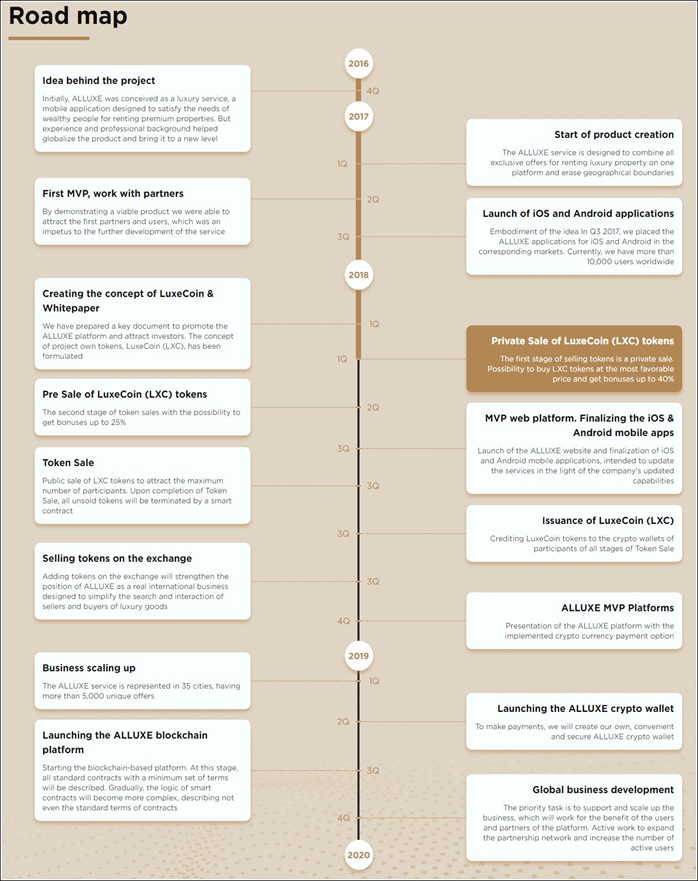 TEAM :
Dimitri Lebed
CEO ALLUXE
https://www.linkedin.com/in/dimitri-lebed-90579199/
https://www.facebook.com/lebed88
https://t.me/Lebed_88
Mikhail Makeev
CTO ALLUXE
https://www.linkedin.com/in/%D0%BC%D0%B8%D1%85%D0%B0%D0%B8%D0%BB-%D0%BC%D0%B0%D0%BA%D0%B5%D0%B5%D0%B2-878665aa/
Olzhas Dyusembayev
ALLUXE Art Director
https://www.facebook.com/olzhas.dusembaev
Julia Derbysheva
BizDev Manager
https://www.facebook.com/100006226359829
Alexander Nedorezov
iOS developer
https://www.linkedin.com/in/aleksandr-nedorezov-ab0246b9/
Alexander Tretyak
Web-Frontend developer
https://t.me/ONLYONE63
Valentina Mashchenko
Copy-writer
ADVISORS
Alexey Degtyarev
CEO, B2B-center (2005-2017)
https://www.linkedin.com/in/aleksey-degtyarev-94342211/
Marco Antonio Soriano
Famous American businessman, CEO Soriano Group
https://www.linkedin.com/in/masoriano/
Incognito
CTO –
The CTO of a blockchain-based gambling online product.

MORE INFO :
✅✅ WEB : https://alluxe.io/
✅✅ Whitepaper: https://drive.google.com/file/d/1Nj1Afqdk_CLXL9PWmBhSZ0ZPE_uPGcB-/view
✅✅ Twitter: https://twitter.com/ALLUXE_
✅✅ Facebook: https://www.facebook.com/alluxeapp
✅✅ Telegram Group: https://t.me/ALLUXE
✅✅ Bitcointalk Thread: https://bitcointalk.org/index.php?topic=4085081.0
✅✅ Bitcointalk ANN Thread : https://bitcointalk.org/index.php?topic=3713371.new#new
✅✅ Instagram : https://www.instagram.com/alluxe_app/
Bitcointalk profile: https://bitcointalk.org/index.php?action=profile;u=1048360