What is ALTTEX?
ALTTEX is a decentralized, multi-currency exchange platform which is based on advanced blockchain. ALTTEX is an all-in-one mobile cryptocurrency exchange application that allows cryptocurrency traders to network on the go, while having all of their cryptocurrencies accessible on one secure application. ALTTEX was created specifically for mobile devices. It presents a unique opportunity to replenish your account with a credit or debit card from any part of the world.
Mission
To perfect that which was previously considered good, to create a universal integrated platform to unify crypto traders
all over the world, using one secure application for both communication and trading activities.
Goal
To bring about a unique platform which integrates advanced technologies based on blockchain and implements for the attraction and preservation crypto assets. With the use of Alttex, you would be able to conduct your business transactions without the need for intermediaries and paying additional commissions.
Advantages
Compatibility with all major mobile devices
Simple to use and intuitive UI
Multifunctional and enables multitasking
Lowest charges on digital currency transactions
Decentralized security protocol
Best usability of UX application
Blazing fast speed on transaction verification
Stringent security to ensure user protection
Professional support service
Loads of extra features
How it works?
The basis for the Alttex platform is a decentralized network, where each user is part of Alttex's blockchain. The full
responsibility for carrying out the transaction is assigned to the Alttex network block, while, much like Bitcoin, all transactions reports are encrypted. To boost transaction speed, AltX tokens use the DPoS consensus algorithm.
This implies that participants transfer responsibility for verifying a particular transaction to selected delegates (nodes with the largest capital). This is the basis for achieving the maximum transaction speed. The voice that the candidate receives to become a miner is very flexible. It is easily assigned by fulfilling requirements, and can also be easily taken away in case of an error. Miners receive financial rewards for processing the transaction, so they are interested in making sure that reasonable transactions are included in the blocks.
Alternatively, users can withdraw their votes. This will cause the particular miner to drop out of the list of block producers. Thus, for elected delegates, if the transaction block comes from a trusted delegate, there is no need to spend time verifying all network nodes. This scheme gives several unshakable advantages: improved speed development and excellent controllability. Also, to date, the DPOS network has never been successfully hacked.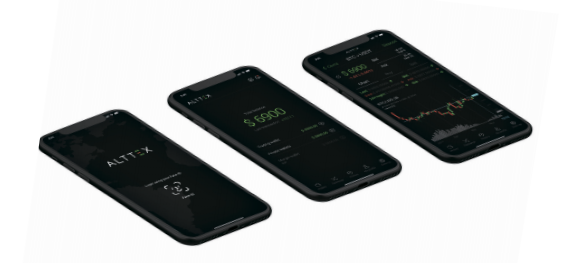 Alttex application will provide users with future access to its digital products or services. Future services include buying virtual goods through Alttex Crypto Messenger, providing a free-to-use decentralize exchange (AltDEX), and storing cryptocurrency using AltSafe.
ALTDEX
ALTTEX identified a crypto trader's needs and built a solution around it. Most crypto traders need to manage multiple exchanges to access various cryptocurrencies. These exchanges are selected based on certain criteria below:
Simplicity of the user interface;
Selection of currency pairs;
How quickly tokens can be added; and
Security of the exchange platform
AltSafe
Safety has always been an issue with cryptocurrency, hence, AltSafe, This is an interactive, multi-currency wallet that displays real-time account balances using push notifications. It is a "Warm" wallet, which combines the advantages of Hot (Online) and Cold (Offline) wallets by allowing users to decide how much of their funds they want to keep in both. This also allows users to specify a timeframe and the money will be inaccessible until the time has elapsed, which eliminates tampering of saved funds.
AltMessenger
AltMessenger is a decentralized messenger whose workings border on the block-chain technology. And as such, it possesses no central servers and therefore is totally secure. It doesn't just serve as a tool for communication, but also lets the user buy goods using crypto wallets, make sales and receive cryptocurrency payments. Its user interface is basically tailor-made for the user. Yeah, it is quite easy to understand and use. It's basically beans for the user.
Token
This is a utility token.
Name: Alttex Token
Symbol: ALTX
Accepted currencies: ETH and BTC
ICO
The main purpose of the ICO was development of mobile services for easy access to purchase and sell cryptocurrency from anywhere in the world.



Round 2 is live until 4th of April 2018.
Price: 1ETH = 900ALTX + 10%
Road Map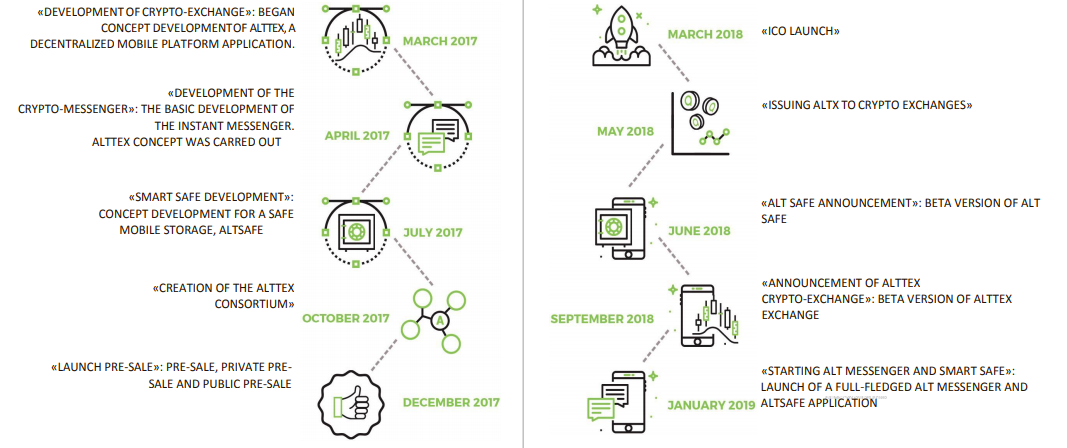 Meet the Team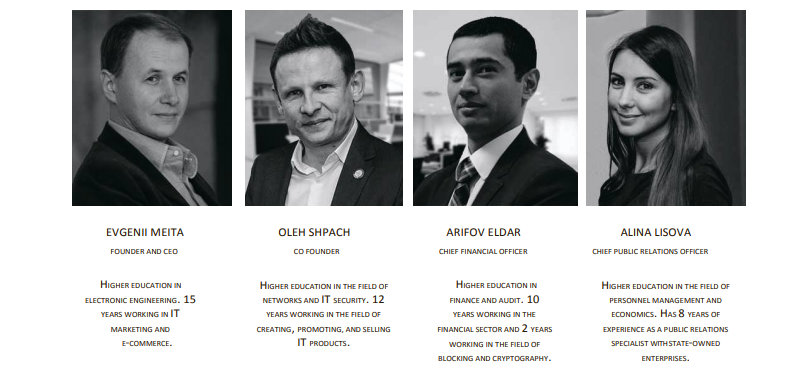 More Info
Website: https://alttex.io/
Whitepaper: https://alttex.io/WhitePaper_Eng.pdf
Facebook: https://www.facebook.com/groups/alttex/
Twitter: https://twitter.com/alttex_io
Telegram: https://t.me/AlttexEn
Bounty Telegram: https://t.me/joinchat/FOaGblCSSdN_YmWQ8FFOKQ
Author: Hurricanecol
My Profile link: https://bitcointalk.org/index.php?action=profile;u=1576406