ALTTEX is an all-in-one mobile cryptocurrency exchange application that allows cryptocurrency traders to network on the go, while having all of their cryptocurrencies accessible on one secure application.
Digital currencies are disrupting the status quo of today's financial world. As new cryptocurrencies rapidly emerge, and older ones advance even further , we can explore more efficient ways to transact globally.The pro life ration of technology has made it possible to exchange information, make purchases, and trade globally fr om the comfort of our homes, and at the touch of a butt on.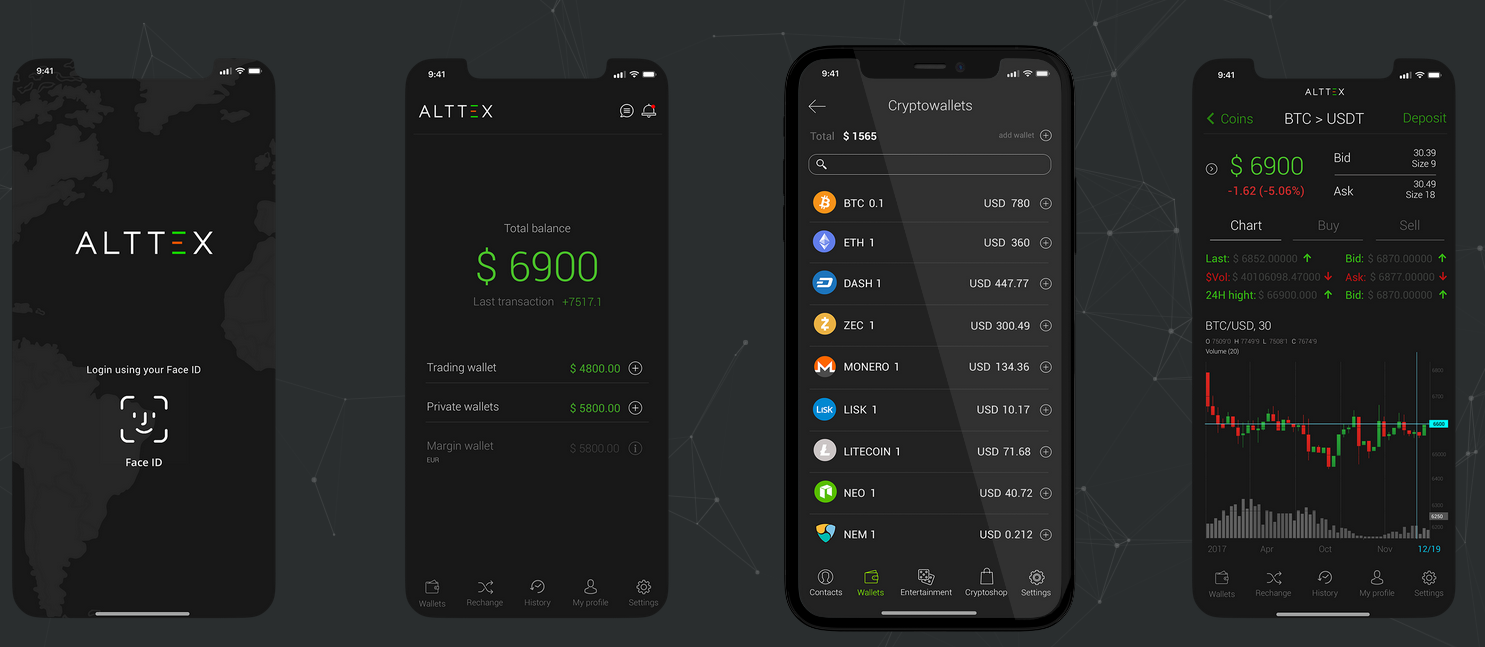 Alttex is at the forefront of the present digital currency exchange innovation, providing crypto traders with the tools they need to work more efficiently. Cryptocurrencies have come a long way since 2009 since the firs t digital coin, Bitcoin, was launched. Now, there are numerous coins, and these coins of for some unique feature that satisfies a user's need.
OUR MISSION IS TO PERFECT WHAT WAS CONSIDERED GOOD
Our mission with Alttex is to create a universal integrated platform to unify crypto traders all over the world, using one secure application for both communication and trading activities.
VISION
OUR GOAL IS TO CREATE A UNIQUE PLATFORM, WHICH COMBINES ADVANCED TECHNOLOGIES BASED ON BLOCKCHAIN, AND TOOLS FOR ATTRACTING AND PRESERVING CRYPTO ASSETS
We believe that the future of finance is digital currency. Our aim at Alttex is to empower crypto trader s with the tools they need to succeed. To achieve this, we are developing a mobile-based decentralized exchange that is secure, intuitive, functional, and, above all, user-friendly.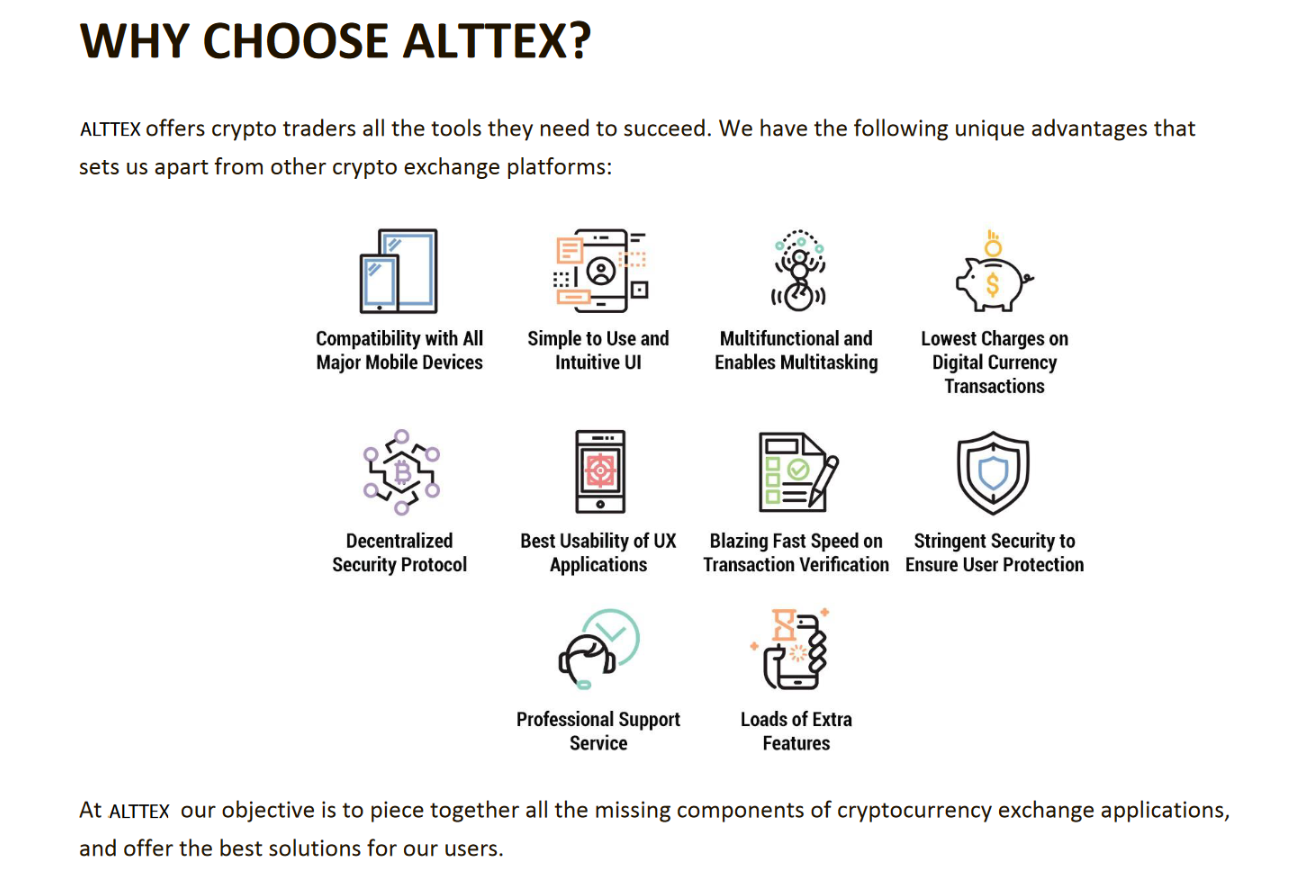 The basis for the Alttex platform is a decentralized network, where each user is part of Alttex's blockchain. The full responsibility for carrying out the transaction is assigned to the Alttex net work block, while, much like Bitcoin, all transactions reports are encrypted. To boost transaction speed, AltX tokens use the DPoS consensus algorithm. This implies that participants transfer responsibility for verifying a particular transaction to selected delegates (nodes with the largest capital). This is the basis for achieving the maximum transaction speed.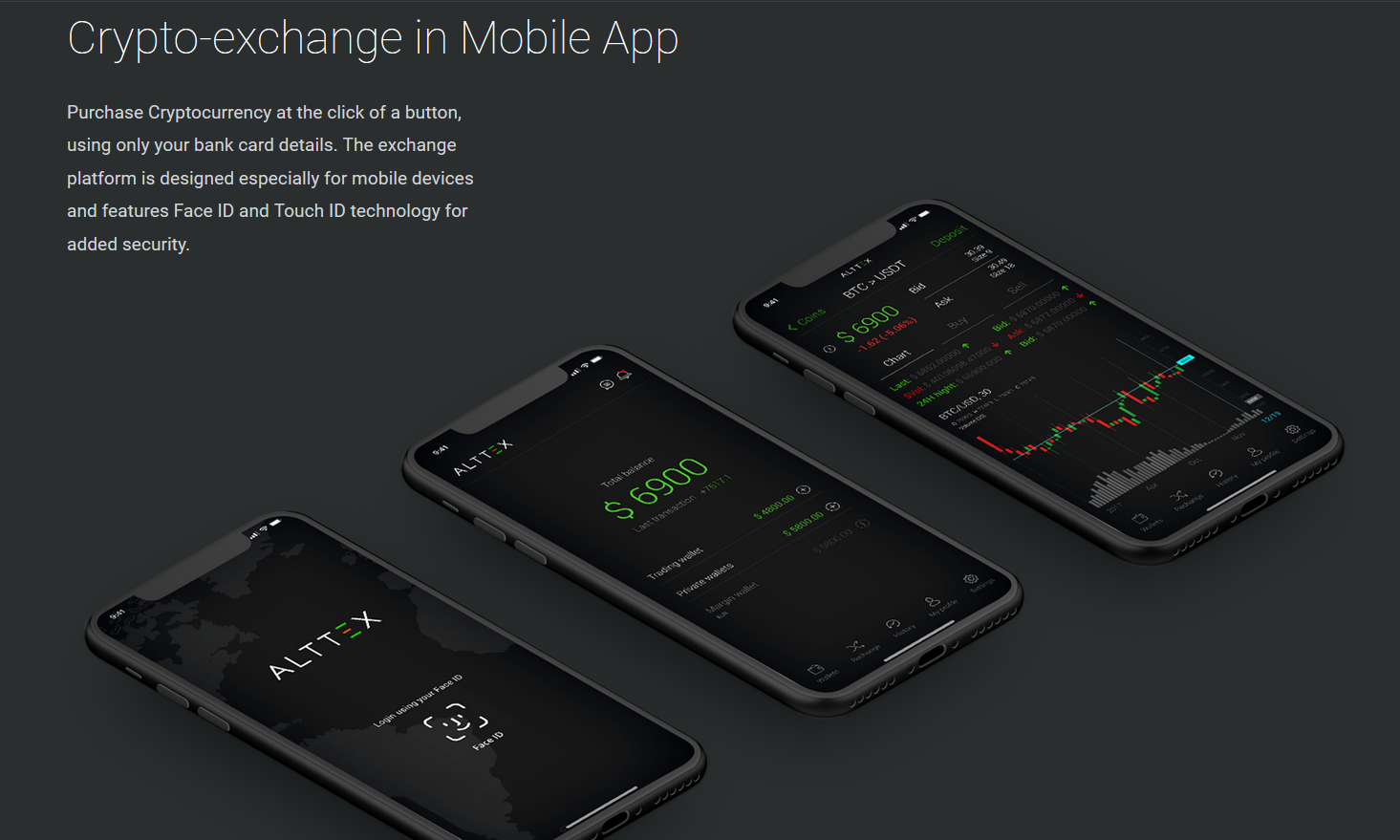 The voice that the candidate receives to become a miner is very flexible. It is easily assigned by fulfilling requirements, and can also be easily taken away in case of an error . Miners receive financial rewards for processing the transaction, so they are interested in making sure that reasonable transactions are included in the blocks. Alternatively, users can with draw their votes. This will cause the particular miner to drop out of the list of block producers. Thus, for elected delegates, if the transaction block comes fr om a trusted delegate, th ere is no need to spend time verifying all net work nodes. This scheme gives several unshakable advantages: improved speed development and excellent control ability. Also, to date, the DPOS net work has never been success fully hacked.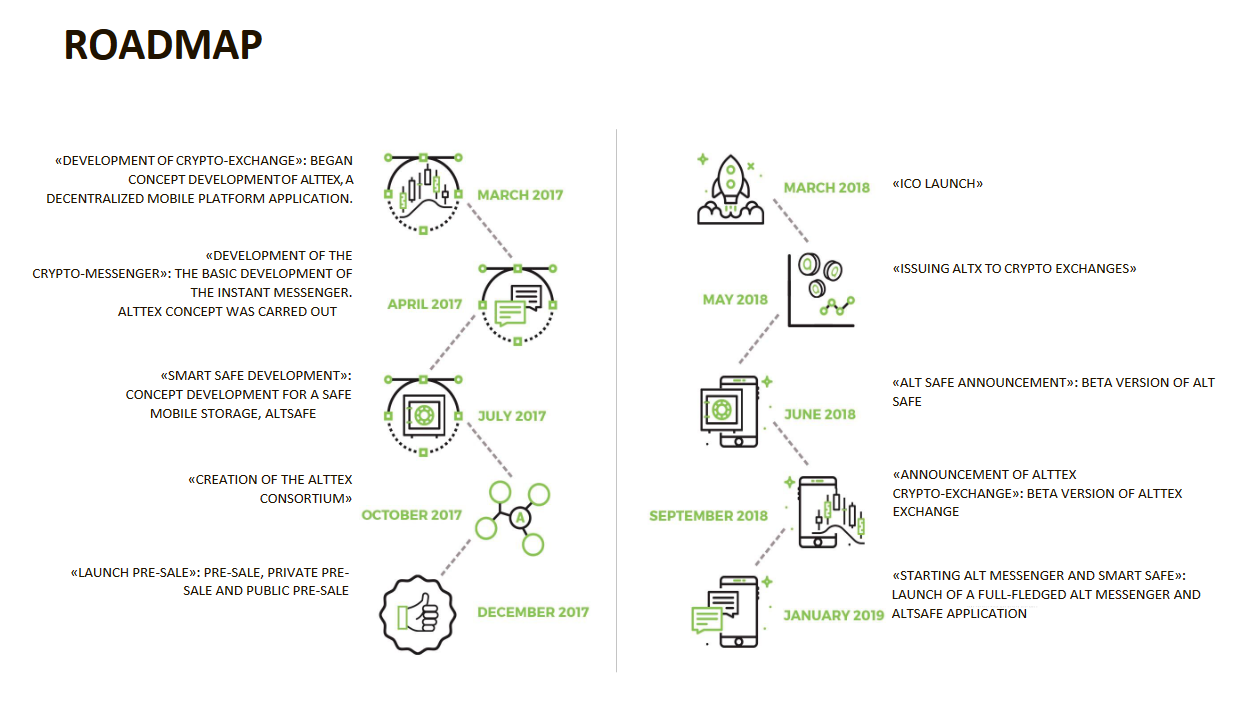 Alt Exchange
We identified a crypto trader's needs and built a solution around it.
Most crypto traders need to manage multiple exchanges to access various cryptocurrencies. These exchanges are selected based on certain criteria:
– Simplicity of the user interface;
– Selection of currency pairs;
– How quickly tokens can be added; and
– Security of the exchange platform
To meet the needs of all traders , Alttex was developed to create a decentralized, multi-currency trading platform with top notch security protocols. It is decentralized, which means that the system is secure, and prevents the exchange from hackers and DDoS-attacks . AltExchange security system is quite reliable. For an extra level of protection, we have enabled Touch ID, Face ID, and Pin-code functionality with two-factor authentication via email. Users can securely buy cryptocurrencies using a credit or debit card, and with draw funds to it with minimum commission. All that is needed for identity verification is two selfies showing both sides of the card using our special AltScanner.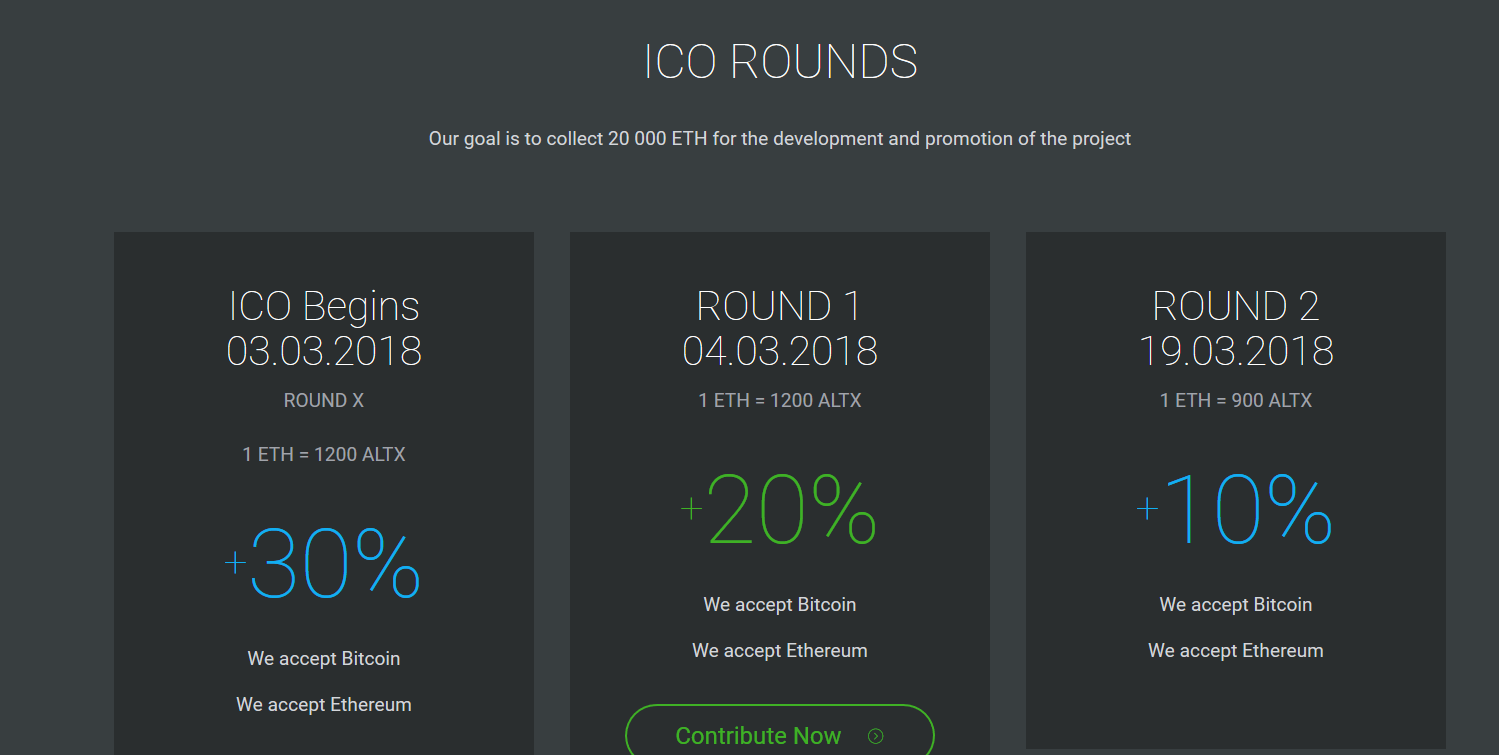 Meet the amazing team behind this revolutionary project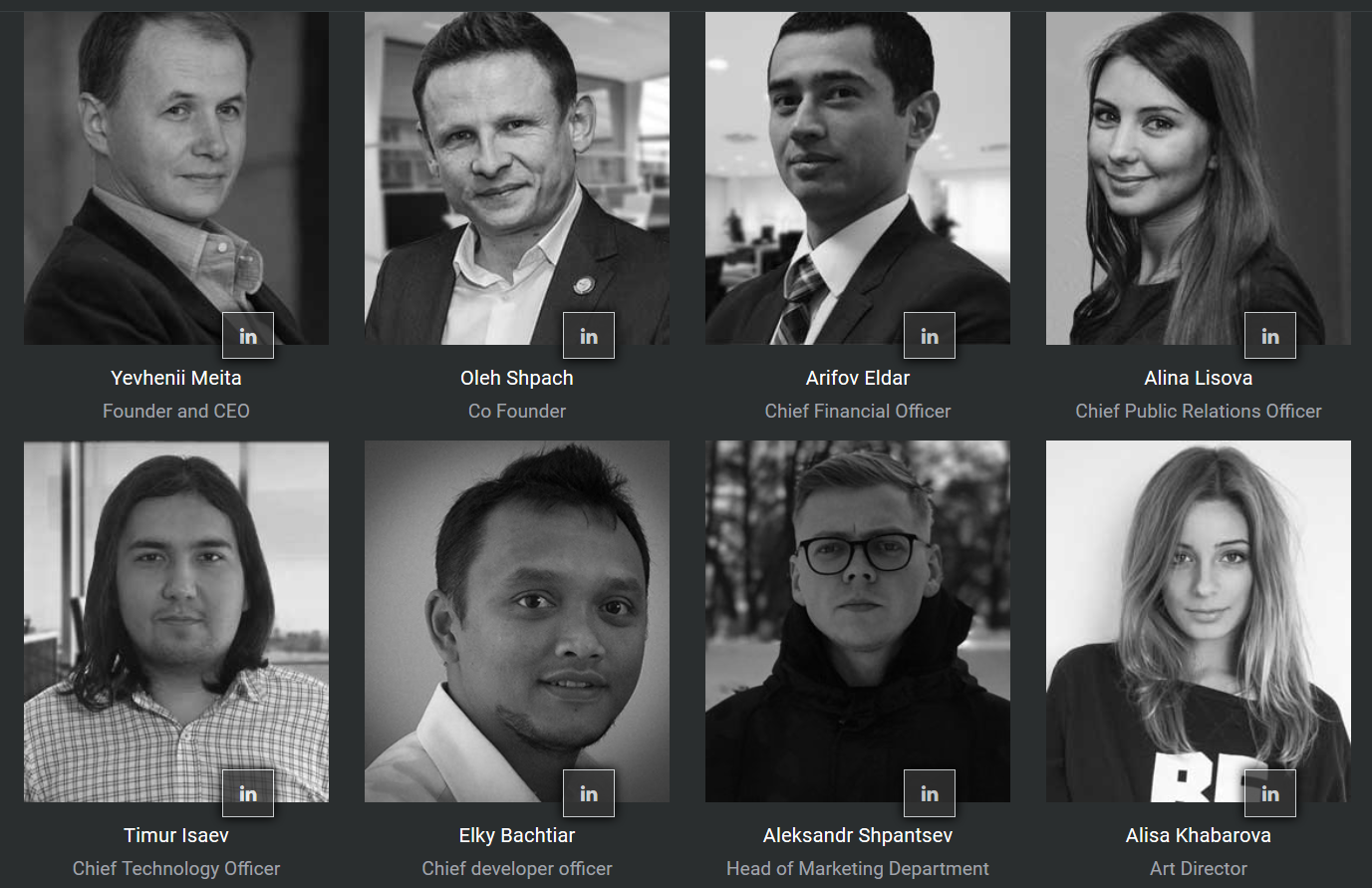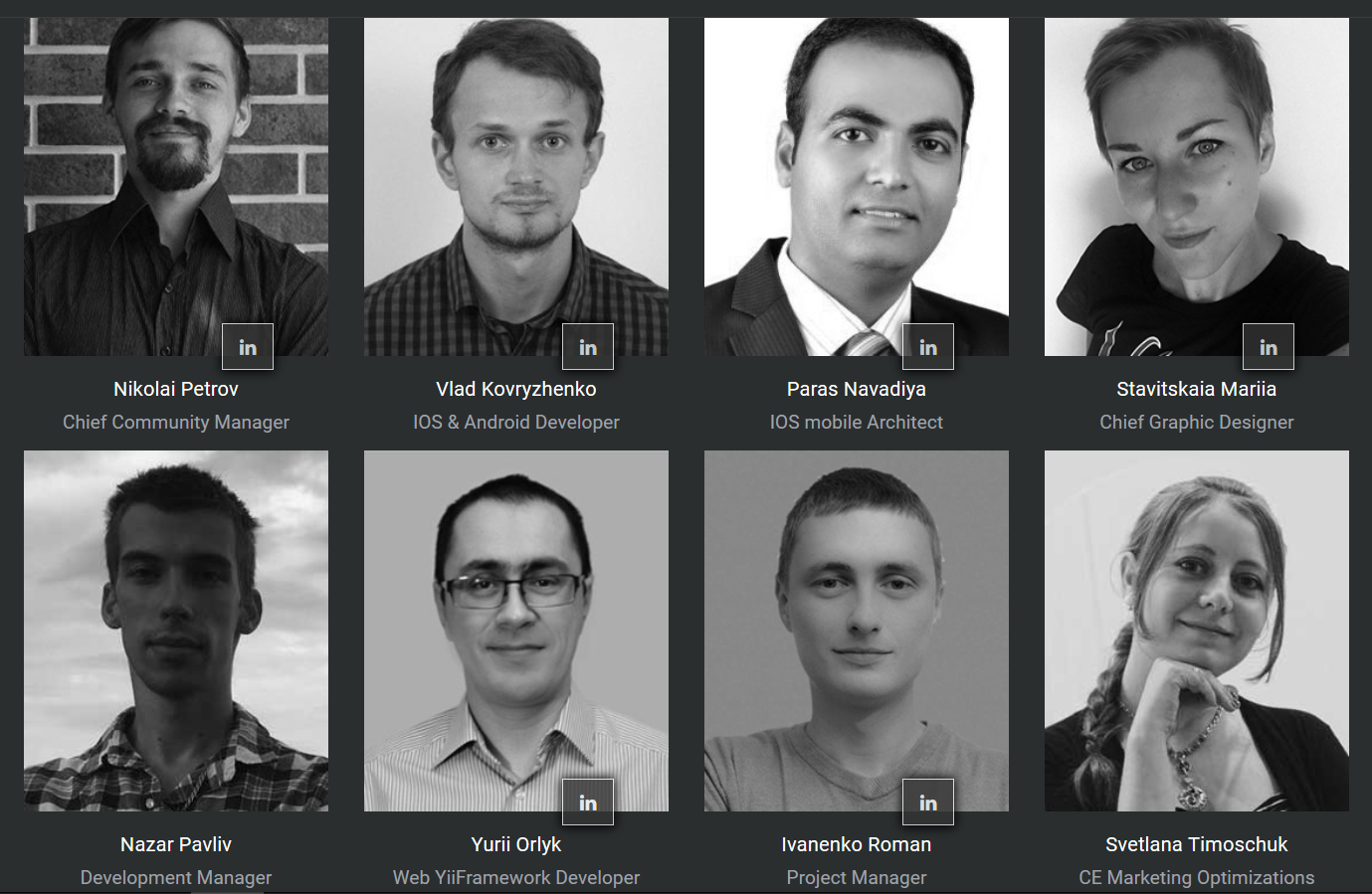 For more information please visit:
Website : https://alttex.io/
Whitepaper : https://alttex.io/WhitePaper_Eng.pdf
Telegram : https://t.me/alttexEn
Facebook : https://www.facebook.com/groups/alttex/
Twitter : https://twitter.com/alttex_io
Author: Tosin David
BTT Profile: https://bitcointalk.org/index.php?action=profile;u=1180815