AN END TO THE PROBLEMS RELATING TO BUYING OF CRYPTOS
The increasing values of almost all the cryptocurrencies have attracted a lot of investors to adopt these as a mode of payment. One of the greatest reasons for this increase in adoption was the reliability, security, and fast transaction speeds of these currencies.
Among the problems new investors do face is how to enter the crypto market with fiat currencies.Although, There's availability of lots of cryptocurrency exchanges operating in various countries all across the world but most of these exchanges doesn't provide a way to buy cryptos with Fiats.
IN THIS WRITE UP, I'LL BE INTRODUCING YOU TO AN EASY AND SECURE WAY TO BUY CRYPTOS WITH YOUR BANK CARDS.
The atomic wallet is partnered with and incorporate the largest EU licensed card processing company, Simplex into it's secure multi-functional wallet to provide an easy gateway for users to easily buy different types of Crypto with bank cards.
Before i proceed with explaining how to buy crypto with the atomic wallet, I'll like to let you know that with atomic wallet, you can carry out not only the purchase of crypto assets but you can also perform a range of functionality such as a wallet store more than 300 different coins and tokens, the opportunity to swap assets using it's secure atomic swap technology, the opportunity to use instant exchanges such as changelly and shapeshift. Simply, atomic wallet emerges to reduce the effort and time spent on managing crypto assets. The atomic makes a this functionalities possible in one platform which is available on virtually all operating systems.
HOW TO BUY CRYPTOS WITH ATOMIC WALLET.
The first step is setting up your wallet if you are not using atomic wallet yet, download the compatible wallet for your operating system from the official download link: https://atomicwallet.io/downloads
Set up the wallet and save you seed key securely.
After successfully setting up your wallet, Click on the "Buy crypto" tab in the left menu and choose BTC, ETH, BCH, XRP or LTC: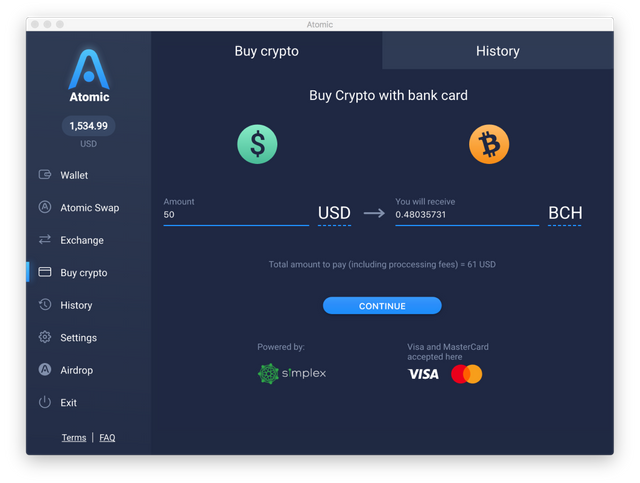 Currently with Atomic Wallet you can buy different type of cryptocurrency such as Bitcoin, Bitcoin cash, Litecoin, Ethereum and Ripple. In the image above, you will see a space to input ur dollars value in the left hand side and on the right side, you have your Bitcoin value in Dollars. Bitcoin is shown as the default crypto to be bought on this screen. However, you can change the currency to be purchase into other ones. Then click on the continue button.
Fill out the Billing Info to pass the one time verification process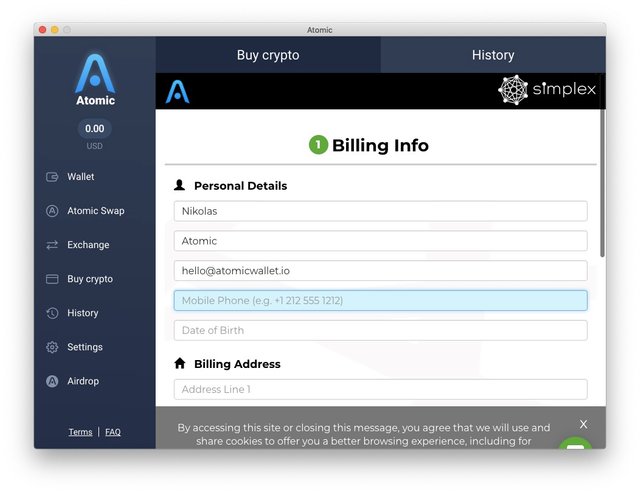 The next step is to input your payment details.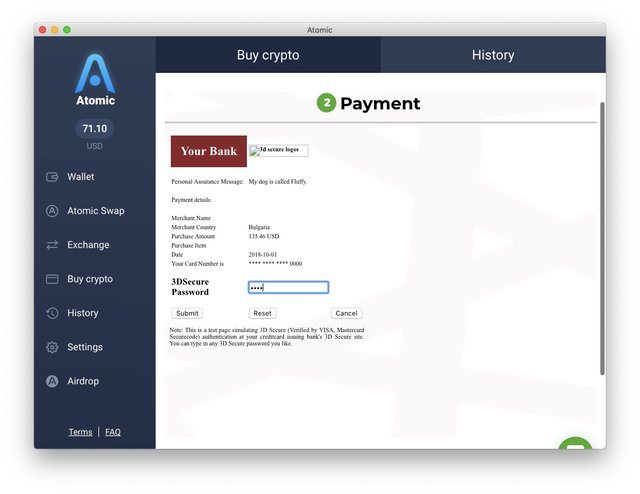 Verify your phone and email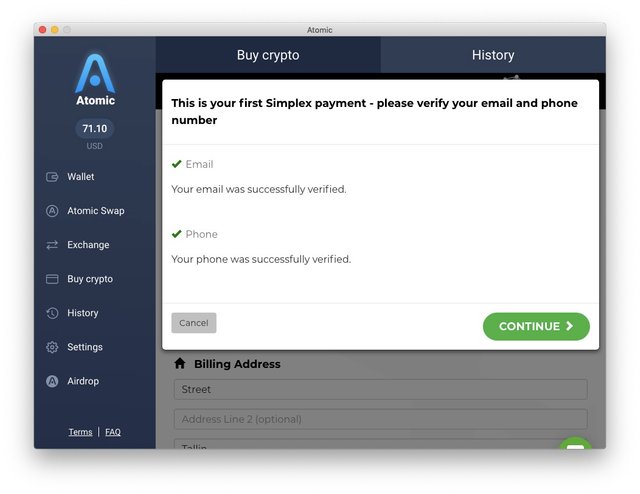 Attach the scan of your ID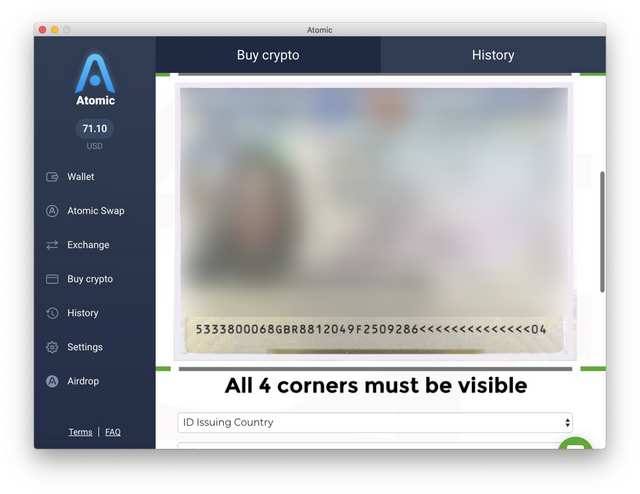 After successful inputation of your details for the verification process and the purchase amount. Your purchases will be credited to your wallet address.
You can keep track all your transactions by clicking on the History tab on the upper part of the Buy crypto menu.
NOTE : The fees are fixed at 7%. Each operation is fully conducted by Simplex, an EU licensed card processing company. Incase of any delay which might be caused by your local bank, As a rule, you receive crypto in 24 hours. Otherwise, in case of some issue, you receive a decline and get a full refund.
FINAL NOTE:
BUYING CRYPTO IS AS EASY AS THAT WITH THE ATOMIC WALLET, I RECOMMEND THE APP FOR ANYONE WHETTER A BEGINNER OR A VETERAN WHO MIGHT NEED TO BUY CRYPTO WITH FIAT. I'VE BEEN USING THE WALLET FOR SOME TIMES NOW WITHOUT ANY FORM OF INCONVENIENCES.
CONNECT WITH ATOMIC WALLET
Website : https://atomicwallet.io
Telegram : https://t.me/atomicwalletchat
Twitter : https://twitter.com/atomicwallet
CONTENT BY :
CRYPTICIDRIS