ANYONE – ONE FOR ALL BUSINESS MODEL

Hello everyone today i will review one project crypto about Exchange
but not only that, if usually the project is only based on one model, this one project is different this project is called ANYONE the superiority of this project from other projects is to have various businesses in it if the others only focus on 1 model then ANYONE has 4 models business at once.
starting from exchanges, games, dividends and referrals so you can choose which one is right for you or you can simultaneously join all of them.
this is what makes this project interesting to discuss.
The first is that ANYONE exchanges have their own exchange platform, and will continue to grow as the platform develops.
Second, ANYONE has its own gaming platform, you can play various games such as poker, roulette, blackjack, baccarat, and others.
Third, you will get dividends when holding anyone's tokens, this is very beneficial for those of you who like to hold coins for a certain amount of time.
Fourth, referrals are intended for people who want to earn more income when you have followed the 3 types above you can follow this for additional bonuses, and also will be even greater if you get a lot of referrals.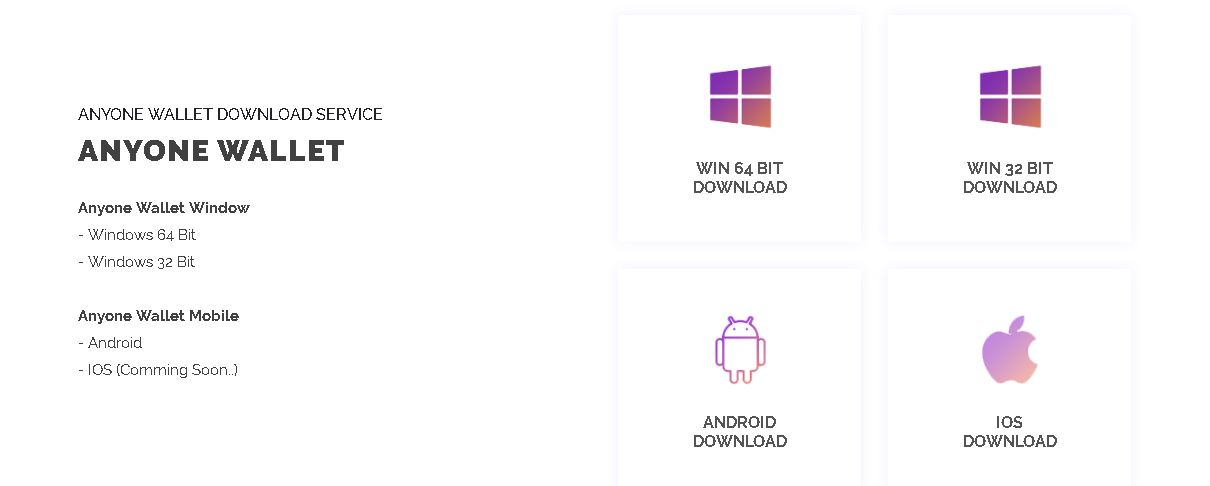 The following details about the supply of ANYONE coins:
ANY COIN INFORMATION
ABOUT ANYONE
The total issuance is 6billion and is the completed issue coin.
It only operates its own pows at Anyone fundation for Network Maintenance, and the coins produced by mining are used only for the purpose of coin allowance, which is extinguished by commission.
3.1 billion ANY AnyOne Foundation Holds
– It is not distributed to the market as a holding for the dividend of shares.
– Because equity dividends generate 100% of the revenue generated (all proceeds from Aniwon Exchange and AnyOne Games), Anyone will receive the same dividends and use them for operating expenses.
1 billion ANY Private Sale.
– 30th Sep,2019 Holding
1.6 billion ANY Presale Sale.
– Solt out
0.3 billion ANY Company reserves.
– Airdrop and Event reward
The maximum market distribution is 2.9billion ANY and the maximum share dividend
rate is 48.33%.

Roadmap ANYONE development :
2019 FEB
 -Anyone limited Honk Kong
 -Anyone Exchange Launching
-Anyone Mainnet
-Anyone Private Sale
-Anyone Pre Sale
2019 MAR
-Anyone Curacao Gameing License
-Anyone Dividends Site Launching
-Anyone Games
-Site Launching
-Mini Game Launching
2019 Q2
-Anyone Referral Site Launching
-Anyone Games
-Taisai Launching
-Baccarat Launching
2019 Q3
-Anyone Malaysia Office
-Anyone Games
-Texas hold'em Launching
-Blackjack Launching
-Slot Machine 5 Games Launching
2019 Q4
-Anyone Games
-Roulette Launching
-Slot Machine 5 Games Launching
-Texas hold'em Tournament Launching
2020 Q1
Anyone Games
-Taisai Mobile APP Ver Launching
-Baccarat Mobile APP Ver Launching
-Texas hold'em Mobile APP Ver Launching
-Blackjack Mobile APP Ver Launching
-Roulette Mobile APP Ver Launching
-Slot Machine Mobile APP Ver Launching

For more information about ANYONE please visit link below :
Web : https://www.any-one.org/
: https://www.any-one.games/
ANN thread : https://bitcointalk.org/index.php?topic=5111683.0
Discord : https://discord.gg/YhaDDGh
Github : https://github.com/anyonecore/AnyoneBinary/releases
Twitter : https://twitter.com/AnyoneLTD
Telegram : https://t.me/AnyoneLTD
Author : slashz9
bitcointalk url : https://bitcointalk.org/index.php?action=profile;u=1079195
ANYONE id : rylai
BTC address : 39szutc1MspHe6psznLrV9tYPaGrCynrwE