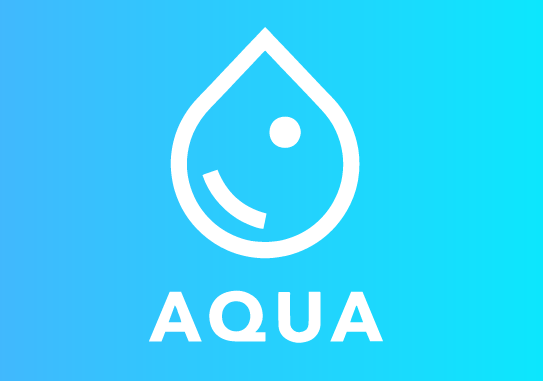 INTRODUCTION
AQUA Intelligence is a data-driven platform on the block-chain that enables consumers to monetize and validate their personal data. Based on trusted data and other sources, AQUA Intelligence creates the most comprehensive and decentralized profile for each consumer. By leveraging Artificial Intelligence (AI) along with additional tools, the comprehensive profiles allow hotels and other businesses to improve their sales, boost operational efficiency, increase profits and enhance the consumer's overall experience. Consumers can earn AQX, a utility token, by becoming a member of AQUA Mobile, providing data inputs, validating existing information on them and participating in surveys and other activities. The AQX Tokens can be converted into loyalty points and pay for products and services of participating hotels and businesses. Consumers can also use AQUA Mobile to centrally manage all their travel or dining reservations and loyalty points, have travel related questions answered and interact with other members of the community. AQUA Mobile will become a popular App for travelers and consumers.
Once implemented, AQUA INTELLIGENCE will be the first comprehensive consumer profile system for the hospitality industry. By leveraging the latest blockchain technologies, we facilitate the consumer to monetize their data through a complete token ecosystem model.
What is AQUA INTELLIGENCE?
AQUA Intelligence is the core of the platform where data is gathered, processed and analyzed. The platform currently leverages the stability and proven track record of the Ethereum blockchain, but we've taken the technology several steps farther by combining blockchain technology with AI. The AQUA team has developed several elements which comprise the entirety of the AQUA Intelligence system, each of which is discussed below: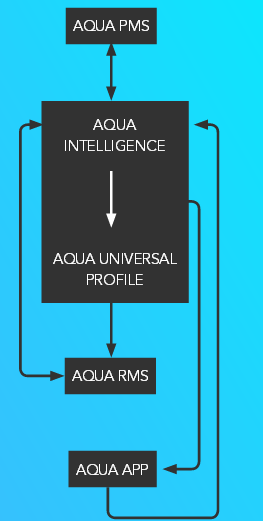 Comprehensive Consumer Profile:
AQUA's comprehensive consumer profile is a key component of our data aggregation and predictive analytics system. It uses the data gathered from multiple sources to give an in-depth of consumer attributes and preferences. Leveraging these profiles, AQUA Intelligence can help hospitality businesses deliver products and services that serve the consumers better.
Input:
• Consumer inputs through AQUA Mobile (AQM): Interests, preferences, etc.
• Lodging history at hotel partners
• Shopping history at retail partners
• Social media profile and posts
• Company/Employment profile
• Organization affiliations
• Blogging and other online presence
• Booking engines
• Data from AQUA solutions (PMS, RMS, etc.)
• Data from other consumer applications through AQUA SDK

Trusted Data
Trusted data is used to build AQUA's comprehensive profiles and can be further validated by the respective consumers in return for AQX Tokens. Validation ensures that AQUA Intelligence will have the most accurate, complete, and trusted data. Through the use of our private Ethereum-based blockchain, the sources of the data can be validated to avoid repetition and ensure chronology of input. Strict privacy and data security policies will also be in place along with end-to-end encryption for all data gathered.

Loyalty Point Program Interface
AQUA Intelligence can also interface with the loyalty programs of all major travel, hospitality, and retail businesses. By doing so, consumers can manage their loyalty points all in one location. AQX Tokens can be converted into the loyalty points of participating partners.

Internet of Things (IOT)
As an additional convenience and luxury feature for hotel guests, AQUA can be linked with the use of IoT devices within hotels. AQUA's unique position in the industry as a provider of SaaS products enables it to perform a deeper level of integration into any hotel operation and include additional convenience features such as wireless door locks, lighting, and A/V entertainment.

Reservation Service Interface
AQUA Intelligence can interface with all major transportation, hotel, and dining reservation services such that consumers can make all the arrangements through AQM. With the stored account information, AQM can automatically populate consumer details on the reservation and expedite the process.AI for AQUA SaaS solutionsAQUA PMS andRMS will also leverage the data platform and AI capabilities of AQUA Intelligence. Machine learning engines will perform data analysis, predictive functions, issue resolutions and support reporting needs for AQUA SaaS products

AI Powered Real Time Response to Questions
Consumers can post travel and shopping related questions through AQM. AI will analyze data on AQUA Intelligence, perform local and online searches, and provide personalized responses to consumers. Everything from unbiased and customized travel recommendations to local language conversion can be accomplished with AQUA Intelligence and AQM.
AQUA Mobile (AQM)
An integral component of AQUA's platform, AQUA Mobile, is the consumer-facing application for web and mobile, designed to leverage AQUA's token ecosystem. AQM is a travel/lifestyle app that provides an interface between AQUA Intelligence and consumers. Our app can also allow the management of loyalty and rewards points across various providers along with the utilization of AQUA Tokens (AQX). AQX Tokens can be converted into loyalty points, earn discounts, and be used for payments of services at participating hospitality partners and other retail enterprises. Digital wallet storage of AQX Tokens will be created automatically for each consumer that signs up for the mobile app. All data is securely encrypted on AQUA's private blockchain. Our app will also provide crucial token information such as real-time market value, current wallet balance, and historical earnings. Users who install the application will be rewarded with AQX Tokens for each completed step in the setup process. These steps will serve as valuable data points for AQUA's comprehensive profile system. Users can also earn additional AQX Tokens by validating existing data and participating in other activities such as:
• Signing in via social media (Facebook, Twitter, LinkedIn)
• Completing their profile
• Responding to surveys and reviews
• Event, property, and venue check-in's
• Referrals and invites
•Sharing experiences and connecting with other members
• Making travel and dining reservations
• Make travel and dining reservations
AQUA Mobile integrates directly with our other software products, allowing users to check-in and out of their hotels within the app, perform bookings, etc. Utilizing AQUA Intelligence and AI, users can also receive real time answers for all travel related questions, making AQM a personal assistant. The goal is to create the most popular travel and lifestyle app for consumers to use regularly for earning tokens, managing reservation and loyalty points, receiving meaningful offers, and making connections.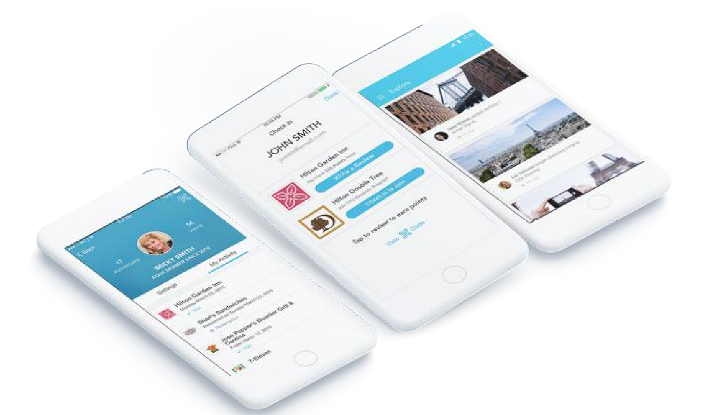 AQUA REVENUE MANAGEMENT SYSTEM (RMS)
AQUA RMS utilizes data and analysis from AQUA Intelligence to enhance the sales and marketing efforts of hotels and other hospitality businesses. Hotels currently use revenue management practices, based on projected demand and supply, for optimizing their room pricing and maximizing occupancy and revenue. Summarily, traditional revenue management pricing practices primarily rely on:
• Factors such as weather, events, trends, and competition which impact demands.
• Customer segmentation such as business vs. leisure, length of stay, group vs. individual, sales channel, etc.
• Tiered structures with specific base pricing and modifiers for different channels and segments.Using AI, AQUA RMS and AQUA Intelligence can process more data, analyze more trends and develop better predictions for various supply and demand scenarios. Given that AQUA RMS is an all-in-one platform, we offer several different use cases including:
Personalized Combination Offers
Distribution Channel Management
Competitive Group Sales
Guest Survey and Rating Management
Digital Marketing Services
The AQUA Blockchain
At the core of AQUA's technological infrastructure is AQUA Chain, a private decentralized ledger warehousing all transactions aggregated by AQUA's technology framework, software products, and contributing partners. AQUAChain's transactional data is designed to be exclusively populated by AQUA, via a Smart Contract that requests data from AQUA's software products, then is responsible for publishing the data to the AQUA Chain. The Smart Contract is open-sourced to enable transparency into the code base responsible for requesting and publishing of data to the network. AQUA will initially perform a data aggregation exercise to collect and store available data that is recorded from our current software products and other data sources which will then be pipelined into a standard database. Once the data has been organized and reviewed for quality (i.e., assure that there are no duplicate entries or erroneous information), AQUA will execute the software code in the Smart Contract and allow for an initial set of data to be populated into the blockchain. This data is provided by AQUA's proprietary data aggregation technology and is further pruned to eliminate the source of the data such that only the transactional portion of the data is preserved and written to the blockchain. This action helps to anonymize the origin of the data, while still providing relevant and meaningful information about a particular individual.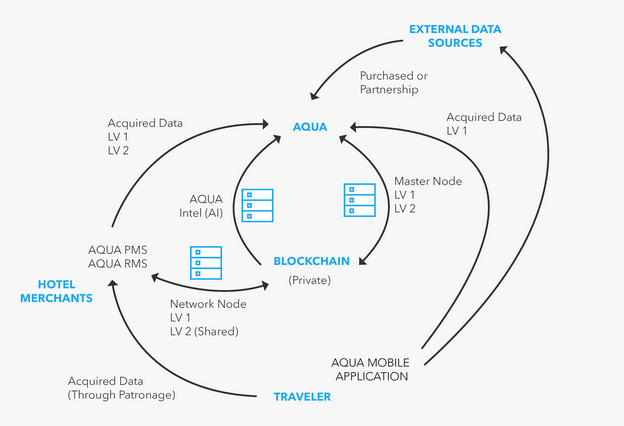 Platform Development Roadmap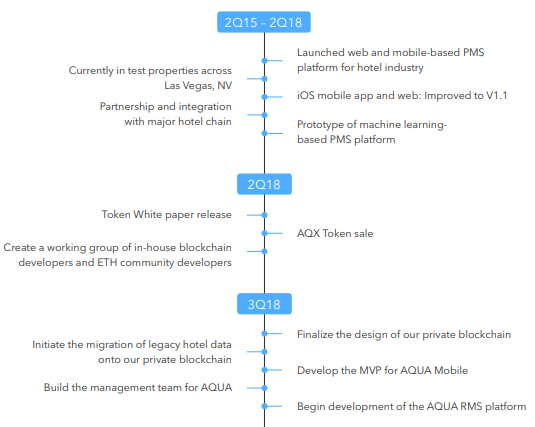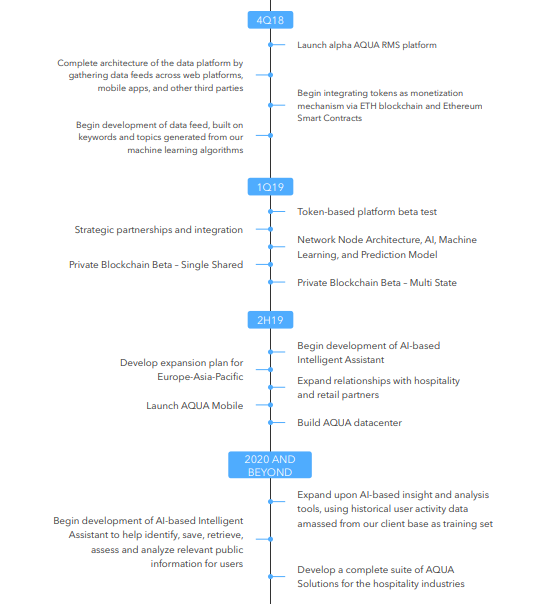 ACCEPTED FORM OF PAYMENT:
ETH tokens only
AQUA/USD EXCHANGE RATE:
1 AQUA: USD $0.25
TARGET RAISE AMOUNT (USD):
US $50,000,000
TARGET RAISE AMOUNT (ETH):
US $50,000,000 / (USD/ETH rate) [1]
TOTAL AQX TOKEN CIRCULATION AT END OF TOKEN SALE:
Depends on the USD/ETH rate 1 hour before the token sale, and the amount raised in ETH at each bonus stage (see below).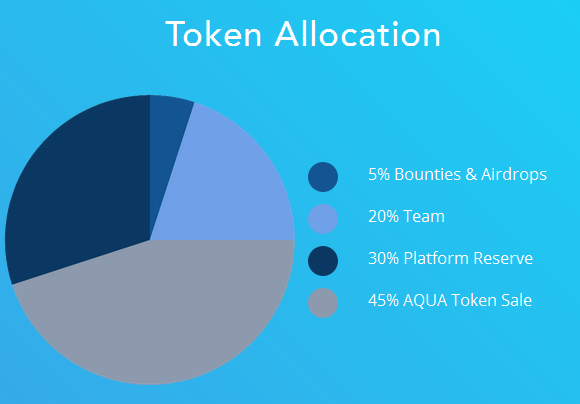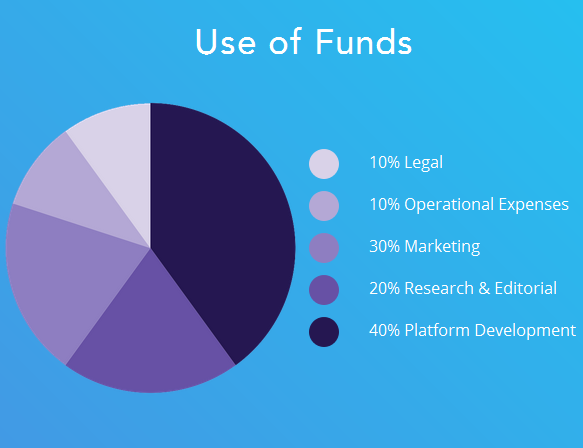 BONUS STRUCTURE:
15% Bonus until May 11th
12% Bonus until May 25th
9% Bonus until June 15th
6% Bonus until June 30th
3% Bonus until July 30th
0% Bonus until September 30th
Meet the Core Team behind this Project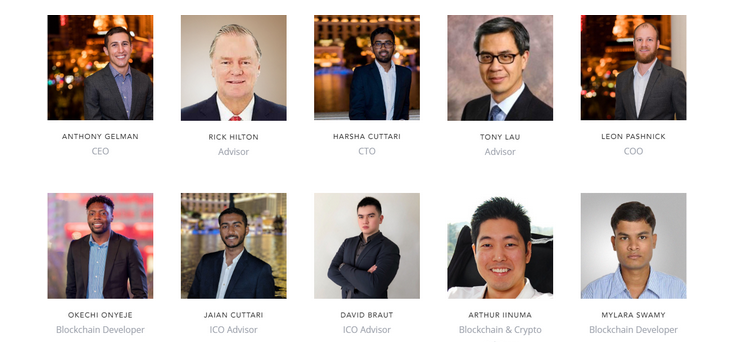 For more information, please visit:
Website :https://aquaintel.io/
Whitepaper :https://aquaintel.io/wp-content/uploads/2018/04/AQUA-TOKEN-SALE-One-Pager.pdf
Facebook :https://www.facebook.com/aqua.intelligence/
Twitter :https://twitter.com/aqua_intel
Telegram :https://t.me/aquaintel
Instagram :https://www.instagram.com/aquaintelligence/
Medium :https://medium.com/aqua-intelligence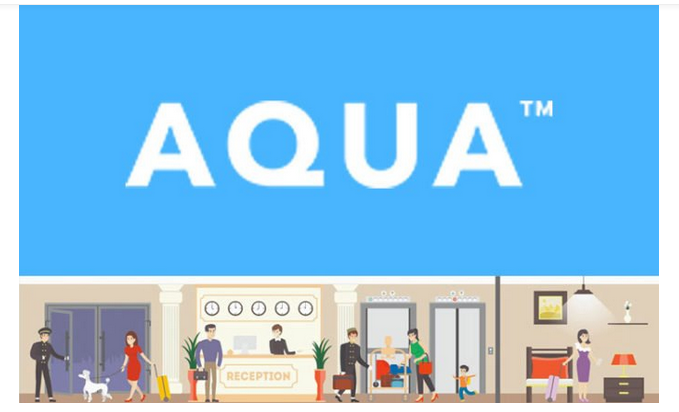 Author: Seunola
My BitcoinTalk Profile: https://bitcointalk.org/index.php?action=profile;u=1925064