ARAW: DECENTRALIZED PAYMENT FOR E-COMMERCE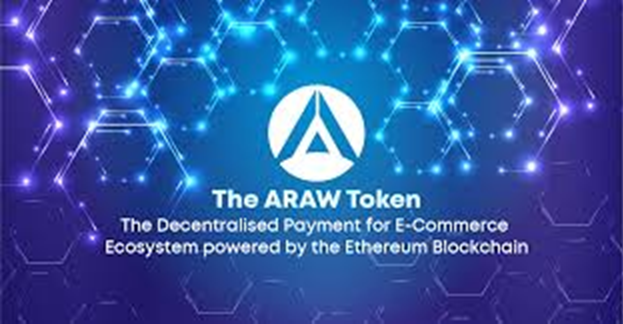 E-commerce refers to the process of buying or selling products or services over the Internet. Online shopping is becoming increasingly popular because of speed and ease of use for customers. E-commerce activities such as selling online can be directed at consumers or other businesses. Business to Consumer (B2C) involves the online sales of goods, services and provision of information directly to consumers. Business to Business (B2B) refers to the online selling of products, services, or information between businesses.
Selling online can help your business reach new markets and increase your sales and revenues. If you are interested in selling to other businesses, you can use the Internet to find sales leads, announce calls for tender and offer products for sale either through your own website or through an e-marketplace site.
Searching for products and services online can save you time and money by allowing you to find the best prices without having to do all the legwork. You can use the Internet to find new suppliers, post buying requests or search for products and services. Online trading networks can also be used to support efficient information exchange between buyers and sellers.
By Introducing the ARAW Token, the heart of the decentralised payment ecosystem powered by the Ethereum Blockchain, we are aiming to increase blockchain adoption for regular people across the world. We are the first company in the UK whose mission is to combine the benefits of the E-Commerce and Payment industries; provide end-toend solutions for E-Commerce Marketplace, Touch & Pay Cryptocurrency Card, Online Cryptocurrency Payment, and Unified Reward System on the Ethereum Blockchain powered by the ARAW token. The goal of the ARAW token is to be a part of everyone's day-to-day online & in-store shopping.
The Araw Platform offers a practical solution to the problems outlined above as well as the potential to become the practical heart of e-commerce and cryptocurrency combined. It strives to reward shopping with cryptocurrency by exposing the common person to the ARAW token. The key focus of ARAW is giving effortless access to cryptocurrency ownership which comes with potential rise in value – without dealing with any of the underlying complexities which make cryptocurrency unattractive.
Araw Touch & Pay Card is our single card solution for all reward programmes a shopper may be interested in – the first of its kind in the UK. It allows customers to earn ARAW tokens with their daily purchases as well as pay using accumulated ARAW tokens. This ensures that an average customer can easily adopt the use of the card due to its similarity with existing technologies – but now empowered with ARAW tokens which hold intrinsic value and never expire. This offering allows the ARAW token to have a practical daily use which cryptocurrency has been struggling to fulfill as token value was previously disconnected from its contextual use until now.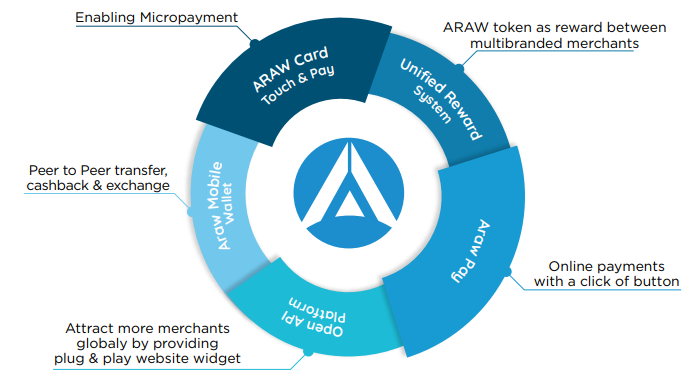 PARTNERS


TOKEN SALE DETAILS
Token Sale duration: 1st July – 30th August
Ticker – ARAW
Token type – ERC20
ICO token price – 1 ARAW = $0.01
Total tokens – 5,000,000,000
Available for token sale – 3,500,000,000 (70%)
Whitelist – YES (15 May – 30 June)
Know Your Customer (KYC) – YES
Pre-Sale start date – 1st of July
Public Sale start date – TBD
Soft Cap – 2,000,000 USD
Hard Cap – 25,000,000 USD
Accepts – ETH
Contact us for Pre-Sale: Tokensale@arawtoken.io
TOKEN DISTRIBUTION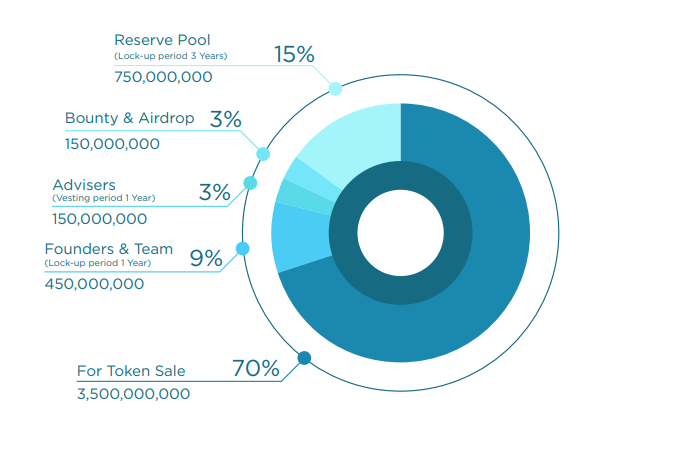 15% – Reserve Pool
3% – Bounty & Airdrop
3% – Advisers
9% – Founders & Team
70% – Token Sale
USE OF FUNDS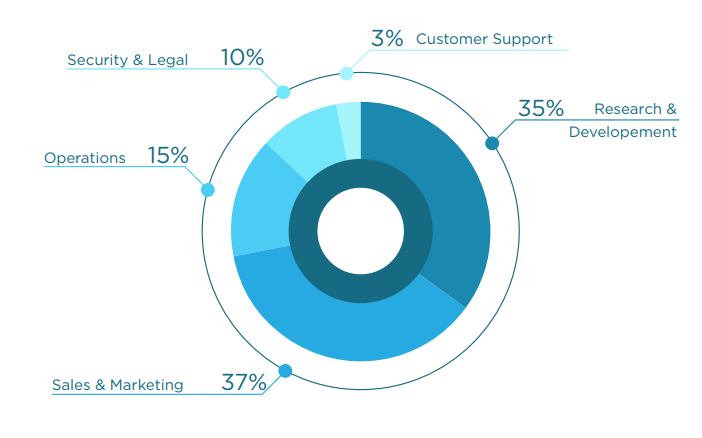 10% – Security & legal
15% – Operations
37% – Sales & Marketing
35% – Research & Development
3% – Customer Support
ROADMAP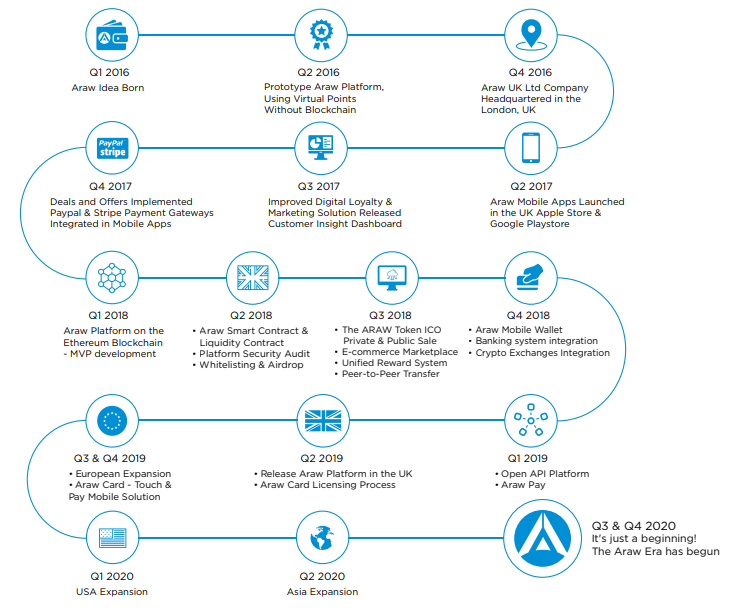 Q1 2016: Araw idea Born
Q2 2016: Prototype Araw Platform, using virtual points without Blockchain
Q4 2016: Araw UK Ltd Company Headquatered in the London, UK
Q2 2017: Araw Mobile Apps launched in the UK Apple Store & Google Playstore
Q3 2017: Improved Digital Loyalty & Marketing solution released customer insight dashboard
Q4 2017: Deals and offers implemented paypal & Stripe payment gateways integrated in mobile apps
Q1 2018: Araw platform on the Ethereum Blockchain – MVP development
Q2 2018: Araw smart contract & liquidity contract, platform security audit, whitelisting & Airdrop
Q3 2018: The ARAW Token ICO private & Public sale, E-commerce marketplace, unified reward system, peer-to-peer transfer
Q4 2018: Araw Mobile Wallet, banking system integration, crypto exchanges integration
Q1 2019: Open API platform, Araw pay
Q2 2019: Release Araw platform in the UK, Araw card licensing Process
Q3 & Q4 2019: European expansion, Araw card – Touch & pay Mobile Solution
Q1 2020: USA Expansion
Q2 2020: Asia Expansion
Q3 & Q4 2020: It's just a beginning! The Araw Era has begun.
TEAM
Krutesh Shah: Co-Founder & CEO
Carlo Pascoli: Co-Founder & CTO
Dev Shah: CBDO
Manan Jobanputra: Lead Blockchain Developer
Roman Golovay: Blockchain Developer
Dimpy Ladva: Senior Mobile Developer
Jainesh Mehta: Platform Developer
Sagar Jobanputra: Web Designer/Developer
Stephen AO: Lead Designer
Ami Shah: Senior QA Analyst
Maskim Boyko: Infrastructure Engineer
Kunjan Parmar: Legal Advisor
ADVISORS
Jeremy Khoo: E-Commerce & Retail Expert
Jane Thomason: Advisory Board Member
John Wellman: Bleep Plc, Group CEO
Navlin Kapoor: Blockchain Advisor
Paresh Masani: Platform vision & strategy
Nicolo Stewen: Media Partner, CEO of Cryptoanalyst.co
Srinivas Anala: Founder of bloqwise
For more details on this project, please feel free to click on any of the following links:
Website: https://arawtoken.io/
Whitepaper: file:///C:/Users/hp/Desktop/araw_whitepaper.pdf
Telegram: https://t.me/ArawTokenOfficial
Medium: https://medium.com/@TheARAWToken
Twitter: https://twitter.com/arawtoken
Bitcointalk: https://bitcointalk.org/index.php?topic=3497194
Reddit: https://www.reddit.com/user/arawtoken
Linkedin: https://www.linkedin.com/company/arawtoken/
Facebook: https://www.facebook.com/arawtoken
Youtube: https://www.youtube.com/channel/UC3QKDkSt7UbhqWlAm2T5Abg
Published by: tszone
Bitcointalk URL: https://bitcointalk.org/index.php?action=profile;u=1742409
Ethereum wallet address: 0x684c9d1c004AB2023E1d3ae9aEb902B514B703d1