[ARAW] The Decentralised Payment for E-Commerce Ecosystem
ARAW TOKEN The Decentralised Payment for E-Commerce Ecosystem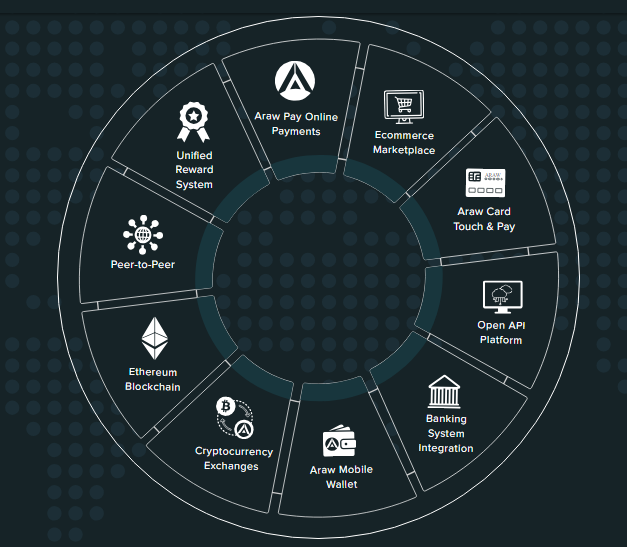 SO WHAT IS ARAW
The Araw Platform offers a practical solution to the problems outlined above as well as the potential to become the practical heart of e-commerce and cryptocurrency combined. It strives to reward shopping with cryptocurrency by exposing the common person to the ARAW token .The key focus of ARAW is giving effortless access to cryptocurrency ownership which comes with potential rise in value – without dealing with any of the underlying complexities which make cryptocurrency unattractive
The ARAW token can be adopted in any location – this global decentralised potential represents virtually limitless growth of the token. This adoption will be seamless as we seek to penetrate e-commerce platforms as well as regular retail shops, without introducing any habitual change from the user perspective.
One of the main goals of the Araw Platform is to provide unified reward system and marketing solution for e-commerce businesses, which aims to increase the footprint of customers, building meaningful relationships with them, and hence increase the growth of the business.
main features of ARAW
1. Araw Pay – Araw Pay will be an open widget to accept payments in ARAW tokens and can be used by any merchants anywhere online just like any other payment gateway providers. We aim to provide seamless Araw pay solutions in Araw mobile & web wallet, open API platform, and Araw e-commerce marketplace.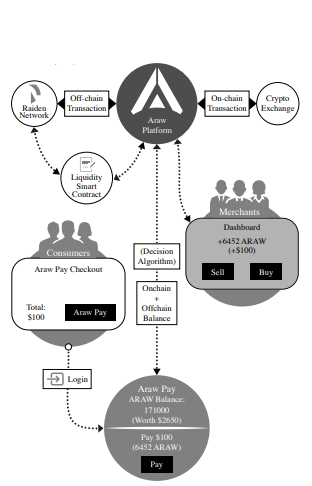 2. Araw Card (Touch & Pay)  Touch & Pay card aims to enable customers to make micropayments at coffee shops, supermarkets and day-to-day online shopping. It contains radio-frequency identification (RFID) to communicate with card reader to enable contactless payments. With the release of Araw Card, we are expecting to raise adoption of the Araw platform by regular customers.

3. Open API Platform – With ARAW Token Open API Platform, users do not need to know any form of programming code or language to make use of the system. It is structured to be utilised out of the box.
4. Araw Mobile Wallet – The seamless integration of Araw Mobile Wallet with Banking and cryptocurrency Exchanges will enable Araw Platform users to
 Top-up ARAW Tokens with a click of a button
 Exchange ARAW tokens with any other crypto currencies like ETH and BTC
 Exchange ARAW Token with fiat currency and get cashback
The ARAW mobile wallet continuously connected to Cryptocurrency Exchanges maintains the live exchange rate of the ARAW token and other cryptocurrencies.
 The value
in ARAW tokens is accessed by the Banking System Integration as it offers both the buy & sell ARAW tokens instantly between a customer's ARAW wallet and their bank account. The liquidity of ARAW tokens will undoubtedly attract customers to join ARAW rewarding vendors, which combined with other ARAW offerings will aggressively expand the opportunities for rewarding buyers, customer acquisition for vendors, and an unprecedented increase in crypto-market participation.
ARAW RATINGS

TRACKICO : https://www.trackico.io/ico/araw-token/
ICOBENCH : https://icobench.com/ico/araw
ICOMARKS : https://icomarks.com/ico/araw
If you intersted in this project here is some important details
Token type: ERC20
ICO token price : 1 ARAW = $0.01
Total tokens : 5,000,000,000
Available for token sale : 3,500,000,000 (70%)
Whitelist: YES (15 May – 30 June)
Know Your Customer (KYC): YES
Pre-sale start date: 1 JULY
Public sale start date: TBD
Soft cap : 5,000,000 USD
Hard cap : 25,000,000 USD
Accepts: ETH
Contact us for pre-sale: tokensale@arawtoken.io
Token Sale: 1 JULY – 30 AUG
Public Sale: August 1st, 2018
For more information, you can visit:
Website:https://arawtoken.io/
Whitepaper:https://arawtoken.io/assets/araw_whitepaper.pdf
Facebook:https://www.facebook.com/arawtoken
Twitter :https://twitter.com/arawtoken