Araw – The Decentralised Payment for the E-Commerce Ecosystem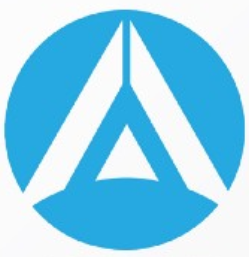 The ARAW platform aims to address the fundamental challenges currently affecting the e-commerce sector and cryptocurrency economies: –
The existing reward systems are very restrictive and bundled with services.
The rewards offered to customers are of small value (compared to overall shopping bill) and of limited nature
ARAW Ecosystem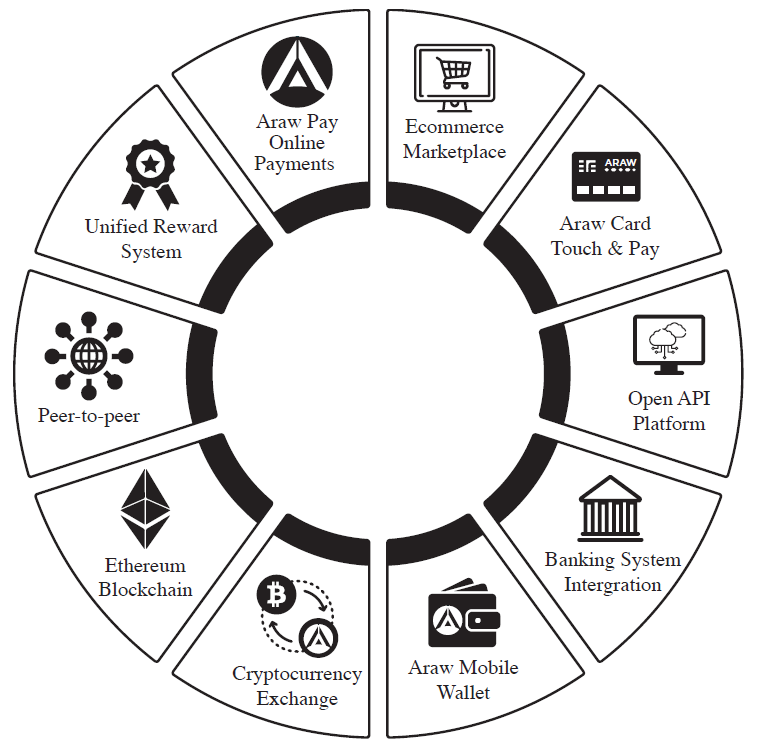 ARAW Ecosystem
One of the key mission of the Araw project is to offer Unified Rewards System and marketing solutions for global e-commerce sector and aim to increase the customer base while building long term relationship with the customers and thereby increase the overall business growth.
The proposed e-commerce ecosystem on the Araw platform will accept both crypto and fiat currency. Customers will have a choice to make payments using fiat currency, Araw tokens or any other globally accepted cryptocurrencies for using the goods and services listed on Araw platform.
The Araw project through Araw tokens pursues to ensure that customers can make personal choices about their rewards. Thus Araw tokens will act as a problem solver along with its role as a solutions provider. Through the Araw ecosystem, customers will be better involved with loyalty programs and can receive more and better rewards for their consumption. Further, Araw tokens can be used as a medium of exchange within the rewards system.
ARAW SOLUTIONS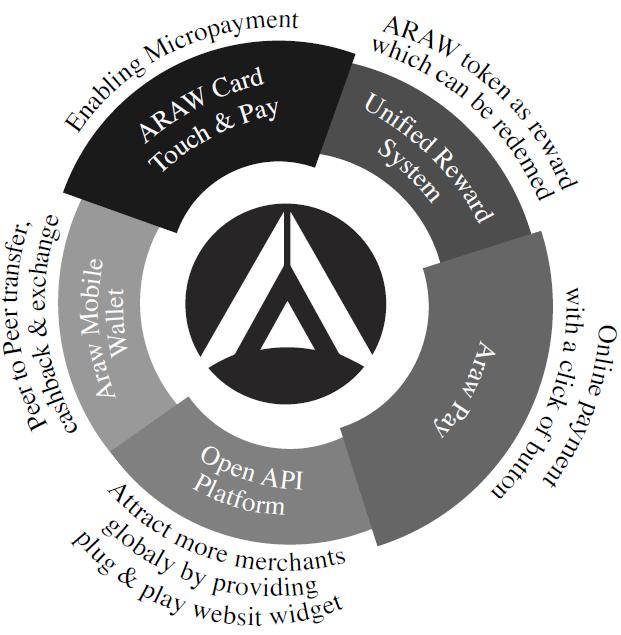 Araw Token Solutions
The Araw platform provides practical solutions to the challenges described above affecting the e-commerce sector.
The primary solutions offered by the Araw platform are: –
Unified Reward System – It aims to bring radical changes to the existing customer loyalty reward system by combining the shopping reward benefits of all retailers regardless of the product and focus on rewarding the customer with access to cryptocurrency market as well as a method of investment.
Araw Card – Touch and Pay – It's a single card solution covering all the reward programs a customer may be interested in (as such, its a 1st of its kind in the United Kingdom). It allows customers to earn cryptocurrency in form of Araw tokens with their daily shopping along with the option to make payments using these accumulated Araw tokens.

>

Araw Mobile Wallet – It will act as a user configured crypto bank where users can hold their Araw tokens. It will also act as an exchange where wallet users can exchange their Araw tokens for other cryptocurrencies (initially, it will be 'Bitcoin' and 'Ethereum').
Araw Pay – It will be an open widget for accepting payments in Araw tokens and can be used by any vendors globally (online) like any other payment gateway systems.
Open API Platform – With the open API platform, Araw platform' users don't need to know any programming language or codes to use the Araw ecosystem.
ARAW TOKENS
ARAW tokens are the utility tokens used on the ARAW ecosystem. The Araw ecosystem functions on the Ethereum Blockchain Network and the Araw tokens are ERC-20 compatible tokens. The Araw tokens are specifically designed tokens for the global e-commerce and payment industry. The Araw tokens will act as a legal tender for executing trades on the Araw platform and can also be used to purchase goods or to make settlements.

ARAW Token Fundraising Goals
CONCLUSION
Thus, the ARAW project is one of the revolutionary blockchain projects for the e-commerce sector, ensuring optimal satisfaction service levels for vendors and customers. With the features offered by ARAW tokens such as Unified Reward System, Touch and Pay, e-Commerce Marketplace, vendors can engage with their customers in a more convenient and economical way while providing services to them. This would also help in encouraging customers to use the ARAW token card as often as possible.
https://arawtoken.io/
https://arawtoken.io/assets/araw_whitepaper.pdf
@Telegram – https://t.me/ArawTokenOfficial
https://twitter.com/arawtoken
https://www.facebook.com/arawtoken
https://www.reddit.com/user/arawtoken
https://www.youtube.com/channel/UC3QKDkSt7UbhqWlAm2T5Abg
https://medium.com/@TheARAWToken
https://www.linkedin.com/company/arawtoken/
kcirnhoj15
0xd56453aa6cdcEd996cB2A116a50C388ef019f3da