Arbidex
Things are changing and we must open our eyes so things wouldn't pass us through. The new ideas are coming every day. People want to invest in the new projects. We all know about a crypto currencies. People have heard about it, and more and more people want to find about it, and find the way to be a part of it. They realize that big money is in crypto currencies, and they want to be a part of it. There are no lies and disease, everything is transparent, and you can see in every moment each and every transaction. Those ones who didn't know much about the crypto currencies, now are more involved and eager to hear and learn more about. They want to invest also.
We will be talking about new project called Arbidex. Arbidex is the first trading platform that aggregates liquidity from exchanges. In on place you will be able to trade all your assets. They have been connected with Bitfinex, Bittrex, Poloniex, WEX, Kraken and GDAX. Arbidex will do it all for you, you just have to say what would you like to sell and it will sell your crypto currencies on the best stock market for you. They are using smart contracts on Ethereum network with ERC compatible tokens. Tokens which are made for purpose of these project. This is a project powered by block chain technology. The project is focused on providing people better usage of crypto currency. In this decentralized system everything is transparent and it will bring back the trust in an old system, which they lost. That all is possible with a block chain technology.
There are far too many users launching on crypto exchanges at the same time, more and more users are coming every day and the server can't make it all in once. They are slowing down all the operations on server. It is just too much new users and requests at once. One of the main characteristics of the platform is an automatic arbitrage. That is great because Detecting Profitable Rates Algorithm (DPRA) will allow you to frequently buy and sell different crypto currencies and benefit from the difference in their price. With Arbidex algorithms you will be able to trade your assets easily. Users are furious because everything is so slow and they couldn't sell their crypto currencies on stock markets because they are overbooked. Then the users are seeking for a new stock markets, so they need verifications, registrations, and everything it can be very time- consuming and frustrating. We know that transaction fees are too high, transactions are too slow, registrations also, there are no or poor users support. There are just too many people at once and stock markets can't process them all. Lower fees are going to bring more new users on platform. They provide users utility tokens for various transactions. Block chain platform not only provides authoritative control of information but it also assures quick and accurate transactions. It is remarkable and very nice to see projects like this.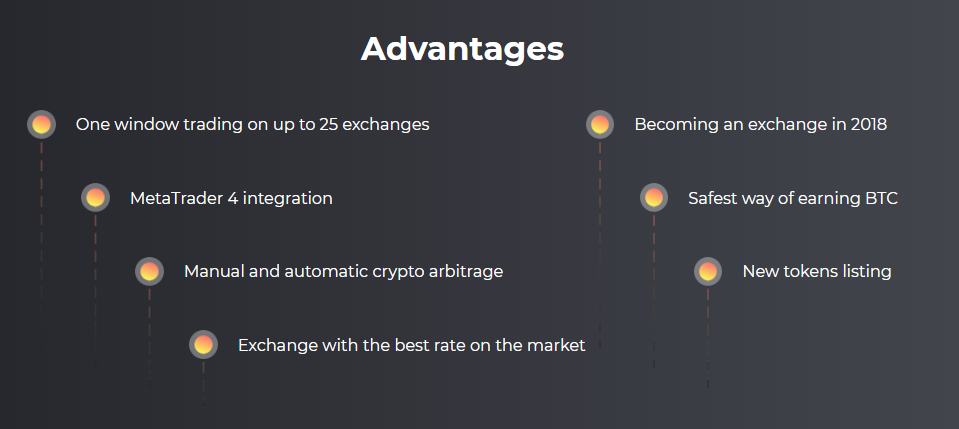 Arbidex is a project made by people who are highly competent. People who have with their knowledge and with a help of their people in team succeeded to make it happen. Team leader is Kamilya Arslanova. In the team with great block chain developers, marketing agents, SEM experts, and more others.
Recent popularization of cryptocurrency brought millions of new users to the market. Numerous useful project built on blockchain technology are great invitation to the world of cryptos. As more and more people are trying to get in, some of the crypto exchanges temporary closed the registrations. Solution for the current problem might be coming from https://arbidex.ch/.
Arbidex is introducing new trading platform, and the very first one with the built in automatic arbitrage system. Arbitrage is a process of buying crypto assets on one exchange and selling it on the other one that has higher fees.
Special algorithm (DPRA) built by Arbidex team will keep tracking the price differences , and allow you to buy and sell assets with profit. Currently platform is connected to Bittrex, Poloniex, Kraken, GDAX, Bitfinex and WEX exchanges. With the commission fees lower than others, this project has a potential to become an ultimate trading solution.
Check out the company's roadmap :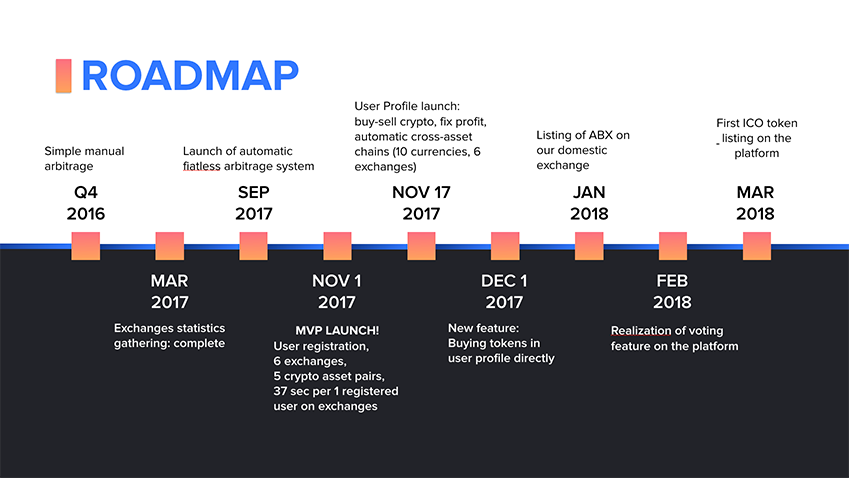 Now when you are introduced to the basics of this perspective project , for all the additional information please take a look at the white paper at the following link : http://arbidex.ch/assets/wp_en.pdf
Initial coin offering :
There are a couple of ways to get the tokens. One of them is through the ICO.
By participating , you are supporting the creators of the project to help them reach their goal.
Token sale is live, and will go through January 29., with the price set at 1 USD for 1 ABX token.
For all the additional details please visit : https://arbidex.ch/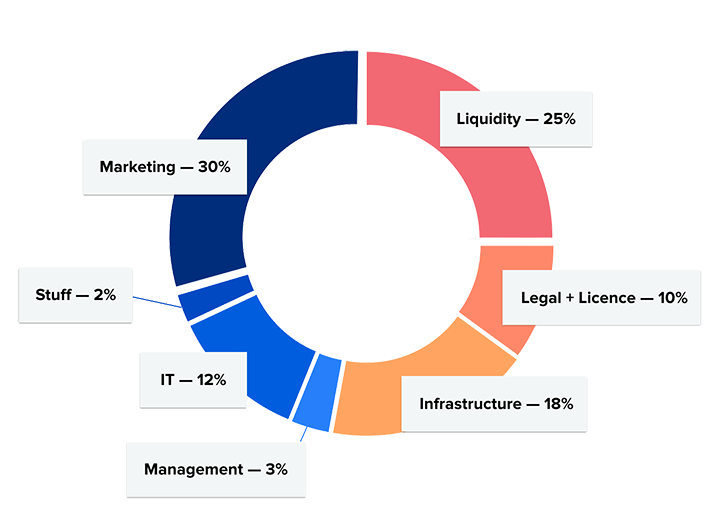 Bounty Campaigns :
Another way of participating in the project is through bounty campaigns , where you can help the creators of the project with the marketing in different ways. For example through social network like Facebook or Twitter , or even translating the project to a different language and so on.
For your participation you will be rewarded with tokens.
Additional information about the bounty campaigns you can check at the
Website: http://arbidex.ch
My bitcointalk profile:https://bitcointalk.org/index.php?action=profile;u=76195
Whitepaper: http://arbidex.ch/assets/wp_en.pdf