ARBIDEX – Most Favorite Plarform of All Time
Arbidex is a platform that accumulates the liquidity of all major cryptocurrencies and actually automates the exchange arbitration process for the stakeholders.
The main objective of implementing an ICO is to create and develop a platform for professional traders that allows to trade crypto assets from different exchanges through a single interface, to connect professional tools (such as MT4) to provide high quality services with low commission rates. The key feature of the platform is the automation of the inter-exchange arbitration process strategy, which allows platform users to make profit by using deposits to eliminate non-market efficiency, ie arbitse situations. Arbidex is increasing revenue from:
The commission benefits from the arbitse strategy-up to 50% of revenue from a successful arbitse chain.
Commission from execution of orders in different exchanges during regular trade operations.
The platform sign utility makes it possible to:
premium access services from the platform (including implementing large deposit arbitrage strategies) and lower commission rates for trading operations
Pay for commissions and services are charged from the platform with great discounts
Participate in the construction of a platform for every investor: voting for new token listings and other issues that are important to the community (in the long run, when the platform will become not only an integrator, but will provide an independent exchange framework for professional participants).
At present Arbidex is an operating platform (MVP) with one technical tool asset for exchange arbitrage that interacts with several cryptocurency exchanges garnering about 10 million US dollars in depoito. The technical architecture and efficiency of the arbitration strategy were tested over a 4 month period by teams with their own deposits. The company is registered in Switzerland, as we appreciate Switzerland's approach to legislation for blocchain and cruptocurrecy and their aspirations to provide maximum transparency for investors.
Upon completion of ICO, Arbidex plans to open representative offices in several jurisdictions to enable traders from different countries to maintain legal trading operations in accordance with anti money laundering legislation and other regulations related to cryptocurrency turnover.
Value of Key Proposition
Arbidex is an exchange platform integrator that allows to trade through single interfaces in different exchanges, including the deployment of MT4 and other software for professional traders.
Arbidex is an opportunity to get the realization of arbitration strategy without any risk by virtue of the set of technical solutions integrated into the platform.
Arbdex is an opportunity to buy the most equally profitable exchange rate assets based on deploying partial purchasing technical algorithms on various exchanges and using the transaction chain.
Arbidex provides a lower commission rate for professional traders with high-end services and technical maintenance of trading operations.
Arbidex is a liquidity aggregator and instrument to reduce the volatility of cryptomarket, which in the long run will simplify the integration of cryptoasset into society and make the market more approachable for more mature institutional investors.
Token Function
ABX tokens are used on the arbidex platform. This is access to the platform, as well as internal accounting tools. We envision a platform designed for a professional community of merchants. Therefore our community members ABX token owners will receive enhanced platform functionality that enables them to make extra profit from trade and arbitration transactions, as well as the opportunity to develop together with us.
arbidex
arbibounty
Details of Tokensale
Presale Date: December 11 – December 25th
Date Crowdsale: January 10 – January 25
Group
Token (ABX)
Supply Percent
Token on sale
16,000,000
70%
Team
2.285.714
10%
Advisor
1.828.571
8%
Grace
457143
2%
Backup
2.285.714
10%
Total
22.857.143
100%
Token Distribution
Each Token is equivalent to 1 USD
Private Placement
Target cap: $ 2,000,000
Number of tokens: 2,000,000
Presale
Target Cap: $ 4,000,000
Token Amount: 4,000,000
Token Sale
Target Cost: $ 10,000,000
Number of tokens to sell: 10,000,000
Token Amount: 10,000,000
The amount of funds raised: $ 10,000,000
So if you want a safe to trade on all exchanges at the same time and have the most favorable exchange rates, you might be able to help the project Arbidex!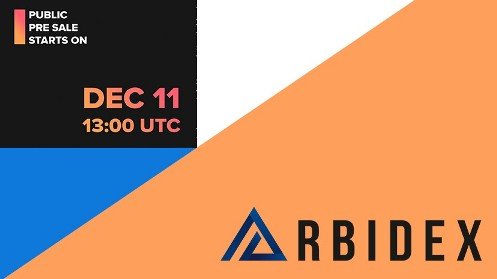 Arbidex will be the world's first platform that will include both liquidity across all key crypto-exchanges with the function of constructing arbitration chains. That is thanks to this ability she is able to analyze thousands cryptocurrency pairs in order to find the best deal amounting to 4 percent of the cost profit with each transaction.
This project to date is operating with capital with a total value in excess of $10 million on crypto-exchanges. Start of development of a technological base arbitration was initiated by the team in mid-2017 from its own funds.
What opportunities does the platform Arbidex:
To track the difference in real time between Exchange servers courses of crypto-currencies on multiple exchanges at the moment, the system sets up trades with the calculated effect based, in contrast to the predictions, real time data.
Such functions can be obtained by owners of tokens, and ordinary users, and may transfer funds from their own crypto-wallets. If the transaction is successful, the penalty is 50% of the profits as a reward platform. This fee is substantially less for the owners of the tokens of the project.
Those who hold the tokens platform, you have two types of discounts:
1 – all internal fees, which are paid in their native tokens are charged at an effective rate equal to 50% of what would be through any other means.
2 – marker the retention of a certain size gives the holder a certain status of platform (silver, gold, platinum). This status determines the applicable discount on fees. Today the average is around 2%, but at the same time, they plan to keep the base rate 0.18% which can be reduced to almost zero, depending on the owner's permanent and their relationships with other exchanges.
Buying these tokens you will ensure maximum discounts and work with a greater amount of the deposit, as the platform increases the number of tokens required for to maintain standing on the platform will decrease, motivating the owner to sell the surplus the markers.
Now(from 11 Dec 2017) they gather investments in order to fund the efficient scale marketing, legal, technological modernization. They also work to create platforms for traders to work and making a profit with them using their recommendations. #arbidex #arbibounty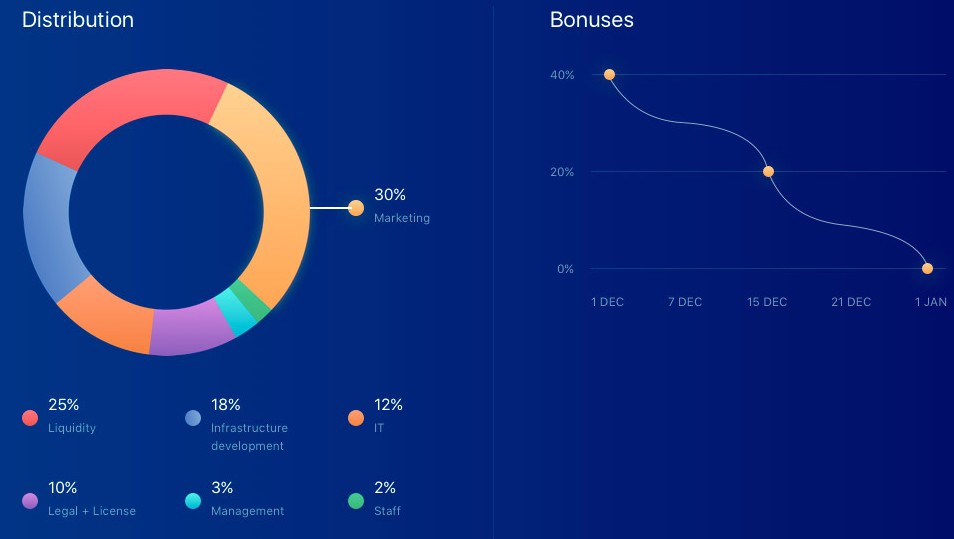 More information on these links:
Website:http://arbidex.ch
My bitcointalk profile: https://bitcointalk.org/index.php?action=profile;u=1082374
Whitepaper: http://arbidex.ch/docs/arbidex_whitepaper_ru_0_1.pdf