Arbidex – The Smart Trade Platform Innovation
Currently we have faced in the digital era where all digital-based needs. As the development of technology, the development of the digital age also can not avoid.
Technological developments today are not only moving in one field alone, for example, we call it today that has been gaining in popularity is a digital currency (Cryptocurrency). Cryptocurrency is a digital currency using encryption techniques. With the development of technology today exists a business uses to regulate cryptocurrency new currency unit by way of verifying each remittance. Although the digital currency (example: Bitcoin) there are no clear rules on used until now is still preferred by many people.
Although various countries busy to reject the use of or transactions with bitcoin, but not deter traders or miners to hunt.   This currency (bitcoin) can be obtained in two ways mined or trading. Two main ways to get cryptocurrency is to do mining or trade. To become a miner takes a special computer system and the easiest way to get cryptocurrency is through hundreds of exchanges in which they allow currency trading with crypto and fiat currencies. Regardless of the payment method used, the transaction can take place with the current market value. Cryptocurrency also be purchased between person to person and this type of transaction is usually through the exchange platform.
Cryptocurrency selected to be traded by means stored in the wallet. This wallet is available to traders wherever they are with whatever device is either a computer or mobile device. Traders can use cryptocurrency in the wallet to exchange it with a fiat currency or other cryptocurrency. Currently bitcoin mining has reached considerable difficulty tignggi so that the miners actually loss with mining results. Not a few people who are interested in bitcoin want to have a way of trading. Based on data collected from CoinMarketCap number of Bitcoin market has reached 400, with a circulation market supply is 16,796,187 BTC and Maximum  supply is 21,000,000 BTC , indeed quite remarkable isn't …
Among the many markets such cryptocurrency providing no correlation between markets with each other, all the market still stands alone. Do you want a platform where the platform integrates all cryptocurrency markets around the world ????
The question is now being answered ……… 
The platform named Arbidex. Arbidex is a project shaped decentralized payment platform that allows to accumulate the liquidity of all cryptocurrency exchange rate system run Algorithm (Detecting Profitable Rates Algorithm-provincial parliament). That is entirely based on the advanced science and math are designed for profitable transactions of its price difference, buy and sell different assets safer among the many assets in one exchange. With access to professional tools (such as MT4) exclusively providing high-quality service with the commission rate is low, main features of the platform Arbidex This is an automation strategy arbitration process interexchange, which allows platform users benefit by using the deposit to eliminate the efficiency of the market, ie a situation arbitration ,   Currently Arbidex has Bitfinex, Bittrex, Poloniex, Wex, Kraken and GDAX interconnected. Thus, a user has the opportunity to trade on these exchanges from one account and one window. At this time ARBIDEX is an operating platform (MVP) with a set of technical tools for arbitration exchange that interacts with several exchanges cryptocurrency collect about 10 million US dollars in deposits. technical architecture and efficiency of arbitrage strategies were tested over a period of 4 months by a team with their own deposits.
By looking at the development of cryptocurrency increasingly popular in the eyes of society then Arbidex build a platform that tries to connect the entire market crryptocurrency in the world through a single interface. It is a new breakthrough in the exchange industry cryptocurrency. Innovations made by the developer and team of this project is extraordinary, Arbidex has a very unique way and intelligent in providing convenience to trade cryptocurrency.   Up to now Arbidex still in development and fundraising platform that is performed through the ICO. Funds collected from the ICO will be used to accelerate development and platform development.
Arbidex ICO Detail
The funds collected during the ICO will be allocated as follows: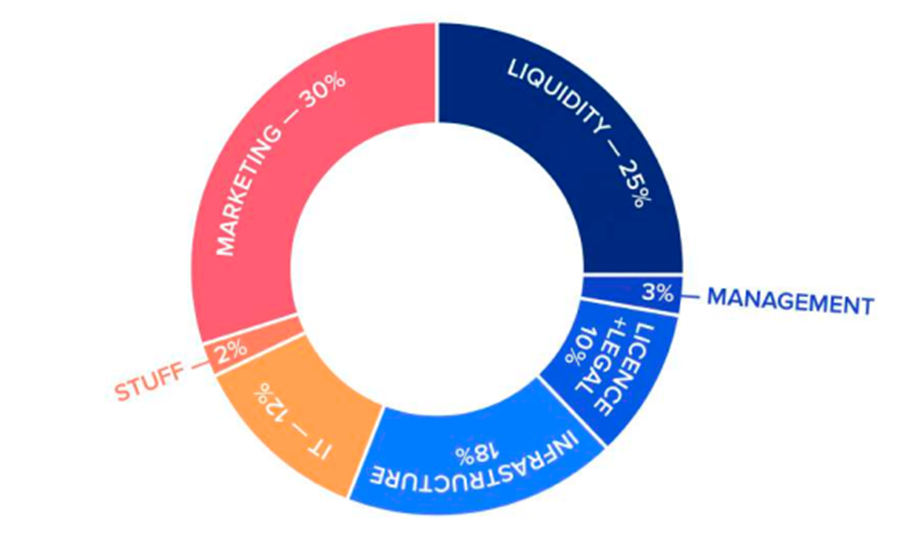 Token ABX (Arbidex)     
Token ABX (Arbidex) can usage is only  valid on Arbidex platform and an internal accounting tool, which is access to Arbidex platform. ABX token owner will receive an enhanced platform functionality that allows them to make an extra profit from trading and arbitrage transactions, and has esempatan to develop together.   PROCESS
Inter-currency arbitrage is a trading strategy based on the same asset price difference across various exchanges. The arbitration opportunity comes in. In fact, market inefficiencies, expressed, for example, in the backlog react to certain exchange of drastic changes in asset values, or large differences spread across various exchanges. In addition, arbitration opportunities are open in the event of price differences on assets acquired through the buying and selling chains via intermediate assets. In this case, the price difference during the current period of the entire chain accumulates and becomes a significant amount, which at the time of market cryptococcus currently reaches a few percent (1-3%). As Arbitrage Opportunities exist for a moment, and for merchants who apply arbitrage strategy offerings, continuous searches for opportunities and their implementation are important.
ARBIDEX PRODUCTS
ARBIDEX is a trading platform that collects crypto and liquidity assets in one terminal of all key crypto currency exchanges in the world with the ability to locate and apply arbitrage opportunities. The platform is able to analyze thousands of crypto-currency pairs and find the most profitable chains, get up to 2-3% of each. This means that each platform participant has the following options:
1. Trading all crypto assets listed above 25 crypto exchange from a
Professional MT4 terminal, with requirements to register and verify only ARBIDEX Platform
2. Working with arbitration strategies with little technical difficulties and problems. In ARBIDEX this is no more difficult than placing the default order in exchange.
3. Working with fiat input / withdrawal of funds in a trusted jurisdiction. ARBIDEX will be in accordance with the laws of the attendance jurisdiction as much as possible, all necessary licenses and permissions will be accepted and a respectful bank account will be opened For compliance and legal reliability ARBIDEX interaction is one of the business priorities.
4. Margin trading, social trading (the ability to forecast and strategy, and their verification) and other tools required by several categories of traders.
5. Savings on exchange commissions. ARBIDEX is designed to reduce merchant fees and increase their revenue. Working on the platform will decrease commissions up to 4-fold relative to the standard 0.2% exchange rate on the market.
Website  : http://arbidex.ch
Whitepaper : http://arbidex.ch/assets/wp_en.pdf
My Bitcointalk :https://bitcointalk.org/index.php?action=profile;u=311248