ARROUND
ARROUND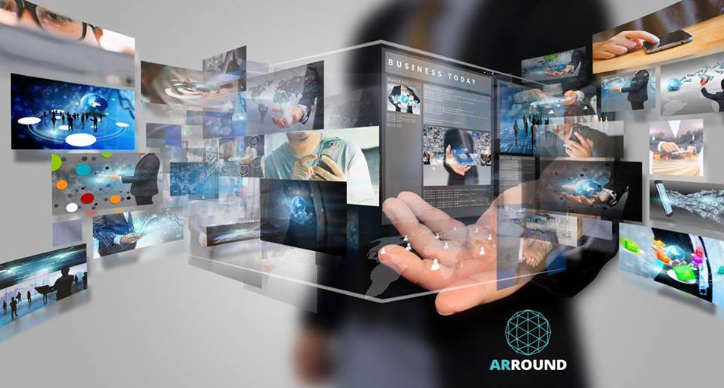 Is it possible to surprise each of us with some kind of advertising that exists today? I think it is unlikely. We quite often see advertisements on TV, web resources, print media, billboards and other outdoor advertising structures, and therefore we are absolutely used to it. Often, we do not even pay attention to her, as she has become something ordinary for us. And advertisers, who spend huge amounts of money on advertising and get minimal results, suffer from this quite strongly. Moreover, often repeated or inappropriate advertising may even negatively adjust the consumer to the advertised product or service. Therefore, the advertising industry is awaiting new approaches to advertising, which would not only attract more potential consumers, but also require less financial expenditures, with great performance. The ARROUND project team is working on solving this issue.
About the project 
ARROUND is an augmented reality platform through which new opportunities for advertising are created, operating using blockchain technology. Ordinary users will be able to interact with elements of augmented reality (hereinafter referred to as AR) through the mobile device application. In addition to users, the ARROUND platform will be able to integrate brands, advertisers, advertising agencies and developers of AR technologies within its ecosystem. The movement towards the development of VR and AR technologies is today one of the more promising, as evidenced by the huge number of companies that work in this industry. This is also indicated by the capitalization of these companies.
What problems does this platform solve? The problem for advertisers is the oversaturation of the advertising market in the real world, which leads to a decrease in the effectiveness of advertising campaigns, and an increase in financial costs for it. ARROUND creates a new space for advertising, where it will have a targeted focus, and will require much less cost. Also, this platform solves the problem of lack of demand for AR technologies. On its basis, there will be interaction between advertisers and AR developers, which will encourage the latter to develop new technologies.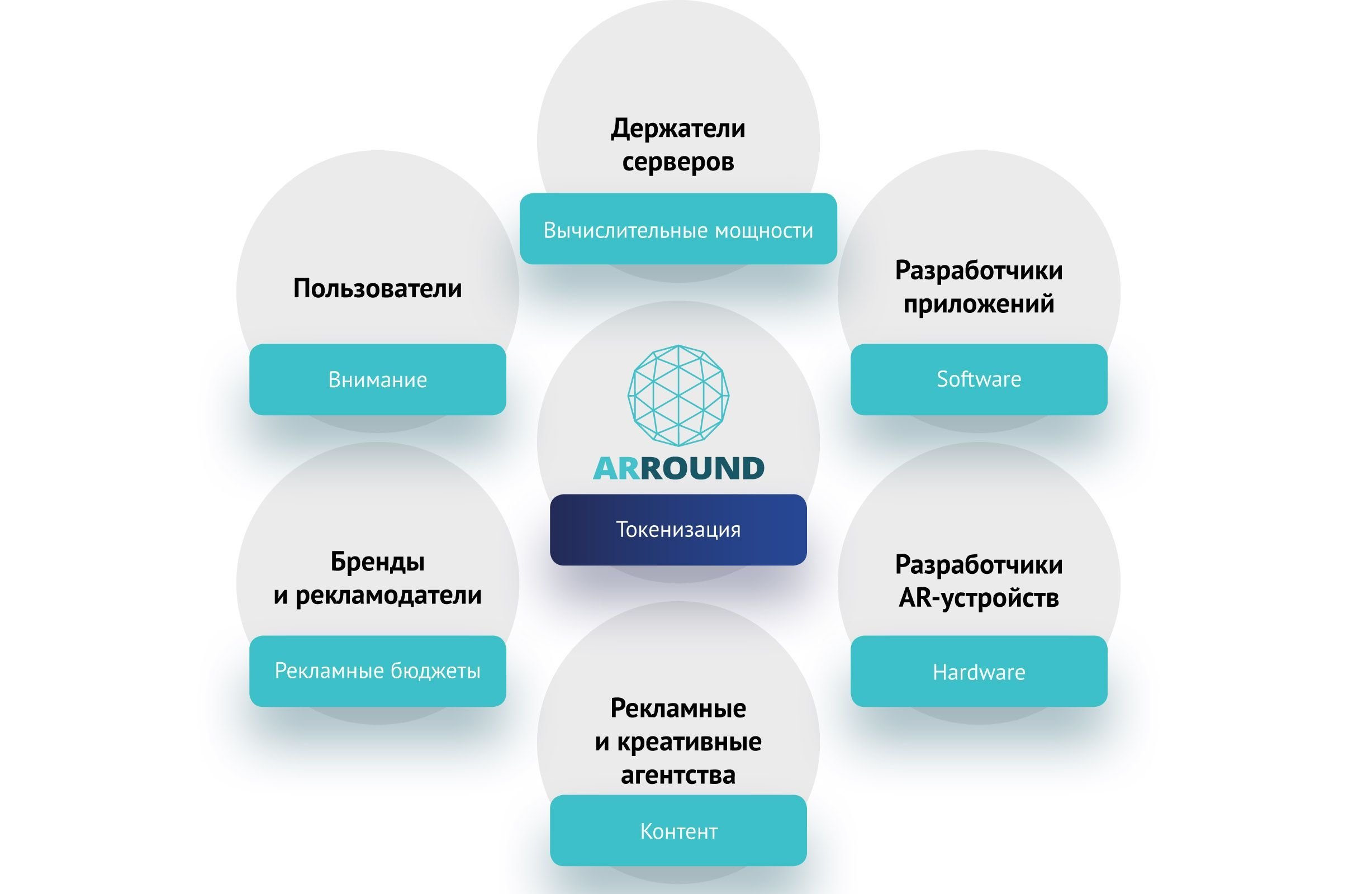 The main tool in the communication of advertisers and users will be an application for mobile devices. It is through him that users will be able to see ads and other items placed in AR. The application itself is available for download (for the Android system), but it remains in test mode, so the average user will not be able to register yet. The main concept inside the app is "round". This is digital content (3D object, image, text, link to a resource) tied to a specific place. Under the conditions of AR, there are ample opportunities to use rounds for marketing purposes. So, ordinary users will be able to create their own rounds (which only they or their friends can see). Advertisers will have access to broader functionality in creating such content: it can be a flat advertising banner (containing not only text or an image, but also a video), 3D objects, navigation. At the same time, the visibility of each round for users can be configured depending on advertising goals, as well as on the tariff plan purchased by the advertiser.
There are three main components in the ARROUND application: a camera (through which interaction with AR elements takes place), a news feed from rounds (the user receives news only from those rounds which are subscribed to), a map showing the rounds by terrain. There will also be different user roles: a regular user (interacts with the rounds of advertisers and other users, has limited ability to create rounds), a professional blogger (has broader functionality for creating rounds), a brand account (company account), an advertising agent account ( creating advertising content using a wide range of tools), moderator (advises users on emerging issues, controls the creation of rounds according to internal rules). It is also worth noting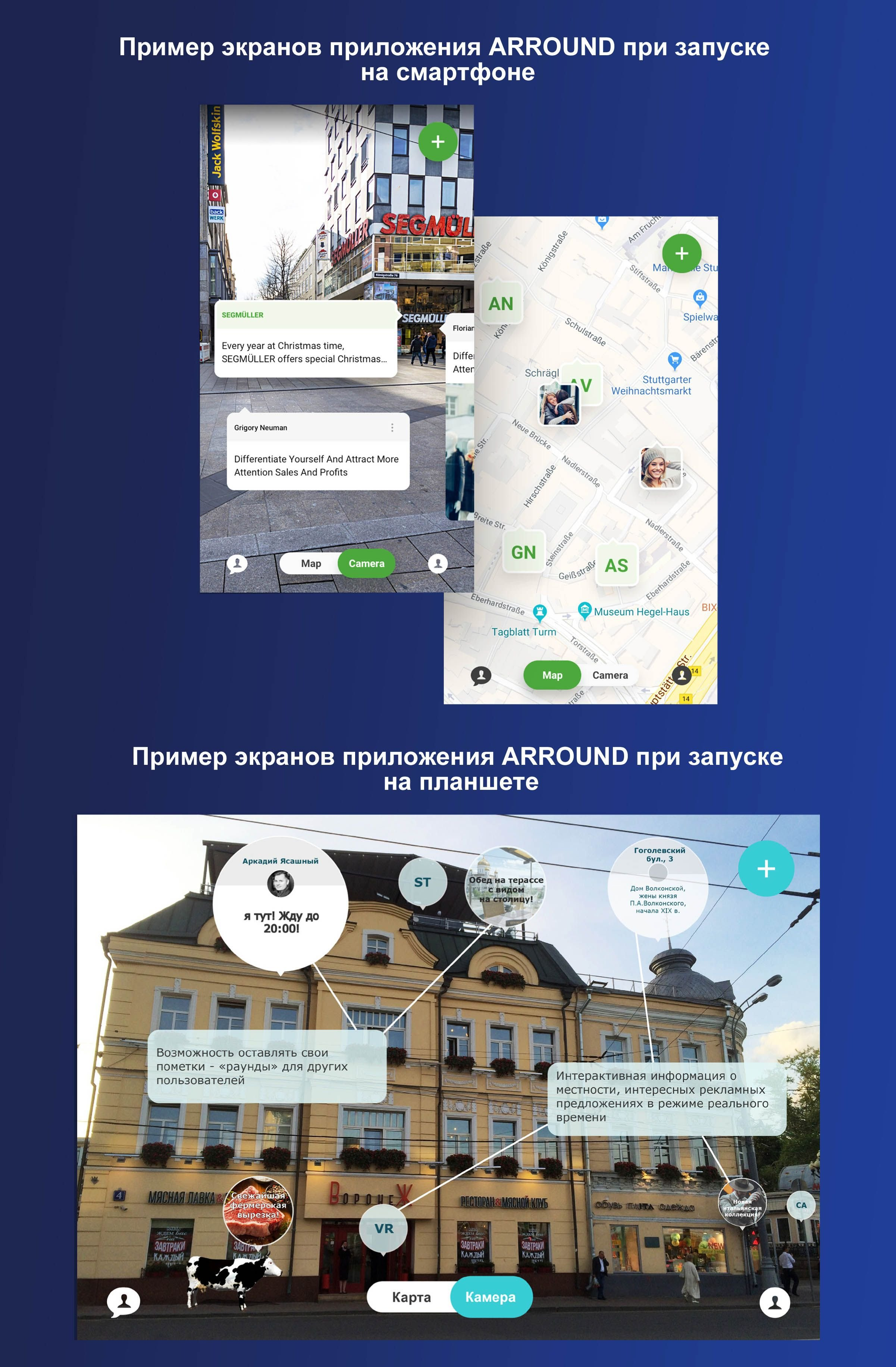 What is interesting for users platform ARROUND? First of all, it is an opportunity to weed out non-interesting advertising, news, etc. A regular user, looking, for example, at a shopping center through a smartphone's camera, will be able to see the stock he is interested in, advertising goods. In addition, it is possible to create your own rounds, or to see the rounds of friends. For advertisers, very good conditions are created for conducting advertising campaigns, which make it possible to count on their high effectiveness. The created advertising content is targeted and will be visible only to those users who are interested in it and who are potential customers. Also, advertising inside AR will require much less financial expenses (since there are no intermediaries, promoters, no costs for the physical production of advertising, for its installation, etc.) This means that advertising on a billboard in the real world will be much more expensive than placing it in this place, only in AR. Conditions are also created for the work of advertising agencies and freelancers. Using the platform toolkit, they will be able to create the necessary advertising content for customers.
Using Tokens 
ARR (created on the Ethereum blockchain) is the only internal payment unit. Users depending on their role on this platform and functions will pay for ARROUND services. First, ARR will be available at all stages of the sale, and then it will be available on the exchanges. In the future, the team plans to switch to its own blockchain.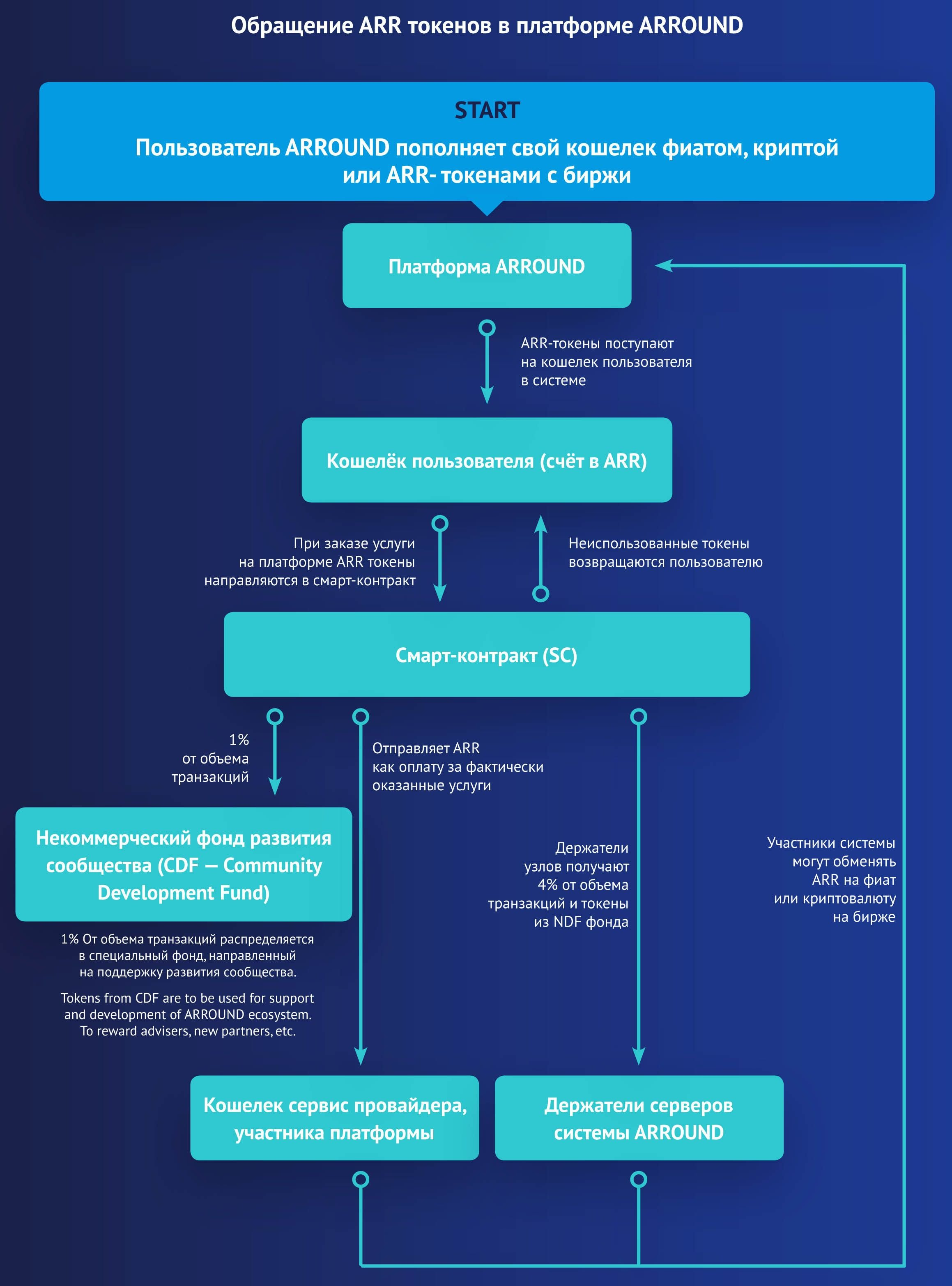 Sale of Tokens 
Token – ARR 
Pre-sale – February 27, 2018 – May 1, 2018 
Privat-sale – until September 15, 2018 (40% bonus) 
Token-Sale – September 15, 2018 – November 15, 2018. 
Price tokens – $ 0.035 
Minimum amount of fees – $ 5,000,000 
Maximum amount of fees – $ 30,000,000 
Tokens created – 3,000,000,000 ARR (unsold tokens will be burned)
Tokens distribution: 
48.3% – sales 
8.2% – bonus 
22% at the time of sale – community development and liquidity fund (includes advisors, partners, etc.) 
10% – Master node holders support fund 
10% – team 
1.5% – Bounty 
Rating 



Team
Team members are represented on the site along with links to their LinkedIn pages. Note that only 9 people are represented, which allows us to assume that these are not all team members. The CEO of this project is Neil Bryant, which has been operating in Moscow since 2003. Before that, he held positions related to financial and marketing activities in such companies as Badoo, PayOnline, Alpari Group, RIA Novosti. Among the participants, we note Artem Haritonov, who also participated in the KYC.LEGAL project team, and Kate Bublik, who participated in the Humancoin project team.
Pay attention to the team of advisers. There are 5 of them. The most famous of them are: Vladimir Nikitin (participated in such projects: KYC.LEGAL, Pecunio, FTEC, DIW Token, Nauticus, Worldopoly, Enlte, Iagon), and Nathan Christian (participated in such projects: Moonlite, VeriME, Friendz, Online, Worldopoly, Bulleon, Datablockchain). 
Results
To take or not to take part in token-sale each must decide independently. I will not deny personal inclination to this project. And it is absolutely reasonable. The active development of VR and AR technologies is what awaits us in the near future, and it is difficult to imagine the market for this industry. And the idea of ​​using AR to create alternative advertising space seems to me very successful. The ARROUND platform can not only solve many existing problems of the advertising market, but also creates conditions for its more effective development. In addition, we have already noted above that it will be interesting and useful not only for advertisers, but also for ordinary users, bloggers, advertising agencies and freelancers, AR developers. 
Roadmap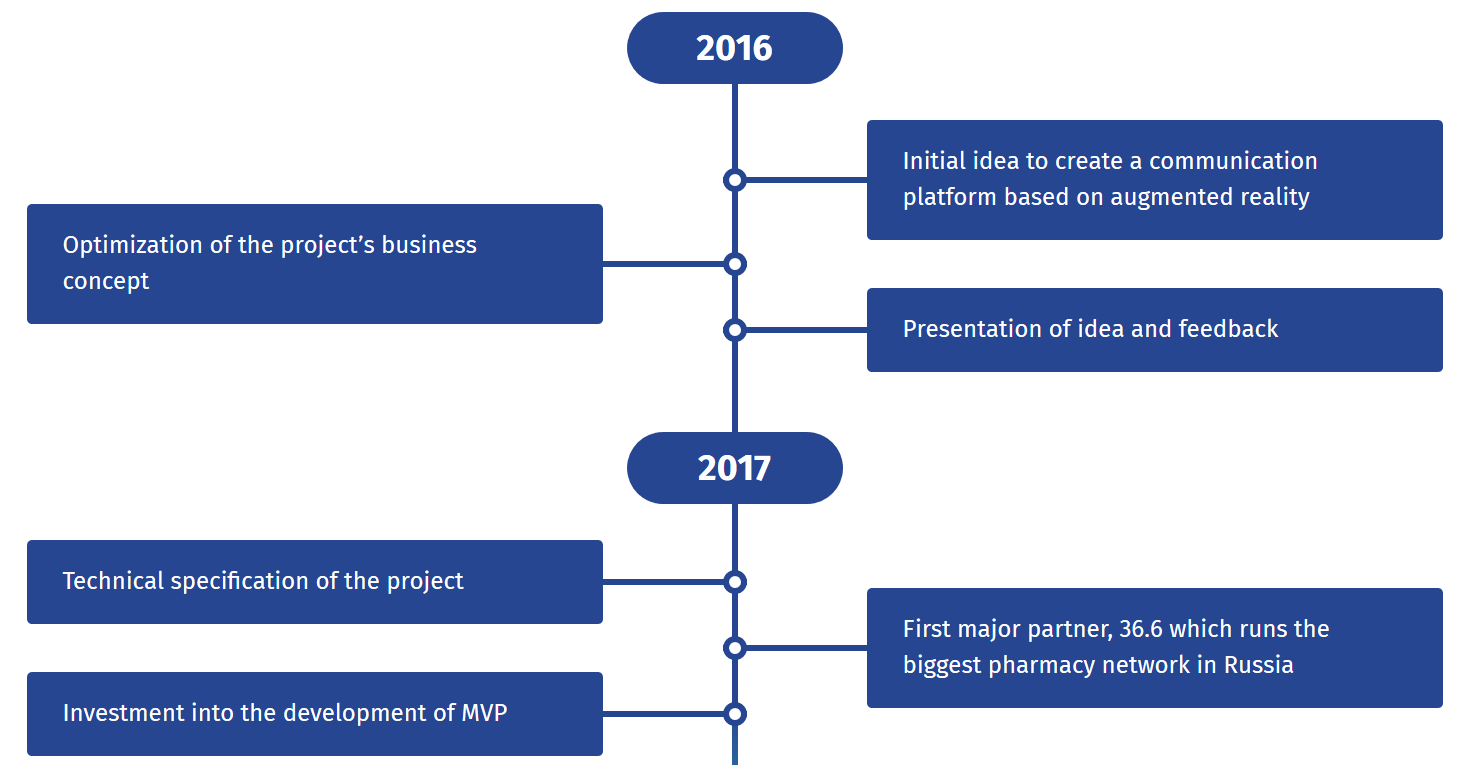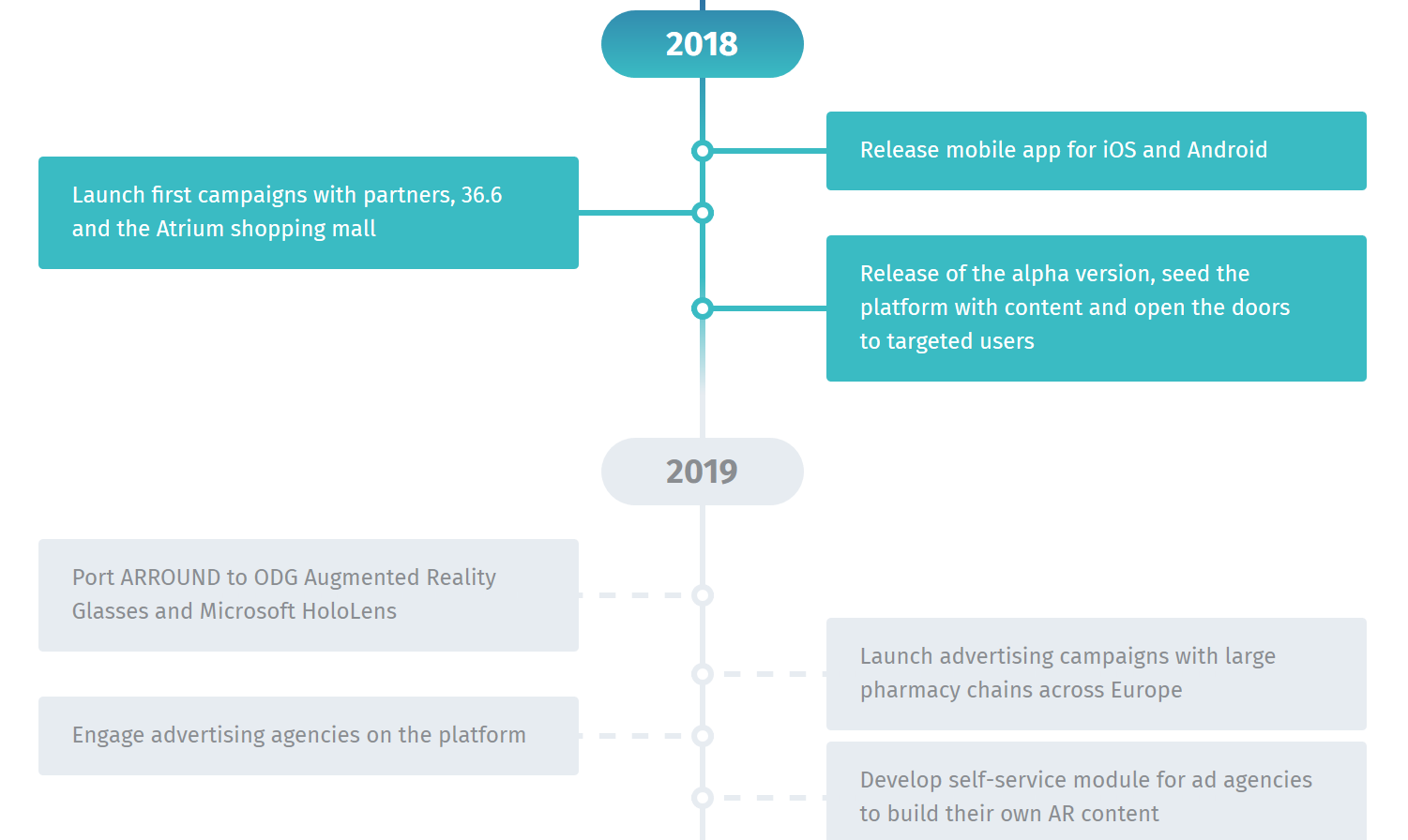 Website: https://arround.io
Whitepaper: https://arround.io/content/file/arrou … 
Twitter: https://twitter.com/ArroundPlatform
Telegram: https://t.me/ArroundSupport
Facebook: https: //www.facebook. com / Arround-2052 … 
Bitcoin ANN Thread: 
https://bitcointalk.org/index.php?top … 
bitcointalk URL: https://bitcointalk.org/index.php?action=profile;u=2410347