Arround Provides the World with a Captivating New Digital Environment
What is the Augmented Reality
It's an enhanced version of reality where live direct or indirect views of physical real-world environments are augmented with superimposed computer-generated images over a user's view of the real-world, thus enhancing one's current perception of reality.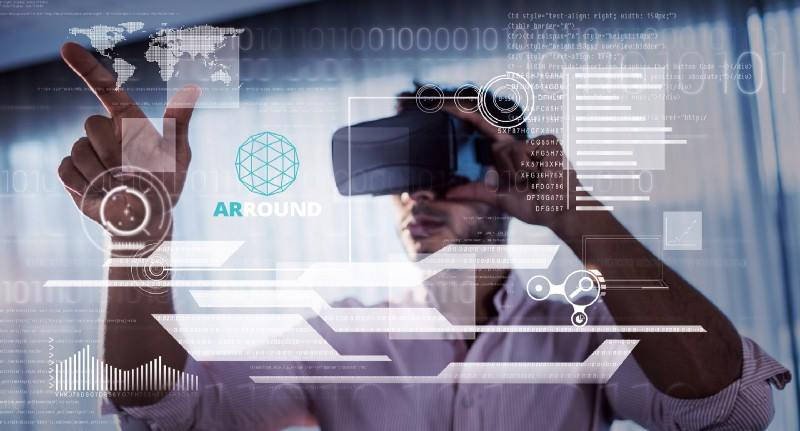 Augmented Reality (AR) Overview
Augmented reality is used to enhance natural environments or situations and offer perceptually enriched experiences.
With the help of advanced AR technologies the information about the surrounding real world of the user becomes interactive and digitally manipulable. Information about the environment and its objects is overlaid on the real world. This information can be virtual or real, e.g. seeing other real sensed or measured information such as electromagnetic radio waves overlaid in exact alignment with where they actually are in space.
Augmented reality also has a lot of potential in the gathering and sharing of tacit knowledge.
Augmentation techniques are typically performed in real time and in semantic context with environmental elements. Immersive perceptual information is sometimes combined with supplemental information like scores over a live video feed of a sporting event. This combines the benefits of both augmented reality technology and heads up display technology.
Why ARROUND
Arround is providing the world with a captivating new digital environment to explore, where millions will be able to create and share their own AR experiences.
ARROUND Introduces its Platform
ARROUND is developing a blockchain platform consisting of four integrated elements: a disruptive universal advertising network, an augmented reality marketplace, a social platform, and the next generation AR map that will create a backbone for AR projects around the world.
Established partnerships with global brands
Token plays vital role in fuelling business model
AR market growing at breakneck speed (65% CAR)
MVP available on iOS & Android
Innovative and comprehensive product
Experienced team with excellent track record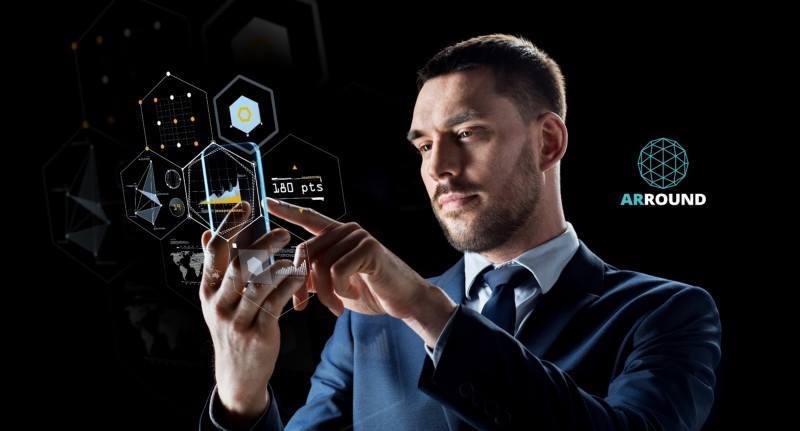 The Platform Architecture
The ARROUND platform comprises four key elements that are all connected via blockchain, which combine to create a complete AR ecosystem that will allow the project to thrive.
1. AR MAPS
The AR Map links directly to the social network and to the advertising solution.
2. AR STORE
The AR Store will allow users to conduct the sale and lease transactions of content and services offered on the platform.
3. AR ADNET
The idea behind the service is to provide an outlet for brands, organizations and offline retail stores to engage in advertising, marketing and information campaigns in augmented reality.
4. AR SOCIAL
The core concept of the network is to bring augmented reality into a social setting, allowing every user to create and share AR content with their friends
ARROUND Business Model
The platform and ecosystem created by ARROUND will be based on the following business model:
• The ARROUND platform will earn money by showing advertisements as well as through the lease of map data.
• All prices inside the system will be set in fiat currencies.
• Payments for ads and purchases inside the system will be made using ARR tokens. Tokens can be bought using both cryptocurrencies and fiat money.
• Benefits for users: discounts, bonuses and rewards for performing tasks from advertisers; token transfers between users.
• Income sources for service providers: payment for premium content by advertisers and users.
• Income of blockchain node holders and the owners of servers with content: a share of transaction fees paid automatically and automatic payments from the Network Development Fund (NDF). All these payments are expected to be made using smart contracts.
ARROUND Tokens (ARR)
The ARR token will be released on the basis of ERC20 smart contract on Ethereum blockchain and will
also be traded on cryptocurrency exchanges.
The platform will release its own token, the ARR, to support all transactions within the platform, with blockchain warranting the intellectual property and privacy rights as well as the commercial interests of all the involved parties.
The ARR is the fundamental unit of exchange within the ARROUND platform, and all commercial activities, although they may be priced in fiat currency, will be conducted in ARR tokens.
ARR tokens are used by the platform's users to purchase or lease digital items or services from connected developers and by commercial parties in order to run advertising and marketing campaigns.
Tokens can be used to motivate users to view advertising and marketing campaigns, plus provide an incentive for users to map their environment, therefore contributing to the creation of an augmented reality backbone network. Usage of the backbone can be provided to third parties through payment in ARR tokens.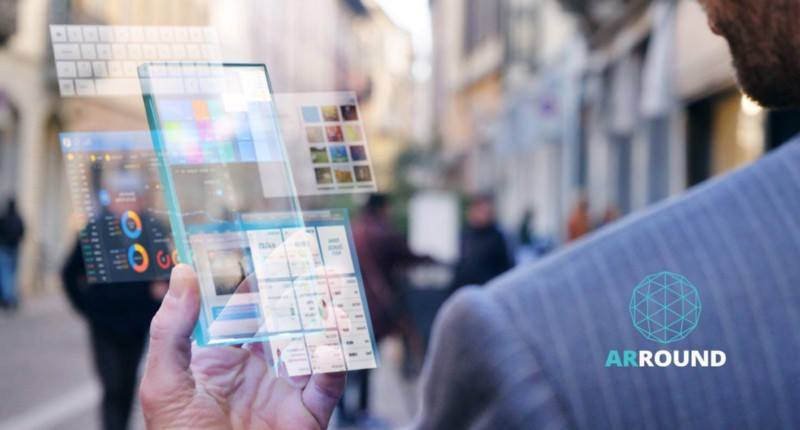 Finally
ARROUND had been built to be a flexible platform that is just as comfortable in serving up additional on-demand information as it is in promoting brands and advertising messages.
---
✅Website: https://arround.io/
✅Whitepaper: https://arround.io/content/file/arround-whitepaper-en.pdf
✅Twitter: https://twitter.com/ArroundPlatform
✅Facebook: https://www.facebook.com/Arround-2052833448334195/
✅LinkedIn: https://www.linkedin.com/company/arround/
✅Medium: https://medium.com/@arroundsmm
✅Telegram Group: https://t.me/ArroundSupport
✅Bitcointalk ANN: https://bitcointalk.org/index.php?topic=3014006.0
---
Author of the article:
✅Bitcointalk username: Erik_Smuel
✅Bitcointalk profile link: https://bitcointalk.org/index.php?action=profile;u=2020517
✅My Ethereum Address: 0xA009D96EFB69bC8e328d43c4d18dd9B6d7422BC8