ASIA RESERVE CURRENCY COIN REVIEW

Introduction
The influx of people into the cryptocurrency market which made bitcoin popular has made an astronomical rise in the adoption of blockchain technology. This adoption has brought about the idea by The International Blockchain Monetary Reserve, IBMR.io to create a decentralized economic system for developing countries. Part of this idea is to create a cryptocurrency stablecoin named ARCC which will be used to create and distributes wealth through the elimination of corruption. Corruption has been seen to be one of the major challenges facing the poor urban working poor economy. Other challenges are low income, Lack of employment, illetracy, bribery and corruption, lack of infrastructural facilities.
IBMR.io aims to eliminate corruption and poverty through the utilization of cryptocurrency and blockchain technology. The IBMR.io is also registered in Singapore with a choice and focus in Southeast Asia. This innovation will help create and provide a debt-free micro asset to fight against corruption and increase national productivity.
ORGNAIZATIONAL STRUCTURE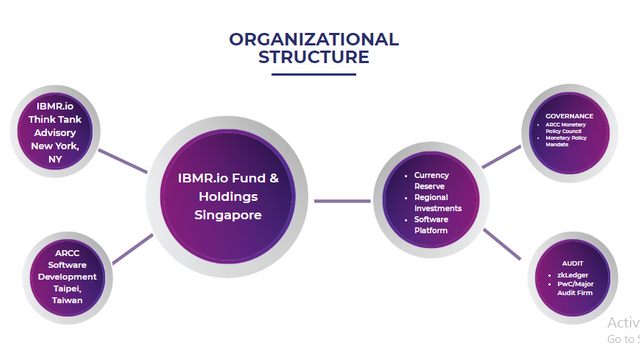 The organizational structure consists of the technical development team that will handle the development of the ARCC APP including the wallet, virtual ID and the social Proof of Work Network.
The IBMR.io is registered as a technology provider in Singapore. IBMR.io is likewise registered in acquiring fund and asset management licenses for the currency reserve and investment management.
ARCC will also have a research team that will focus on the decentralized economy model, innovations and other applications. The advisory team to this project will be based in New York, NY.
Monetary Policy Council will run independently from the ARCC executive whereby the ARCC MPC voting will be binding on the reserve for issues relating to the ARCC token economy.
DISTINCTIVENESS OF ARCC
IBMR.io aim is to make sure that poor countries need access to free assets that are adequate to use for businesses. This resulted to the creation of ARCC which will serve as a debt-free micro asset which can be earned freely via the ARCC APP.
The Social Proof of Work information allows urban working poor to earn free ARCC by actively participating in socio-economic surveys through exposing the corrupt ecosystem.
The team also leverages Social Proof of Work Network to identify, locate and expose corruption. This system is open, transparent and also verifies.
ARCC APP
The ARCC APP is having the centralized model as it will later be developed to a fully decentralized system. The APP platform consists of 3 aspect areas namely: Regional ID, Survey participation and Social Proof of Work network. The app will be developed with sophisticated security tools as the team takes security into cognizance. Below is a pictorial view on the steps of the ARCC Social Proof of Work App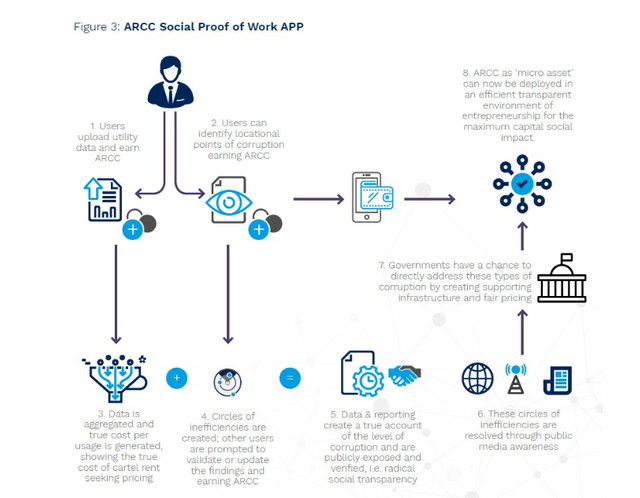 FUNCTIONALITIES
The project will function as a Social Proof of Work Mining
Socio-Economic Price Sponsorship
Peer-to-peer Investment Platform
Asset Management Platform
Entrepreneurial Grants
Social Impact Staking Community Program
Basic Insurance based on ARCC holdings
Charity Lottery Donation Platform
ARRC TOKEN
ARCC Token is an ERC-20 Token developed on the Ethereum Blockchain technology which can be mined through actively participation on the ARCC APP using the process of "Social Proof of Work". New ARCC tokens will also be minted at the end of the token raise and on annual schedule for 40years. There will also be a maximum supply of coins after 40 years. To know more about token launch, follow this link https://ibmr.io/token-launch/
TOKEN USE CASES
ARCC Token can be used as a reward. It will be used in form of airdrop for new users of age 16 and above.
ARCC Token can also be used as a currency reserve. IBMR.io will sell the token into the market when it goes above the monetary policy.
ARCC will also be used for regional investment, grants, and scholarships. Tokens will be burned at the end of the year if after there are no suitable investment.
ARCC will also serve as a bonus. It can be used to pay for the cost of management salaries, operations and development.
Social Proof of Work Allotments of ARCC.
THE TEAM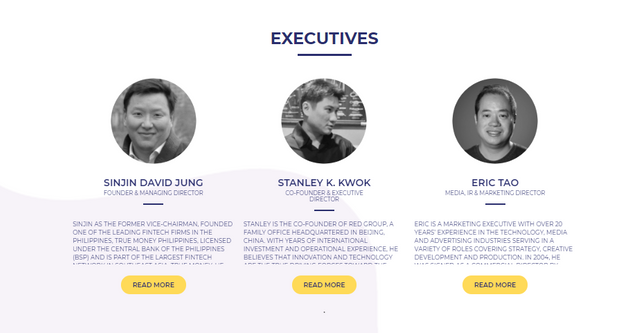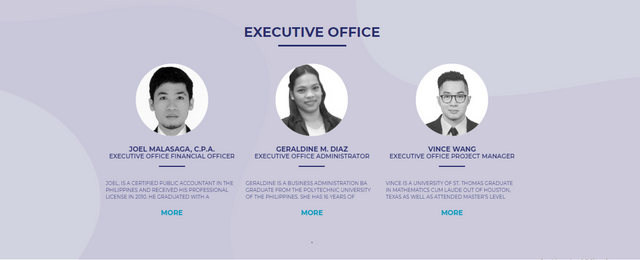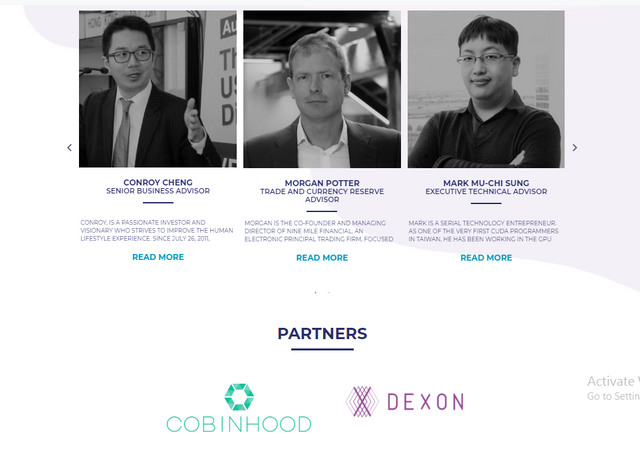 Kindly visit the below website for more in depth knowledge about the project:
Website: https://ibmr.io/
Whitepaper: https://ibmr.io/wp-content/uploads/2019/02/ARCC-WhitePaper-Jan-feb-26-web-file.pdf
Facebook: https://www.facebook.com/AsiaReserveCurrencyCoin/
Twitter: https://twitter.com/ARCC_IBMR
Telegram: https://t.me/arccenglish
Medium: https://medium.com/arcc-official-page
ANN Thread: https://bitcointalk.org/index.php?topic=5097927.0
Youtube: https://www.youtube.com/channel/UCEBy9xyVZPaLFqVllY3d12A
Reddit: https://www.reddit.com/r/ARCCtoken
Bitcointalk username: bosunbossman
Bitcointalk profile link: https://bitcointalk.org/index.php?action=profile;u=1197648;sa=summary