ASOBI COIN
ASOBI COIN
Trading digital content on distributed secondary markets.
The aim of this project is to create its own platform, where it is possible to buy products and sell them, the name of the Asobi market platform.
It should be noted that the platform already exists, but the drawback is that users are not given the right to own the product.
For example, if one of these platforms is closed, users will not be able to use the purchased product.
The Asobi Market will provide the right to have content, and a decentralized security system will also be used, which will protect transactions.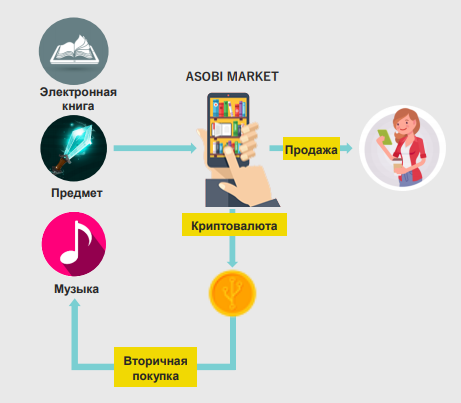 You can buy or sell the following:
• E-book
• Video
• Item game
You can buy products from manufacturers and users at lower prices.
After the sale of goods, the money will be credited to your wallet.
This platform will also be attractive not only to users but also to producers.
If we consider the Amazon platform, then when they sell used books, the publisher will not benefit from it.
At the Asobi market, smart contracts will be used, and profits will be shared and distributed automatically.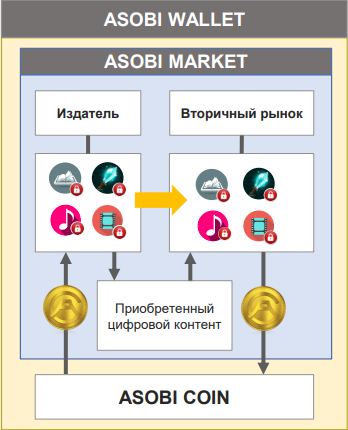 For example, a book costs $ 10, a smart contract will distribute the following benefits:
• The seller will receive 5 dollars
• Publishers will receive 3.5 dollars
• The author will receive 1.5 dollars
The item acquisition will consist of 4 stages:
Users use ASOBI COIN to make purchases on the site

Licenses are created and sent to the repository

This license is given to users

After the user receives the license, he can use the purchase. 

The trading object also consists of 4 stages:

The seller explains the items for sale at the desired price, or he can provide the price recommended by the site

The buyer pays the agreed amount, which is sent to the system

The system pays money to the seller

The buyer receives a license for this product
In addition, you will have the opportunity to create and sell your own games and comics.
To do this, you have to download it into what is called the cloud, where it will be protected, then you can install it for sale.
The token value is when you make an in-game purchase using this token, you will receive a 50% discount.
Information about tokens:
• Price of 0.01 USD tokens
• Token maximum 16.5 million tokens
Distributing Secondary Content Platforms
Secure Data Content Platform




We will provide a cloud system called "Decentralization of Security Systems" (DSS) using blockchain technology.

Distributed Content Platform




We will create a P2P distributed secondary content platform.

Details




You will be able to buy and sell digital content, such as comics, games, music that you want to share with others.
ASOBI MARKET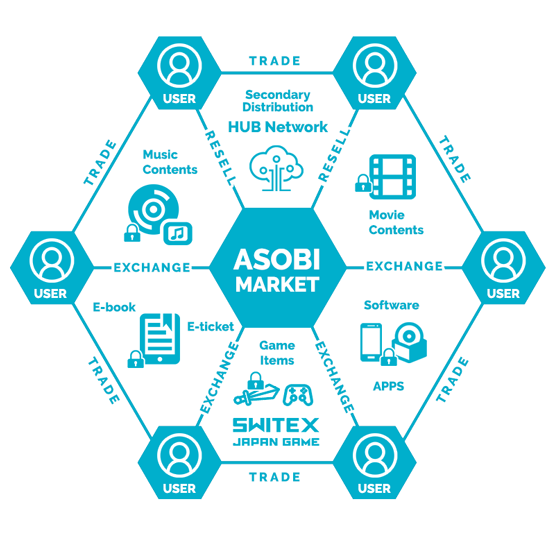 ASOBI MARKET uses blockchain technology to provide a protected system to distribute secondary content (used).
Item game

Software

e-book

Music

Video

etiquette
When you shop at ASOBI MARKET, we can guarantee you a secure exchange between secondary content (used) and cryptocurrency through the DSS system.
ASOBI COIN (ABX) Sales
Hard Cap: 5,500,000,000 JPY (around 50,000,000 USD)

Soft Cap (※ reach): 550,000,000 JPY (around 5,000,000 USD)

Coins issue: 16,500,000,000

ERC-20 token
ASOBI COIN Sales

Token Utility: Token Allocation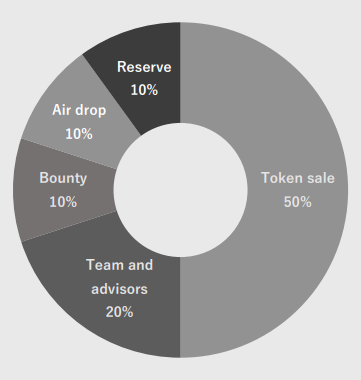 Token Sales
At ICO we will sell 50% tokens to ensure liquidity.
Our team and advisors
will secure 20% of tokens for teams and advisors.
The gift
we would have a bounty program. No locking.
Water drop
We will distribute 10% of tokens to ASOBIMO game users.
No locking.
Backup
We will store 10% of tokens as a backup
Token Utility: Continue Allocation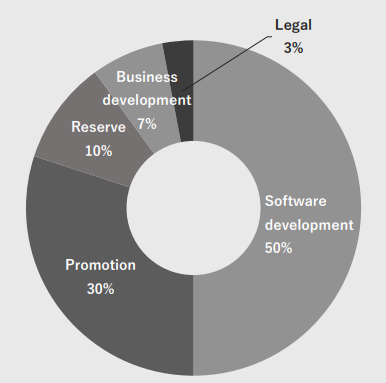 Software development




We plan to allocate for the development of ASOBI MARKET's DSS system update.

Promotion




Used for promotion of ASOBI MARKET and ASOBI COIN

Business development




After the ICO, we plan to look for partner companies and work even more efficiently.

Law




Used to confirm and resolve problems with legal problems
Roadmap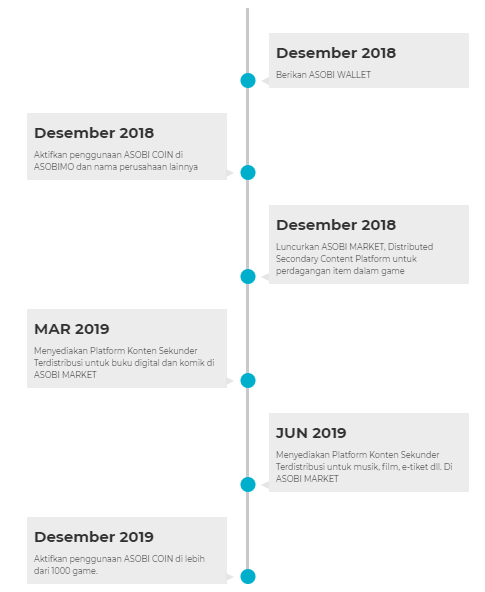 Team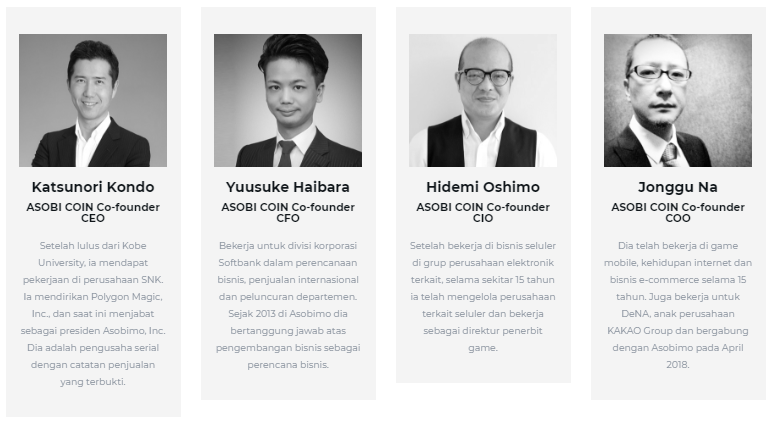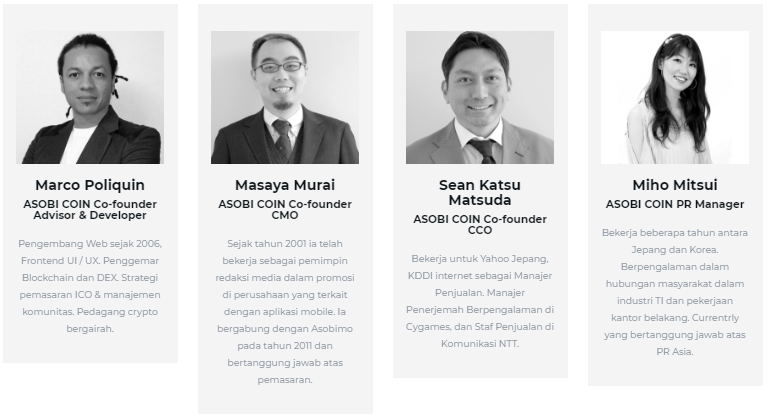 In conclusion, I want to highlight the main advantages of this project:
1. Globality.
This project is global, because it is connected to the gaming industry.
This is an industry that is growing very rapidly from year to year.
2. Finished products.
I think this is the most important advantage of this project, this company is an online game developer with 15 years of experience.
The number of their game downloads is 50 million.
Pretty much.
3.Profit for all.
Here everyone will benefit from this platform.
Let's start with the user.
He receives a certificate for the purchase of his goods, it will be his guarantor.
Users can buy both directly from the manufacturer, and secondly from other users at a lower cost.
The benefit for producers is that even when selling equipment used from one user to another, it will receive a share of the profits.
For further information, please visit the following link:
Website: https://asobimo.io/en/
Whitepaper: https://asobimo.io/pdf/white_paper_en.pdf
Yellowpaper: https://asobimo.io/pdf/yellow_paper_en.pdf
Telegram: https: // t.me/AsobiCoin_Official
Twitter: https://twitter.com/AsobiCoin
Facebook: https://www.facebook.com/Asobi-Coin-130436194467568/
Username: kolbak pute
Link: https://bitcointalk.org/index.php?action=profile;u=1624619