ASOBI :- DISTRIBUTED SECONDARY CONTENT PLATFORM FIRST IN THE WORLD-BLOCKCHAIN-POWERED
Hello dear readers, it is my delight to bring to your way this important information just as it is my usual practice. I would like you to relax and read through this tips of but enriching information with great benefits and awesome. Friends, it's all about "ASOBI" A distributed secondary content platform, first in the world- blockchane powered. Take your time to read through the detail bellow.
REVIEW
Content marketing is everywhere. In fact, you're consuming some right now. Content Marketing refers to you providing content in order to engage potential customers. Online or Digital materials — blogs, videos, social media posts are all marketing contents, especially in the U.S and Europe. By 2019, the global digital content marketing industry will be a $300 billion business.
Secondary or Used content distribution is Still very new in countries like Japan, which also translates to lots of opportunities to explore. Asian companies are now adopting the practice as well, content marketing is rapidly growing at between 5 and 10 percent annually in Asia. Japan, though, has not experienced the same rate of growth, probably as a result of the nation's cultural resistance to rapid change.
A 2015 study conducted by Digital InFact shows that 80% of the Japanese companies interviewed, use content marketing to increase brand awareness Solution. Many other marketers in Japan still view traditional advertising as the route to brand recognition and sales, but digital content market volume increased in 2016 by 5.7%.
Technical Message About ASOBI COIN
THE PROBLEM
The current digital content services do not give licenses to users, which makes it impossible to resell or when a service closes down, the users lose their content.
The current Digital Rights Management (DRM) is still incomplete and it is difficult for private users to use it.
Digital contents is most times too easy to copy.
The original publishers of used contents don't get profits when their items are sold on e-commerce platforms like Amazon.
This era we are currently in is known as the new blockchain economic era, hence, Content users, creators and publishers in Asia, and the rest of the world needs a secondary market where they can easily redistribute and trade digital contents without hassles.
INTRODUCING ASOBI MARKET
At ASOBI MARKET, anybody can trade digital content, as well as sell and buy between other users. ASOBI market is a P2P style distributed secondary content platform for buying and selling digital products (games items, comics, music, softwares, e-books, e-tickets, videos and more). The ASOBI platform is blockchain based, and it is fortified with a Decentralized Security System (DSS) that provides a protected system to distribute secondary (used) content.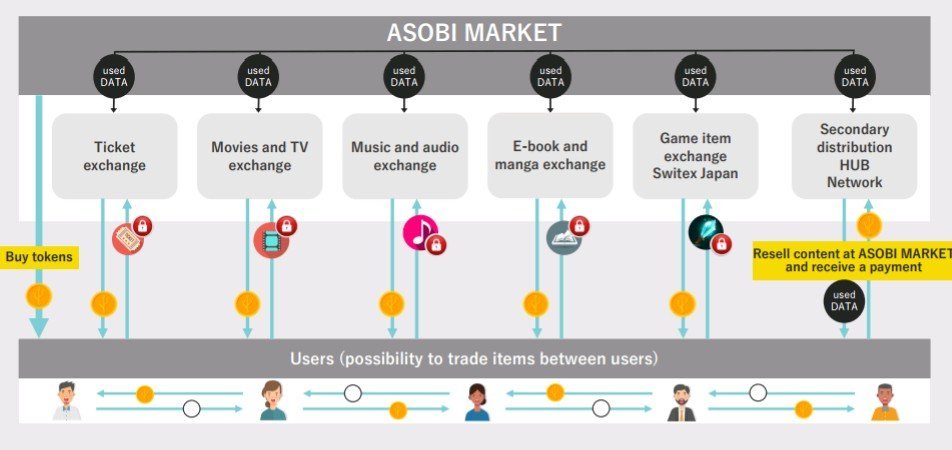 ASOBIMO is the name of the company that invented the ASOBI Market platform, A company entitled with over 15years experience in the development of online games, built by over 600 resilient employees. This company already accumulated millions of active users of their games from around the globe.
WHY ASOBI MARKET IS THE SOLUTION
ASOBI market makes users the owners of licenses (full ownership), guaranteed through decentralized security system. A secure secondary digital content trade with ABX tokens is also made possible on the platform.
The platform bridges the gap between the centralized and decentralized world. Users can buy and sell numerous digital contents easily and request that the sold amount be automatically transferred to their ASOBI wallet as ASOBI coin.
Purchasing and exchanging contents happens on
the Ethereum blockchain resulting in a safe and satisfactory transaction.
DRM and content streaming take place off-chain.
Publishers will enjoy enhanced market transparency and fair distribution of revenue shares.
Asobimo made DApps platform so that digital content on the secondary markets can be a valuable asset for all parties.
The platform provides a secured trading experience at a minimal cost and without friction.
The DApps made by Asobimo provides a distributed secondary content platform with "Decentralized Security System" (DSS).
This blockchain technology provides irrefutable proof of content ownership for publishers.
ASOBI COIN (ABX)
Asobi Coin is the cryptocurrency that will be used in carrying out both buying and selling transactions on the ASOBI market platform. With this token, content creators can easily add their work to Asobi Market, more so, People can sell their own digital manga or games, among with any other digital content on the platform. 1 ASOBI COIN is equivalent to 2 JPY (approx. 0.02 USD).
is is a Japanese company, they make online games, a huge experience, as many as 15 years and 600 employees worldwide. Some of their games are Avabel online, Toram online, Iruna online. The total number of downloads is 50 million, sales in Avabel games online in the amount of $ 200 million.
The aim of this project is to create its own platform, where it is possible to buy products and sell them, the name of the Asobi market platform. It should be noted that the platform already exists, but the drawback is that users are not given the right to own the product. For example, if one of these platforms is closed, users will not be able to use the purchased product. The Asobi Market will provide the right to have content, and a decentralized security system will also be used, which will protect transactions.
About ASOBI MARKET
ASOBI MARKET uses blockchain technology to provide a protected system to distribute second-hand content. The current digital content services do not give licenses to users, which makes it impossible to resell or when a service closes down, the users lose their content.
At ASOBI MARKET the user owns the license, which we can guarantee through DRM, Decentralized Security System (DSS). This system enables a secure secondary digital content trade with ABX.
ASOBI WALLET
Purchase and sell various digital content directly from ASOBI WALLET
Digital content such as
・e-books
・Game items
・Music
・Videos
can be sold at ASOBI WALLET.
At publisher stores you can buy various digital content. At the secondary market you can sell your content or buy used content of a lower price. When selling actual products at a second-hand shop, it is necessary to carry or send the products to the store. However, when selling digital content at our secondary market, it is very easy and smooth. The sold amount will be automatically transferred to your ASOBI WALLET as ASOBI COIN.
Return Profits to Rightful Owners
The digital content traded at ASOBI MARKET will be on the blockchain as smart contracts and automatically returns the profit to the rightful owner. (International patent pending)
If you sell used books at Amazon, the original publisher won't get any profits, which can be seen as a problem for the publishers in the huge secondary market. However, musicians get their profit of their songs being played or sung in karaoke. Using the smart contracts on the blockchain, ASOBI MARKET will automatically bring profits to the original, rightful owners of the content. For example if you sell a digital manga book for $2, with the smart contract information the profits will be automatically distributed as follows:
・Seller +$1.00
・Publisher +$0.70
・Author +$0.30
(All this will be visible on the blockchain)
Roadmap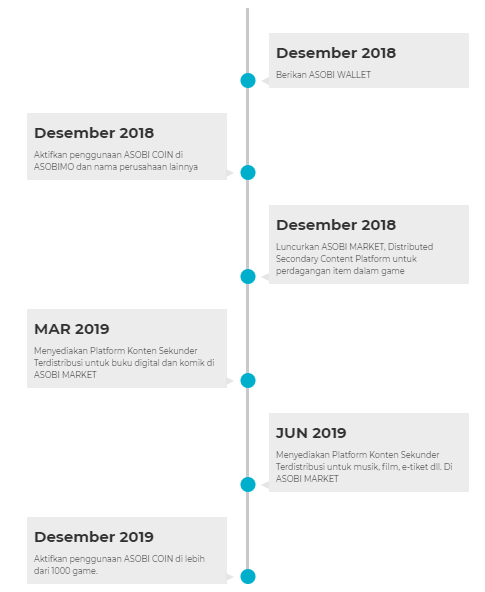 December 2018 – Give ASOBI WALLET
December 2018 – Activate the use of ASOBI COIN in ASOBIMO and other company names
December 2018 – Launches ASOBI MARKET, Distributed Secondary Content Platform to trade in-game items
March 2019 – Providing Distributed Secondary Content Platform for digital and comic books on ASOBI MARKET
June 2019 – Provides Distributed Secondary Content Platform for music, movies, e-tickets etc. At ASOBI MARKET
December 2019 – Activate the use of ASOBI COIN in more than 1000 games.
Conclusively, Shopping at ASOBI MARKET guarantees you a safe exchange between secondary (used) content and cryptocurrency through the DSS system.
Dear reader, this is just a brief overview of the purpose, benefits and opportunities that can be gained from this innovative project. After reading this briefing, I am sure you will want to know more, please visit one of these following links:
Website: https://asobimo.io/en/
White Paper: https://asobimo.io/pdf/white_paper_en.pdf
Facebook: https://asobimo.io/pdf/white_paper_en.pdf
Telegram: https://t.me/AsobiCoin_Official
Twitter: https://twitter.com/AsobiCoin
Author: olagokegbade
Bitcointalk Profile Link: https://bitcointalk.org/index.php?action=profile;u=2162484